---
AUTUMN
As October nights draw in,
Reach for the firelighters; seek warmth from within.
Close the curtains; snuggle in for the night
As the owls hoot and the merlins take flight.

The trees undress each and every day.
Ever-changing colours, their limbs bow and sway.
Until a colourful carpet lies on the lawn.
Rich golden hues our gardens adorn.

The hedgehogs adore it, the squirrels too
Foraging around, so much to do.
There's food to be stored, time cannot wait
Now is the time to prepare to hibernate.

Stay warm and safe in each of your homes
Villagers of Berrynarbor, you are never alone.
Outside nature is slowly changing its face
Enhancing our enjoyment of this very special place.


Pam Robinson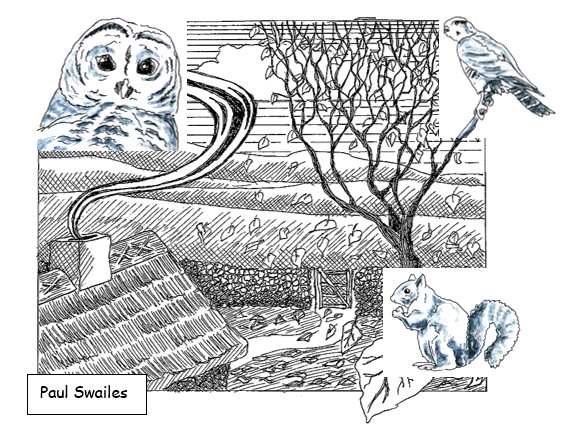 Illustrated by: Paul Swailes
---
END OF SUMMER
Virginia Evans, Lee Copse
---
THE MANOR HALL
The Manor Hall in Berrynarbor is used by young and old
It stands proud in the heart of the village, a special sight to behold.
It's the place that hosts many activities, each and every day.
The place to learn new skills, socialise or simply come to play.


The children at Pre-school enjoy their regular sessions.
Learning through play is the key to all their lessons.
Teenagers and adults enjoy table tennis on a Friday night.
The Wine Club enjoy their tastings; wines, bold and heavy, others fruity and light.

Committees meet regularly in the Manor Hall
Planning events like 'Soup and Pud' and even a special ball.
The Upholstery Club, Spinners and Artists too,
Photographers and Berry in Bloom to name but a few.

Badminton Club use it, their fitness to maintain.
And Beaford Arts sometimes come to entertain.
The men's institute play snooker and enjoy meeting upstairs.
It's the place the village host fashion shows and Christmas fayres.

Here's hoping that things return to normal soon
And all the exciting activities will be able to fully resume.
The Manor Hall is special I am sure you will agree.
A place to support the whole community - that means you and me.

The 22nd August is the Manor Halls Summer Fete
Put it in your diary; mark it a special date.
We hope you will join us, come and see the stalls,
Buy raffle tickets, drink some Pimm's, there's something there for all.

Pam Robinson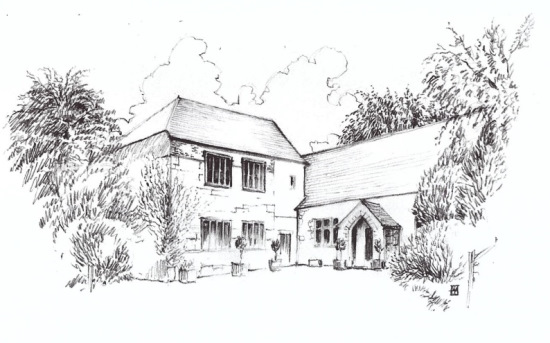 Peter Rothwell
---
THE CAVEMAN'S LAMENT
me think about her when sun rises
me think about her when sun sets
me say to her how much me love her
she tell me love invent not yet



me make cave all warm and cosy
me lie bearskin on cave floor
me play song of love on bone flute
she choose cave of Tim next door


me no more go out hunt mammoth
me throw spear too short or long
me sit in cave me paint her picture
she say me got perspective wrong


me cook meal to show me love her -
diplodocus with fried beans -
she say food anachronistic
but me not know what this means


stone age mighty hard for lovers
yet rub two flints look what you get
small sparks lead to big inferno
but she say love invent not yet

Remembering Chris
This delightful poem, read at the Celebration of her Life on the 16th March, was a poem Chris cut out of the newspaper. She felt it summed up her beloved husband, Phil, which says much about her cheeky sense of humour!
Chris lived life to the full and encouraged others to do the same. She is much missed, not only by her family, but by her many friends here in the village.

It is said that the Caveman's Lament was written about 1.5 million years ago and is considered to be the world's oldest surviving poem about love.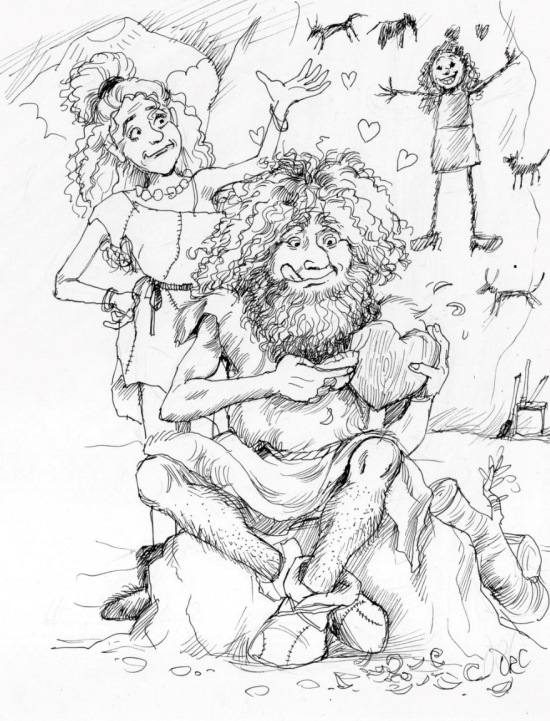 Debbie Rigler Cook
---
OUR VILLAGE
What makes a village a special place?
Is it simply pretty houses that we call our base?
Is it the gardens that come to life each and every spring,
With the beautiful flowers and colours they bring?

Is it the church at the centre of it all?
The community shop, pub, or the manor hall?
Or is it the people, like you and me
Who ensure it's special for all to see?

A real mix of folk, young and old;
True Devonians and 'Blow-ins,' or so I am told.
Wherever we hail from Berrynarbor is now our home.
Around it's pretty roads we all like to roam.

We may be a mixture, who've come from lots of different places
Different backgrounds, different races.
But we all love this village, this very special place,
And are really very proud to call it our base.

Pam R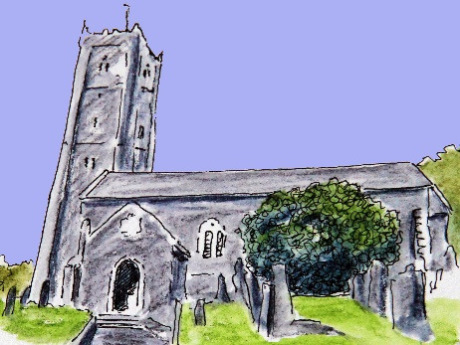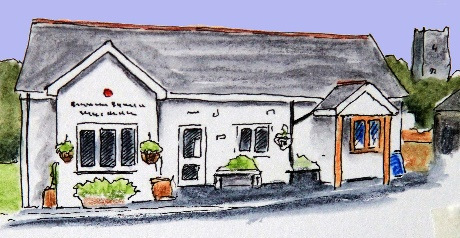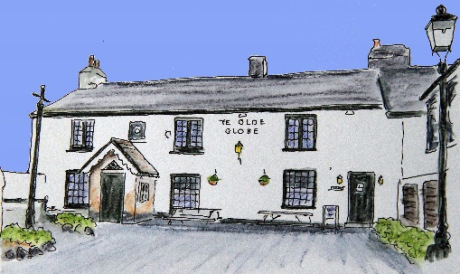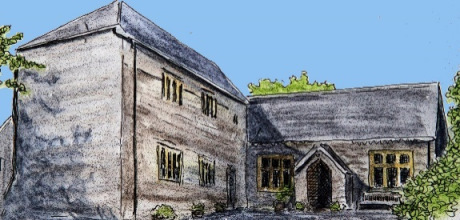 Illustrations: Paul Swailes
---
SINGING THRUSH
Here Here Here Here Here
Singit singit singit singit
Chup chup chup chup chup
Me an you me an you me an you
Furlough furlough furlough furlough
Do-y-doo do-y-doo do-y-doo
wheelie wheelie wheelie wheelie
Churrily churrily churrily churrily
see see see see see see
Piu piu piu piu piu
do it do it do it do it
Whee whee whee whee
Choo it Choo it Choo it choo it
Tu tu tu tu tu tu
Meeuu meeuu meeuu meeuu
Ooeeooo ooeeeoo ooeeoo ooeeoo
singit singit singit singit!


Interpreted by Virginia Evans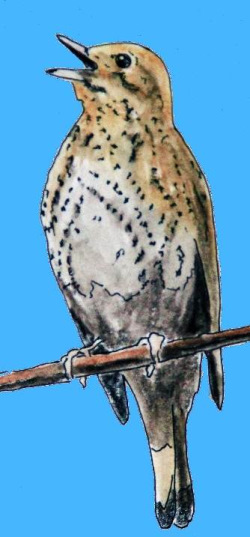 Paul Swailes
---
Hopefully!

The end is in sight or so we've been told.
Soon friends and families, we can hug and hold.
As the vaccine is rolled out and we each take our turn
What are the things you look forward to, what do you yearn?

A drink in the pub without a substantial meal.
Getting together with friends- meeting for real.
Being allowed to have a party inside or out.
Holidaying again, getting out and about.

Browsing in shops; being able to wander.
Being able to touch goods, take time and ponder.
These are my thoughts what about yours?
For some it may simply be going outdoors.

For others it may take time to feel 'normal' again
Continued anxiety some may not feign.
Whatever your thoughts, as isolation comes to an end
Let's continue to support each other, neighbours and friends.

Oh, there's just one last point I should like to make
Keep supporting our Village Shop for goodness' sake.
Karen, Annie and Susan have been amazing throughout.
Our ability to get supplies, thanks to them, was never in doubt.

Thank you for staying open and being there, each and every day.
Ok. Now on the subject of Covid 19, I have nothing more to say!



Pam R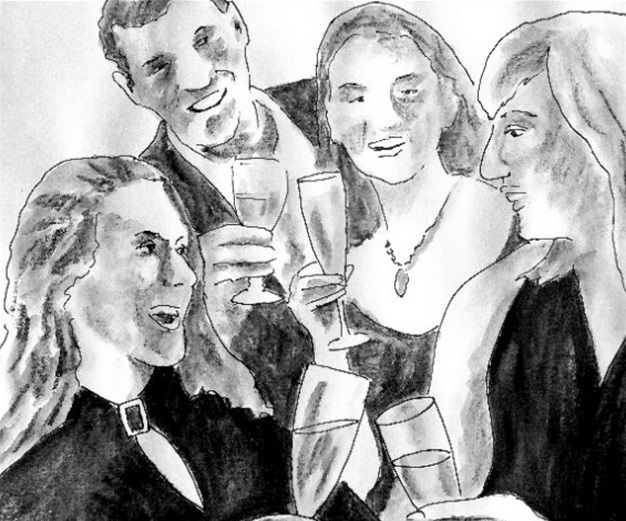 Paul Swailes
---
Illustrations: Paul Swailes

We arrived in September
Warm autumn days full of colour
Before October rain and wind set in
And November locked us in

There's lot to do here
In the house and garden
We find good people to help
With trees, a plumbing problem
building improvements
And a fallen wall

Most days I walk
Greeted by
Cheerful smiling faces
And friendly [mostly] dogs
. . . And Flowerpot people

We meet kindly neighbours
And are sustained by
the friendliness of the shop
So well stocked and organised

And everywhere around the village
Water is running and rushing
Gushing from pipes
Flowing from fields

December arrives
and little painted wooden Santa faces
appear outside houses on fences and walls
Christmas comes and goes
Without the usual social events
But with amazing light displays

Winter pansies and button daisies bravely bloom
Birds crowd around the bird feeder
And in January's harsh lockdown
everyday a new flower opens
Every day a new bird song is heard

Snowdrops come at last
And the first daffodils
February opens crocuses, primroses
miniature flags and grape hyacinth

And then freezes
With a fierce easterly wind
Warm weather follows
At last as the days lengthen
More flowers - and blossom now.


We are glad to be here and wait for spring

Virginia Evans - Lee Copse
---
COVID

It stole up on us like a thief in the night.
Stealing our freedom, causing quite a fright.
Sneaking into our home; an unwelcome guest.
A horrible virus, an evil pest.


Why had it chosen our house? Why us?
We're not the sort to make a big fuss.
But this thing was debilitating, it knocked us for six.
No medicine could cure it; nothing would fix.


We had to let it pass, take one day at a time.
Rest and pray that soon we'd feel fine.
Trust that our exhaustion would soon pass away
That our bodies would fight it and face a new day.


Supplies from dear friends, showing loving care
Homemade soup, bread and other great fayre.
FaceTime with family and friends from afar
No trips to the pubs or outings in the car.


Staying inside until the torment had ended.
Fighting exhaustion, until our bodies had mended.
Slowly, slowly we started to heal
Each day a little better we started to feel.


And now that the evil has truly past
We can go out again, enjoy walks at last.
Breathe deeply, take in fresh air
Enjoy the elements; the wind in our hair.


This virus is deadly, a frightening force
What can we do but let it take its course
Hopefully its impact will soon start to wane
and we can enjoy life together, once again.





Pam R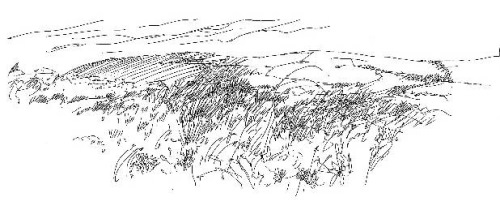 Peter Rothwell
---
THE SUNFLOWER
A tiny seed is planted, fed and watered
Over the months it's further nurtured

A stalk appears and climbs up high
Tall and graceful reaching for the sky

Each day it continues to grow
Until one day its flower starts to show.

The biggest thing I have ever seen
With its golden head and stalk so green.

Standing proud, golden and glowing
For a while I wonder if it'll ever stop growing.

It makes me smile each time I sit down
Laughing in the wind with its golden crown.

Neighbours smile too as they go past
How long will it grace us, how long will it last?

From a tiny seed to a giant on the hill
Even now you have gone I remember you still.


Pam R

---
THE GROCKLES
They arrived in a steady stream
Our sense of security now a dream
One or two at first
Then a steady convoy at its worst.
Fear and anxiety come with them
Spread of the virus we wish to stem.
And yet for some this is their second home
Weeks cooped up - why shouldn't they now roam?
Our businesses need the income
Boris says it's ok, so why should we stop them?
Whilst our safety and security we wish to maintain
Things really cannot stay the same.
Life goes on in a new kind of normal
But there are rules to uphold; keep things formal.
However we feel about the grockles' arrival
Let's respect each other and support our survival.
Whilst there are many more people in the village and around
Remember the rules, stay safe and sound.
We all have our different points of view
But let's be tolerant, and continue to support each other too.
Pam
---
BERRYNARBOR IN LOCKDOWN
The last few weeks have challenged, communities far and wide
Causing folk to come together, put differences aside.
Our own community has been no different from all of the rest.
This COVID 19 pandemic has put us to the test.
How has Berrynarbor managed throughout these troubled times?
Let me try and sum it up by reporting it in rhyme.

Once we'd overcome the need to query who was staying where?
Concentrated on love and kindness; showing that we care.
Neighbours helping neighbours; collecting prescriptions too.
Baking cakes, showing kindness, doing whatever we needed to do.
Our pub jumped into action, providing a new service straight away.
Meals on wheels delivered to our door; roasts on each Sunday.

Our local shop has been amazing, delivering groceries to our door.
A beacon in the community, standing at the core.
A team of special people have kept things going throughout.
Their hard work and resilience was never in any doubt.
Whilst Tesco's shelves were empty, our shop had all we need.
From loo paper and flour, to fresh veg and meat to feed.

On Thursday nights we'd come together, cheering, banging pans.
Celebrating front line workers; the NHS's biggest fans.
All across the village we'd stand and make a noise.
Families on the door step; husbands and wives, girls and boys.
People standing together shouting really loud.
Showing our appreciation and making the workers feel quite proud.

Our little village has certainly shown it has a great big heart.
A community coming together, with residents playing their part.
Hopefully we will come through this: our efforts not in vain.
Survivors moving forward, but will life ever be quite the same?
When this is all over let's not forget the joy of walking the extra mile
Or the friendly greetings we offer with each and every smile.

Let's continue to buy local; appreciate our shop and pub
Visit the church and community hall; enjoy the village hub.
Try not to become too busy, rushing about in labour.
Enjoy time together. Continue to love your neighbour.
Let's have fun together again, meeting face to face
and realise, Berrynarbor, our village, is a truly special place.
Pam R
---
MEMORIES
Post-Christmas Positivity
When Christmas is over and the decorations cast aside
Hold onto the memories; the joy that cannot be denied.
The time spent with family sitting altogether
Partying with friends certainly brought much pleasure.
Wreath-making, the Sterridge lights, carol singing too,
Our first Christmas in Berrynarbor, a happy time with you.



There's lots to be thankful for as the festive season reaches its end.
For health and happiness and each and every friend.
Goodbye Christmas with chocolate gifts and flowers
I'm ready to welcome spring with more Devonshire showers.
Living here, in Berrynarbor, a truly wonderful place
Has certainly brought an enormous smile to my face.



I'm told that very soon, snowdrops and daffodils will appear.
Reminding us that winter will finish and spring will soon be here.
I am sure the next season, in our village, will be a very special one
A wonderful setting to continue having fun.
Our happy memories will never change or Disappear
We can just add to them from year to year.


Pam
---
THE PARTS OF SPEECH POEM
Every name is called a NOUN
As field and fountain, street and town.
In place of noun the PRONOUN stands,
As he and she can clap their hands.
The ADJECTIVE describes a thing,
As magic wand or bridal ring.
The VERB means action, something done,
As read and write and jump and run.
How things are done the ADVERBS tell,
As quickly, slowly, badly, well.
The PREPOSITION shows relation,
As in the street or at the station.
CONJUNCTIONS join, in many ways,
Sentences, words, or phrase and phrase.
The INTERJECTION cries out, "HARK!
I need an exclamation mark!"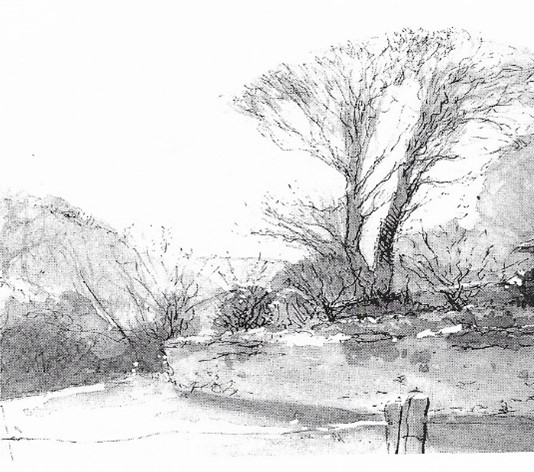 Illustated by: Nigel Mason
---
THE NORTH DEVON PRAYER
Our landscape
Wrought here in North Devon
Hallowed be thy Ilfracombe
Thy King's Nympton come
Thy Lee and Woolacombe
This earth be it Instow, Stoke or Meddon
Give us Croyde Bay and Muddiford
And forgive us our Barnstaple
As we honour Brayford, Sheepwash and Great Torrington
Lead us through all Tarka request stations
But deliver us from Yeo Mill
for North Devon is High Bickington
The Parracombe, Week and Warleigh
for ever and ever Barum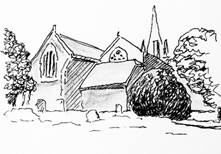 Great Torrington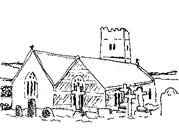 Instow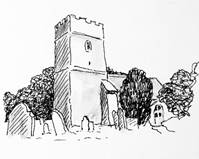 Brayford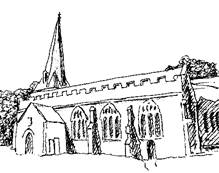 Kings Nympton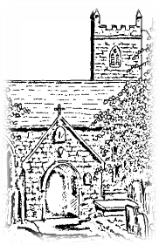 Ilfracombe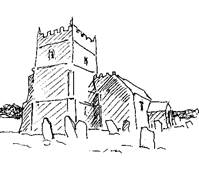 Parracombe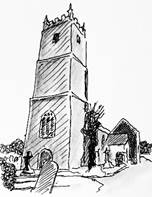 High Bickington

Beaford Arts


contributed by Nora and Alan

Illustrations Paul Swailes
---
THE NEWCOMERS
So we have really done it, we have started our new adventure in North Devon.
The boxes are unpacked, the dream cottage is ours, we feel we own a little bit of heaven.
Berrynarbor is our new home.
A village so warm and welcoming, you need never feel alone.
Everybody has been so friendly, greeting us with great support
It's a kind and caring community, as we had initially thought.
From our very first visit, admiring the flowers in the tub
Meeting friendly locals, drinking in the pub.
We knew this was a special place, a village we'd like to be
Now we are living the dream, we have our very own key!

We feel quite at home only a few weeks in.
Indeed, it seems like a wonderful lottery win.
our cottage is a white one, along Sterridge Valley.
By the little bridge where walkers stop and dally.
It's quiet and calm with a stream outside our door.
I really don't think we could want for anything more.
I have realised happiness isn't just something that we feel.
I can see it, I can touch it: it's totally real.

I confess to feeling a little nervous starting life anew
I need not have worried, if I only knew
people would welcome us right from the start
Would help us feel so comfortable, would warm my heart.
What a wonderful impression you villagers have created.
Simple smiles and 'hellos' can never be overrated.
A community so friendly, honest and true
Special for all the little things you say and do.
So this poem is my way of saying thank you to each and every one
I am looking forward to getting to know your more, in the weeks and months to come.


Pam [and Nigel] Robinson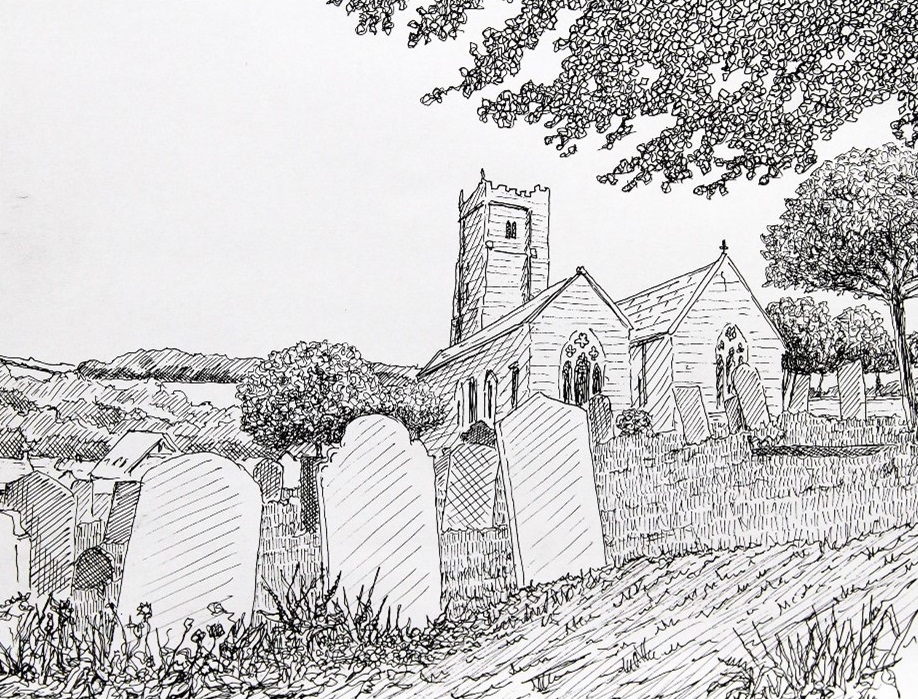 Illustrated by: Paul Swailes
---
The Fly

Little Fly
Thy summer's play,
My thoughtless hand
Has brush'd away.

Am not I
A fly like thee?
Or art not thou
A man like me?

For I dance
And drink and sing;
Till some blind hand
Shall brush my wing.

If thought is life
And strength and breath;
And the want
Of thought is death;

Then am I
A happy fly,
If I live,
Or if I die.


William Blake 1757 - 1827
Receipt of Mike's piece about his reluctant fly and the William Blake poem coincided with the unveiling of the stone marking William Blake's grave on the 191st anniversary of the poet and painter's death in 1827. It also marked the conclusion of 14 years of detective work and campaigning for Carol and Louis Garrido, two of his admirers. Their fascination for the man who wrote The Tyger and Jerusalem, England's unofficial national anthem. as well as his art and engravings, led them to visit Bunhill Fields in London to find his grave. They discovered only a stone saying that the remains of Blake and his wife Catherine, lay nearby.
After two years of research, they pin-pointed the exact spot and after years of fundraising, the Blake Society has now been able to mark the spot with an official memorial.
Blake trained as an engraver, illustrating books and reproductions of art in churches around London, but went on to produce his own illuminated books and his prophetic works based on his own invented mythology. He was interested in the past, present and future, in ancient, pre-Christian culture and ancient history, as well as the working conditions of children and the state of Britain at that moment. He looked forward to the future and what it might look like.
---
BREXIT
This poem [or is it a lament?] was sent in by Maureen [Scott-Nash]. By John Gordon, it was first published in the Daily Telegraph in February and is reproduced with John's kind permission.
They showed me two sealed boxes and invited me to choose,
It really was so simple, how could anyone refuse?
The one was labelled Brexit, the other one Remain,
Pick one I was told, your chance may never come again.

I understand the labels, but they don't help me decide.
Before I choose I'd like some clues - what is it that's inside?
It's clear as day said Mrs. May, an idiot could figure,
Labels are too small for you? Perhaps you'd like them bigger?

Oh I can read the labels I hurry to explain,
I need to know the contents or I'm tempted to abstain.
Take Brexit for example, what does that indicate?
Oh Brexit - that mean Brexit - please try to concentrate!

OK then I try again, Remain - what's that about?
She says it's obvious to me, can there be any doubt?
Well yes there can, and rather than give meaningless replies
Give us the facts, we'd like brass tacks - evasion sounds like lies.

So in the end I gave my vote, a little box I ticked,
But as events unfolded, I wondered what I'd picked.
While politicians argue, and as confusion grows
We might begin to wonder if anybody knows.


John Gordon
---
STOPPING BY WOODS ON A SNOWY EVENING Robert Frost Whose woods these are I think I know.
His house is in the village though;
He will not see me stopping here
To watch his woods fill up with snow.

My little horse must think it queer
To stop without a farmhouse near
Between the woods and frozen lake
The darkest evening of the year.

He gives his harness bells a shake
To ask if there is some mistake.
The only other sound's the sweep
Of easy wind and downy flake.

The woods are lovely, dark and deep,
But I have promises to keep,
And miles to go before I sleep,
And miles to go before I sleep.

Robert Lee Frost was an American poet.His work was initially published in england before it was published in America.He was born on the 26th March 1874 in San Francisco and died in Boston on the 29th January 1963. He was at one time the United States Poet Laureate and was a recipient of the Pulitzer Prize for Poetry.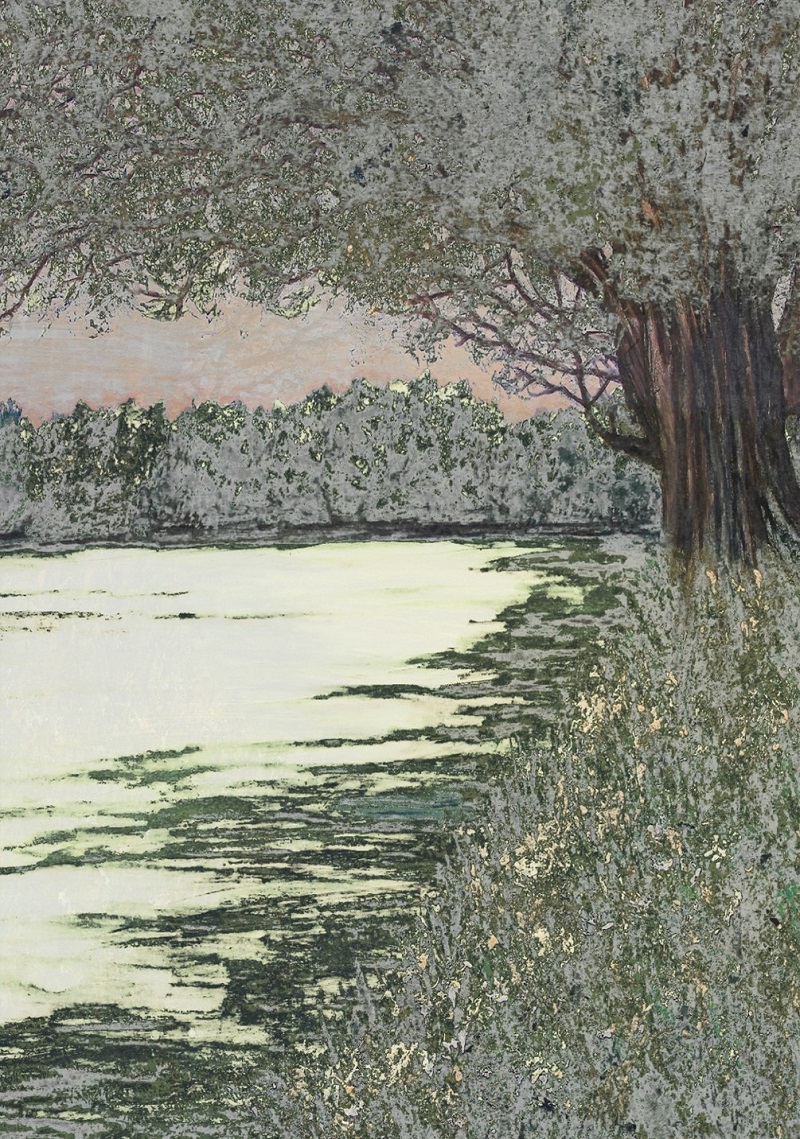 Illustrated by: Paul Swailes
---
EYE HALVE A SPELLING CHECKER

I halve a spelling checker
It came with my pea sea.
It plainly marcs four my revue
Miss steaks eye kin knot sea.
Eye strike a key and type a word
And weight four it two say,
Weather eye am wrong oar write
It shows me strait a weigh.
As soon as a mist ache is maid
It nose bee fore two long,
And eye can put the error rite
Its rare lea ever wrong.
Eye have run this poem threw it
I am shore your pleased to no,
Its letter perfect awl the weigh


My checker tolled me sew.
---
Handprints on the cupboard
and shoes in the hall.
Toilet seat's up and there's
mud on the wall.
The shelves in the kitchen
are continually bare,
There's toys on the couch
and jeans on the chair.
Wrestling and mud
and cars and noise,
I'm sure you guessed . . .
I'm the mother of boys!


Anon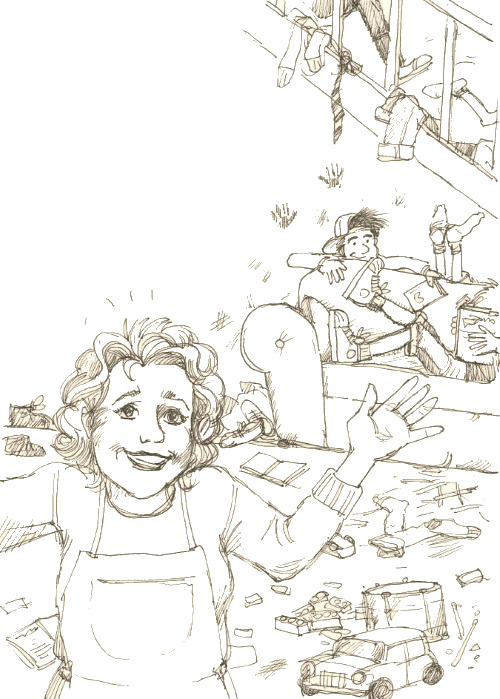 Illustrated by: Debbie Rigler Cook

---
SLOW DANCE
Have you ever watched kids on a merry-go-round?
Or listened to the rain slapping on the ground?
Ever followed a butterfly's erratic flight?
Or gazed at the sun into the fading night?
You'd better slow down. Don't dance so fast.
Time is short. The music won't last.
<![if !supportLineBreakNewLine]>
<![endif]>
Do you run through each day on the fly?
When you ask, "How are you?" Do you hear the reply?
When the day is done, do you lie in your bed,
With the next hundred chores running through your head?
You'd better slow down Don't dance so fast.
Time is short The music won't last.

Ever told your child, we'll do it tomorrow?
And in your haste, not seen his sorrow?
Ever lost touch, let a good friendship die
Cause you never had time to call and say 'Hi'.
You'd better slow down. Don't dance so fast.
Time is short. The music won't last..

When you run so fast to get somewhere,
You miss half the fun of getting there.
When you worry and hurry through your day,
It is like an unopened gift . . . thrown away.
Life is not a race. Do take it slower
Hear the music before the song is over.
This poem was written by a terminally ill young girl whose only wish was to tell everyone to live their life to the fullest, since she never will.
---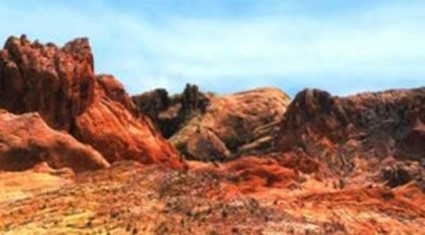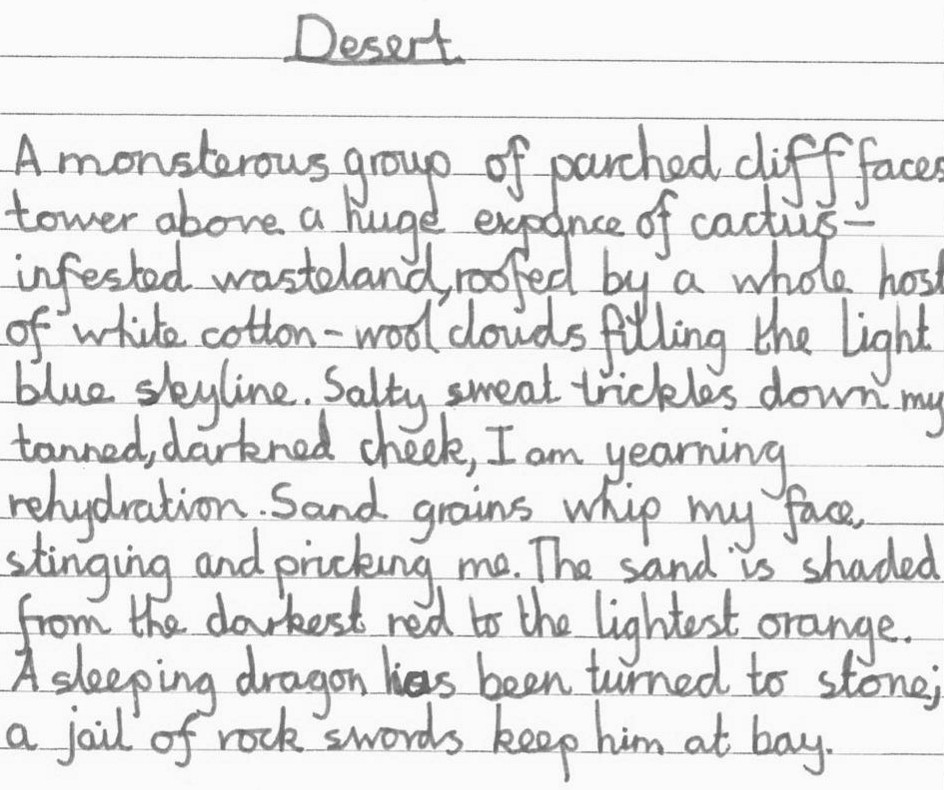 Harry W - Aged 9
---
HOME THOUGHTS FROM ABROAD
Robert Browning
Oh, to be in England
Now that April 's there,
And whoever wakes in England
Sees, some morning, unaware,
That the lowest boughs and the brushwood sheaf
Round the elm-tree bole are in tiny leaf,
While the chaffinch sings on the orchard bough
In England - now!
And after April, when May follows,
And the whitethroat builds, and all the swallows!
Hark, where my blossomed pear-tree in the hedge
Leans to the field and scatters on the clover
Blossoms and dewdrops - at the bent spray's edge -
That 's the wise thrush; he sings each song twice over,
Lest you should think he never could recapture
The first fine careless rapture!
And though the fields look rough with hoary dew,
All will be gay when noontide wakes anew
The buttercups, the little children's dower
Far brighter than this gaudy melon-flower!
---
FROM BRATTON TO PORLOCK BAY
Trev's Twitters in the December issue reminded me that Drake's Drum was the most famous of Sir Henry Newbolt's works but a lesser known poem was a song of Exmoor which was set to music and adopted by the Devon and Somerset Staghounds who renamed it From Bratton to Porlock Bay.
I know that hunting is not PC in some people's books but it is never-the-less a large part of rural North Devon's past.
The lyrics below tell a story of a long point [distance] from Bratton to Porlock Bay and there are some words, like tufters, that are lost on most folk now. Whether for or against hunting, the terms still exist and I think should be remembered.
Songbird
The Forest above and the Combe below,
On a bright September morn!
He's the soul of a clod who thanks not God
That ever his body was born!
So hurry along, the stag's afoot,
The Master's up and away!
Halloo! Halloo! we'll follow it through
From Bratton to Porlock Bay!

So hurry along, the stag's afoot,
The Master's up and away!
Halloo! Halloo! we'll follow it through
From Bratton to Porlock Bay!

Hark to the tufters' challenge true,
'Tis a note that the red-deer knows!
His courage awakes, his covert he breaks,
And up for the moor he goes!
He's all his rights and seven on top,
His eye's the eye of a king,
And he'll beggar the pride of some that ride
Before he leaves the ling!

Here comes Antony bringing the pack,
Steady! he's laying them on!
By the sound of their chime you may tell that it's time
To harden your heart and be gone.
Nightacott, Narracott, Hunnacott's passed,
Right for the North they race:
He's leading them straight for Blackmoor Gate,
And he's setting a pounding pace!


We're running him now on a breast-high scent,
But he leaves us standing still;
When we swing round by Westland Pound
He's far up Challacombe Hill.
The pack are a string of struggling ants,
The quarry's a dancing midge,
They're trying their reins on the edge of the Chains
While he's on Cheriton Ridge.

He's gone by Kittuck and Lucott Moor,
He's gone by Woodcock's Ley;
By the little white town he's turned him down,
And he's soiling in open sea.
So hurry along, we'll both be in,
The crowd are a parish away!
We're a field of two, and we've followed it through
From Bratton to Porlock Bay!

So hurry along, we'll both be in,
The crowd are a parish away!
We're a field of two, and we've followed it through
From Bratton to Porlock Bay!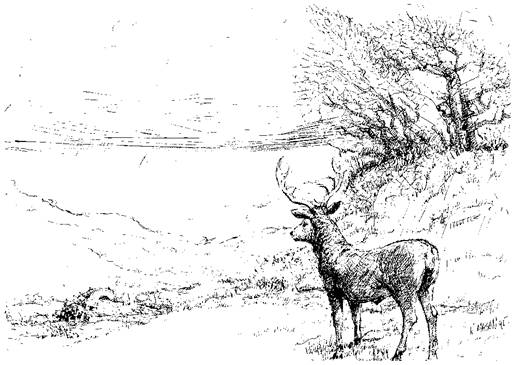 Illustrated by: Nigel Mason
---
MURRAY LACHLAN YOUNG AT THE MANOR HALL
Friday night and naught to do,
We'd hoped for a sell-out, but were only a few.
Beaford you say! Must be 'culture today',
With its' Poet and his Poems, old and new.

He read us some rhymes which covered the times
Of men's beards - old, middle and new,
Beat drums of all sorts, with Samurai swords
And first read his Cliff Richard too.

He sang us some songs of Cornish men's wrongs,
First heard on the real BBC; On Saturday morn
You'll hear more of his corn,
But in Berry we really did see
The lights in his face and a lap top in place,
For his failings of memory - dear me!

'T'was a terrific good night,
And we'll remember the sight
Of the food as provided for free:-
Quiches and chocks,
Some just out of a box, all
For only £8 at the Hall.

Watch out in your Newsletter and posters for the 2013 Season of Beaford Culture coming to you here in Berrynarbor. If you don't come along, you'll never catch up on what you've missed.
Alan
---
A Trip to North Devon
Mike Hancock - August 2012
We just bin down to Devon with some very good friends of ours;
We came from south and west and so we came in different cars.

We stayed with Mike and Wendy, the Amos-Yeo two,
In Berrynarbor Devonshire, paradise to me and you.

Now some of us done swimming, and some of us done chat,
And others simply hung about and talked of this and that.

And sometimes we played snooker, and sometimes we played pool
But all the time the most of us had drink and played the fool!

We visited the village, took snaps and walked about,
And ate our lunch in an empty pub - now what's that all about?

We saw the village shop you know - such an enterprising thing,
For when the owners shut it down, the village opened it again.

So now when I think of Devon as somewhere nice to go,
I think of Mike and Wendy's place and then I really know -

The welcome there is legend, full of heart and love and soul -
That's not just Mike and Wendy's place - but Berrynarbor as a whole!


---
OLD COB WALL
C. Fox Smith
On a recent visit to Rosemoor, this poem by Cicely Fox Smith and illustrated for us by Debbie, hanging on the wall of the summerhouse made me smile - I hope it makes you too!
Cicely Fox Smith, an English poet and writer with over 600 poems to her name, was born in Lymm, Cheshire in 1882. The daughter of a barrister and granddaughter of a clergyman she was educated at Manchester Grammar School for Girls. For a short while she lived in Canada before returning to the UK shortly before the advent of World War I, settling in Hampshire where she lived until she died in the spring of 1954.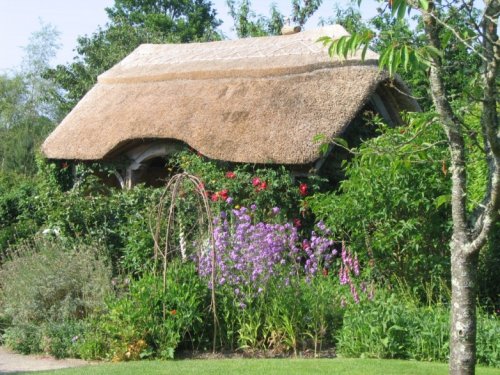 Old cob wall have fell at last;
Us knowed he might a good while past.

Great-grandad he built thicky wall
With maiden earth and oaten straw.

He built en in the good old way,
And there he've stood until to-day.

But wind and rain and frost and snow
Have all combined to lay en low.

Us propped en up with stones and 'ood,
Us done our best but t'weren't no good.

He give a bit and then a lot,
And at the finish down he squat.


And now, since barns has got to be,
Us'll build another 'stead of he.

But not the same he was afore,
'Cos no one builds cob walls no more.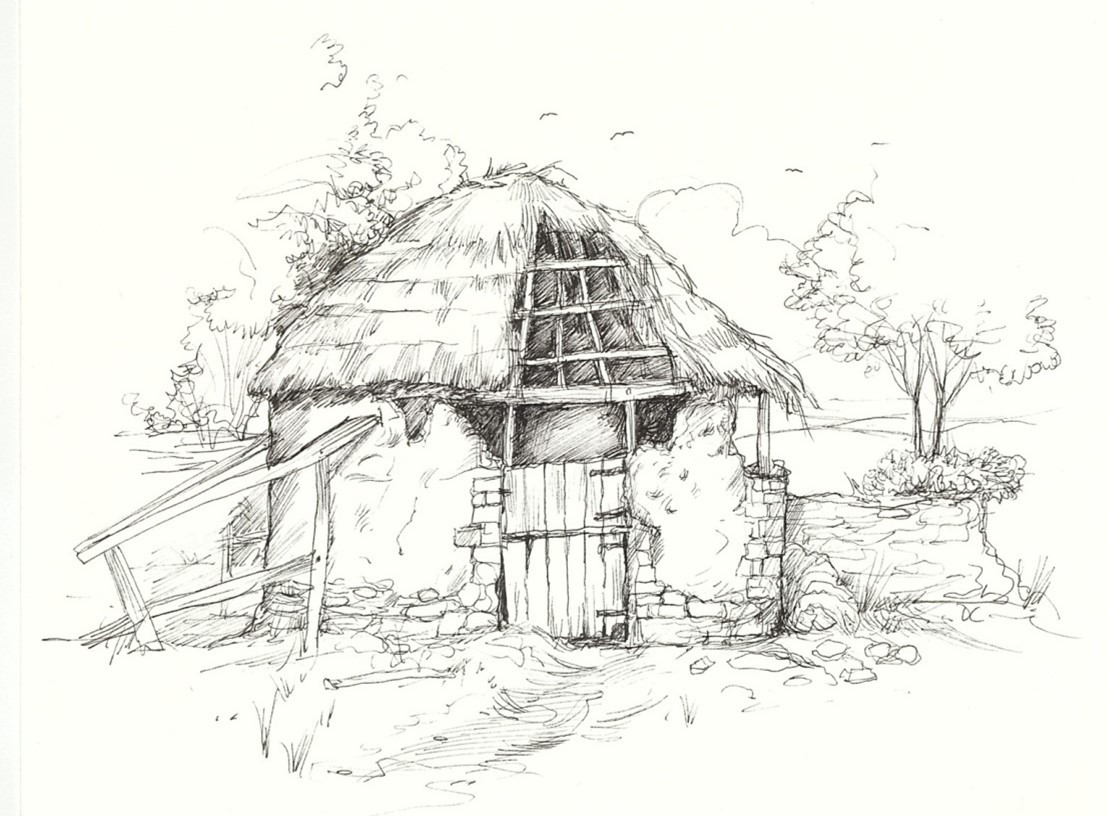 Illustrated by: Debbie Rigler Cook
---
THE SEASONS
The shortest day is over
But bad weather yet to come.
Wrap up warm, have hot drinks
And huddle in your home.

Soon the snow will paint things white,
The children all enjoy;
Igloos, snowmen, sleigh, that's right,
Joy for girl and boy!

When that's over, the wind will blow,
The gales strong and cold!
You may not feel it now,
But wait until you're old!

Then the spring will come along;
It's what we've waited for.
The buds will show, bye, bye to snow,
It's simple, jut God's law.

Now summer's here, we love this time -
Long days, with lots of fun.
Holidays spent by the sea
Enjoying the lovely sun!

With autumn here, trees start to change
To colours, with their glory.
Four seasons gone, and I'm off home,
That finishes my story.


Tony Beauclerk - Stowmarket
---
Wherever you are my love will keep you safe,
My heart will build a bridge of light across both time and space.
Wherever you are, our hearts still beat as one
I hold you in my dreams each night until your task is done
Light up the darkness, my wondrous star
Our hopes and dreams, my heart and yours, forever shining far
Light up the darkness, my prince of peace.
May the stars shine all around you may your courage never cease
The Chivenor Military Wives' Choir
---
FIDO'S LAVATORIAL LAMENT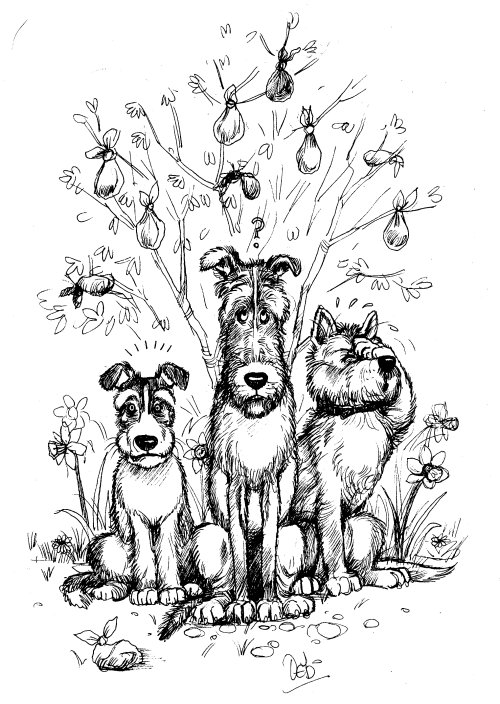 Illustrated by: Debbie Rigler Cook
When your dog does its 'business' out walking
And you don't want the neighbourhood talking
Just pick up a stick
And with one little flick
It's away from the footpath - how corking!

When in the hedge bottom they're laid
They soon start to biodegrade
But it seems a bit drastic
To wrap them in plastic
And put them on poo-bag parade!

People fling them in hedges and trees
Where they flutter about in the breeze
They just hang where you toss 'em
Among the spring blossom
Shrink-wrapped, and a cause of unease!

So please, simply flick poos aside
Or bag them and BIN them with pride
For we doggies feel harassed
Ashamed and embarrassed
With our 'doings' displayed far and wide!

DC of C Cottage
---
WEIGHT
I have to get rid of this weight!
But I do like lots on my plate!
I'm sure that its all the fattening things
That round my middle a tyre brings!
What shall I do to drop it?
I love sweet things, I can't stop it!
I've seen the stars try to get thin
And get fat again - oh, what a sin.
Lots of people have good advice
They think they are being nice. [Huh!]
I'll think while I gobble this bun
Just how to tackle the problem, head on.
But eating gives so much pleasure,
The more, the better the measure.
I really must give this some thought
Yes, I must, I really ought!
Some say, 'T'is will power, you know.'
So, I think I had better give it a go.
For breakfast it's down to one slice,
And eat it real slow.
For dinner, don't eat like a horse,
Try having just one course.
For tea, a sandwich lace thin,
Will begin to help me win.
Now the fat's dropping off,
And I am losing that nasty cough,
And no more a great double chin.
Now the weight's off I feel so good,
I'm even resisting that very last pud!
For a shadow I stand in the same place twice,
And quite enjoy that small bowl of rice! [I wish!]






Illustrated by: Paul Swailes
Tony Beauclerk - Stowupland
---
ODE TO MOLES
[We've got 'em, have you?]

Once in my garden I dug a deep hole
And what did I find but a dear little mole.
It was ever so sweet, rather like a fat mouse
But nurse wouldn't let it come into the house.
I hunted and called for it all the next day,
But it must have decided to go far away.

Phyl W. - Cherry Tree

---
THE OWL AND THE PUSSYCAT
Edward Lear
Choice of Trev
The owl and the pussycat went to sea
In a beautiful pea-green boat.
They took some honey

And plenty of money
Wrapped up in a five-pound note.
The owl looked up to the stars above
And sang to a small guitar,
"O lovely Pussy, O Pussy my love,
What a beautiful Pussy you are, you are
What a beautiful Pussy you are!"
Pussy said to the Owl, "You elegant fowl,
How charmingly sweet you sing!
Oh let us be married;
Too long we have tarried;
But what shall we do for a ring?"
They sailed away, for a year and a day
To the land where the bong-tree grows,
And there in a wood, a Piggy-wig stood
With a ring at the end of his nose, his nose,
With a ring at the end of his nose.
"Dear Pig, are you willing, to sell for one shilling,
Said the Piggy, "I will."
So they took it away and were married next day
By the Turkey who lives on the hill.
They dined on mince and slices of quince
Which they ate with a runcible spoon;
And hand in hand, on the edge of the sand
They danced by the light of the moon, the moon,
They danced by the light of the moon.
The 20th child of Jeremiah Lear, a London Stockbroker, and his wife Ann, Lear grew up to be a prolific writer as well as a talented artist of landscapes and birds and gave drawing lessons to Queen Victoria. He was particularly enchanted with nonsense rhymes and devoted a number of his books to collections of these poems.
Just prior to his death and left incomplete, he began to pen the sequel to The Owl and the Pussy Cat - The Children of the Owl and the Pussycat:
Our mother was the pussycat,
Our father was the owl,
And so we're partly little beastsAnd partly little fowl.
The brothers of our family, have
Feathers and they hoot,
While all the sisters dress in fur
And have long tails to boot.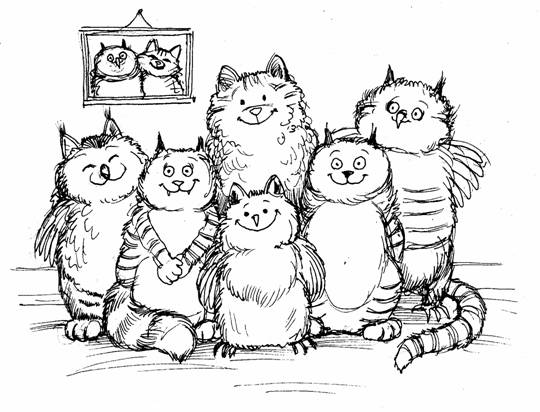 Illustrated by Debbie Cook
---
BED IN SUMMER
from a Child's Garden of Verses
Robert Louis Stevenson [1850-1894]
In winter I get up at night
And dress by yellow candle-light.
In summer, quite the other way,
I have to go to bed by day.

I have to go to bed and see
The birds still hopping on the tree,
Or hear the grown-up people's feet
Still going past me in the street.

And does it not seem hard to you,
When all the sky is clear and blue,
And I should like so much to play,
To have to go to bed by day?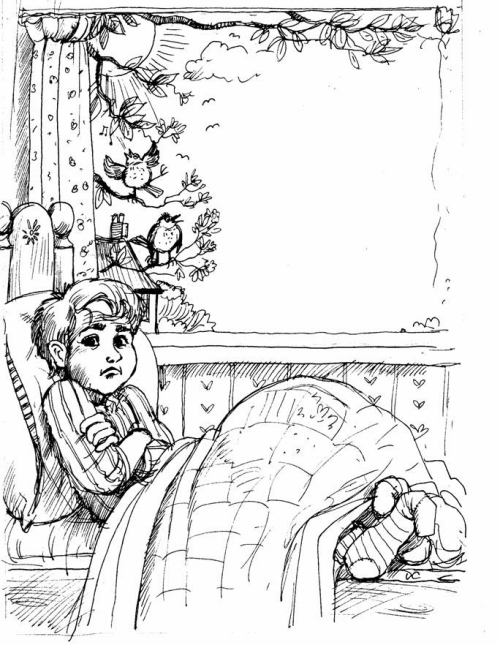 Illustrated by: Debbie Cook
---
THE GREAT SPOTTED WOODPECKER
The Blackbird sings enviously
As you hang
Oh, so casually
From the little basket
Of green plastic
That holds
A few delectable kernels.
This upside-down
Tit-like agility is,
Sadly,
Beyond the wit
Or skill
Of a mere Blackbird
All it can do
Is whistle in admiration.
Peter Rothwell - Treetops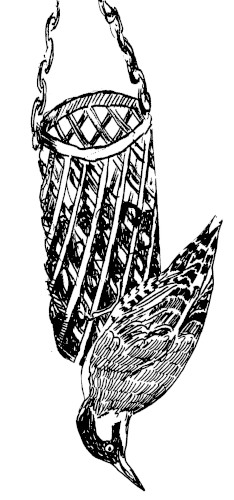 Illustrated by: Paul Swailes
---
CHEERS!
[A guide to festive drinking]
Here's to good old ale,
Drink it down, drink it down.
Here's to good old ale,
Drink it down.
Here's to good old ale,
It will never fail,
Drink it down, drink it down,
Drink it down.
Here's to good old beer,
It fills you with good cheer.
Here's to good old brandy,
It keeps you fine and dandy.
Here's to good old cider,
It warms you up inside yer.
Here's to good old gin,
Not to drink it is a sin.
Here's to good old mead,
It's very good indeed.
Here's to good old perry
It keeps you feeling merry.
Here's to good old rum,
It stops you feeling glum.
Here to good old sherry
[see perry] It keeps you feeling merry.
Here's to good old whiskey,
It makes you feel quite frisky.
Here's to good old wine,
It makes you feel just fine.
[With acknowledgements to the original]
Anyone brave a good rhyme for vodka? Trev
---
SENIOR MOMENTS!
Don't like shopping - it's a bore
Rushed to my car to open the door
Now what's happened, the key is stuck
Today I'm really out of luck
Turn it, twist it - all but kick it
My temper's rising by the minute
Through the window what do I see
Things inside don't belong to me
And now I do begin to whine
Because of course this car's not mine
Humble, furtive, I retreat
My own red I must seek,
Suspicious looks do come my way
Oh what a truly awful day.

NEXT WEEK
Parked in Lane C by trolley shed
L registration, colour red
So out I trot with smile so smug
To enter car with elegant shrug
I don't believe it - what's with my head
A reg L Micra and its red!
It should be mine - it's by the shed
It's where I put it - like I said
Now what I see makes my face red
Lane D has a MicraL, and red
It's mine - it's been there all along
The one I'm breaking up is wrong
One senior moment is enough
But two of them is rather tough
Suspicion spreads and people speak
My case, I think, comes up next week!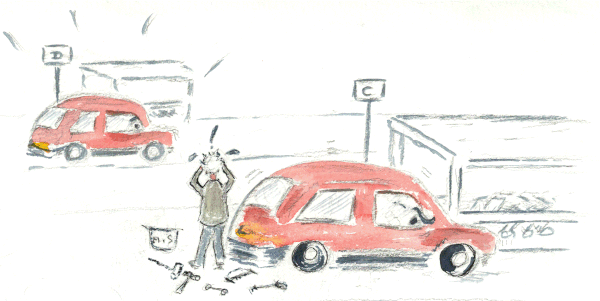 Lisa Shelley
---
POEMS
Tick tock goes the Clock

Tick tock goes the clock that sits beside my bed.
Tick tock goes the clock that echoes in my head.
Tick tock goes the clock which puts my head in a lock.
Tick tock goes the clock which makes my body want to rock.
On and on goes the clock 'til I give it a knock with my sock!
"zzz" snore "zzz"
Now it starts to chime and it's nearly !
Tick tock goes the clock ... .
Thank-you Sun
Dear Sun,
Just a line to say 'thanks' for this and every day.
Your dawns and sunsets are just great,
bang on time,
never late!
Thank you Sun.
Sarah Prentice [9]
Glenbridge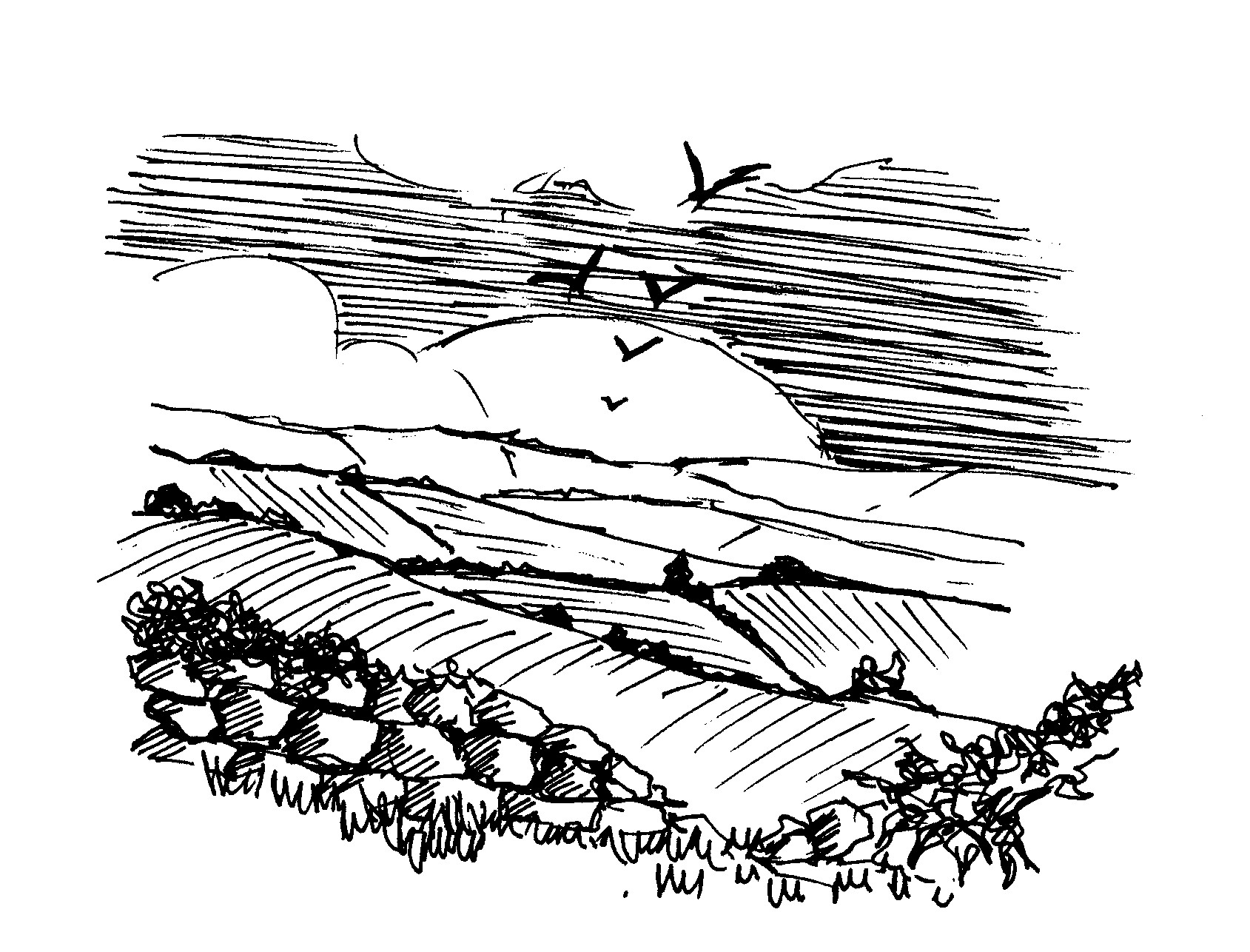 Illustrated by: Paul Swailes
---
POETRY AND PRAYER
It wasn't hard to find, amongst Peter Rothwell's work, an aptly suitable illustration for the evocative words of the quotation given for the Local Walk in the last issue. The quotation came from a poem by the Rev. R.S. Thomas entitled
The Other
There are nights that are so still
That I can hear the small owl calling
far off and the fox barking
miles away. It is then that I lie
in the lean hours awake and listening
to the swell born somewhere in the Atlantic
rising and falling, rising and falling
wave on wave on the long shore
by the village, that is without light
and companionless. And the thought comes
of that other being who is awake, too,
letting our prayers break on him,
not like this for a few hours,
but for days, years, for eternity.

A staunch Welshman and advocator of the Welsh language - although he wrote his poems in English - Ronald Stuart Thomas was born in 1913. He was ordained as a clergyman in the Church of Wales in 1936, a position he held until his retirement in 1978.
Writing some of the finest religious poetry of his generation and writing over 1500 poems, Thomas was awarded the Queen's Gold Medal for Poetry in 1964 and in 1996 nominated for the Nobel Prize for Literature. He died in 2000 at the age of 87 and is buried close to the door of St. John's Church, Porthmadog, North Wales.
In the year Thomas died, this prayer was written by 13 year old Anna Crompton and selected as The Celebration 2000 Millennium Prayer
Prayer for the Third Millennium
Dear Lord, our heavenly Father,
At the dawn of a new millennium,
in a world of darkness, give us your light;
in lands of war and prejudice, grant us peace;
in a world of despair, give us hope;
in a world of sadness and tears, show us your joy;
in a world of hatred, show us your love;
in a world of arrogance, give us humanity;
in a world of disbelief, give us faith.
Give us courage to face challenges of feeding the hungry,
clothing the naked,
housing the homeless and healing the sick.
Give us the power to make a difference in your world, and to protect your creation.
Through Jesus Christ, Our Lord, Amen

---
THE SNOWDROP
Hartley Coleridge [1796-1849]
Yes, punctual to the time, thou'rt here again,
As still thou art: though frost or rain may vary
And icicles blockade the rockbirds' aery,
Or sluggish snow lie heavy on the plain,
Yet thou, sweet child of hoary January,
Art here to harbinger the laggard train
Of vernal flowers, a duteous missionary,
Nor cold can blight, nor fog thy pureness stain.
Beneath the dripping eaves, or on the slope
Of cottage garden, whether mark'd or no,
Thy meek head bends in undistinguishe'd row.
Blessings upon thee, gentle bud of hope!
And Nature bless the spot where thou dost grow -
Young life emerging from thy kindred snow!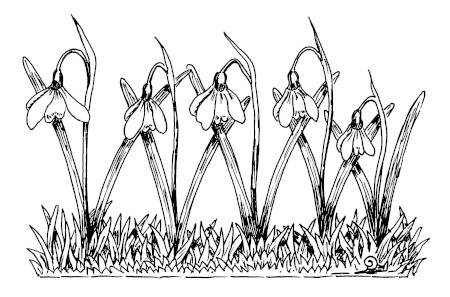 Paul Swailes
---
THE GREAT AMERICAN RAILWAY
[A Campfire Song]
In Eighteen Hundred and Sixty-one
The American Railway was begun.
The American Railway was begun.
The great American Railway.
Patsy ooh-reeah-reeay
Patsy ooh-reeah-reeay
Patsy ooh-reeah-reeay
The great American Railway.

In Eighteen Hundred and Sixty-two
I found myself with nowt to do.
I found myself with nowt to do.
Beside the American Railway.
Patsy, etc.

In Eighteen Hundred and Sixty-three
The overseer accepted me.
The overseer accepted me.
To work upon the Railway.
Patsy, etc.

In Eighteen Hundred and Sixty-four
My hands were tired and my feet were sore.
My hands were tired and my feet were sore.
Through working on the railway.
Patsy, etc.

In Eighteen Hundred and Sixty-five
I found myself more dead than alive.
I found myself more dead than alive.
Through working on the railway.
Patsy, etc.

In Eighteen Hundred and Sixty-six
I went and trod on some dynamite sticks.
I went and trod on some dynamite sticks.
While working on the railway.
Patsy, etc.

In Eighteen Hundred and Sixty-seven
I found myself on t'way to Heaven.
I found myself on t'way to Heaven.
Through working on the railway.
Patsy, etc

In Eighteen Hundred and Sixty-eight
I found myself at the Golden Gate.
I found myself at the Golden Gate.
Through working on the railway.
Patsy, etc.

In Eighteen Hundred and Sixty-nine
An angel's harp and wings were mine.
An angel's harp and wings were mine.
Through working on the railway.
Patsy, etc.

In Eighteen Hundred and Sixty-ten
If you want any more you can sing it yoursen.
If you want any more you can sing it yoursen.
About the American Railway.
Patsy ooh-reeah-reeay
Patsy ooh-reeah-reeay
Patsy ooh-reeah-reeay
The great American Railway.

The last chorus should be sung with increasing tempo and volume to give a rousing finale.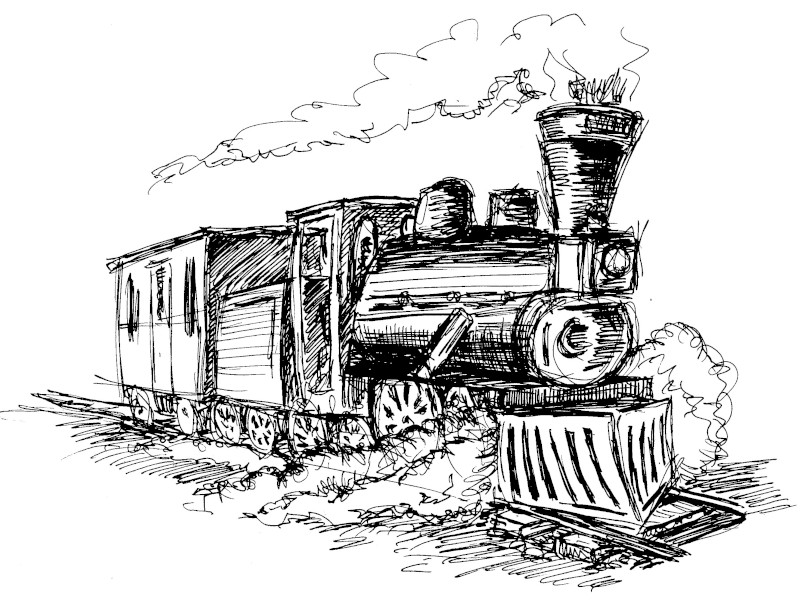 Illustrated by: Paul Swailes
---
ON KICKING THE HABIT!
I'm giving up smoking, again!
And I'm sure I'll suffer the pain.
You can't smoke inside,
So outside you hide,
Though it may be pouring with rain.
I'm giving up smoking, again!
But I'm sure it won't be a joke.
This craving is bad,
For I've smoked since a lad
I'll go mad if I can't have a smoke.
This time I'll do it, I've said this before,
And I'll say it again and again.
When others have tried,
I'd just deride
And then I would laugh like a drain!
Six months later - I've succeeded at last!
The habit is done now, I know.
When I go for beer,
The air is so clear
And my pocket is more full of dough.
So come on you people, try to give up!
Give it, please give it a chance.
They say it is dangerous, dirty and death.
I've run out of rhyme, so I'll finish this time
With good health, wealth and good breath!
NB Our way, which was over forty years ago, was only to light up after the time of the previous day. For example, Monday: first Tuesday: first one after - it might be , but it could be Thursday: don't light up until after and so on.
Eventually, we 'forgot' to smoke. Once you give up, don't be tempted again for if you have just one or two, you will all the old difficulties to overcome again.
Tony Beauclerk
---
ELEGY ON THE DEATH OF A MAD DOG
Good people all, of every sort,
Give ear unto my song;
And if you find it wondrous short,
It cannot hold you long.
In Islington there lived a man,
Of whom the world might say,
That still a godly race he ran,
Whene'er he went to pray.
A kind and gentle heart he had,
To comfort friends and foes;
The naked every day he clad,
When he put on his clothes.
And in that town a dog was found,
As many dogs there be,
Both mongrel, puppy, whelp and hound
And curs of low degree.
This dog and man at first were friends;
But when a pique began,
he dog, to gain some private ends,
Went mad and bit the man.
Around from all the neighbouring streets
The wondering neighbours ran,
And swore the dog had lost his wits
To bite so good a man.
The wound it seemed both sore and sad
To every Christian eye;
And while they swore the dog was mad,
They swore the man would die.
But soon a wonder came to light,
That showed the rogues they
The man recovered of the bite,
The dog it was that died.
Oliver Goldsmith
A favourite Poem - Trev
---
AUSTRIAN FOLK SONG
Heard on the radio many years ago, this poignantly beautiful tribute lay buried in some deep recess of memory to surface recently, without prompting, complete with its simple, plaintive melody. I can't reproduce the latter but here the words, attributed to that great poet Anon and translated by another of the same name [not myself].
How can I leave thee?
How can I bear to part?
That thou hast all my heart,
Dearest believe.
Thou hast this soul of mine,
So wholly is it
That I can love no-one
But thee alone.
Were I a bird love,
Soon would I fly to thee.
Falcon nor hawk tone
Would terror bring.
If slain by huntsman's hand
I at thy feet lay dead,
If thou one tear didst shed
Gladly I'd die.
Blue is the flow'ret
Called the forget-me-not.
Oh lay it on the heart
And think of me.
Should fate be too unkind,
Hope gone faith out of mind,
Love shall remain with us,
Dearest, believe.
Trev
---
WHEN I SAY . . . "I AM A CHRISTIAN"
Author Anon - Submitted by Laurie Harvey
When I say . . . "I'm a Christian", I'm not shouting 'I'm clean-livin''.
I'm whisp'ring "I was lost, now I'm found and forgiven."
When I say . . . "I'm a Christian", I don't speak of this with pride.
I'm confessing that I stumble and need Christ to be my guide.
When I say . . . "I'm a Christian", I'm not trying to be strong,
I'm professing that I'm weak and need His strength to carry on.
When I say . . . "I'm a Christian", I'm not bragging of success.
I'm admitting that I've failed and need God to clean my mess.
When I say . . . "I'm a Christian", I'm not claiming to be perfect.
My flaws are far too visible, but God believes I'm worth it.
When I say . . . "I'm a Christian", I still feel the sting of pain.
I have my share of heartaches, so I call upon His name.
When I say . . . "I'm a Christian", I'm not holier than thou.
I'm just a simple sinner who received God's grace somehow.

---
MISTAKEN IDENTITY
Across the fields beneath the trees
I saw something which made me freeze
There stood a figure all in black
I stared at him and he stared back!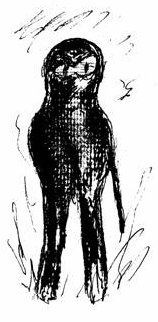 Oh dear, oh dear, now what to do
Put glasses on for better view
If I could only see his face
But that did nothing for my case

He was in shadow and obscure
Perhaps a Hoody - I wasn't sure
I rang my neighbour - he must see
This phantom who was watching me
With back-up one feels not alone
The truth would surely soon be known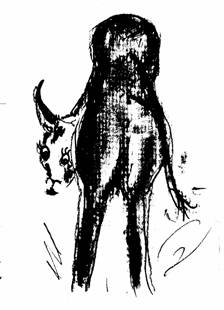 My neighbour snorted "What a farce
You're looking at a black cow's arse!
And as my face was glowing red
The cow she chose to turn her head!

Lisa Shelley and illustrated by her
Yes, to my shame it really happened!
---
A DAY IN AUTUMN
R.S. Thomas
Leaves adding their decoration
To the trees' shoulders, braiding the cuffs
Of the boughs with gold; a bird preening
In the lawn's mirror, Having looked up
From the day's chores, pause a minute.
Let the mind take its photograph
Of the bright scene, something to wear
Against the heart in the long cold.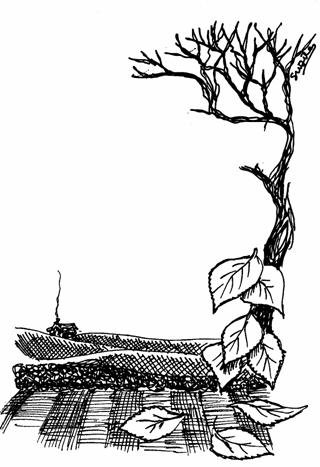 Illustrated by : Paul Swailes
R.S. THOMAS
Ronald Stuart Thomas was born in Cardiff in 1913 and educated at St. Michael's College, Llandaff and University College Bangor.
Ordained in 1936, he was a Vicar in the Church of Wales until his retirement in 1978.
Born to non-Welsh speaking parents, his passion was the Welsh language. He did not, however, learn to speak it himself until he was 30, although his poetry - more than 1500 poems - were written in English.
In 1964 he was awarded the Queen's Gold Medal for Poetry and in 1996 he was nominated for the Nobel Prize for Literature.
Admired by fellow poet Ted Hughes and widely regarded as the best religious poet of his time - although his work covered a wide range of themes - Thomas died in 2000 at the age of 87.
---
THE WORRIES
All night time as I lie in bed the worries swirl around my head
What if I melted in my bed
What if a giant roasts me dead
What if the monster bit my head
What if a building fell on my shed
What if the sky rained pencils and pens
What if the school overflows with hens
What if people watch me drool
What if I drown in the pool
What if I'm in the house when the door locks
What if my dad wears forty pairs of socks
What if my Mum loses her tickets
What if my fish gets attacked by crickets
What if people use rules as rakes
What if my fingers turn into snakes
All night long as I lie in bed the worries swirl around my head
David Jones
[David, who is 7, is a pupil at Combe Martin Primary School and the grandson of David and Janet Steed]
---
ON A VISIT TO A RECONSTRUCTED AIR RAID SHELTER
AT FLAMBARDS
Old memories, on demand, are painted fables,
Not history at all, but pictures in the mind
Of happenings not weeks but years apart.
For then is never now and time disables sequence.
Days silted over by long sleepless
Fearful nights are colourless as dull defiant winter
And as by winter streams are washed away
To merge with watchful endless summer.
In memory it seemed that London's villages
Had always sheltered in a fortress walled
By wire cats cradles hanging from a studded
Sky, and this must be, like other sieges, overcome.
A vision too of nights when swords of light
Swaying, swinging, dancing, flooding the low
Fat clouds with lakes of swirling pearly
Beauty trapped high sparkling gnats in bright display.
Caught, and passed on for mile on thundering flaring
Mile while distant bombs cried long in their descent
Cascading screams each shorter than the one before
Until, at last, unwarned the old familiar walls reduced to quaking silhouette.
But catch a breath of unlit gas or hear the frantic clink
Of bricks and now becomes as then and, with
Eyes closed and watering we hear the hymn our dying neighbour
Sang beneath the rubble of her home and smell the burning city.
Peter Hinchliffe
At the age of 12, I was sent to stay in London's East end with relatives because my mother was ill. We live in the country and it was the height of the blitz. I thought I had forgotten it until a realistic setting at Flambards brought it all back and I found myself shaking. The poem is the result.
Peter's poem won a First Prize in an International Poetry Competition at The Plough in Torrington. Our warmest congratulations, Peter, and thank you for sharing with us your poem and memories of wartime London.