---
Congratulations to Berrynarbor's Dylan Bacon who has been selected to play for the Devon Under 16 Football Squad 2018-19.
Dylan regularly plays for the Braunton U16 football team where he is Captain.
---
CONGRATULATIONS!
Congratulations to Kirsten and James, who were married at St. Peter's on 5th August.
Kirsten is the daughter of Sally and John Baddick of Barton Lane, and James the son of Ken and Hilary Harris from Lincolnshire.
Kirsten was attended by her sister Hannah, who was chief bridesmaid, and James's sister Amy. Hannah's son Noah was page boy.
The reception was held at Sandy Cove Hotel and the newly-weds spent their honeymoon at Lake Garda, Italy.
Kirsten and James live in Leamington Spa, Kirsten working in the Research Department of Warwick University and James at Jaguar Land Rover.
We wish them both health and happiness in their future together.
Congratulations and best wishes, as well, to Juanita and George Billington who celebrated their Golden Wedding with their family during the week-end of the 19th August.
---
CONGRATULATIONS - 100 YEARS YOUNG!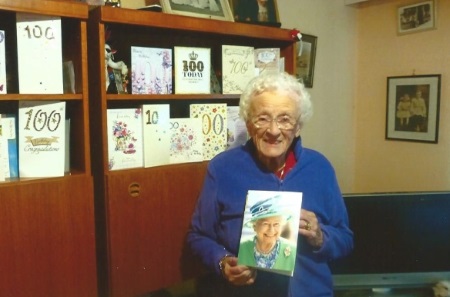 Our congratulations and very best wishes to Vera Lewis, who celebrated her 100th Birthday on the 3rd August, 2015.
Her father, Tom Ley, in 1927 built Orchard House in the Valley, from where she and her sister Evelyn were married. Vera and her husband continued to live there until 1944 and she believes her daughter, Wendy, is the only baby to have been born at the house.
Vera, who lives in Epsom, Surrey, has been a reader and supporter of the newsletter since it began in 1989.
---
Congratulations to the Carnival Club whose float 'Under the Sea' with 20 toddlers aboard came 2nd at both Combe Martin and Ilfracombe Carnivals. In addition to doing so well and enjoying the events, the walkers raised £45 towards the Club.
A big thank you to everyone who helped to make the float so extra special and particularly Kevin, the tractor driver, and Phil who provided the music and power.
Be and Richard

---
CONGRATULATIONS TREV!
In just 10 days' time and on Sunday, 10th February, Trevor - or our Trev of the Twitters - will be celebrating his 100th Birthday and receiving congratulations not only from us but from the Queen as well!
We send him our very best wishes on this very special occasion, a wonderful achievement, and long may your 'Twitters' continue!
At the same time good wishes go to Kath who celebrated her 90th Birthday in January.
For his Birthday, Trevor with Kath and his family's help will be holding an Open Day on Sunday,
February 10th, at Barn Cottage in the Sterridge Valley from 11.00 a.m. onwards. Please pop in some time and join them all for a while.
---
CONGRATULATIONS
How great it was to see Mary's name amongst those who received an honour in the Queen's Birthday Honours in this her Diamond Jubilee year. Mary's BEM, British Empire Medal, for 'service to the community in Berrynarbor, North Devon' was more than deserved.
Mary does so much for us all, not only through the church, and we thank her and send our congratulations and very best wishes. Well done!
---
BERRYNARBOR TODDLER GROUP
The Toddler Group Bingo Night held on the 5th April at the Manor Hall made a grand total of £125 and we made a small amount of £18.50 on the Name the Teddy at the Tea following the People Juice dance event. The teddy was won by Christina Barrow who attends the Group with her children. Thank you all for your support.
Be Barten
---
CONGRATULATIONS - 100 YEARS YOUNG!
Local resident Joyce Clay, from Lee Lodge, celebrated her 100th birthday in style at the beginning of November, inviting over 100 guests to join her at the Woolacombe Bay Hotel for a splendid buffet lunch.
Organised by her eldest son, Bob, this was the largest gathering of the family to take place in years, and spanned four generations. Joyce's daughter, Vanessa, flew in from South Africa, accompanied by her eldest son, and other family members travelled from France and other parts of the UK to be there to celebrate with her. Scores of local friends and carers swelled the numbers.
Although less mobile than she was, Joyce enjoys getting out, regularly playing bridge and attending lunch club, as well as keeping in touch as best as she can with the many friends she has made in over thirty years of living in the area.
The gathering all but filled the splendidly decorated ballroom at the Woolacombe Bay, and the informal arrangements enabled everyone to have at least a brief word with Joyce while enjoying delicious food and good company. Surrounded by her many gifts and cards (including one prominent one from Buckingham Palace!) and a continual huddle of well-wishers at her side, Joyce seemed utterly thrilled by the whole experience.
After cutting a huge cake with 100 candles (blown out for her by her great-grandchildren) while everyone sang "Happy Birthday!", Joyce thanked everyone for coming and making it all so wonderful for her.
And we all send you our congratulations, Joyce, very best wishes and many happy returns.
---
CONGRATULATIONS!
ENGAGEMENT
Pat and Malcolm Sayer are delighted to announce the engagement of their eldest daughter, Karen, to Nick Hawke from Witney in Oxfordshire. They are to marry here in the village church on Saturday, 17th September. Congratulations!
---
CONGRATULATIONS!
Congratulations to Karl Ozelton who completed the London Marathon in 5 hours 37 minutes, raising over £1,600 for the Well Child Charity.
Karl would like to thank everyone for their support and sponsorship. He enjoyed the atmosphere of the event so much that he has applied for a place in next year's event, when he will be trying to beat his time!
WELCOME IMOGEN & TIANNA!
June and Bernard are delighted to announce the safe arrival of their fifth grandchild. Cassia Imogen Pickford, a daughter for Claire and Justin, and baby sister for Keenan and Cormack, was born on the 22nd April and weighed in at 7lbs 5oz.
Sue and Alan Richards of East Hagginton are delighted to announce that they have another granddaughter. Tianna Julie was born to Jamie and Julie-Ann in Australia on the 18th May, weighing 6lb. All well.
A warm welcome to the new arrivals and congratulations and best wishes to the proud parents and grandparents.
---
CONGRATULATIONS!
Congratulations to Katrina Parkin, daughter of Julie and Michael of Bowden Farm, who has graduated from the University of Exeter with a 2:1 degree in Psychology. Katrina will be going to Worcester in September to take a PGCE after which she will be able to teach Psychology in secondary schools. Well done, Katrina, and good luck for the future.
Happy Birthday! Congratulations and best wishes to the 'Mrs. Reading Lady', Ursula, who celebrated reaching her years and ten with a very happy and enjoyable cream tea for family, friends and villagers at Sloley Farm on the 19th July. In lieu of gifts, Ursula asked for donations for the Primary School Library and she thanks everyone for their kindness in supporting the Library, funds for which were boosted by £100.
---
CONGRATULATIONS!
Our belated congratulations to Win and Dennis Collins [late of Barton Lane and now at Westbury on Trym] on the occasion of their Golden Wedding, celebrated with their family on 27th January. Our love and very best wishes to you both.
---
CONGRATULATIONS
Keith and Margaret Walls are delighted to announce that their family has just officially increased by two!
On Wednesday, 11th July at St. Peter Port in Guernsey, their daughter Tania and her husband John became the legal adoptive parents, after four years, of brother and sister, Lance [10] and Imogen [8]. A family party followed the court ceremony. Good luck and best wishes to you all.
Ivy Richards was recently reminiscing about her youth and remembered how when she was just five years old she would walk from Cockhill, together with Jimmy Huxtable from Woolscott, down the Valley and up to the village school, with her lunch in a little basket. How different it is today!
However, today, like all the family, Ivy is very proud of her great-granddaughter, Kirsti Richards. Kirsti is with the Queen Alexandra's Royal Army Nursing Corps and has recently passed out of her Phase 2 training as a Medical Technician at Aldershot as the top student of her intake. Currently based in Norfolk, she is undertaking further training as a Physical Training Instructor, whilst waiting for the unit to go out to Iraq. Well done, Kirsti! Good luck for the future and take care!
Gingerbread Goodies!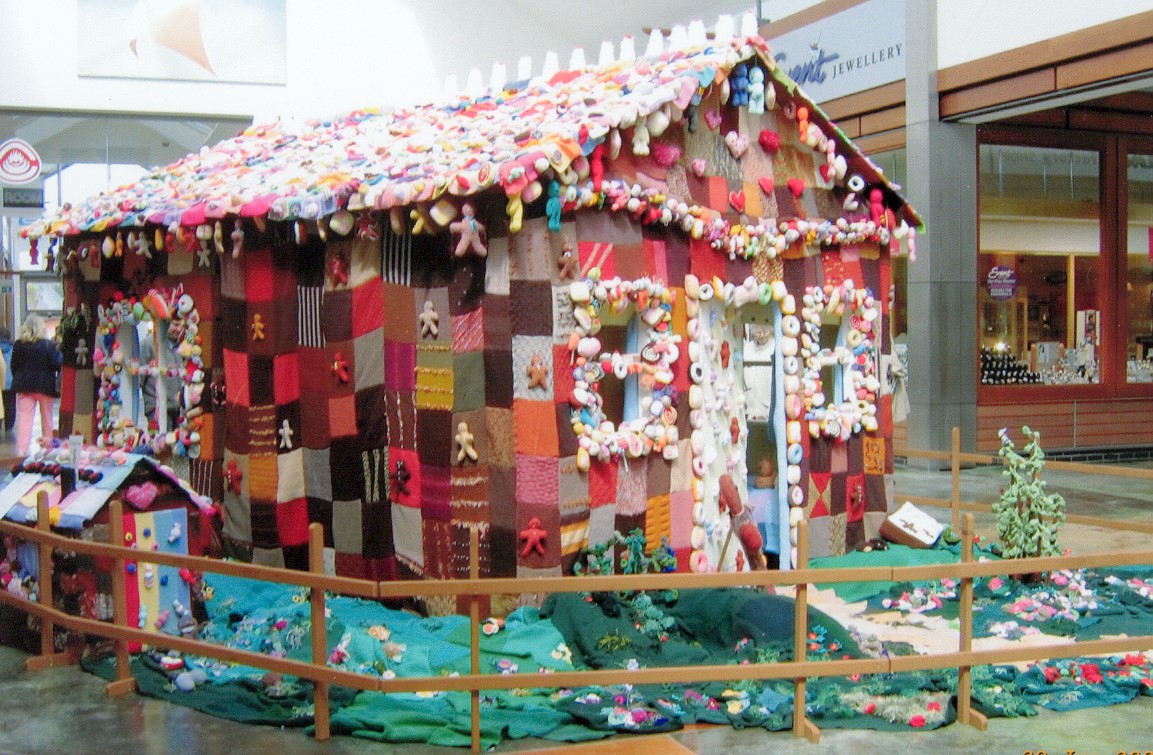 Congratulations to all the knitters, especially those from the village, who contributed to the success of the Knitted Gingerbread House. If you haven't visited Atlantic Village recently, do go over and see it for yourself - it's wonderful! It will be on view there until the end of September, when it will tour the country. Donations will be shared between the North Devon Hospice and Great Ormond Street Children's Hospital.
---
CONGRATULATIONS!
Sue and Alan Richards are delighted to announce the engagement of their daughter Nicki to Tim Schneider of Helston. Nicki is a Primary School teacher in Plymouth and Tim a Chartered Engineer for DML at Plymouth.
Our congratulations and very best wishes to you both.
---
CONGRATULATIONS
Congratulations to Tracey and Linda Camplin on their recent success in the Great South Run at Porstmouth. Training beforehand, they joined 12,000 runners on the ten mile run on a very wet [Linda says 'terrible!'] Sunday, 22nd October, raising £300 for Marie Curie funds.
This was Linda's first run, although Tracey has taken part in a couple of events before, including the Hospice Race for Life, and they will both be taking part in the Christmas Cracker run at Weston-Super-Mare in December. This is a charity event in aid of the local Hospice and if you would like to sponsor them, please do get in touch, they would be delighted to hear from you.
---
CONGRATULATIONS!
Every so often in the month of January, nature throws us a beautiful, clear, brilliantly sunny day and it was on such a day this year, the 28th, that more than seventy guests congregated at Broomhill Art Hotel to help
Tim Davies and Tim Jones celebrate their Civil Partnership Ceremony. Guests came for this special occasion from all corners of the globe -
Canada, Switzerland, Holland and even Berrynarbor. So, after spending 21 years together, moving from the Alps in Switzerland to settle in the Sterridge Valley and proceed to lovingly restore a 17th century mill, it was with great pride and happiness that they were now able to demonstrate openly and legally to all their friends, relatives and acquaintances exactly what their partnership means to each other. The ceremony was followed by a wonderful champagne reception, in a truly magical setting and this special day was enjoyed by all present. So I am sure I speak for everyone who knows Tim and Tim when I wish them all good fortune and happiness for the rest of their future together.
Chris Taylor
---
CONGRATULATIONS!
Warmest congratulations to Yvonne Davey who has received a Devon Volunteering Award, one of 40 in the County. The award was in recognition of her work and 8-year Chairmanship of the Management Committee of the North Devon Volunteer Development Agency [formerly Ilfracombe Volunteer Bureau], particularly during a difficult time when it's future was very much in the balance. Well done!
It is lovely to congratulate two couples on reaching their Golden Wedding Anniversaries.
Barbara and John Wood, who were married at Yardley Old Church in the Midlands on the 3rd December 1955, celebrated on the day with their family and later with friends at The Lodge.
Gordon and Mary Hughes also celebrated at The Lodge, with family and friends on the fiftieth anniversary of their wedding at Eggbuckland, near Plymouth, on the 10th December 1955.

Congratulations and best wishes to you all. Good luck and happiness for many years to come.
Sophie Mummery, now in Year 10 at Pilton Community College, was nominated together with 3 other pupils for an award for 'Effort in Year 9'. At a presentation evening at the Barnstaple Motel on the 18th January, Sophie became the overall winner and the proud owner of a cup, certificate and gift voucher. Well done, Sophie!
---
CONGRATULATIONS
Well done, Jancy! Jancy Davies has recently passed her final Advanced Exams to become a Qualified Chartered Accountant and has secured a job with a firm in London. She will be moving there in October. Good luck, Jancy, and success in your future career.
Congratulations to June and Gerry Marangone who celebrated their Golden Wedding on the 17th September. We all wish you many more happy years together.
We should like to thank all the family and many friends for joining us for our Golden Wedding Weekend. It was so lovely and far better than we ever expected and we were also blessed with lovely weather. Thank you so much for all the cards, flowers and gifts we received. Special thanks to you all for the lovely surprise gift, which was the biggest secret ever kept from us until the day. May we both thank Sarah for the beautiful cake and all the help she gave us. Our love and sincere thanks to you all.
June and Gerry
Congratulations to our Carnival Club for once again doing us proud - 1st in Class at Combe Martin, Ilfracombe and Barnstaple, and Best in Show at Combe Martin and Ilfracombe and Runner-up at Barnstaple. Well done, everyone!
At St. Peter's Church on Saturday, 13th August, a very happy event took place. Three of my great-grandchildren were Christened - Thomas [22 months], his brother Jack [2 months] and their cousin Lucille [11 months] from British Colombia. These three are my daughter Linda's grandchildren. I was married at St. Peter's in 1943, Linda in 1968, my two children and one of hers christened here also. Both in the church and at Long Acre afterwards, it was a great family gathering - a truly memorable day.
Joan McCallam nee Adams [of On-a-Hill fame!]
Our congratulations to Joan and all her family.
---
CONGRATULATIONS
Ron Toms is delighted to share his news that his grandson, Darren - youngest son of Sheila and Tony who live in Swindon - has become engaged to Jane Harris. His eldest grandson, Craig, is now serving as a Special Constable at the Maidenhead branch of the Thames Valley Police Force.
Our congratulations to Darren on his engagement and congratulations also to Sophie Mummery on her recent success in the Race for Life event:
"On the 19th June, I took part in the Race for Life. It was a superb race which took off at 11.00 from just outside the Tarka Tennis Club in Barnstaple. Literally thousands of runners and walkers entered to raise money for Cancer Research.
It was a humid day and everyone did well. I run for the North Devon Road Runners and they were proud of me as out of 2,700 women running, I came 4th and was also the first junior - my time for 5k was 21 minutes. But most of all, I am proud that I raised £50.50 for Cancer Research thanks to the generous people in the village who sponsored me."
Sophie has also achieved success in the Black Rock Run [25 minutes], a challenging beach run at Woolacombe in severe stormy weather, and came 2nd in the 1500m and 800m races on Sports Day.
Her goal is to run, on behalf of Childline, in the London Marathon together with her father, Rob [who has already taken part in this event] and to keep on running!
Well done, Sophie, keep up the good work!
---
CONGRATULATIONS!
Talking of raising £500, Margaret Walls deserves congratulations for raising that amount of money from plants this summer sold in aid of the Children's Hospice South West. The many hours she has spent potting up plants and cuttings has been more than rewarded.
This is the third year Margaret has sold her plants and both previous years have raised £400, but this year, with a last push from selling apples, she has topped the £500 mark!
For the first time, Margaret took the money to the Hospice and was very impressed by all she saw - the gardens, the building and the comfortable and caring atmosphere that was so obvious. It made her 'gardening' all worth while and she would like to thank villagers who have supported her efforts in so many ways - providing plants and cuttings, compost, pots and then, with the visitors, stopping to buy.
Well done, Margaret!
---
CONGRATULATIONS
Robin and I have been privileged to welcome Dorothy and Ken Wooldridge to Middle Lee Farm. Dorothy and Ken spent their honeymoon here in Berrynarbor, staying at Langleigh Guest House, and have now returned for the first time in celebration of their 60th Anniversary.
They were married on 5th August 1944 at Stanmore Church in Middlesex and then embarked on what was to prove an epic journey to North Devon! The Normandy invasion was in full progress and troop trains had first priority on the whole rail network. Their train was constantly being shunted into sidings to make way so that the total journey time was a horrendous ten hours. Bad enough in itself, but the train was so crowded that neither of them had a seat and so they had to stand or sit on their case for the whole journey!
Arriving in Ilfracombe, the worst was over - or so they thought - but the bus to Berrynarbor left them at the end of Barton Lane with a heavy suitcase and a very long walk! I'm surprised that after that experience, they were ever willing to return! In fact, perhaps they weren't - their trip here was a secret organised by their daughters, Carol and Janice and son-in-law John, all of whom have been staying here this week.
Despite the perils of their journey, they have many happy memories of the village and countryside - of getting lost on long walks [Dorothy wore out three pairs of shoes], of the friendliness of the people they met, but most of all of the peace and tranquillity after wartime London.
We hope their latest week here, which included a celebratory dinner at The Lodge, will have given them many more happy memories to take home.
Jenny
---
CONGRATULATIONS!
Our very warmest congratulations to Karen Crutchfield, Head of our Primary School, her Staff, Governors and Pupils for the excellent Ofsted Report received recently. After a few difficult years, the Report said that weaknesses had been very successfully dealt with and praised Mrs. Crutchfield for her 'outstanding leadership'.
---
CONGRATULATIONS!
Saturday, 6th March, was a very special day for a very special lady in the Valley a momentous occasion deserving a card from the Queen! Yes, Lorna Price was celebrating her 100th Birthday!
Lorna, we send you many congratulations with our love and very best wishes.
Disintegrating Together Pam Brown born 1928
"Friends who are contemporaries and of long acquaintance fall apart at more or less the same speed. And so the aches and creaks and wheezes that come with age are transferred into companionable things - symptoms to swap, disintegrations to chart with a certain dry amusement.
For how ridiculous it is that we, who only a flicker of time ago were young and very nearly beautiful, have come to this. Only friends gossiping over a cup of tea, can see the joke . . . knowing that, beneath the skin, we have not changed a scrap. "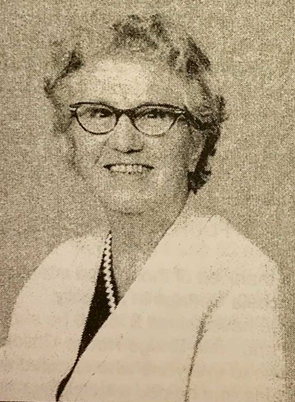 I was born at Widmouth Farm Cottage on the 6th of March 1904, so have just celebrated my 100th birthday.
I had a lovely day, made so special by all the smiley people who came to see me; the bell ringers from St. Peter's who kindly rang a joyous peel in the morning, and the good wishes sent by so many cards.
Thank you all so very much - the beautiful flowers may fade and the chocolate boxes empty, but the mind's eye will hold these images to recall and remember.
My thanks to Phil and Lynne at The Lodge for making our family Sunday a real treat, and the gentleman diner [unknown] who gave me a kiss and made my day!!
God Bless
Lorna Price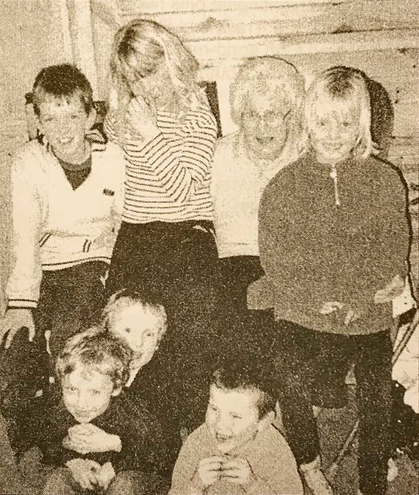 Lorna, on the big day, with her six great-great nephews and nieces
I should like to take this opportunity to thank Lorna and Michael on the wonderful day they gave my Mum on her 100th Birthday. Lorna for providing a delicious tea and refreshments all day!! And Michael and his team for ringing the church bells. Also many thanks for fetching me from Barnstaple and taking me home again.
I'm sure Mum had a day she will never forget.
Margaret
One of Lorna's favourite poems, chosen for us to share
WEATHERS
Thomas Hardy, 1840-1929
This is the weather the cuckoo tikes,
And so do l;
When showers betumble the chestnut spikes,
And nestlings fly;
And the little brown nightingale bills his best,
And they sit outside the 'Travellers Rest',
And maidens come forth sprig-muslin drest,
And citizens dream of the South and West,
And so do l.

This is the weather the shepherd shuns,
And so do l;
When beeches drip in browns and duns,
And thresh and ply;
And hill-hid tides throb, throe on throe,
And meadow rivulets overflow,
And drops on gate-bars hang in a row,
And rooks in families homeward go, And so do l.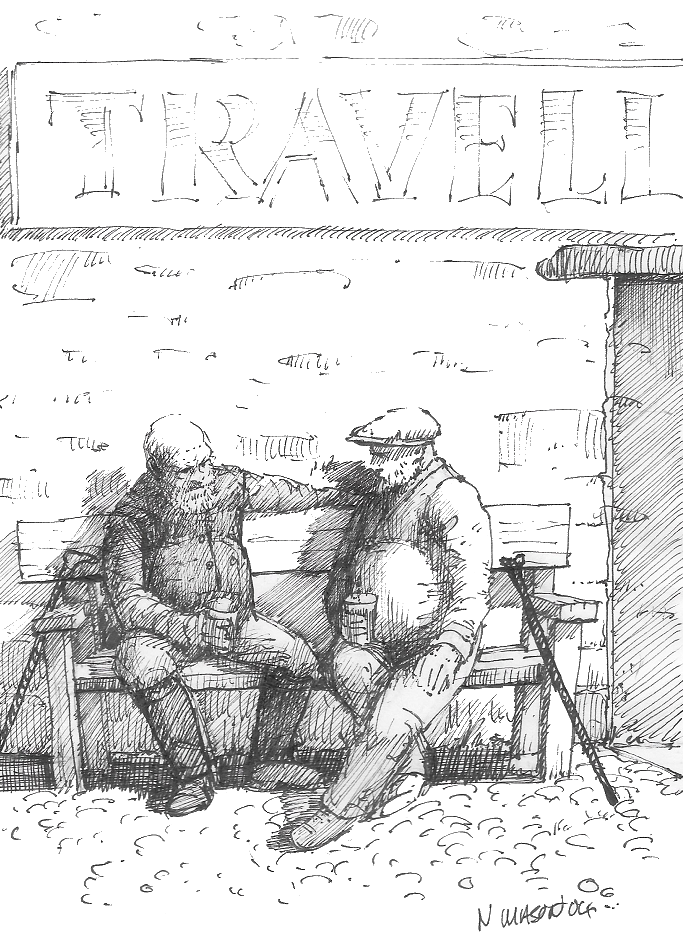 Illustrated by: Nigel Mason
---
CONGRATULATIONS!
Once again the Berrynarbor Carnival Club's float has pulled in the prizes.
"Full Steam Ahead" won both its Class and the Overall award at Combe Martin and was 1st in its Class at both llfracombe and Barnstaple.
The beautifully constructed and finished [with great care to detail as always] train was based on the Lynton to Barnstaple railway and the newly reopened Woody Bay Station, the engine being a replica of one used on the line.
Congratulations to everyone involved - we look forward to next year's entry!
We are delighted to announce the engagement of Victoria [Vicky], daughter of Judith Maunder a regular contributor to our Newsletter to Graham [Mac] MacDonald. Very best wishes to you
---
CONGRATULATIONS
Congratulations and very best wishes to Margaret Andrews and Michael Taylor who, on the 8th December 2002 at a Special Service Of Admission and Licensing conducted by the Bishop of Crediton, were admitted as Readers in the Church of England, North Devon Coast Team.
Michael arid I thank you for your prayers and attendance at our Service of Admission... We were overwhelmed by your cards, letters, presents and good wishes, and are at your service should you need us.
Margaret.
Congratulations and best wishes to Olive Kent who celebrated her 90th birthday on the 16th December. The staff and other residents at Park View, where Olive is happily living now, did her proud with a wonderful tea party for family and friends, when she was overwhelmed with gifts and cards.
Thank you so much for remembering me on my 90th birthday and at Christmas. It was lovely to hear from so many friends in Berrynarbor.
Olive
---
CONGRATULATIONS
Belated best wishes for Happy Birthdays to Ivy Richards and Margaret Kemp on reaching the big Nine O!
Berry in Bloom - Heartiest congratulations to and Vi and their band of committed planters, waterers and carers, and all the individuals who made their gardens colourful, catching the eye of the judge and impressing him such that the village was awarded the Mary Mortimer Cup, for small villages in the South West, and in addition were group winners and gold medallists. Well done!
Jill and Bill Jones are delighted and proud of the achievement of t heir grandson, Daniel Green, on becoming the World Junior Karate Champion at this year's World Karate Association [WKA] Championships held in August at Massacarara in Italy. To achieve this he beat numerous high quality contestants from all over the world, including Japan, USA, Canada and all Europe.
Congratulations to the Berrynarbor Carnival Club on their achievements with their superb float "Chitty Chitty Bang Bang", which came 1st in the Topical Class at Combe Martin and Best Overall at llfracombe. Now Barnstaple, and who knows!
---
CONGRATULATIONS
All the family congratulate brother-in-law, David Huxtable, who was awarded an MBE in the Golden Jubilee Honours List, for his services to Victim Support.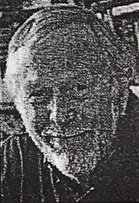 David, who is part of the Berrynarbor Huxtable line, was brought up in Chambercombe where his parents ran the local Post Office. Following training at Bristol, he made his career in the Probation Service.
Whilst working as Chief Probation Officer for West Sussex, David became very interested in the charity and decided to become more involved when he retired. For the past five years, he has chaired a National Committee involved in funding Victim Support. He also chaired the Home Office Committee which allocates grants to all Victim Support Schemes around the country.
Victim Support went through major changes during this period, including the launch of Witness Support Services to help people going to courts to give evidence.
David and Sheila, who live in Chichester, returned to their roots la st year when, with their family, they celebrated their Golden Wedding Anniversary.
Well done David, "You'm a proper chap!"
Michael Bowden
---
CONGRATULATIONS
Becky Walls has continued to build on the success of her gymnastics results of 2000. The first competition of 2001 was in March at the annual North Devon Schools Championships held at Edgehill College. Representing Berrynarbor School for the second year, Becky picked up the overall Silver Medal.
Next came the Broadmeadow Championships in Teignmouth where Becky put in a good performance but did not secure any medal positions. In October came the Exeter Challenge with over 40 girls in her age group. Becky achieved a Gold Medal on the Beam, a Bronze Medal on the Vault and the overall Silver Medal of the Competition, just .5 of a point behind the winner, who was also from Becky's gymnastics club. Finally, she gained a Distinction in her Grade VI examination held at her local club, Barum Gymnastics.
Barum Gymnastics Club is held three nights a week at The Park School in Barnstaple. For information call [01271] 883202. Well done, Becky!
---
If Debbie can pass on her computer skills, can Roger pass on a few tips about studying form and what is in a name, please? The village was united in its delight at Roger and Debbie's recent incredible winning streak congratulations and best wishes to you both and the family. Enjoy yourselves!
That, we understand, is what they are doing, but even more generously, Debbie and a party of friends and children are off shortly to take in the delights of Disneyland Florida. Have a wonderful time. Roger and Debbie would like, through the newsletter, to thank everyone for the happy reaction to their exciting news.
---
ACADEMIA
Congratulations to all village students on the results of their recent 'A' Level and GCSE examinations. Particular congratulations to Matthew Malin from Mill Park, who, with two other students from Ilfracombe College, were placed within the top 5 highest marks [from 11,599 entries countrywide] in his GCSE Statistics examination. Well done, Matthew!
Katie Gubb and Jancey Davies are now both off to university following their 'A' Level success. Katie is off to Bournemouth to follow a Tourism and Leisure Management course and Jancey, who has recently been awarded the 'A' Level Maths prize, is off to Exeter to further her studies in Maths. Meanwhile, brother Eden, having gained a First Class Honours degree in Animal and Plant Biology at Portsmouth, is taking a Masters Degree in Ecology and Conservation at the University of East Anglia.
Pippa Anderson, having gained a 2:1 Law with French degree at Cardiff, followed by a further year at Cardiff on a Legal Practice course, for which she received a Commendation, is now embarking on a two year Trainee Solicitor contract with a firm of solicitors in Exeter.
Congratulations and good luck to you all.
Good luck, too, to the new Reception pupils at our Primary School, those pupils who have now moved on to Ilfracombe College and all students at the start of another academic year. It is hoped that these poems will bring a smile to your faces!
---
CONGRATULATIONS!
Betty Blackmore
Generations of dancers, both from the village and the local area, will be sad to learn that after more than fifty years of teaching in North Devon, Betty - or Auntie Betty as she is fondly known to everyone - is hanging up her dancing shoes in order to spend more time with her family and doing the many things there has not been time to do in the past. Her future address, she says, will be c/o the Tunnels Beaches!
Thank you, Betty, for all that you have done-for the young people, the community and for your selfless efforts in raising money for and giving support to so many local and national charities. Good luck and very best wishes for a long, happy, healthy and well-deserved retirement.
Roy and Wendy Sibley
4th September 1976
Congratulations, best wishes and all our love Mum and Dad on your Silver Wedding Anniversary
Adam, Helen and Jasmin
Wendy
All my love on this, our 25th Wedding Anniversary. I could not have done it without you.
Roy
---
CONGRATULATIONS
Peggy and Laurie [Dad] Harvey
Congratulations and very best wishes to you both on the momentous occasion of your Golden Wedding
---
CONGRATULATIONS
Congratulations to Christopher Goodman of Braunton who has gained a 2:2 BA Honours degree in Business Administration from the University of the West of England at Bristol. Christopher is the grandson of Vi Goodman of Dormer Cottage and son of June and Terry Goodman. Well done, Christopher.
Congratulations and belated birthday wishes to Frank Billing - 90 years young.
Frank would like to thank all his many friends and family for their good wishes. Also Lynne and Phil for the wonderful party - enjoyed by everyone Viv Fryer for the beautiful birthday cake, the fairies that came in the night to decorate the cottage and everyone for making it such a wonderful occasion.
Further congratulations to Daniel Green, grandson of Bill and Jill of Riversdale Cottage. Daniel required to be in the top 3 of the eliminating UK Championships for the World Karate Association recently held in Manchester. In fact he came first and becomes the main British contender for the World Championships to be held in Vienna in August, with over 30 countries competing. Good luck, Daniel.
Congratulations to my sister Sheila and her husband, David Huxtable, on their Golden Wedding Anniversary on the 10th February. They came back to their roots to celebrate with the rest of their family and friends. Thanks to Phil and Lynne for helping to make their week-end such a memorable one.
Michael Bowden
And our best wishes to Lorna Price on her 97th Birthday.
---
CONGRATULATIONS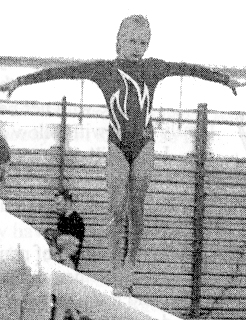 Three Golds and a Silver medal for the year 2000, that is the reward for BECKY WALLS in the first year she has entered gymnastics competitions.
Starting in March at the North Devon Schools Gymnastics Championships held at Edgehill College, Becky, representing Berrynarbor Primary School won Gold for the 7 year old individual title.
Following this success, Becky then took part in the Broadmeadow Gym Club Competition held at Teignmouth and came away with a Silver medal for the vault.
Most recently, at the Exeter Recreational Challenge against teams from Exeter, Barnstaple, Honiton, Teignmouth and Plymouth, Becky came 1st on the floor, 3rd on the beam and 3rd for physical preparation, and came 1st Overall. for the 8 year old individual competition. Becky has been going to gymnastics club since she was 4 years old and is now a member of Barum Gym Club based in Barnstaple.
Congratulations to Becky, who is also a very talented swimmer.
Congratulations to NEIL GILSON who has another national bronze medal to his credit. Neil, who is North Devon's Top Teenage Swimmer, is the son of Richard and Dawn Gilson of Sandy Cove, and grandson of Daphne Darlington. He attends Braunton School.
After bringing a bronze medal home from the age group championships in the summer, 15-year old Neil competed in the British Open Short Course Championships in Sheffield and a time of 16-12-37 gave him 3rd place in the Junior 1500m Freestyle event. It was a personal best by 17 seconds and it is believed that Neil is the first 15-year old from North Devon to compete at the Championships. He has recently travelled to Scotland as a member of the England West team for an international meet at Inverness where he came 4th in the Men's Open 1500m Freestyle event.
---
CONGRATULATIONS!
Congratulations to Margaret Andrews who has been awarded the Diocese of Exeter Certificate presented at a Service at Fremington by the Bishop Of Crediton on the 25th November.
The Certificate is awarded to people who have studied eight modules from courses run by the Church Adult Training Section. Following a number of interviews and observed group workshops, Margaret is now able to proceed to complete, together with some practical experience, the rest of the Syllabus. This will take two to three years after which, if all goes well - and I'm sure it will - the Bishop can licence Margaret as a Reader.
Well done, Margaret, and good luck with your future studies.
Bill and Jill Jones are very proud of their grandson, Daniel Green. Daniel, who is nine, recently took part in the WFFO Karate World Championship in Stuttgart, Germany, when he came 2nd in the 12 and Under, Hard Style Kata Karate event. He is at present European Champion in the U 16 class and is taking part in the European Marshall Arts Championships in which there are 4 competitions a year. The winner, who becomes European Grand Champion, is the one with the most points. Daniel has won the first three events and will shortly take part in the final one. Well done, Daniel - we hope to be able to congratulate you on another win in the very near future!
Francis and Chris Baddick must be congratulated on their recent sporting achievements. In the athletics season that has just finished, Francis was 1st in the Devon Championships in the U15 800m and 1500m, and was 4th in the South of England Championships in the 800m; whilst in the U13 section, Chris was 3rd in Devon in Shot and the 800m. In the South West Cross Country event, Chris is the Boys' U13 Champion and Francis 4th in the U15's. Very well done to you both!
---
CONGRATULATIONS
Congratulations also go to:
Nichola Richards who has graduated from the University of Wales Institute, Cardiff, with a 2:1 BA Honours degree in Recreation and Leisure Management. Nichola is now returning to Cardiff to take a PGCE in Secondary Physical Education and Mathematics.
Katie Neale who has been awarded a 2:1 BA Honours degree in Primary Education, Qualified Teacher Status, from Oxford Brookes University. Katie, whose graduation took place in Oxford on the 6th September, is now teaching at Weyfield School, Guildford. Although teaching subjects across the board, Katie's specialist subject is Art.
---
CONGRATULATIONS
Congratulations to Pip Anderson on gaining a degree in Law and French from the University of Cardiff. Pip will be returning there in the autumn to continue with a Legal Practice Course.
News of the rest of the family is that Seonaid has just started a new [two year] post in Market Research in Hong Kong, whilst brothers David and James are currently working in Manhattan and London. Good luck and best wishes to you all.
Is this a First?
Anna and Lucy Rushmer, the daughters of Peter and Cheryl [nee Layton], daughter of the late S.Ldr. Charles Layton MBE and Mrs. Brenda Layton JP of The Knapps, were awarded degrees on the same day -- 11th July 2000.
Anna was awarded her Master's degree in Management Science and Operational Research at Warwick University and Lucy a First Class Bachelor of Science degree with honours at Staffordshire University. Lucy also received 'Best Performance in the Field of Geography' awarded by the Geographical Association.
It was a tight schedule for the parents having to travel from Staffordshire to Warwickshire on the same day to attend both girls' presentation ceremonies! Well done Anna and Lucy!
---
CONGRATULATIONS
Belated congratulations to Sheila Brain on her excellent [interesting and very informative] article in the 'Village Spot' of Devon Life in October 1999. You did us proud! Thank you.
Congratulations and best wishes to Julie and Michael Richards of Forty Winks who celebrated their Silver Wedding on the 7th December 1999.
---
CONGRATULATIONS - PETER HISCOX!
Congratulations Peter on your 18th Birthday and for achieving your GCSE English exam.
With love from Mum, Dad and the Family.
---
CONGRATULATIONS!
Stuart and Ginny Neale are happy to announce the engagement of their daughter Kate to Joe, son of Peter and Vanessa Barnes of Ilfracombe.
Kate is currently studying at Oxford Brookes University for a degree in Primary School Education and Joe is serving in the 1st Battalion Coldstream Guards, and has recently taken part in the Trooping of the Colour Ceremony at Horse Guards.
... and the bride was left standing on the church steps as the groom 'scooted' off! Congratulations and very best wishes to Sarah [Songhurst] and Clive Darch whose marriage at Barnstaple Registry Office was followed by a Blessing and the Christening of baby Coalin at St. Peter's Church.
Congratulations to Ben Sanders on his success in the recent North Devon Junior Tennis Tournament - winning the Mixed Doubles Championship and receiving a Special Award and a Sportsmanship Award.
We have always been proud of our superb 'local', but thanks to Phil and Lynn, The Globe has now been well and truly put on the map! In a recent Independent Supplement, Alistair Aird, Editor of The Good Pub Guide 1999, put The Globe on his list of the 50 Best of Britain's pubs and into the 10 Best Pubs for Families. Top school, now top pub - what more can we ask? Thank you, Phil and Lynn, for all that you do for the Village and congratulations!
---
CONGRATULATIONS!
John and Carol at Tree Tops have two reasons to celebrate. John's daughter, Lorraine, and husband, Ken, who live near Colchester, Essex, are the proud parents of identical twin boys. Born on the 17th August, Matthew Ian and Daniel James weighed in at a combined weight of over 11lbs. and Neil Redwod has been awarded a B.Sc. Design Futures degree with Upper 2nd Class Honours from the University of Westminster. Neil is currently staying in Cambridge with his girlfriend, Becky Clements. For those of you who know Becky, she was also awarded a 2nd Class Honours degree in Fine Art from the University of Cambridge.
Congratulations to Laura Hookway who has been awarded a 2nd Class Combined Honours degree in Psychology and Health from Bath Spa University College. Laura moved to Berrynarbor in 1982, attending the Primary School before leaving to further her studies at Ilfracombe College and the North Devon College, where she gained a BTec National Diploma in Health Studies. After taking a year out and travelling to Australia, Laura took up a post at the North Devon College working with special needs students before going to Bath. Laura is currently living at home with her mother, Ann Pennington, but hopes to continue her studies to become a Psychologist for the Deaf, a field in which she became interested whilst working at the National Institute for the Deaf and Blind when she was studying at Bath.
Your family, Laura, are all extremely proud of you and wish you every success in the future; and we, too, add our congratulations and best wishes.
To students from the village who collected Awards at the College Presentation Evening held at The Landmark Theatre on the 11th September: Matthew Malin received a Year 7 Academic Award, and brother Tom and Peter Hiscox GCSE prizes for Effort in English and Biology respectively. Tom also won a Year 11 Special Merit Award, with ten other students and including Lorna Boyd, late of Brookdale and now living in Shrewsbury. The citation for the award read: Some young people find it painfully embarrassing and awkward to relate to the adult world. Not so with these young men and women. Each of them has a positive, open and friendly personality and is loyal, supportive, honest and hardworking. In short, they are models of maturity and not at all like 'Kevin the teenager'! They have been an absolute pleasure to be with and we wish them well in the future.
---
CONGRATULATIONS TO:
Jancy Davies who took part in the Macmillan Miles riding Snippit and raised £118 for cancer relief.
Brother, Eden, who has been awarded a First Class Bsc. [Hons] degree in Biology from the University of Portsmouth. Eden, who hopes to continue his graduate studies, was also awarded the John Hesketh Environmental Biology prize and jointly awarded the Wiley-Steencroft Prize in Marine Biology.
Craig Bolt has received a 2:2 Bsc. [Hons] degree in Psychology from Lancaster University. Craig, an ex-pupil of Berrynarbor Primary School and Ilfracombe College, is the elder son of Sheila and Tony [who now live at Morthoe] and grandson of Gladys and Ron Toms of Birdswell Cottages.
---
CONGRATULATIONS
and best wishes for your future happiness
to
Richard and Lucy Barten
Married 8th May 1933 - 65 Years!
Parents of John, David and Sally
Grandparents of Chilie, Nick, Be, Steven, Paul, Mandy,
Wendy, Rachel, Janet, Amy and Emma
Great Grandparents Reece, Jake, Shami, Kai, Joey, Molly and Rory
Much loved and admired by all your family and friends
Recovering from the party celebrations, Richard
was heard to say over his second glass of champagne,
'I could get quite addicted to this! '
Christine Peach and Keith Wyer
whose marriage on Easter Tuesday was celebrated by a Blessing
at St. Peter's, Combe Martin, and a reception in Berrynarbor.
For two busy people, a few quiet days away in Looe and
Polperro in Cornwall made a nice break.
June Parmigiani and Len Coleman
who celebrated their marriage on the 22nd April.
But, it is understood things didn't all go smoothly - the 'Roller'
broke down on the way, but fortunately at a garage.
So it was a hired car that got them to the Registry Office on time!
James Weedon and Emma Pearson,
from Glasgow, on their recent engagement.
---
CONGRATULATIONS!
To Margaret Andrews awarded a Diploma in Pastoral Care with Theology from the University of Plymouth, where she worked until her retirement. Margaret now hopes to take the course for the Exeter Diocesan Certificate for Lay Church Work.
To Peter Hinchliffe for his poem 'Success' which will appear in an Anthology entitled 'We Can Achieve our Dream' to be published by Forward Press in March. The Anthology will be available in all good book shops.
And best wishes to Rod and Sue Skelly of Langleigh House who were married on the 29th November and spat honeymoon in Cyprus.
To our Rector, Keith, and Christine Peach on their recent engagement. Keith and Chris, who teaches Art at Ilfracombe College, have their wedding day for Easter Tuesday. Our very best wishes to you both for your future happiness together.
---
CONGRATULATIONS!
Congratulations to Les Bowen [late of Valley View] who was presented with the Best Small Garden Award for individuals whose gardens were found to be outstanding by the Barnstaple in Bloom Committee.
After two years at Brunel University, Uxbridge, studying for a Diploma in Youth and Community Studies, and a year at Birmingham University, Ann Davies has been awarded a B. Phil. [Ed] degree in Community and Youth Studies. Until recently, Ann was a member of the Community Education team at Ilfracombe College, working as an Assistant Community Tutor, but has now taken over the post of Community Development Co-ordinator with NCH Action for Children in Barnstaple. Congratulations and well done!
Congratulations and best wishes to Eden who has now returned to Portsmouth University to complete the final year of his B.Sc. degree in Animal and Plant Biology.
The 6th November, at Cheltenham Town Hall, was Graduation Day for Karen Sayer, who, after studying at Cheltenham H.E. College, received a West of England University B.A. [Hons.] degree in Tourism and Human Geography.
Karen continues to live in Cheltenham where she is enjoying working for Cheltenham Council as a member of the Events and Bookings team, responsible for the organisation of literary festivals, concerts, etc. In her job, Karen deals with famous personalities, and has recently had the pleasure of meeting Michael Palin, Congratulations and keep up the good work!
Congratulations to Win White who celebrated her 100th Birthday on the 21st November!
Win, who was born in Derby, married her husband in 1917 and they emigrated to Canada in 1919, returning to England in 1926, following the loss of their baby daughter.
They again settled in Derby until 1947, when they moved to Cornwall. Later they moved to Woolacombe where their daughter, Betty, met and married Reg.
In 1953, Win and her husband finally Berrynarbor, and for 38 years lived with Betty and Her husband passed away in 1966.
Due to Betty's ill health, Win now lives at the Pinehurst Residential Home in Ilfracombe.
On behalf of my Mother, I should like to take this opportunity to thank everyone for the lovely flowers, cards and messages sent to her on this very special occasion.
Betty
---
CONGRATULATIONS
Congratulations and best wishes to Elise Fanner and Paul Smith, from New South Wales, Australia, who were married at St. Peter's Church, Berrynarbor, on 26th July. They plan to settle in the Exmouth area in the near future where Elise hopes to take a B.Ed. Degree and Paul would like to relocate with his present job maintaining fitness equipment systems.
Congratulations, too, to Katie Neale and Nicola Richards, jointly awarded the Govemors' Silver Jubilee Prize for Public Spiritedness at the recent College Presentation Evening. Katie, who is off to take a degree in primary education at Oxford Brookes also won the 'A' Level prize for excellence in Design Technology, and Nicola has just returned from a successful summer with Camp America. Well done!
---
CONGRATULATIONS
It is a pleasure to report the recent engagement of Len Coleman and June Parmiyani. Our very best wishes to you both for your future happiness.
Our congratulations and best wishes also go to Jeremy King, younger son of Margaret and Steve, who married Lee-Ann Blevins at St. Richard's Church, Aldwick, Sussex, on the 31st May. Jeremy and Lee-Ann who live in St. Albans, hope to go to South Africa next year for a belated honeymoon.
---
CONGRATULATIONS!
Saturday, 3rd May, was the big 'Five O' for Pat and John Gale of Moorings, Watermouth, celebrated their Golden Wedding with their family and friends at the Woolacombe Bay Hotel. Warmest congratulations and best wishes to you both.
Colin and Barbara Fudge are delighted to have become grandparents for the second time this year. Their daughter, Susan, and her husband, Paul, presented them with a grand-daughter, Isabella, on the 17th April. Weighing in at 7 lbs 1 oz, Isabella will, no doubt, soon become a happy holidaymaker in Berrynarbor, like the rest of the family.
Tom and Inge Bartlett announce with joy the arrival of their first grandchild, Omar Zahir Bin Jainal. The new baby, a son for Angela and Jainal, weighed in at 10 lbs 10 oz on the 8th April. Having met his German great-grandmother and great-aunt, Omar has now returned with his parents to Singapore.
Colin and Doreen Harding are delighted to announce the safe arrival of their fifth grandchild. Robert William, son of Lisa and Kim Dove-Dixon of Chalfont St. Giles, and brother of Adam and Sophie, put in his appearance on the 25th April, weighing 8 lbs 9 oz.
Congratulations and very best wishes to you all!
---
CONGRATULATIONS!
To our Primary School
May I, as an ex-Govener of Berrynarbor Primary School offer my congratulations, and I am sure those of all the village, to the Headmaster, Staff, Parents and Pupils of the school on being placed 8th in the National School League and the highest placed school in the region.
I mention parents as there has always been a very supportive Parent-Teacher Association which must be very encouraging for the Headmaster and Staff and adds to the pride we villagers must feel in hearing our school so favourably named, both in the press and on the media.
As one who began her education of Berrynarbor School, may I say thank you to David Chaplin for the continued care and quality of teaching given to our young people.
Brenda Layton
Best wishes to Jack and Joyce Elliott of Goosewell, on the birth of their grand-daughter, Kiera, on the 5th February, 1997, weighing in at 7 lbs 2 oz., a daughter for their son Steve and his wife, Krista.
Congratulations to you all.
Shaun and Catherine
Maureen and Keith are extremely happy to announce the Engagement of their eldest son, Shaun, to Catherine, daughter of the Rev. Alan and Ann Jones of Sudbury, Suffolk, A lovely home-coming surprise after visiting Australia to celebrate Maureen's father's forthcoming 90th birthday.
Jeremy and Lee-Ann
Margaret and Steve King are delighted to announce the Engagement of their youngest son, Jeremy, to Lee-Ann Blevins of St. Albans, originally from South Africa.
Berrynarbor Youth Club
The organisation and effort of the Youth Club's recent 24-hour sponsored event is to be congratulated.
Throughout the event, the young people involved [which were many] participated with commitment and the staff, Alf Gilbertson, Natalie Denzey, Sheena and Marcus Bowden, gave encouragement, support and the much needed supply of refreshments - particularly at 2.00 a.m.!! Well done to you all.
Some Youth Club Members left Standing at 12.00 p.m. on Sunday!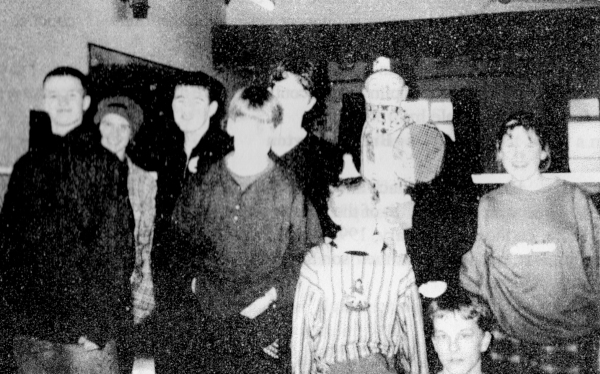 Pictured, L to R: Robert, Tom H. , Mike, Scott, Tom L. Matt, Ed, Jeff, Tracey
First off on the 24 hours were Chris Wassall and Jeff Bowden, and they were followed during the afternoon and evening by Katie Gubb, Alison Jackson, Lucy Roberts, Mark Worth and Charlie Morgan. The 'Overnighters: were Matt, Jeff and Ed Bowden, Nick and Chris Wassall, Lloyd Gove, Mike Jackson, Tom Lerwill, Robert Watkins, Sam Hunter, Tracey Evans, Tom Hassell and Kris Jones. All played very well, with endurance sessions from Kris Jones 3 hrs 10 mins, and Tom Hassell - 4 hrs 5 mins.
Matt Bowden was our youngest player, at 10, and stayed up all through the night. Jeff Bowden was the only stalwart who remained throughout the 24 hours, during which time he played for a total of 10 hours. Scott Smallridge, due to a self-inflicted badly bruised leg, managed to play for a short while as long as he didn't move too much!
Many thanks to Marcus and Sheena Bowden, Natalie Denzey and Ann Davies who gave up some, or all, of their time to help supervise the event. Thanks also to the Post Office for their help and to everyone for sponsoring the Youth Club Members, and last of all the members themselves for doing it! So far, with more still to come, the amount collected is £280.
Alf Gilbertson - Youth Club Leader
P S. We hope to arrange a 24 hour sponsored 'something' again next year - any ideas?
---
CONGRATULATIONS
Congratulation's to the following pupils of Jan Hay of Harper's Mill, who have recently passed their Grade 1 Piano Exam with the Associated Board of the Royal Schools of Music:
Alice Goodwin [Merit] - Alice [10] is a pupil at Combe Martin Primary School
Emily Prideaux - Emily [10] attends Berrynarbor PrimarySchool
Becky Rice [Merit] - Becky [11] is a student at Ilfracombe College
---
CONGRATULATIONS
We are delighted to report that Robert, eldest son of Steve and Margaret King [now of Bognor Regis] became engaged at Easter to Nicola Jones from Beckenham in Kent. The wedding date is set for August next year. Very best wishes to you both.
Congratulations to Ron Toms who, as mentioned above, has once again raised a fantastic sum of money for the U.R.C. This was Ron's 8th walk, having started in 1989 when the money he raised was divided between the church and the Historic Churches Trust. Since 1994, the money raised has gone entirely to our Chapel. Each year the previous year's sum raised has been surpassed and this year's £720 brings his total to an incredible Well done, Ron!
Congratulations to Alan, our PMG, on his Gold Medal Award - no, not from Atlanta, but for the Veterans 6 metre sail Windsurfing event at Axminster Lake.
---
CONGRATULATIONS!
To Ben Fanner who has been awarded a 2:1 B. Eng. Honours degree from the University of Surrey in Civil Engineering. Ben spent his professional training year with the M.J. Gleeson Group in Stafford, who have now offered him permanent employment, which he takes up in September. Good luck, Ben!
Good luck, too, to sister Elise, who after her set-back last year has been off on her travels again, working for the last six months in Sydney and now moving on to Canberra, Melboume, Adelaide, Alice Springs and Ayres Rock.
Congratulations are in order for Nicola Richards of East Hagginton House on her recent Althletics successes:
Gold in the 400m Hurdles and Silver in the 400m Flat Race at the Devon County Championships
Gold in both the 400m Hurdles and 400m at the North Devon Schools Championship
At the South West Schools' Meeting, Nicola won the Silver Awards in both these events, with personal best times, and competing against the best athletes from eight counties in the South West. Well done, Nicola!
Warmest congratulations to Shaun Cooper on his promotion to Director of Entri, part of the Bray Leino Group.
---
CONGRATULATIONS!
Nora and Alan Rowlands celebrated their first year at Berrynarbor's Super Mini-Market [and Post Office!] on the 3rd September and the birth of their first grandchild. Young Matthew James weighed in at 81bs 20z on the 29th August. Best wishes and congratulations to the proud grandparents and parents, Kevan and Samantha.
Congratulations to Robin and Emma Pickering on the birth of their son, Jack, on the 1st September. Jack, who weighed in at 7 lbs 7 oz, is a true 'local', having already had his head wetted at The Globe!
Everyone will, I am sure, be delighted to learn that Debbie Cook has been commissioned to design a commemorative biscuit tin for Harrods of London! The tin, which be available by Christmas and on sale throughout 1996, will depict a picnic scene on a punt on the river and will feature all 10 of the Harrods' special Christmas teddies.
You also be pleased to learn that you will be able to buy calendars featuring Debbie's work for Christmas: A slimline calendar featuring cats and kittens will be available from W.H. Smith's and another slimline calendar featuring teddy bears will be on sale at Woolworths. Larger format calendars of bears are available from catalogues of various charities, e.g. R.S.P.B., Webb Ivory, N.S.P.C.C. Well done, Debbie!
---
CONGRATULATIONS!
Yes, there really are winners! Congratulations to Angela Lewis who has won a Star Prize of the Week in a "Take a Break" competition. Angela's prize is an 8 day holiday for two, plus £300 spending money, in the United States. She and Richard will fly out in September, having been able to choose a date to coincide with their 20th wedding anniversary. They will visit Memphis and Nashville and the trip will include a visit to Gracelands, home of the legendary Elvis Presley, and the Grand Ole Oprey, the high spot of Country and Western music. We hope you both have a wonderful time and look forward to hearing all about it on your return!
Congratulations to Sarah [nee Songhurst] and Barry Filer on the birth of their son, Keifer Richard Gary, on the 18th February. Keifer, a baby brother for Ryan, weighed in at 7 lb 14 oz.
Alan and Doreen Prater were delighted to announce at their 60th Birthday celebrations, the engagement of their daughter, Judith, to Charlie Bulled, and wish them every happiness in the future. Congratulations to you all.
Michael Wyer, son of Keith, our Rector, and Sheila has the distinction of being offered a place at Trinity College, Cambridge, to read Maths with Computer Science. He has also won a Sir Francis Chichester bursary to take a 3-week Outward Bound Course in the Lake District.
Well done, Michael!
---
CONGRATULATIONS!
Best wishes to Tanja Jost of Hillside, Sterridge Valley, and Mark Hill of Brisbane, Australia, on their recent engagement. Plans are already being made for their wedding, here, in May 1995, but in the meantime, Tanja is still globe-trotting as a Marketing Consultant.
Celebrations have been in order for Colin and Doreen Harding and Family. On the 28th May, Deborah and Gary Baddick produced grandchild No. 2, Alexander Guy, who weighed in at a bouncing 9 lb 14 oz, to be followed on the 8th July by the birth, at 9 lb 12 oz, of Adam James, a second child for Lisa and Kim [Dove-Dixon], a brother for Sophie. Not to be outdone by his sisters, on the 6th August, Guy announced his engagement to Caroline Mee of Braunton. Congratulations and very best wishes to you all.
Degree success for Becky Delve [late of Bessemer Thatch! Becky has just been awarded a 2:1 degree in Human Science from University College, London. Our best wishes go with her to Durham University where she will take a P.G.C.E. course in Primary Science and Special Needs.
Well done to all Ilfracombe College students from the Village on their successful G.C.S.E. and 'A' Level results, and to the following students receiving awards at the College Presentation Evening on 23rd September:
---
CONGRATULATIONS!
Congratulations and best wishes for your future health and happiness to Karen Parr and Matthew Walls, who be getting at St. Peter's on Saturday, 24th September.
---
CONGRATULATIONS
Congratulations and best wishes to Richard Bowden and Jane Cox on their forthcoming marriage at St. Peter's Church on the 5th March. Jane, who comes from East Down, is Manager of the Tors Hotel at Lynmouth, and Richard is a Carpenter. Both are walking enthusiasts and they will be spending their honeymoon walking in the Peak and Lake Districts - hopefully with better weather than we are getting at present! Health and happiness to you both.
---
---
Belated congratulations to Reg and Betty Davis on the birth of their grand-daughter, Gracie, in October [and congratulations to mum and dad, Graham and Gail, as well!]. Gracie has already found fame and embarked upon an acting career, taking the part of the baby Jesus in the crib at the Christmas Carol Service.
---
CONGRATULATIONS
Congratulations to Matthew Walls on his fund-raising efforts for the Devon Air Ambulance [see article]
Belated congratulations and best wishes to David and Kerry Stevens on the birth of their son, Samuel, weighing in at over 10 lbs on the 9th August. After leaving the Navy, David has just completed a BEd degree at Winchester and is now teaching Design and Technology at Crofton Comprehensive School, Stubbington, near Gosport. Congratulations, too, to the proud grandparents, Anna and Steve.
Congratulations and best wishes to Nicky [Songhurst] and Spencer Manley on their recent marriage.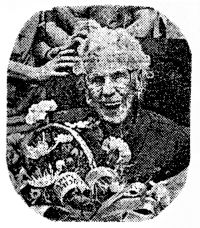 Rebecca Hewison hag just celebrated in style her 112th birthday! Born in Queen Victoria's reign, she lived in Berrynarbor for some years before returning to her home town of Grimsby. The picture shows her with a floral gift delivered by the town's Mayor and Mayoress.
Luke William Denzil arrived on the 4th September, weighing 8 lb 10 oz, the son of proud parents John and Diana Needham. Congratulations to the three of you and also to Gran Verona and Grandad Denzil.
Degree congratulations to Rob and Jeremy King. Rob has just been awarded a MSc in Neuro-Biology from Queen 's College, Cambridge, and is now working for a pharmaceutical company in Sussex Jeremy recently received a BEng. degree from Brighton University and is now job hunting. Meanwhile, sister Julie is in her final year completing a degree in Tourism Studies at Cardiff. Good luck to all three of you.
---
CONGRATULATIONS
Congratulations to all students from the village on their recent G.C.S.E. and 'A' Level successes.
Ben Fanner is off to Surrey University to study for a BSc degree in Civil Engineering, Katharine Parmigiani and Sharyn Toye are both going to study for a BA in History - Katharine at the School of Oriental Studies in London and Sharyn at Exeter University - and Karen Sayer will go to Cheltenham to study Art following a year off, part of Which she is spending in Australia. Good luck to you all!
Sharyn also received one of the 'A' Level Mathematics prizes at the College's recent Presentation Evening, and Charlotte Parmigiani the G.C.S.E. Chemistry [Effort] prize.
---
CONGRATULATIONS
Congratulations and very best wishes to Samantha Bailey on achieving a First Class Honours Degree in Mathematics [B.Sc.] at the University of Portsmouth. Sam is presently helping at Sawmills, saving for a trip to America and Canada before joining the Avon and Somerset Police Force in January.
---
CONGRATULATIONS!
Congratulations to Sally Billett on qualifying as an RGN at the Torbay Hospital, Torquay. Sally began her nursing career at Torbay, where she qualified as an REN. She has also qualified ag a Registered Orthopaedic Nurse at the Princess Elizabeth Hospital, Wonford, Exeter, returning to Torquay to sit her RGN examinations. Sally is currently a Staff Nurse at Torbay.
Also to be congratulated is Louise Walls who has been training as a nurse at the Royal United Hospital, Bath, where she has qualified as an SRN - one of the last to do so before the new RGN and REN were introduced. Louise is currently nursing on the orthopaedic ward but is looking for a change of hospital in the near future.
---
CONGRATULATIONS!
Congratulations to June and Ivan Clarke on the birth of their third son. Young Greg weighed in on the 9th of January, 1992, at just over 7 lbs, a brother for Ben and Shane.
Our congratulations and very best wishes for their future happiness to Sarah Songhurst and Alistair Beal [from Newcastle] who will be getting married at St. Peter's Church on the 28th March.
---
CONGRATULATIONS AND COFNISERATIONS
Our best wishes and congratulations go to Len Bowden's grand-daughter, Susan [Dinnicombe] and Derek King on their marriage at Ste Peter's on Saturday, 16th November.
Our commiserations with Anita Cornish who has unfortunately broken her ankle. We hope it mends soon.
---
CONGRATULATIONS
Congratulations to Paul and Jackie Lethaby on the birth of their second grandson, Joe. Best wishes to the proud parents, Nicky and Paul, and big brother Luca.
College Congratulations
Congratulations to all students from the Village and College on excellent 'A' Level and G. C. S.E. exam results. The College pass rate for 'A' Levels was 84.6% [well above the national average of 77.6%]. There were 1,347 passes at G.C.S.E. [from a year of 190 students] , 554 passes at Grade C or above.
Especial congratulations to James Anderson who will shortly be off to Oriel College, Oxford, to study for an Honours Degree in Physics; to Vicki Barrington taking a B.A. Hons. Degree in Modern Languages [German and Italian] at Anglia Polytechnic, Cambridge, and Fiona Duncan, a Joint Honours Degree in Geography and Sociology at St. Mary's College, Strawberry Hill, Twickenham. Our best wishes go with them all in their new ventures.
Congratulations also to the many pupils recognised at the recent College Presentation Evening: Seonaid Anderson was awarded the G.C.S.E. Effort Prize for Physics, whilst brother James took the 'A' Level Physics Excellence Prize; Jamie Richards received a Distinction in Sport award for Cross-Country; Vicki Barrington and John Gubb both received Special Merit Awards - Vicky for 'her enthusiastic and positive attitude to her 'A' Level German studies' and John 'a quiet and unassuming member of Year 11 . His determination and perseverance impressed us. His gentle personality and courteous manner added to the ethos of the group.' Katharine Parmigiani received the Chamber of Commerce Cup for Business and Related Studies. Well done!
---
CONGRATULATIONS!
To Daphne Challacombe and Hilary Beaumont, and their many helpers, on the setting up of the Combe Martin Museum. The very successful 'Official Opening' was held on 7th July. If you have half-an-hour to spare, the Museum is well worth a visit. It may be small, but it is rich in interest - in a visitor's words, it is 'Bijou and Fab'!
To Andy Marangone, Editor of the highly successful Channel 4 series of 6 programmes entitled "The Literary Island" with Melvin Bragg [Tuesdays, 8.30 p.m.]. Andy , eldest son of June and Gerry Marangone, has been an Editor with London Weekend [ITV] for over 12 months, fulfilling an ambition originating when he was 11 in the Television Studio at Ilfracombe College. Andy lives in Surrey with his wife, Christine, and their two little boys, James and Dominic, but is a regular visitor to Berrynarbor.
---
CONGRATULATIONS!
Congratulations to Sarah Rottenbury, youngest daughter of Dennis and Barbara Rottenbury of Bodstone Lodge, Berrynarbor, who appeared in the March edition of 'Platform Twentyfive', the TSW programme that interviews young people about their ambitions in life.
Sarah is a member of the Devon & Cornwall Constabulary, based at Newquay. She passed out from Chantmarle Police Training Centre, Dorset, last July.
Loanna Chugg
---
SNIPPETS
CONGRATULATIONS to Grandmother, Jan, and Bill and proud parents, Shirley and Rob mummery, on the birth of their second daughter, Sophie Rose, a sister for Charlotte. Sophie weighed in - and nearly on time! - at 6 lbs 10 oz on the 13th February.
BEST WISHES to Caroline Summers of Philton House who will be marrying Andrew Pearce at St. Peter's on Saturday, 6th April . We congratulate Andrew, who comes from Bristol, and wish them both every happiness in the future. They will be living in Bristol, where Caroline is a nurse at Frenchay Hospital.
FAREWELL to Jean and Jim Constantine, Nick and Sue, and good luck and happiness in their new home at Thorverton, Exeter.
GET WELL SOON to Gordon Hughes - we hope your stay in hospital will be brief and that you will soon he feeling better.
---
SNIPPETS
Congratulations to Karl Ozelton from the Sawmill Inn on being the first college student accepted for Work Experience at The Savoy, London. Karl who is training to be a chef will be at The Savoy for a four-week period.
Vi Kingdon has been presented with a Green Award certificate from the North Devon Conservation Society for the restoration work carried out on the Tap House and Fruit and Vegetable Store at No. 71.
Our best wishes to Debra Thornton and Stephen Johnson on their forthcoming marriage at St. Peter's Church on the 16th March.
---
CONGRATULATIONS
to Pat and John Gale on the birth of their grandson, Gregory John.
and very best wishes to Sarah Lethaby and Paul Prentice who are getting married on 1st December at Devizes; also Carol and Noel, who are to be married on the 8th December, and to James Weedon, who has regained his 1987 B.R.C.A. 1/8th Rallycross British Championship title.
---
CONGRATULATIONS
To Julia Stanbury of Stapleton Farm, Berry Down, who married Gary Chugg of Barnstaple at Christ Church, Braunton, on 28th July. Julia, like her father and grandfather before her [and her brothers], attended Berrynarbor Primary School. We wish her and Gary every happiness in the future.
Likewise our congratulations and best wishes to Samantha Jones and Chris Bowden who are getting married in St. Peter's Church Saturday, 6th October. Sam and Chris will be moving to Ilfracombe and we wish them luck in their new home.
To Caryll and Brian Holland on their new 'double' role of grandparents [their two daughters producing their first babies within weeks of each other] and to the proud parents and babies - Sarah, Stewart and baby Jack, and Karen, Douglas and baby Poppy.
To Pam Parke [PP of MLF] on passing, in excellent style, her 'A' Level English exam. We wish her and Alex good luck and happiness in their new home, Damson Cottage [PP of DC?] and extend a warm welcome to Clifford and Sally Johnson who are moving in to Middle Lee Farm.
---
CONGRATULATIONS!
To Peggy and Laurie Harvey on the birth of their eighth grand-child Lloyd, who put in an appearance on the 9th July and weighed in at 7 lbs 9 oz. Congratulations and best wishes, too, to the proud parents, Liz and Andrew Harvey-Bryant.
To Sally Billett, winner of the Victorian Bathing Belle competition.
To Tanja Jost of 'Hillside Cottage' who has gained a B.A. degree in International Business Management. Using the 4 languages she has studied, Tanja has recently taken up a globe-trotting position in marketing with AEG Olympia based at their Head Office in Wilhelmshaven.
Kim hopes to follow in her sister's footsteps and returns from Italy to commence at Bucks College in the autumn to study for an H.N.D. in Languages and International Office Management.
To James Weedon on gaining a B.Sc. [2:1] in Computer Science and Software Engineering from the University of Birmingham. James will be taking up a position with international company, SD-Scicon Limited, at Wavendon; Bucks, in September.
---
CONGRATULATIONS
Paul and Jackie Lethaby are pleased to announce the engagement of their youngest daughter, Sarah, to Paul Prentice from Wiltshire on Easter Saturday.
Our best wishes go to Lisa Stevens who will be marrying Adrian Emery of Ilfracombe at St. Peter's Church on Saturday, 16th June; and to David Stevens, who on the same day will be marrying Kerry Young in Fareham, Hampshire.
Congratulations to Sally Billett of Riversdale Cottage on gaining her Orthopaedic Nursing Certificate at the Princess Elizabeth Orthopaedic Hospital in Exeter. Sally started her nursing career in Torbay District General Hospital. in 1984, where she qualified as an Enrolled Nurse General. She has now returned to Torbay to continue her nursing career and to work for the Registered General Nurse qualifications, which she will take in the near future. Sally's ambition is to become a Community Nursing Sister, following in the footsteps of her grandmother, Marion Billett.
Congratulations to Julie King who will be going to university at Cardiff in September to take an Honours Degree in Tourism Studies.
Our best wishes for the future go to Vic Cornish, who has given up his shoe repair business in Oxford Grove, Ilfracombe, after 45 years. We thank him for keeping us well-shod for so many years and for his kind and cheerful service.
---
CONGRATULATIONS!
Congratulations to:
Josef, for raising the splendid sum of £515 for the North Devon Scanner Appeal.
Joan and Robert [Bob] Adams on their Golden Wedding on the 10th February. It is understood that they celebrated the event with their family in Colchester.
Vic and Anita Cornish on the birth of their first grand child, Samantha, on the 8th February. Our best wishes to their daughter, Mel, and her husband William - the proud parents.
Jancy Davis on being a Runner-Up in the Blue Peter Tidy Britain Poster Competition.
---
There are to be two weddings at St. Peter's Church during April and we send our best wishes and every happiness in the future to
Chilie Barton and Donald Davies [from Clevedon] who are getting married on the 18th May, and Karen Hookway and Michael Ridd [from Ilfracombe] who get married three days later on the 21st April.
---
It was good to learn that Len Bowden is now out of hospital and home again and progressing well. We miss seeing him around the village and hope that his recovery continues to progress.
---
CONGRATULATIONS TO
Paul and Jackie Lethaby on the birth of their first grandchild, a grandson, Luca, who weighed in at 81bs on the 21st December. Our best wishes to the proud parents, Paulo and Nick [nee Lethaby] Antoniazzi.
Richard Bowden on his engagement to Jane Cox from Highlands Farm, East Down, on Christmas Day. Our very best wishes to them both.
Josef and Hedy Belka, whose latest grandchild, Christopher, was christened at St. Peter's Church, Berrynarbor on Sunday, 28th January.
---
STUDENT NEWS
Congratulations are also in order for the students from the village on their recent successes at G.C.S.E.
Also to the A Level students -
ROLAND BARTLETT, who is now taking a one-year Art Foundation Course at the North Devon College
KATHRYN CHANTLER, who is going to St. Martin's College, Lancaster, to take a B.A. degree in Geography
JEREMY KING, who is off to Brighton Polytechnic to study Civil Engineering
KIM JOST, now in Italy for a year learning to speak the language even more fluently! and
IAN REDWOOD, who will be taking an H.N.D. in Business Studies at the Polytechnic, of East London
Following courses in Higher Education, congratulations also to:
JULIE KING, has completed a B.Tec course in Business and Finance at the North Devon College and is now looking for employment
KEITH REDWOOD, having completed a one-year Foundation Accountancy course at Plymouth Polytechnic, is off to Huddersfield Polytechnic to pursue a 4-year sandwich degree in Computers in Business
HELEN WEEDON, has completed a Post Graduate Certificate in Education and has just taken up her first post teaching Dance and Art at Denbigh High School, Luton
---
CONGRATULATIONS
To DEBBIE RICE and ANDREW NOALL on their forthcoming marriage at St. Peter's Church on the 30th September, and to BOBBY BOWDEN and JANE ROTTENBURY on their marriage to take place at St. Peter's Church on the 7th October.
We wish both couples every happiness for the future.
Our best wishes go to CHRISTOPHER BOWDENand SAMANTHA JONES on their recent engagement.
To ROB and SHIRLEY MUMMERY on the birth of their tiny daughter, CHARLOTTE, who weighed in on the 8th June at 1lb 12oz. Charlotte has now just reached her expected date of arrival and weighs a healthy 6 lbs. Our thoughts have been with them over the past anxious months and hope that it will not be long before Charlotte is able to go home. Rob and the Jaycees runners must also be congratulated on their recent sponsored run which raised £1100 for the Special Care Baby Unit at Barnstaple.