---
OF THIS AND THAT . . . .
Macmillan Afternoon Tea
A Huge thank you to everyone who supported us at the end of September when we hosted a fund raising event for Macmillan at Lee, serving coffee, cream teas and delicious home-made cakes. There were local crafts for sale, a raffle and fun things to do for the children as well and it was lovely to see so many locals and visitors enjoying a chat over a cuppa and cream tea! We raised a fantastic £408.98 - thank you all so much, we could not have done it without your help!
British Red Cross
The Red Cross operating in the North Devon area is desperately short of volunteers and struggling to keep up with demand. The charity is appealing for people to help especially in the Ilfracombe area. Service Co-ordinator, Jen Kirk says, "We're actually having to turn people away. We don't ask for a huge time commitment from our volunteers and all expenses are paid so no one's out of pocket."
Care and Support Service volunteers offer practical support to people after a stay in hospital and can often prevent people going into hospital by offering similar support. The volunteers take clients home, settle hem in and help with such things as shopping or collecting prescriptions. The service is free but donations to the Red Cross are always welcome.
If you can help for just a few hours a month and really make a difference to some please contact Jen Kirk on [01271] 326662.
Don't Miss Out on your Bus Pass!
Please contact DCC if you have moved home since your pass was issued or if you would like a new photograph on your pass. The Majority of passes issued by DCC will expire on 31st March 2013. We are in the process of issuing replacements. If we do not know where you live then you will not receive new bus pass and if your photo does not look like you [!], drivers may refuse you free travel.
Contact us on [01271] 383688.
North Devon Theatres
On target to be the Queen's Theatre best ever Christmas Show - Robin Hood will be riding in to Barnstaple with much merriment and mirth from the 15th December. Based on the much-loved English folk tale, Robin Hood is to be an action packed show with stunning new costumes, fantastic live music, brand new script and the usual comedy mayhem you would expect from the Queen's Theatre Pantomime. Tickets are £12-£19, young person £11-£14.
For further information or to book, call the box office on [01271] 324242.
---
OF THIS AND THAT . . .
Escape to the Country
On Tuesday, 13th September, two men with professional-looking camera and a microphone muffle were noticed in the Square photographing the bus stop and our awards' sign. They repositioned themselves, stood at the corner of Miss Muffet's, facing the Village, and shouted 'Action'; a couple began to walk up the hill towards them. Equipment, crew and couple repositioned, standing on The Globe's car park. As they were feet away I asked them what they were filming. 'Escape to the Country' was the reply. Their participation will be shown 'sometime next year'.
No date can be supplied by those interested viewers of this programme. The Beeb's Customer Services don't have the relevant schedule for that series yet. All they could advise was to wait and watch.
Judith A. Flowerdew Cottage
The Men I Love
Diary Date: Wednesday, 23rd November, 7.00 p.m. Manor Hall - Beaford Arts production Barb Jungr 'The Men I Love'.
Another great night is expected when Barb Jungr, courtesy of Beaford Arts, takes to the stage of the Manor Hall and turns it into a candle-lit cabaret of love. Hot from New York, Jungr will give her unique rendition of an eclectic mix of popular classics including Dylan, Diamond, Cohen and more. Doors open at 7.00 p.m. with dinner and show starting at 7.30 p.m. Tickets £12 from the Shop.
Fenella
Middle Age Texting Codes
ATD - at the doctor BFF - best friend fell
BTW - bring the wheelchair BYOT - bring your own teeth
FWIW - forgot where I was GGPBL - gotta go, pacemaker battery low
GHA - got heartburn again IMHAO - is my hearing aid on?
LMDO - laughing my dentures out OMMR - on my massage recliner
ROFLACGU - rolling on floor laughing and can't get up
Sea View [Newsletter No. 133]
Rosslyn Hammett has written to say that she understands that her father, Stanley Huxtable, was born there, but doesn't think that her family is the same as that in the article. She says her grandfather was William Henry and he farmed at Lower Rowes farm, where her aunt Florence Lilian was born, and then later at North Lee which he had bought from the Watermouth Castle Estates sale.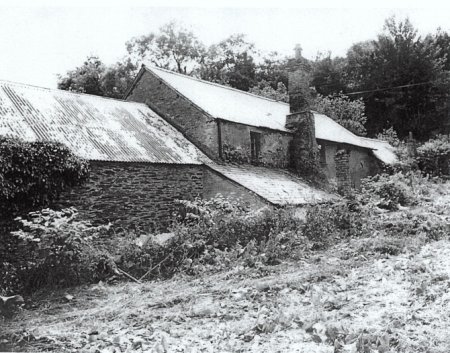 Can anyone put a date to this early photograph of Lower Rowes Farm?
---
OF THIS AND THAT . . .
THE GREAT BERRYNARBOR PLANT SALE
Next year the plant sale will be held on Bank Holiday Monday, 2nd May 2011. Please save some of your plants to donate to the sale. If you would like to book a table to sell your own items, please call
Kath Thorndycroft on [01271] 889019. [Proceeds to Berrynarbor Community Shop]
WHITE VAN DRIVER?
Can you help? John Broom of Roborough, Torrington, has become the owner of a 1957 Ford Thames Van. He is interested in researching its history. He knows that it was bought from Taw Garages in Barnstaple by a Berrynarbor Butcher. The cottage in Silver Street was, in 1957, a butcher's shop and the owner at that time was Les Thomas. Les was followed in the business by Reg Davies, Paul Lethaby and lastly Ivan Clark. What colour was the van, did it have any sign writing on it, etc? Can anyone help, or does someone by any chance have a photograph of this vehicle? If you have any information, please contact Judie on [01271] 883544. Thank you.
CONNECTIONS
The two photographs in the October 'Old Berrynarbor' had some interesting and strong connections. There were at least four sets of parents and children: Ron Toms and Raymond,
Frank Huxtable and his daughter Rosemary, my Aunt Brenda Richards and her daughter Cheryl Layton, and my mother Vera Richards and her son John Sidebottom. Are there any more?
Jill Sidebottom
---
OF THIS AND THAT . . .
BERRYNARBOR TODDLER GROUP meets every Friday between and in the Manor Hall. For just £1.50 per child [aged 6 months to 3 years], mums and dads get a cup of tea while their children get a snack and play with children of a similar age.
For further details, please ring Naomi on [01271] 883708 or pop in one Friday morning and see for yourself what the toddlers are up to.
THE FIRST FARMER'S MARKET held At the Manor Hall on Easter Saturday was a great success and congratulations to organisers Louise Richards and Jane and Bobby Bowden. A sum of £134 was raised which will be split between the School, the Pre-School and the Toddler Group as well as the Community Shop.
Jane, Bobby and Louise would like to thank everyone for coming in their hundreds to support the event - some of the stall holders said it was the best farmers' market in which they had taken part and hopefully there will be another one, perhaps towards the end of May.
This year's Knit In: The Craft Group were joined by members of Berrynarbor Ladies' Group on the 11th February to knit strips for the North Devon Hospice, each knitter making a donation rather than seeking sponsorship.
Well refreshed during the afternoon, a bag of colourful strips was collected and taken with £100 to the Hospice.
A letter of thanks has been received thanking all the knitters for their support.
---
OF THIS AND THAT . . .
North Devon Branch of Epilepsy Action
Do you or a member of your family have epilepsy? Then you may be interested in coming along to the North Devon Branch of Epilepsy Action.
We are a friendly group who meet informally between 10.00 a.m. and 12.00 noon on the 2nd Wednesday of every month at the
Henry Williamson Room at Barnstaple Library. Disabled access is available. For further information contact Steve on [01271] 863087.
World's Biggest Coffee Morning
Berrynarbor joined this event, in a small way, on Friday 29th September at Cherry Hinton, Barton Lane. £75.30 was raised for the Macmillan Cancer Support charity. Yvonne would like to thank all those who contributed and supported in so many ways. Great fun was had by all.
---
OF THIS AND THAT
Retirement
Jill and Rainer Jost have sold the Exmoor Brass Rubbing Centre at Lynmouth and we wish them health and happiness and their retirement. However, Rainer is only semi-retired as he continues with his successful flowerpot men, which can now be purchased at 'The Potting Shed', alias the 'Creamery and Dairy' opposite the church, or by mail order on www.flowerpot.man.com, or telephone [01271] 883785.
Rainer would like to thank the kind people who have dropped off corks and bottle tops!
Hunting Huxtables!
David Burrows has e-mailed the following: 'l read your newsletter with interest when the name Huxtable came to light. I am researching my family tree and have traced the family back to the Fremington, Holmacott, Barnstaple area.
Richard Huxtable [18211 of Holmacott married Ann and they had at least six children, one of whom was John. He married Lydia [nee Mock] and had two children, Samuel and Charles. At this point they moved to Swansea and had a further five children. I am the great grandson of Alice Huxtable. I have traced the line back to 1769 but should be grateful if anyone can help me further.
[If anyone can throw any further light on David's family, please do contact me. Thanks. Judie]
Get Well
Feeling down, in spite of the beautiful weather? Not so good, then we send you our very best wishes and hope you will be feeling better soon.
If the Cap Fits, Wear it!
With judging taking place for the Best Kept Village over the next few weeks, gardeners are asked to please remove the grass cuttings, etc., after they have strimmed or cut their roadside grass and banks, and everyone is asked to please pick up any litter lying around.
Thanks.
And one other quick reminder although much of the village falls within derestricted speed areas, please Kill your Speed, not someone or something.
---
OF THIS AND THAT
A huge THANK YOU to all those people who contributed in so many ways to the World's Biggest Coffee Morning for Macmillan Cancer Relief in The Globe on 26th September - to the many people from Ilfracombe, Barnstaple, Combe Martin and the village who gave raffle prizes, bought Christmas cards and drank coffee. We raised over E250 and 41 people called in. The funds raised will go to the North Devon District Hospital's Macmillan Fund.
Diane Lloyd and Judy Hand
North Devon Bus Times: The winter timetable came into operation on 22nd September and free copies of the timetable are available. For all timetable enquiries in the Southwest, call Traveline on 0870 6082608.
Radio Devon Chestnut Appeal: An all day Christmas Fayre [10.00 a.m. to 8.00 p.m.] will be held at West Torridge, Limers Lane, Northam, on Wednesday, 3rd December. Handmade Christmas goodies and cards, cake stall and raffle, El entrance to include coffee or tea and biscuits.
---
OF THIS AND THAT...
Laundry
A reminder that a coin operated commercial washer and tumble dryer are available at Berrynarbor Park for any villagers wishing to avail themselves of these facilities. For more information, please contact Paul or Theresa on 882631.
Wine Circle
A good BBQ was held at Tower Cottage, despite the fact that for a short time it came on to rain.
Thanks to Keith Walls for fetching a table umbrella and Alan Rowlands for providing an extra and new gazebo, which with helping hands was quickly erected, prompting the rain to stop from that point on! Alex Parke, our Chairman, has arranged a repeat visit to Camel Valley Vineyard, near Bodmin, on Friday, 29th August, which is now fully subscribed, with over 30 members and friends wishing to participate.
Trans-Send
At the meeting on 2nd July, Malcolm Shepherd, Managing Director of Wessex Grain - an expert in bioethanol fuels - spoke on the topic "Transport Fuels from UK Cereals". He spoke about bioethanol production and of the help other governments were giving to encourage it. Wessex Grain are hopeful that through their continuous efforts at lobbying, etc., there could be a UK plant in the South West by 2005.
After a break, the next meeting will be on Wednesday, 1st October, 7.15 p.m. at The Lantern. The subject will be "Hemp".
Bonfires!
Please think of your neighbours when you need to set fire to the garden rubbish. It can be very unpleasant on a nice sunny afternoon or early evening, to be 'smoked out'. Please delay your pyromanic enthusiasm!
Our Voice on Devon County Council [Combe Martin Rural]: Mike Knight, M.A. Tel: 882692, e-mail mhknight@devon.gov.uk. [Liberal Democrat)
Advance Notice: Soldiers of the Great War, 1914-1918
Memorial Exhibition and Workshop at Combe Martin Parish Hall on Saturday, 8th November, 10.30 a.m. to 6.00 p.m. Refreshments in aid of Church Funds.
Focus on War Memorials in Combe Martin and Berrynarbor. A hands-on family and community History Day with the aid of Researchers and Millenium Award winners.
How did YOUR village cope through WWI? Is YOUR family name on your War Memorial?
Congratulations to our three new nonagenarians: Betty [Dudley-Ward] who celebrated her 90th birthday at the end of June; Ethel [Tidsbury] who celebrated hers in July and Daisy [Carter] who will be celebrating her birthday in August., Our very best wishes to you all.
---
OF THIS AND THAT...
North Devon Classic Motorcycle Club
Please note that the date of the August International Meeting and European Championship is Saturday and Sunday, 16th and 1 7th August [not the 19th 20th]. Further details in the August Newsletter.
North Devon Voluntary Action Forum Starts Work!
The Forum, which was set up by community and voluntary sector groups at The Conference at The Landmark in October 2001 is starting its work with the appointment of Penny Jackson as Development Co-ordinator. The Forum will be working to support voluntalY and community groups by providing training in North Devon, and by offering advice and support for groups to develop their capacity. It will assist groups to become organised in order to strengthen the sector as a whole in North Devon. This will enable participation by voluntary groups in the work of the community alliances. Voluntary groups who want to find out how they can be involved in their local alliance can contact the Forum for information [01271] 321 413.
CAREdirect
Pensioners have saved thousands of pounds as a result of a free telephone call to a pioneering helpline for older people hosted by DCC. CAREdirect is a partnership that provides information and help to older people about a broad range of matters financial benefits advice, home safety, health, care and support at home, and more.
CAREdirect's freephone telephone number is 0800 444 000. The service can be contacted between 8.00 a.m. and 6.00 p.m. on weekdays.
---
OF THIS AND THAT
Berrynarbor Wine Circle: After Jan and Tony's evening in February and Kath Arscott's Rioja Wines in March, we continue in April with a presentation arranged by our Postmaster, Alan Rowlands. We complete our wine year in May with our AGM and a number of members presenting their favourite wine to all present.
Tom
Walk on the Wild Side! Is there anyone who is up for the shortest but most challenging of sponsored walks? This is the most exciting and stimulating event as you walk across either Hot Coals or Broken Glass! Yep, that's right, it is perfectly safe and just imagine telling your friends what you are doing to support your local hospice. It takes place on Monday, 5th May, at Atlantic Village. It will be an amazing event and there will be crowds of spectators to applaud your amazing 'feat'. Intrigued? Well why not give the Hospice 'Hot Line' a call and find out more or just seize the moment to register now for a place on what is guaranteed not to be a splinter group. Call 01271 344248.
The Menus Institute: At a recent meeting of the Institute, the following Officers were elected: Chairman Gordon Hughes, Treasurer John Hood, Secretary John Huxtable; Committee: Kevin Brooks, Ivan Clarke, Vic Cornish, Roger Luckham, John Mabin, Noel Stokes and Tony Summers.
Trans-Send [Sustainable Energy in North Devon]: Open Meeting at The Lantern on Wednesday, 2nd April, 7.15 p.m. to hear Mr. Brian Hooper, Water Conservation Manager of South West Water speak about recent developments in water conservation. Everyone welcome.
Studio Theatre, llfracombe College: Ilfracombe's Theatre group is offering the rip-roaring comedy, 'Alloy 7aIIo, at the Landmark Theatre on Thursday to Saturday, 22nd to 24th May, at 8.15 P.m. Tickets £7.00 [£5.50]. Written by Jeremy Lloyd and David Croft, the play is based on the popular BBC series by the same authors. The play follows the adventures of Rene, the hapless café owner, in wartime France, as he and his wife, Edith, struggle to keep for themselves a priceless portrait hidden in a sausage in their cellar. Add to that a wireless disguised as a cockatoo and a rumour of an unexpected visit of the Fuhrer himself, and you have a recipe for hilarious misunderstandings. [Is there something familiar about this?]
Combe Martin Open Gardens Week-end: Advance Notice 28th and 29th June, 2.00 to 6.00 p.m. Programmes, £2.50, available at outlets throughout the village and the Tourist Information Centre. Refreshments will be available at both ends of the village.
---
OF THIS AND THAT
Thanks Our thanks to Alan and Nora for allowing us to put some holly outside the Post Office and for the kind donations which amounted to nearly £25. This has been given to CLIC via llfracombe College - the chosen charity for the year for our daughter's House.
Julie and Michael Parkin Bowden Farm
Trans-Send Sustainable Energy in North Devon. Monthly meetings recommence in the upstairs room at The Lantern [1st Wednesday each month, February to July, inc.]. The February topic is 'Healthy Buildings and Sustainability, the speaker, Clive Jones. Everyone is welcome. The meeting will commence at 7.15 p.m. and there will be tea or coffee available.
'Meals with Care' Are there tirnes when you [or a relative or friend] find the thought of preparing a main meal altogether too much?
If so, then the WIRVS could be of help ... we have recently introduced a new 'Meals with Care' service that is available to anyone living in the North Devon or Torridge areas. There are no assessments, no forms to fill in, just pick up the phone and ask for 'Meals with Care'.
We offer good quality, individually frozen, meals that are delivered direct to your door. We can even stock them in your freezer if you would like!
From the comfort of your own home, simply choose from our extensive catalogue, then phone or send your order to our Barnstaple office - diabetic and special diets are catered for too. Your meals will be delivered on a fortnightly basis by one of our fully trained volunteers, who will show you how to heat up the meals and answer any questions you may have,
'Meals with Care' offers you the flexibility of eating when you feel like it, without having spent hours in the kitchen first! Simply heat, serve and enjoy! For a special treat or when entertaining visitors, why not try our 'Millennium Specials' - an outstanding range of la carte menus.
If you would like to know more, please telephone Alison on 01271-3445010. I shall be happy to send you our full colour brochure and answer any queries you may have. I look forward to hearing from you!
---
OF THIS and THAT ...
Woof, Woof!
Well done, dogs, give your owners a pat, your 'dumping' has improved! However, just one more little plea, ask them to take home the little 'parcels' and not leave them by the wayside. Thanks!
Was it Walden or a Stag?
The end of October has brought strange noises to the Sterridge Valley. Chris tells me that the bellicose sounds are stags rutting. Certainly, from delightful sightings of up to twenty-one deer, including at least one big stag opposite Cherry Tree and Hillside cottages, who am I to argue? However, Chris has been known to imitate owls regularly as a greeting call, so if it turns out to be him, apologies to the stag. Some say that the stag has tried to incorporate the flowerpot men into his herd and maybe this explains the damage lor abuse] inflicted on some of our terracotta friends in the past. Food for thought.
B.O'R.
Tinkle
On leaving the smallest room in the house there was a faint chink or tinkle on porcelain. I took little notice until I suddenly realised that everything was blurred and reaching up to rub my glasses my finger went straight through the hole on the left side. "Oh heck, it must have gone down the U-know-wot! "
An examination of the drains followed - lifting the lid on the first manhole and holding a broom over the 'out' pipe, the IJ-K.W was flushed! No luck - nor was there any luck from manholes two and three. At the end of the road, or drains, the optician was the only option.
The next morning, what fell out of my pyjama pocket? You're right, the missing lens. It must have been the screw and not the lens at all that made that tinkling sound! Hastening back to the optician with the lens to be fitted, we all had a good laugh.
TB
---
OF THIS AND THAT...
Wash Day Blues
Paul and Theresa Crockett from Berrynarbor Park have kindly let it be known that there is a coin-operated commercial washer/dryer in their laundry, and anyone who is stuck with a washing/drying problem would be welcome to make use of the facility.
If you would like to take them up on their offer, please give them a ring first on 882631
Wanted!
The BBC [Berry Broadcasting Company] is seeking help with their wardrobe department. After ten years, they have accumulated a considerable selection of costumes and accessories and are hoping that someone might come forward to act as custodian. Help with either listing, setting up a loan scheme or providing storage space would be extremely welcome. To assist with the costuming for their forthcoming new season, the company would be delighted to hear from anyone who could help with sewing, etc.
If you could help in any way at all, or would like to learn a little more, please ring Gary on 883244, he'd be delighted to hear from you!
Get Well Wishes to everyone who has been or is in hospital, we hope you will be home again soon. Those wishes also go to anyone who has not been feeling too good. Our special wishes go to Betty and Les Parker [late of Higher Rows] as we understand that Betty has been unwell and in hospital.
Dogs for the Disabled Three of the Christmas Cards for Dogs for the Disabled this year have been designed by Debbie Cook. If anyone is interested in purchasing these cards and helping with this very worthy cause, 'flyers' of the pictures and order forms are available at the Post Office and Chicane.
Fields
Rosslyn Hammett [nee Huxtable] recalls from her childhood at North Lee Farm that the fields her father farmed had names, and she wonders if those names still exist. There was, she says, Pugsleys Meadow, Pitt Meadow, Peter's Meadow [which was supposed to have a curse on it!], Alfie's Meadow, Dry Meadow, Little Oakland, Stoneage, Square Field, Long-close, Sheary field, Rosy Park and Lag. One of the fields behind the farmhouse was called Betsy's Field, where in early autumn you could always find mushrooms and where the two cart horses, Prince and Tidy, usually grazed. Does this jog a memory or two? If so, please let us know.
---
OF THIS AND THAT
Thanks: We should like to convey a very big 'THANK YOU' to all those involved with organising and running the Jubilee Celebrations in the village. Our guests, and ourselves, thoroughly enjoyed it, and all your hard work and effort made it a memorable day. Thank you, once again, to all those involved. Christine & Ian, Mill Park
Rural Reflections: Sadly, due to the ill health of his parents, Steve has not had the time to reflect recently. He sends his apologies and assurance that 'normal service will be resumed as soon as possible'. We look forward to his thought provoking articles resuming and in the meantime wish him and his parents well.
Berrynarbor Men's Institute: The Institute began life in the early 1900's, meeting at that time in Bessemer Thatch before moving to the Institute Room at the Manor Hall. Today it takes the form of a snooker club for members from the Parish and new members are always welcome. It is open usually about 5 nights a week according to whether a 'Bar Man' is present - and Juniors may join at 16, becoming full members at 18. The annual subscription is currently £5.00.
The proposed date of the AGM is Thursday, 26th September, for members only. However, if you live within the Parish of Berrynarbor and would like to join, please contact either the Chairman, Gordon Hughes [882580] or Secretary, John Huxtable [882402] who would be pleased to tell you more.
We wish Ellie and her family - Eloise, Lydia and Nathaniel - Good Luck and every happiness in their new home, having made the long-haul move next door, to Fuji on Hagginton Hill!
Wanted - a good home! Brand new, but slightly damaged, ceramic Belfast sink, for domestic or garden use. If interested, please ring Judie or Ken on 883544.
Favourite schoolkids' joke of the moment: What did the inflatable teacher say to the inflatable pupil at the inflatable school? "You've let me down, you've let yourself down and now you've let the school down."
---
OF THIS AND THAT ...
Calling All Berrynarbor Bikers
How many people in the village ride motor cycles? Are there enough to warrant a 'get together' at The Globe for a chat, perhaps once a month? If anyone is interested, please give me a call on 882388.
Brian Hillier
Precautions!
Let's hope that we do not suffer another wet winter with its resultant flooding and all round depression. Cllr. Len Coleman has empty sand bags, so if you feel you might need to be ready to prevent flooding, please contact him as Swan Cottage or on 883763.
News from DCC
Barnstaple Library can now offer unabridged recorded books on CD's, or they may be ordered through other libraries.
The Council is making a new bid to reduce road accidents in North Devon by reducing the speed limit on some seven stretches of road from 40 mph to 30 mph [watch out on the approach road to Tesco's - it is now 30 mph!J, mainly in Barnstaple but also on the A361 at Knowle and the A39 near Shirwell.
Christmas Cards
Last orders are now being taken for Christmas Cover Cards. Please ring Judie on 883544 NOW if you have forgotten to place YOUR order.
Thank You
Thank you to everyone who kindly contributed to my Stop and Takeaway Coffee Morning in aid of Macmillan Nurses during Breast Cancer Awareness month, which raised nearly £40. The weather was dreadful, but the generosity very high from those who stopped.
Di Lloyd
---
OF THIS AND THAT ...
Invitation!
Colin, of Bessemer Thatch, would like to invite all friends and acquaintances to his 50th Birthday 'bash' at The Globe on Friday, 16th November. Food and entertainment will be provided, but knowing the drinking capacity of certain villagers, drink will not!
History of Parishes Exhibition
To be held at Shirwell Village Hall on 6th October 2001. On display will be the Millennium Project: Soldiers of the Great War 1914-1919, which covers fifty Parishes and three Market Towns in North Devon. It includes a Book on the Parish of Berrynarbor, which will be of interest to many people.
Cheshire Homes Cards
There will be NO Christmas Cards for me to sell this year. The Volunteer who has made these cards for many years now has family commitments which prevent her from continuing with the excellent work that she has done. I should like to thank everyone who has bought so many of these cards over the years for such a worthy cause.
I am continuing to sell BIRTHDAY CARDS and all other GREETINGS
CARDS throughout the year and I do hope that you will all still give, as you have done in the past, your marvellous support in helping this worthwhile charity. Thank you.
Eunice Allen Tel: 882491
Neighbourhood Watch
Our Neighbourhood Watch Scheme, under the co-ordination of Ann Hinchliffe, is presently under review and the Police have asked for an up-to-date list of contacts. Unfortunately, the number of contacts is rather depleted, so, if you feel YOU could help, to keep an eye on your part of the village, PLEASE contact Ann for more details on 883708. New members would be very welcome and it is hoped to hold an informal meeting for everyone later in the year.