---
FAREWELL
It is sad to report that Mary and Brian Shillaker have now finally left Rockton and moved to be with their daughter and family in Stogursey near Bridgwater. They say they will 'miss all the lovely people we got to know and please give our regards to everyone'. They are already busy working on their new garden, which is large, with both a flower garden and vegetables. The only drawback is that they have had to wire fence the vegetables to keep the rabbits out!
We will miss them and send them our very best wishes and hope they will be really happy in their new home.
---
WELCOME & FAREWELL
A somewhat belated welcome to Brendan and Emma Noad of Ellis Cottage. Brendan, who runs a scaffolding company, and Emma, who makes glorious cakes, have three daughters and a son. Jessica is now at college but Sophie [in the Sixth Form], Isabella and Sebastian are all at school. Bringing the family up to nine are their three dogs.
We are gone! It's goodbye to our welcome spring visitors.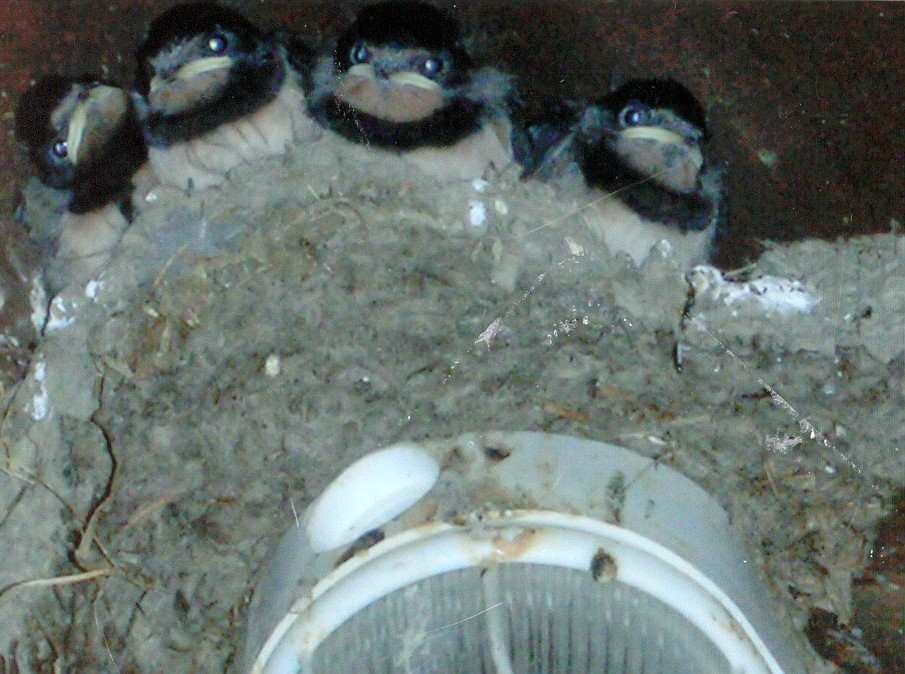 <
Photo by Wendy, North Devon Spinners
---
WELCOME AND FAREWELL
Although their leaving was on the cards, Fred and Linda's sudden departure has left a hole in many of the village activites, but we wish them well in their new home in Farnham, Surrey, where they will be nearer all their family and extended family.
Devon Cottage on Hagginton Hill had been their home here for 14 happy years and Linda's floral skills
have been much appreciated during that time - not only the regular decorating of St. Peter's Church, but also her work in organising and helping with the Flower Festivals. A stalwart of the W.I., Linda was disappointed at its demise - hopefully there will be an active institute near her new home - and from 1996 until 2003, Linda chaired the organising committee of our Horticultural and Craft Show, running seven excellent Shows. Whilst Linda was in the fore of village events, Fred was always there for support, his enjoyment being in more solitary pursuits - music, books and beautiful woodcarving - but he also played a mean game of golf and was a one-time member of our Badminton Club. You will be missed!
Devon Cottage is now home to Nick and Zoe Williams from Highgate, London. We welcome them and hope to do so more fully in the next issue.
Sally Barten has moved next door! Now settled in her new, smaller home, Poppies, she says housework only takes five minutes! Please would visitors now call via the gate to the side. We all wish you well in your new cosy home.
Berri Home will be the temporary home of Mike Floyd, a member of the Prison Service, who comes from London. Mike's family - his parents and brother - live in Ilfracombe. His father used to help Paul and Jackie Lethaby in the butcher' shop and his grandparents are buried in St. Peter's churchyard. He is, therefore, virtually a 'local'!
Also not moving very far, we wish Stuart Neale well in his new home at No. 23 Berrynarbor Park.
---
WELCOME AND FAREWELL
A belated but nevertheless warm welcome to Malcolm and Rachael Woodhead who moved in to Croft Lee earlier in March having lived in the area for a year although they originate from Newcastle. Malcolm is an Arts Technician and Rachael has been covering for a Maternity Leave in the Drama Department at Ilfracombe College. In the autumn she will be commuting to a teaching post in the Bristol area.
When they have time they enjoy walking and outdoor pursuits, particularly surfing, but are currently having to spend some DIY time on their home.
There are newcomers at the Park: Phil and Christine Pocock and Ellen Acutt.
Ellen, at No. 12a replacing Lyn and Brian who have gone to Barnstaple, has in fact been here since April having come from Hampton in Middlesex for a more leisurely way of life - not so, she is currently working for the season at Stowford Meadows! Ellen has, she says, done many jobs but latterly she was a Receptionist for Social Services.
She has two children - Robert and Ashley. Robert lives in New Zealand and has two sons, whilst Ashley is living in Surbiton.
For hobbies Ellen enjoys pottering in her garden, walking, reading, needlework [especially embroidery], socialising and a nice glass of wine!
Phil and Christine, friends of Theresa and Paul for more than thirty years, are the new residents at No. 22. Phil, a retired electrician, and Chris, whose working life has mainly been in the retail trade, have come from Shepton Mallet, where they have lived for the last six years.
The family comprises of their son Owen, his wife Jacqueline and their two daughters Jemma and Lauren, and their daughters Trudi and Emma. Visiting the family means trekking to Hampshire, but fortunately they all live within a few miles of each other.
Phil and Christine's favourite pastime is walking - we can offer them plenty of good walks! - and they enjoy gardening and a bit of DIY.
Lisa and Mark Eggleton have forsaken windswept Baggy Point for a more tranquil residence in the Sterridge Valley. Lisa, a nurse in the Intensive Care unit of the North Devon District Hospital and Mark, a landscape gardener whose work covers the NHS sites, are now living at Brookvale.
A local lad from Braunton, Mark is a keen surfer, riding the waves, whilst Lisa, who comes from Winchester, Hampshire, prefers to ride with a saddle!
The last week in July will see a house 'swap' underway. Sadly, Martin and Louise Lancey and their daughters Holly and Willow, will be leaving Cedar Lodge in Birdswell Lane and moving to Shortacombe Lodge in East down, where Martin plans, we understand, to rear livestock - pigs, etc. However, they assure us that they will remain part of the village with Holly still attending the Primary School and Martin attending to the many jobs that need doing here!
Moving from Shortacombe Lodge to Cedar Lodge, we welcome Penny Bonvoisin. Penny and her late husband, Tony, who sadly died last year, were in the bottled water business, running Dartmoor Water. Now sold and renamed, bottles of Devon Hills can be seen on most supermarket shelves.
With three step-sons, who live in Simonsbath, further off in Wales and further still in Switzerland - each with two children - Penny has six grandchildren. Her constant companion is her wonderful cat Tiwe [pronounced Teewee]. This venerable old gentleman will be 18 in August.
Although she hasn't done any latterly, Penny is an ardent sailor and loves sailing, as well as enjoying walking and gardening. Skittles is also a favourite pastime, so if you are short on your team she would love to hear from you.
To all our newcomers and to Martin and Louise, we wish you luck and happiness in your new homes.
---
WELCOME AND FAREWELL
A warm welcome to the first two residents at Lee Lodge, Bill Kieff and Walter Canham.
Bill, who originally comes from Essex, has been living at Woolcombe, where his family are. In his working days he was in the retail trade, running shops selling from groceries to hardware and Do-it-Yourself stores.
Walter has not moved far - just from Goosewell, where for the past few years he has been living with his son Malcolm and Sue.
Walter, who celebrated his 90th birthday in May with a party at Burrow House, comes from a family boasting longevity - both his mother and father lived to 96 and Walter says he is going to break that record!
Ex-Rotarian [and President for the Portslade Club in West Sussex in 1973, and founder member of the Sussex Film Society], Walter's career was in Chartered Accountancy, so he was the obvious man to be Treasurer of the British Automobile Racing Club for 12 years.
From the age of 7, a keen collector of stamps, mainly from Scandinavia and Great Britain, he also collected coins and is a very keen gardener. He has great plans for the garden at Lee Lodge and hopes that next year they will be able to take part in the Open Garden events as well as participating in Berry in Bloom.
We wish both Bill and Walter every happiness in their new 'home from home'.
Farewell to You All
I shall always have such happy memories of Berrynarbor. Bernard and I came here 28 years ago and we found paradise at Bali-Hai and the beautiful Sterridge Valley. We were always happy helping at the various activities in the village - growing the plants and manning the stalls, winning prizes at the Horticultural Show, doing the book stall, and many others.
We decided to move nearer to our children before Bernard's death and I have now found a bungalow close to them in Burgess Hill near Brighton.
I shall miss all the friends I have made in the village, but look forward to beginning again in my new surroundings where I hope to find some more very nice people. I shall keep in touch and read all the village news through the newsletter.
Eunice
We shall miss you too, Eunice, but wish you every happiness in your new home with the family nearby.
Last August we welcomed Debbie and Stuart, their two dogs and two cats and wished them well in looking for a home in the village. Achieved! Together with three inherited goldfish [!] they are all now the new residents at Bali-Hai. We wish you every happiness in your new home and good luck with the gardening!
---
WELCOME AND FAREWELL
It was with sadness that, after ten years living here, Hazel and Ken Gosham left Bowden Farm Cottage just before Christmas to move to Hampshire to be nearer their son.
Hazel and Ken were keen bowlers at Combe Martin and enjoyed art classes but will, perhaps, be remembered more for their wonderful support of and entries in the Horticultural and Craft Show. Ken was renowned for his home-made wine and walked off with the Watermouth Castle Cup five times and the Best in Show Cup twice - and his fruit and vegetables took a lot of beating! Meanwhile, Hazel's green fingers secured her the Lethaby Cup for Potted Plants twice and the Manor Stores Rose Bowl for Cut Flowers three times.
They will be keeping in touch via the Newsletter but would like to thank villagers for their friendship, especially their very good neighbours Maddy, Julie and Mike.
We are also sorry to have lost Gail and Graham Davis and family who have moved to Ilfracombe. Chris and Geoff Taylor are also off to pastures new. Chris says that their new 'compartment' in Pilton will only be an interim measure as their intention, hopefully, is to return to the village.
Bowden Farm Cottage is now home to Lyn and Holly; Penrose to Katie Rowles and Michael Lyne, and Venture Cottage to Denise Inskip and Daniel Reynolds.
Denise and Daniel, who come from Ampthill in Bedfordshire, have been renting a place in Lower Loxhore for the last year whilst looking around. It did not take them long to decide that Venture Cottage was the place!
Denise, a florist by trade, and Daniel, a builder and landscape gardener, are keen gardeners and plan to follow Chris and Geoff's footsteps and take part in the Open Garden days. Denise is temporarily, in her words, 'pre-occupied' as they expect their first baby in late February early March. However, they already have a large family: dogs - springer spaniel Liz and Jack Russell Basil, cats - Abbie, Tach, Mouw and Trouble,
two rabbits and a guinea pig, not to mention the chickens and ducks! I think we can tell they are country folk and we look forward to hearing of the baby's arrival.
Cairn Cottage at Goosewell has been home to Catherine and David Allen for some time now and we are sorry not to have welcomed them sooner!
They have come to the south west from Stokenewington in London and David, who is an I.T. Project Manager, still spends some time working in London. Catherine was Head of a Special Needs School but is now teaching 'out of school' pupils on a part time basis for Devon.
Their twins have now 'grown and flown' - their son is in Brisbane Australia and their daughter works for the London Estate Agents Frank Knight.
Both enjoy a variety of hobbies. David is in to motor bikes, cycling and walking and is a keen musician, playing an assortment of instruments and would, we understand, have liked to have made music his career. Catherine also enjoys walking and is a keen gardener, currently creating their owncottage garden, but she also derives pleasure from the indoor hobbies of sewing, knitting and both dabbles in and looks at art.
To everyone leaving and everyone coming to the village, we wish you luck and happiness in your new homes.
---
WELCOME & FAREWELL
We are sorry to have lost Rosemary Gaydon from Barton Lane but fortunately she has not gone far, just to Belmont Road in Combe Martin. We wish her well in her new home and know that she will continue to visit us!
After several years in the process, the chalet bungalow, Fernlea, designed and built by themselves - with a little help! - is now home to Iris and Andrew Carrington.
Having spent time in North Devon as an evacuee during the War, Andrew was well aware of the delights of this part of the world, so he and Iris moved from Seaford in Sussex to Ilfracombe some 25 years ago. A 5-year stop in Woolacombe preceded their move to Berrynarbor a few months ago.
Andrew is a retired Research Engineer Draughtsman and Iris was employed in a variety of office and retail posts. As one would expect, a major hobby is DIY but in the past, Iris and Andrew have very much enjoyed walking in our lovely countryside. We wish them both every happiness at Fernlea.
There has again been movement and newcomers at The Park. Paul and Theresa have moved in to Mandalay and Saddlestones is now home to Joan and Malcolm Garbett.
Having slipped through the October 'net', it is lovely to welcome Elaine Filer, who has already become part of the village, singing in the choir and ringing the bells at St. Peter's. The Park is her new home. She says she loves the peace and quiet and is very content, "It's as if I have died and come to heaven!"
Elaine has come from the East Midlands, having been acquainted with the area as her sister lives in Ilfracombe. Three years ago when she was thinking of retiring to North Devon, she saw The Park and fell in love with it, counting the days from then until she could retire last August.
It is no wonder Elaine finds it peaceful, having worked, as she says, for twenty long years of 'busy, busy' at East Midlands Airport. She says the television programmes are true, only it's actually worse! Apart from bell ringing and singing, Elaine enjoys walking and swims regularly.
Next door to Elaine are our newest arrivals, Mike and Joyce Simpson who have only just moved in to The Park. Having been born and bred in Hayling Island, Hampshire, and holidaying on Exmoor, they decided to take retirement and move somewhere quieter and thus found Berrynarbor!
Mike, who was a motor mechanic and says his hobbies are fishing, photography and motor racing, and Joyce who, in the past has been a keen sportswoman playing netball and badminton, etc., and has had various jobs in shops and schools, have two children. Their son Colin and his wife Jackie live on Hayling Island with their son Bradley. Their daughter Clare is currently in Tenerife.
Mike and Joyce are looking forward to becoming part of the village and being keen walkers, have already explored walks up the Valley.
Pat and Jo Carlaw, whilst staying in Dormer Cottage last spring, decided they would like to spend Christmas in Berrynarbor. They have now sold their home in Maidenhead, Berkshire, and move to Dormer Cottage with their two cats at the end of November. Jackie and Roy wish them every happiness in the new home, and we do too!
We warmly welcome all our newcomers and wish them luck, health and happiness in their new Berrynarbor homes.
---
WELCOME & FAREWELL
Lots of movement in the village to report this time. To everyone, either coming or going or moving, we wish you luck and every happiness in your new home.
Dennis and Win were sad to leave Red Tiles and we were equally sad to see them go. However, after down sizing and trying, as Win says, to 'get a quart into a pint pot', their new home - the first floor of a cottage - sounds delightful and they are settling in well.
Win writes: "The Trust [set up by W.D. and H.O. Wills] runs this complex for about 200 people, centred on a lovely old listed house in about 30 acres of beautifully maintained gardens and grounds. The house itself has within it a library, an indoor heated pool, a beautiful chapel and a huge dining hall where we can get a good 3-course lunch for £3.50, so there is little else we need. There is a hairdresser on site too. What more can we possibly want, except a good pair of legs!
"We miss 'Berry' very much and send our fondest good wishes to our friends in Berrynarbor and around."
Win and Dennis, we return your good wishes and hope you will both be happy in your new home - it sounds so good I think some of us would like to join you!
Red Tiles will now be home to Dawn and Gerrit of Sandy Cove Hotel.
Observant people will have noticed the demise of the large poplar tree at Alwyns. This was the first job for Paul and Clare White, the new residents there. Not, because it was blocking out the light, but because it was diseased and likely to die in the next couple of years.
Paul, Clare and eight month old Amelia [Millie] have moved from Braunton. Paul, who hails originally from the Channel Islands but has lived in North Devon since the mid-70's, is in the Police Force, a Traffic Motorcyclist at Barnstaple. Clare, who is more local - her family farming at Ashford - is a Nursing Sister at the North Devon District Hospital.
Completing the family are three cats - Sylvester, their original one, and Minou and Zoe who they have recently inherited. Clare, understandably, has little time for hobbies but Paul enjoys giving Advance Motor Cyclist Training to the public. A warm welcome to you all.
After 17 years, Alan and Christine Parr have retired from Watermouth Cove Holiday Park and have moved to Knowle House, Easterclose.
They are now enjoying a more peaceful and relaxed way of life, gardening and growing their own vegetables. After working hard for so long, they are also taking time to enjoy the beautiful local countryside. We wish them both happiness in their new life-style.
It was sad to say goodbye to Hilary and Roger when they moved to Braunton, and rather belatedly we welcome Debbie Bott and Stuart Radley to Brambles on Hagginton Hill.
Although the cottage belongs to Debbie's parents, Judy and Geoff, who hope to move down from near Oxford in the near future, Debbie and Stuart are currently in residence, together with their two bearded collies - Poppy and Ozzy - and their two cats - Casper and Mini-me. Debbie and Stuart, from Woolacombe where they ran the Headlands Hotel, are in the process of converting the hotel into apartments and looking for somewhere, perhaps in the village, to live. Good luck in your 'hunt'!
Vera and Tom Greenaway, their daughter June and their son Tony, have now left Newberry Farm and have moved to Little Stowford at Hore Gate Down. Before moving to Newberry Farm, Tom, Vera and their family lived first in one of the cottages opposite The Globe, later moving to Lee Haven.
We wish them all well in their new venture and look forward to hearing from them soon.
27 The Park is the new home of Verona Hardy. Verona has moved here from Roundswell, Barnstaple, but has lived in the North Devon area for a long time now. She was, before retirement, a Nurse working at Tiverton Hospital and the North Devon District Hospital.
One reason for moving was to be nearer her younger son John, his wife and son and daughter, who live in Combe Martin. Her older son, Robert and his wife, who also have a son and daughter, live in Henley.
We hope you will soon settle in, Verona, and become a part of not only The Park but also the Village.
---
WELCOME
Briarwood [Sloley Farm] is now home to Debbie and Gavin Denyer and their family, having moved here recently from Braunton.
Gavin, who comes originally from Brickett Wood, St. Albans in Hertfordshire, is an IT Technician at Ilfracombe College. Debbie, from Radlett, also in Hertfordshire, is what is now called a Domestic Engineer - to you and me, the most commendable post of Housewife! She is currently educating their two youngest children at home.
Both Gavin and Debbie enjoy walking, with Gavin enjoying music and art and Debbie knitting and needlework, in particular patchwork and quilting.
The family are Ellie, 22, a Receptionist at the Saunton Sands Hotel; Mike, 20, who is working in Barnstaple and is a skim boarding [surfing] enthusiast; he is followed by John, 17, a keen guitarist and a student at the North Devon College; then Kathryn, 15, and Ross, 11. Kathryn is a horse lover and Ross an animal lover, having sponsored wolves at the Combe Martin Wildlife Park with his birthday money.
Completing the family are their three dogs - Sam and Skye, two collies, and Archie, an English springer spaniel.
The family have already become part of the village, having been roped into a litter pick on their first week-end, and thoroughly enjoying the barn dance at Sloley.
It is so nice to see Kathleen's home, Maryvale, lived in and loved once more. Tony and Maggie Kitchin are the new residents and they've moved only a short way, from Prixford, although coming some years ago from the South East.
Maggie is an accountant and if you are thinking of buying a property in France, then Tony is the man to consult! Jack and Tom, their two black Labradors, make up the household.
Maggie and Tony have four children and five grandchildren. Their son Adam, wife Donna and little girl Caitlin, are in South Africa; Claire and her husband Nigel and their two boys are in Australia; but nearer, in Sussex, are Matthew and Pam and their son and daughter, and Rob and Jo are in London.
Both keen golfers, Maggie says they are currently attacking work that needs doing around the house and she is looking forward to seeing the end of the chaos!
Having spent many years holidaying here with their caravan at Napps, Trevor and Val Walton have moved into the recently converted barn, Millwood, on Hagginton Hill, next to East Hagginton Farm.
The barn conversion and their moving here from Hatfield Heath in Hertfordshire, came about when Trevor's early retirement left him needing a project! Now they have the conversion of the second barn to complete.
Val and Trevor have three children, two married daughters Kate and Victoria and a son, Stuart. An architect, Kate from Kingston Upon Thames, helped with the plans; Victoria is a school secretary and has two sons, Samuel and Rory. Stuart has just returned from France where he was a ski instructor.
Val, who enjoys floristry, is a pre-school teacher at Lynton and they both enjoy walking and travel, Trevor is a crossword addict and they have enjoyed participating in the Globe quizzes. Ruling the roost is Tinker, their tortoiseshell cat.
Juliet and Pyers Cameron have exchanged the 'smoke' of North London for fresh Devon air! 3 Lee Cottages is currently home to them and their two interestingly named cats - Somer and Kodai. Somer because Juliet was born in Somerset and Kodai because Pyers was born at Kodai Kanal, India!
Juliet, a physiotherapist at the North Devon District Hospital, and Pyers a self-employed property and garden maintenance contractor, found and fell for Berrynarbor whilst visiting friends in Georgeham. They are both keen scuba divers and Pyers enjoys sailing and fishing, but hobbies may soon be curtailed as they are expecting their first baby in August. We wish them both well.
To all our newcomers, some newer than others, a warm welcome and every happiness in your new homes.
---
WELCOME AND FAREWELL
A very warm welcome to our new and not-so-new newcomers! We wish you all every happiness here in our Village.
Derrivale in the Valley is now the 'pad' of Sam, a ten-year-old Golden Retriever and his owners, Paul and Julie Lightfoot.
Paul, who is Devon born and bred, and Julie, a Wiltshire lass from Salisbury, have a retail business in Honiton.
Paul's past surfing acquainted him with North Devon, but unfortunately he doesn't have time to pursue this hobby at present. Currently time is short except for work and walks with Sam.
We hope that they will find time before too long to come and join us in village activities.
A rather belated welcome to Mike and Gail Pascoe who moved in some time ago to the newly named Maple Cottage [Dene Cottage] in Birdswell Lane.
Mike and Gail found Berrynarbor by accident! Retiring and wishing to move from near Glastonbury in Somerset, they initially looked at South Devon, but were then attracted by the rugged look of North Devon and seeking a village with character off the main road, where else could they come?
Mike is a retired lawyer and Gail's work and hobby was breeding cats. Not just ordinary cats but Bengals. Bengals were originally bred from Asian Leopard Cats - small, shy wild cats - and Abyssinians, Egyptians and even domestic short hairs [I hope I've got this right, Ed.]. They are intelligent with soft coats with dark spots. Mike and Gail have one of their own, Jamakas, and Gail's cats have found homes all over the world.
Originally from Sussex before going to Somerset and now here, Gail and Mike have two grown up sons who both live in Southampton.
Hopefully, Gail will tell us more about her breeding of the delightful Bengal cats!
It is with sadness that we say goodbye to Diane and Danny Lloyd who have moved from Cross Park to Molland. Having been part of our village for many years, we wish them well in their new home.
May Tree Cottage is now home to Debbie and Keith Thomas, who have moved down here from Billericay in Essex.
Both Debbie and Keith spent time holidaying in North Devon as children, and when their son, Neil, came along, they brought him down for family holidays too.
Debbie and Keith are lucky to have their grandchildren nearby, as Neil and his wife Romana and their two children, Jeremy and Elinor, moved down here to Ilfracombe from Billericay at the same time.
May Tree is also home to Jake, a border collie and Labrador Sasha. Walking the dogs, photography, craftwork and in the near future archery, keep Debbie and Keith busy when they are not gardening. Gardening is both a hobby and a business.
---
WELCOME & FAREWELL
It is sad to say goodbye to Doreen Prater and Hilary and Roger Stevens, but rest assured, they will all continue to be part of our village life; but it is good to welcome Yvonne in from the outskirts.
Doreen has left Cherry Hinton for the 'Big Apple', where she will be nearer her family - in future reversing the trips from Berry to Barnstaple! Hilary and Roger are leaving Brambles and going to Stallards in Braunton, where although they will be nearer Angela, they will be further form Lisa in Combe Martin, but Roger will continue skittling with the Globe team!
All three have lived here for nearly thirty years and they will be missed. We wish them every happiness in their new homes and look forward to seeing them at village activities.
Exchanging the wonderful views of Combe Martin Bay from the isolation of Ropes End, for equally beautiful ones, Yvonne is delighted to be nearer in to the village, and Cherry Hinton is now home to herself, Misty and Bluey. We hope she will be very happy there.
_____
By the time this 100th edition of the Newsletter is 'off the press', I shall have moved to 9, Wayfaring, St. John's, Barnstaple. I have purchased a house with a small garden, built in 2001, quite close to Tesco, St.John's Garden Centre and my family!
I have spent twenty-nine happy years in Berrynarbor - twenty of which were at The Lodge with Alan, and Andrew, Richard and Judith until they 'flew the nest'. But you have not seen the last of me as I shall still be attending Church and the W.I.!
I thank my friends for their friendship and support over the last few years and shall be pleased to welcome any of you to my new abode.
As some of you already know, Yvonne Davey is now living at Cherry Hinton and I hope she will enjoy living there as much as I have. Happy New Year to you all.
Doreen
---
WELCOME
It was a pleasure to chat to Mike Patterson on a beautiful sunny, crisp day outside our shop and to welcome him, somewhat belatedly, as he has been here now since April!
Mike, his late wife Iris and their two boys visited North Devon and particularly Berrynarbor, several times a year for nearly forty years. Their son Richard and his wife Sheila moved here in early 2002 to Sloley Cottage, so it is no surprise that Mike is now here too, at home in Stable Cottage.
Mike retired as an Assistant Bank Manager for Nat West after being in banking for forty-two years. His eldest son, Andrew, lives in Launceston and he has two granddaughters, Jenna [19] and Laura [17].
Mike has already become a familiar figure around the village, enjoying the Friendship Lunches and taking part in the taxing pleasure of the fortnightly Quiz at The Globe, as well as attending many of the other functions in the village.
A very warm welcome, Mike, we all wish you happiness here in Berrynarbor.
---
WELCOME
Following last issues' farewell wishes to Betty and Colin and Annie, we hear that Betty has happily settled in to her new residential home at the Old Rectory in Gloucestershire, and Colin and Annie have settled into their new home. Annie is spinning again and has formed a group in the village, with a patchwork group to follow shortly! Colin is bell ringing with a local group and has lined up five towers for Berrynarbor bell ringers when they visit on the 15th October. Ann and Dave are settling in to their new home.
We should like to thank everyone who helped us in many various ways during our protracted move from Hagginton Hill to Rectory Hill. Special thanks to June and Bernard for putting us up - or putting up with us! To John and Fenella for looking after the van and Gilly for guarding our vacuum cleaner! We are now settling in nicely and do not plan to move again - ever! Dave and Ann - Croeso [Halldene]
Although we welcomed Mike and Wendy Amos-Yeo to the Old Rectory back in April, we are delighted that they are now in full residency and we look forward to meeting them at village activities. We must, however, wish a warm welcome to Wendy's mother, Phyllis, who has moved in to the Glebe House. Phyllis, who was born in Fulham, London, some 70 plus years ago, has lived with Wendy and Mike for the last ten years. An animal lover who enjoys jazz and music of all kinds, Phyllis confesses to being a Frank Sinatra fan, having a collection of all his records and photos and other memorabilia - 'You Make Me Feel So Young'! We hope that like Mike and Wendy, you too will be very happy here in Berrynarbor.
A belated welcome to Sallie and David Nochar who moved into Woodside, Goosewell, a year ago!
Originally from Oxfordshire, they moved to Torrington four years ago before retiring here. Sallie, who was a Special Needs teacher and David, a General Manager in the motor trade, have four children - 3 boys and a girl. Both are keen gardeners and David enjoys the dubious pleasures of the golf course and volunteering with the CAB.
Jackie and Roy have now retired - or so they say! - leaving Langleigh House in the capable hands of Carole and David Rodgers to whom they send their best wishes and hopes that they enjoy running the guest house as much as they have. And we add our best wishes and welcome to them both too. Jackie and Roy are, of course, staying in the village at Lee View and will continue running their two holiday cottages. Their new telephone number is 882396.
For Carole and David from Sheffield, taking over a guest house is a completely new way of life. Both have previously been very busy people and their jobs have meant that they have been like ships passing in the night! David was in company accountancy and IT, whilst Carole covered over 40,000 miles a year travelling for a national sawmill company. Although they are looking forward to the challenge of running their own business, they will still be kept very busy! In their spare time, David enjoys walking their Brittany spaniel, Baggins, and 'real' ale, and they are both looking forward to tending the beautiful garden at Langleigh House and trying out the many local eating places!
As mentioned in the August issue, Linda and Adrian Hughes have moved from Hayes End in Middlesex to No. 30 Berrynarbor Park. Adrian fell in love with Berrynarbor when he camped here as a Cub Scout some years ago and for the last three years they have spent their holidays at Mill Park. So, when they discovered the park homes, it was the obvious place for semi-retirement. Adrian, an ex-military man and a National Express coach driver is seeking employment but keeping busy helping out with local jobs, whilst Linda has found a part-time job with Combe Martin Parish Council. The family consists of three sons and two grandchildren - a boy and a girl - and not forgetting Sophie the cat!
Linda and Adrian say they are really enjoying life here and feel very settled and Linda, whose hobbies are craft and decorative painting has already joined one of the Globe's skittle teams, and Adrian enjoys walking. A very warm welcome to you both.
About to slip through the net is Mike Patterson who has moved into Stable Cottage and we hope to welcome him more fully in the next issue.
---
WELCOME AND FAREWELL
Over the last couple of weeks and in the weeks to come, many changes will have taken place. To everyone who is leaving the village, we wish you every happiness in your new homes; to those who have moved in, again we wish you luck in your new homes and hope you will be happy here in the village; and to those who've just changed the view, good luck and happiness too!
We are sad to say farewell to Jim and Jean Constantine who are off to be nearer their family. Thank you both for all you have done for the village, but especial thanks to Jim for his work on and Chairmanship of the Parish Council and, of course, for all the time and expertise he has given to ensure that we still have a thriving village shop.
Moving up the hill from Combe Martin to take up residence at Fir Croft are David and Jane Bramhill. David, the Managing Director of an oil company hails originally from the Bath and Bristol area, Jane was a secretary in London before moving down here from Surrey in 1969, and for some time ran the restaurant at the Exmoor Wildlife Park. She has two sons, one of whom has yet to fly the nest, and they have a mad Scottie dog named Lady, who is far from being that! Hobbies? Well, David collects stamps and Jane collects clutter, but together they are in to horse racing, owning two horses and having shares in five others. It is understood that they are still waiting to hit the jackpot!
It is almost home from home for Mick and Jill Blower who have moved into Berrynarbor Park, having holidayed in this part of the south west for nearly 30 years and spending the last 15 Christmases in Berrynarbor. Originally from Wolverhampton, they both moved to Stafford on their marriage and have now decided to take up semi-retirement here. Mick, a gas fitter, and Jill, a conveyance executive, enjoy the countryside, particularly walking their dog Cassie.
Carol and Chris Saunders are also new to Berrynarbor Park, having moved here from the Derbyshire Peak District with retirement in mind! Chris is a builder and Carol has been in the teaching profession for more than thirty years, but has now taken up and qualified in holistic therapies. They have two sons. Daniel and his wife Janet live back in Derbyshire with their two grandchildren, Megan and Josh. Carol and Chris, who love walking and enjoy the countryside, conservation and birds [the feathered variety], have two dogs, Monty and Max.
Adrian and Linda Hughes have also moved in to the Park from Hayes End in Middlesex, and we hope to be able to welcome them more fully in October.
18 Hagginton Hill - way up towards the top! - is now home to Kay and Richard Barry and their baby daughter Eve. Eve celebrated her first birthday just days after their arrival. Kay is no stranger to Devon, having been born in Woodbridge and having lived on Exmoor, whilst Richard is from Wiltshire. Both teachers, Kay at Primary level and Richard at Secondary, they have just returned after living in Christchurch, New Zealand for the past six years. Emigrating with them are their two cats, Tim and Schroedinger! Kay and Richard are looking forward to exploring the local countryside and beaches and hope to renew their enjoyment of wind surfing. We wish Richard luck in his new job - he will be joining the staff at Ilfracombe College in the autumn, teaching Physics.
So, having left No. 18, Anne and Dave [Harris] are temporarily homeless, but will be moving in shortly, to Halldene - on a lesser incline and nearer the village centre!
That means another move and it is with profound regret that we have to say 'goodbye' to Betty [Dudley-Ward], or 'Matron' as she has been affectionately known in the past. She leaves us in August to move nearer her family. We'll miss you Betty and will look forward to hearing that you have settled in to your new home.
I am leaving Berrynarbor to go to a residential home in the village of Longhope, which is between Gloucester and Ross-on-Wye where my niece lives. I was in charge of the Susan Day Home in Ilfracombe - a resident post - so on my retirement I had to make a home somewhere. As I had friends here and there was a bungalow available, I decided to come to Berrynarbor.

I have spent many happy years here and have made many friends. As I have become old - 92 now - I have appreciated these friends very much. Everyone has been so kind and helpful to me.

I am very sorry to be leaving the village but feel it is right to go near my family at this time.

"Goodbye to you all."

Berrynarbor is a lovely village to live in and look at -

Betty Dudley-Ward
Colin and Annie Trinder have left to go to East Devon, near Axminster, and Sheila and Gary Andrews are now running Grattons and the Chalets.
We are sorry to see Annie and Colin leave and wish them well and thank them for all they have done for our village, particularly Colin's Chairmanship of the Manor Hall Committee.
We welcome Sheila and Gary who, after running a retail shop in Bexley Heath, Kent, for some time, have decided to have a change. Moving with them are their daughter, Poppy, who is eleven and starting at Ilfracombe College in September, and Lewis, seven, who will be joining our Primary School. The family is currently completed by Dusty the cat who is shortly to have life disturbed by the arrival of a puppy - a Hungarian Vizsla, a pointing and retrieving gun dog originally bred to hunt the great plains of Hungary. Sheila enjoys swimming and gardening but Gary says there's no time for hobbies for him, he's got his work cut out for the time being!
---
WELCOME
The nets have been trawled and some newcomers, who have slipped through, have been caught and need belated welcomes!
Overdue by just a few months, eighteen in all, is a welcome to Lynsey and Paul Phillips and their daughter Ellie, who moved in to Goosewell a year ago last October! They both come from this neck of the woods and before coming to Berrynarbor lived at Combe Martin and Bickington. Paul, who comes from West Down and was a student at Ilfracombe College, is a builder; Marion, from Ilfracombe and a student at Edgehill, is a nurse in Intensive Care at the North Devon District Hospital. Ellie, who is six, is a happy pupil at our Primary School.
Since October, Paul and Lynsey have become keen scuba divers and are members of the Ilfracombe Club. Paul, the villainous Bill Sykes in 'A Twist on Oliver', is also into martial arts. Completing the family is Lettice the cat.
A year later, and so only six months overdue, are welcomes to Paul Moth and Mike and Wendy Amos-Yeo. All three are from Shirwell.
Paul now lives at the Coach House at the Rectory and says, "If you want a job done, he'll do it"! Caretaker, handyman, decorator, he is a jack of all trades.
Mike and Wendy are the new residents at the Old Rectory and say they are retiring after 25 years in the self-catering cottage business in Shirwell. They have two sons, one living locally at Croyde and the other in Buckinghamshire. Fishing, golf and relaxing in Portugal are their favourite pastimes, to which sea fishing is hopefully soon to be added.
No one walking up the Valley can have missed the wonderful and sympathetic renovation of Derrivale [or Vi's cottage to so many!], and the transformation of the gardens by Paul and Marion Coles - you must both be congratulated on your achievements. Having come the long way from Barton Hill, we can now welcome them to the Valley.
Paul is a local, having come originally from South Molton, whilst Marion [ex of the Pack of Cards] originates from Norfolk. Paul and Marion have four children: twenty-year-old twin daughters, Kate and Laura, who are both at university - Kate at Guildford taking a Tourism and Management degree, and Laura at Brighton, studying Product Design [Engineering]. Robert, who is fifteen and Jenny, thirteen, are both at Ilfracombe College.
Our very best wishes and welcome to you all.
Editor's Plea: [yet again!] Please DO let me know if you are new to the village, or are leaving us, so that we can either welcome you or say farewell - and preferably not eighteen months too late!
---
WELCOME AND FAREWELL
I am not aware of any newcomers to the village and no-one has let me know that they have new neigbours! So, if you have just moved in to the village, we welcome you and hope you will be happy here. However, it would be lovely to hear from you so that we can give you a 'proper' welcome! Please give me a ring on 883544. Thanks, Judie [Editor]
---
WELCOME AND FAREWELL
Having become part of our village from her many visits and spending Christmas with her daughter Fenella, we were delighted when Ursula [Rouse] moved here permanently at the end of September.
After living 55 years in her previous home in Reigate, Surrey, Fenella and her sister Susan, who lives in Sydney, Australia, were concerned about Ursula's move. They need not have worried! She is thrilled to be here and has completely settled in to village life. A very staunch supporter of our new Community Shop, Ursula also listens to the pupils at our primary school when they read, as well as joining in village activities.
Following Vanessa and Ian's hasty return to Hertfordshire, from early October No. 3 Lee Cottages has become home to Celia Braund and her daughter Flora. Completing the household are their blue-eyed dog, Teasel, and the inherited cat, Holly. Sadly, Flora's father - from Ghana - is only allowed a Visitor's Visa.
Celia, who has spent most of her life in North Devon and was a pupil at Ilfracombe College, and Flora have moved from a National Trust cottage in Churchill. They have settled in well: Celia has in the past been a North Devon Spinner and hopes to take it up again, and Flora attends the village Parent and Toddler group. Although she is a full-time mum and is retraining as a spiritual healer [both for humans and animals], Celia finds time to follow her creative interests, art and nature, and is also a proficient horsewoman.
From December, Jill and Gerry will be living at Berry Mill House. No, they are not leaving us! Mill Park House will be reverting to its original name, by which it will be known in future.
Neighbours in the Valley were worry to see Alan and Wendy - and Meg - leave. However, they are keeping their ties with the village - keeping shop and keeping fit! We wish them luck and happiness in their new home in Mortehoe.
And still they keep coming! Yes, new residents at Berrynarbor Park, and we are now able to welcome three new households. Two have managed to slip through the net and should have been welcomed in previous issues, but now they've been caught!
Philip and Carol Mason - at No. 33 - have been here since April. Carol, a clerical assistant, and Philip, a toolmaker, retired here from Redditch in Worcestershire, having holidayed in North Devon for some 30 years, 20 of which have been spent on what was originally called Berrynarbor Caravan Park! Their hobbies are gardening, walking and reading, and Carol has recently added shop-keeping, being a very regular helper in our Community Shop.
Just next door, at No. 32, are Alex and Jean Stone and their two cats, Oliver and Cassie. They have come from Alvechurch in the Midlands - unbeknown to them all, only 4 miles away from Philip and Carol! Alex is currently looking for employment, having been an anodiser, whilst Jean is into 'hobbies', not work! They have two sons, two daughters and twelve grandchildren. Alex, who originally came from Burnham-on-Sea, always intended to return to Somerset but Jean, from Birmingham, found the Somerset Levels too flat and so began a six-year hunt which ended here in Berrynarbor.
Pam and Pete McKinnon, at No. 31, are the latest newcomers, although they have known and holidayed in the village since 1983. Pete, a long distance driver for Tesco, and Pam, a school assistant, have retired here from Milton Keynes and have brought Pete's mother with them to be at Fernbank in Ilfracombe. They have a daughter, two grand-daughters and a great-grandson. A couple of years ago, whilst walking their dog Amba on the beach at Hele, Pam slipped on the rocks and broke her ankle and had to be air lifted to Barnstaple - there are not too many of us who can claim that distinction! - where she spent eight days, but that didn't put her off moving down.
To all our newcomers we extend a very warm welcome and wish you happiness in your new homes.
---
WELCOME
With Lindsay and Martin leaving, Bob and Eileen Hobson have become the new residents at Lynwood and we welcome them to their new home and wish them every happiness here in Berrynarbor.
Bob and Eileen's move was not far, having come from Combe Martin where for 17 years they ran a hardware shop and managed holiday flats. During that time, Eileen also worked as a local Health Visitor. Having retired three years ago, they decided to 'down-size', so here they are!
Their son and his family, two daughters and a son, emigrated to West Vancouver three years ago, whilst their daughter and her family, two sons, live at Weston-Super-Mare making two granddaughters and three grandsons!
Golfers both! There is now more time to indulge in their favourite pastime, through which they had already made friends in the village. Although she has not been for several years, Eileen was a 'spinner' again meeting villagers and she hopes to find time to take up this hobby once again.
---
FAREWELL
It was with regret that we learned that Keith and Maureen Cooper were, after living here in Berrynarbor for some years [and one-time owners of our village shop and post office], on the move.
Maureen wrote at the time:

After spending many happy years in Berrynarbor, we are returning to our roots in Essex to be nearer the family. We shall miss the village but will have the Newsletter to keep us up to date. We also hope to visit in the future, when seeing Shaun and Cath in Pilton. Our thanks for the many cards. Health and happiness to you all.
---
WELCOME AND FAREWELL
J It was sad to say goodbye to Chris Jesson who, after ten years in the village, has moved to Alverton in Nottinghamshire, where she will be nearer to her family.
Brambly Hedge is now home to Rosemary Evans and her husband Ralph, an American who works for
General Motors. They are moving here from the Middle East where Rosemary was teaching English as a foreign language. She is now teaching at the North Devon College. Hobbies include reading, especially detective novels, waking and now there is plenty of garden to keep them busy. Brambly Hedge is also home to their five, well-behaved 'rescue cats', who have come with them from overseas, together with their quarantine certificates and clean bills of health!
Glenbridge has been home to Margaret Ludlow for fifteen years, but she has now decided to move back to her roots and family in Salisbury. Margaret would like to thank all her friends and neighbours for their help, support and friendship and wishes them well for the future.
Returning to the village and the new residents at Glenbridge are Claire and Michael Prentice, who have been living in the llfracombe area since they left Summerhill a few years ago. The family has grown and now consists of daughters Olivia and Sarah, seven and five, and son Samuel, who is two. Bringing the household to seven are their two black Labradors, Freddy and Jackson.
Also returning to the village are Joan and Malcolm Garbett who left Berrynarbor Park to return to Lichfield some four years ago. Now, after a brief stop-over in Combe Martin, they are back here living at Corfe Cottage.
Having sold their home in Henley-on-Thames, Alan and Wendy Lord and their dog Meg have 'squeezed' themselves into Brookvale, whilst looking for somewhere a little larger to live! We wish them luck and hope they will keep in touch with the village.
Terry and Jackie Young have moved to Middle Marwood, leaving Rookery Nook available for Mike and Ann Williams who fell in love with it when they first saw it.
Originally from the Midlands, Mike - a retired engineer for Powergen and Ann - a retired general manager of a hygiene company - spent several months in Filleigh before finding their new home. They have two sons and two daughters, all of whom have flown the nest. Snow, their white [surprise, surprise!] cat, who adopted them ten years ago, has coped with the moves and has now settled in very happily. Mike and Ann enjoy walking and pottering in the garden.
After some time travelling backwards and forwards, Anna Stevens has finally moved to Farnham and Alwyns is now the home of Susan and Paul Wilkins.
Paul, a retired pharmacist, and Susan, a retired midwife, have come from the Cheltenham and Gloucester area. Their daughter, Anna, is completing her final year as a Medical Student at Leicester, and their hobbies include walking and country pursuits, having had and bred both dogs and horses.
To everyone who has left, we wish you every happiness in your new homes, and we wish the same and a warm welcome to all the newcomers to the village.
---
WELCOME
We were sorry to learn that Derek Brooks had moved to llfracombe and wish him well in his new home.
Three Ways is, however, the new home of Clive and Anita Abbott and we wish them a very warm welcome and hope they will be happy here in the village.
Having wanted to live in North Devon, Clive and Anita moved down from Fradley, just outside Lichfield in Staffordshire, on the 'off chance' of finding somewhere suitable to live. The only place they could find that would accommodate themselves and their three dogs was with Paul and Theresa at Berrynarbor Park. So, their hunt began from here and when Three Ways became available, they jumped at the opportunity of remaining here.
Both self-employed professional Landlords and Property Developers, they have two grown-up daughters, Charlotte and Michaela, who have remained in the Lichfield area. Their other family are Alesi, a German Shepherd, Clady, a Red Setter and the 'babe', Elliott, an English Setter.
Although there is much D.I.Y. work to be done over the next few months, Anita and Clive enjoy walking, golf and socialising - particularly good wining and dining!
---
WELCOME AND FAREWELL
Val and David Hann, having moved from Crofts Lee last August, have now settled into their new home at Bognor Regis in West Sussex. David, who celebrated his 70th birthday [belated good wishes, David] in September and Val, were delighted to welcome their latest grandchild. Poppy, a second daughter for Simon and Philippa and sister for Millie and George, was born on the 28th November. Congratulations to you both and best wishes for happiness in your new home.
Our 'Locum' Postmaster and Postmistress, Tony and Marilyn Mascall [late of Berrynarbor Park] have moved home within Corby, Northants, and we wish them well in their new abode.
We were sorry that after such a short time here, and due to circumstances beyond their control, Christina, Simon and Oscar have had to leave Church House and return to London. We send them our best wishes.
Belmont Grange in lifracombe is currently home to Doreen Siviter and we wish her well in her new surroundings. She writes:
Belmont Grange
Tel: 863816
11.03.2004
No words of mine can adequately express just how much I appreciate all the love, kindness and concern which has been shown to me by friends, neighbours and all in Berrynarbor who know me, since I came to stay here in Belmont Grange. Those of you who have visited me know that the surroundings are pleasant but not the same as my beloved Berrynarbor where I spent the happiest years of my life.
I am grateful to be looked after but have not given up hope of coming 'home' again.
Thank you all again -- I look forward to any news of Berry with interest.
My sincere good wishes,
Doreen
Eve and Dave Walker have now settled in to life at Miss Muffets, which they plan to reopen the Sunday before Easter. Miss Muffets will, in future, be a chip-free zone [!], and Dave and Eve will be concentrating on morning coffees and afternoon teas. They will be open from mid-morning to approximately five o'clock, for home-made cakes, and Devon cream teas, with a few 'specials' at lunchtime.
Dave, a bank manager, and Eve, a bank cashier, retired from banking some eight years ago and moved from South East London to Mortehoe, where they have been busy running a B & B and working part-time in a pub at Lee. They are 'retiring' a second time and plan to take life more easily at Miss Muffets.
Their daughter Sue, her husband Alex, and their three little girls are now living in Dave and Eve's old home at Mortehoe. Their son, Jamie, and his American wife live in the States, not far from Boston. Completing the family are their two cats, who after having acres of land to roam in are feeling the restrictions of village life!
We welcome you again and wish you luck and success with your new venture.
There have been changes at Lee Cottages lately - Clare and Dave have moved to Combe Martin and Vanessa and Ian are the new residents at No. 3, having moved in very recently. Good luck to you all in your new homes and we hope to welcome Ian and Vanessa more fully in the June issue.
Having watched, over the last few months whilst living in Barnstaple, their bungalow taking shape, it is lovely to welcome to the extension at Holmleigh. Of course it is a 'return home' for Rob who spent his primary school and teenage years here with Jan and Derek, leaving when he and Shirley were married.
Rob, who works in the world of motoring and is a keen ex-Rugby player, now enjoys running and cycling and has taken part in two London Marathons. Shirley is a busy lady, running her home and working for Alpharma in Barnstaple, but finds time to enjoy swimming and embroidery. Charlotte and Sophie are both at Pilton College and, like their dad, enjoy cycling and running and Sophie is a keen member of St. John Ambulance. Bringing the family to five is Flossie the rabbit.
We wish them all every happiness in their new home.
It is nice to welcome Pat and Dave Martin back to their home at June
Cottage. Pat and Dave have retired as 'mine hosts' at the Ring O'Bells at Prixford. Thank you both for the great meals and hospitality so many of us from the village have enjoyed over the last few years and enjoy your less hectic life style and time to enjoy your boat.
---
A WARM WELCOME
A very warm welcome to all newcomers to the Village we hope you will be happy here in your new homes and look fo:ward to meeting you in the near future.
Barbara and Alan Gibson and their springer spaniel, George, have after many happy years holidaying in North Devon, decided to retire here and have moved into Berrynarbor Park. Alan, an electrician, is a keen angler who also dabbles in DIY, and Barbara, a secretary, now has more time to enjoy cooking, reading and embroidery. They have two daughters and a son, who have all now flown the nest!
The left hand side of the old Chapel is now called 'Church House' and is home to Christina and Simon Reynolds and their two year old son, Oscar.
Christine, originally from a farming family at Fifield, near Ongar, and Simon from Cambridgeshire [although with a father in the RAF he moved all over the country as a young boy], have moved here from Greenwich in South East London. Simon is an IT contractor and Christine a specialist cake maker. So, if you have any special cake requirements, please do contact her on 883945 she would be happy to hear from you. Christine is also [take note the BBC!] a keen needlewoman.
As mentioned in the October issue, Bobby Hacker has settled into Park View in llfracombe, and Longsawte is now home to Michael Bain and his collie Dodie. Michael has lived in North Devon most of his life -at Woolacombe and West Down, where he and his family ran the Foxhunters Inn.
Good luck to you all!