My temples with clusters of grapes I'll entwine
And barter all joys for a goblet of wine,
In search of Venus no longer I'll run
But stop and forget her at Bacchus' tun.

Yet why thus resolve to relinquish the fair?
'Tis folly with spirits like mine to despair;
For what mighty charms can be found in a glass
If not filled to the health of some favourite lass?
'Tis woman whose charms every rapture impart,
And leads a new spring to the pulse of the heart;
The miser himself, so supreme in her sway,
Grows a convert to love and resigns her his key.

At the sound of her voice Sorrow lifts up her head
And Poverty listens, well pleas'd from her shed;
While Age, in an ecstasy, hobbling along,
Beats time, with his crutch, to the tune of her song.

Then bring me a goblet from Bacchus's hoard,
The largest and deepest that stands on his board;
I'll fill up a brimmer and drink to the fair;
'Tis the thirst of a lover - and pledge me who dare!

Trev
---
TREV'S TWITTERS - SONGS OF THE SEA
The Wandering Sailor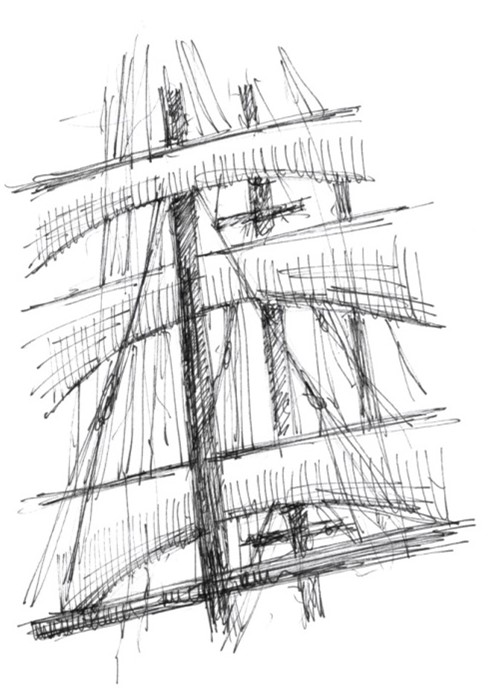 The wand'ring sailor ploughs the main
A competence in life to gain;
Undaunted braves the stormy seas
To find at last content and ease;
In hopes, when toil an danger's o'er
To anchor on his native shore.

When winds blow hard and mountains roll,
And thunders shake from pole to pole;
Tho' dreadful waves surrounding foam,
Still flattering fancy wafts him home;
In hopes, when toil and danger's o'er
To anchor on his native shore.

When round the bowl the jovial crew
The early scenes of youth renew,
Tho' each his favourite fair will boast,
This is the universal toast:
May we when toil and danger's o'er,
Cast anchor on our native shore!

Blow High, Blow Low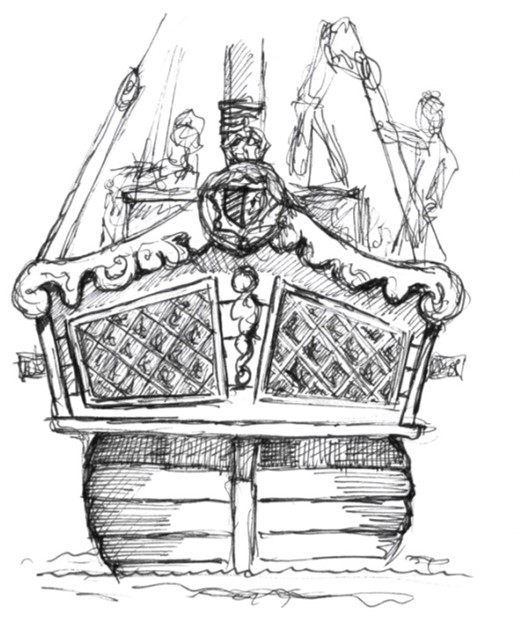 Blow high, blow low! let tempest tear The mainmast by the board!
My heart [with thoughts of thee, my dear!
And love well stored]
Shall brave all danger, scorn all fear.
The roaring wind, the raging sea,
In hopes, on shore, to be once more
Safe moored with thee.

Aloft, while mountains high we go,
The whistling winds that scud along,
And the surge roaring from below,
Shall my signal be, to think on thee.
And this shall be my song,
Blow high, blow low! let tempest tear
The mainmast by the board!

My heart [with thoughts of thee, my dear!
And love well stored]
And on that night [when all the crew
The memory of their former lives,
O'er flowing cans of flip renew,
And drink their sweethearts and their wives],
I'll heave a sigh, and think of thee.

And, as the ship rolls through the sea,
The burden of my song shall be.
Blow high, blow low! let tempest tear
The mainmast by the board!
My heart [with thoughts of thee, my dear!
And love well stored]



Come, Come my Jolly Lads

Come, come, my jolly lads, the wind's abaft,
Brisk gales our sails shall crowd;
Then bustle, bustle, boys, haul the boat,
The boatswain pipes aloud.
All hands on board, our ship's unmoored,
The rising gale fills ev'ry sail,
Our ship's well manned and stored.
Then sling the flowing bowl, then sling the flowing bowl,
Fond hopes arise, the girls we prize, shall bless each jovial soul;
Then the can, boys, bring, we'll drink and sing,
While the foaming billows roll.

Now to the Spanish coast we're bound to steer,
To see our rights maintained;
Then bear a hand, be steady boys,
Soon we shall see
Old England once again.
From shore to shore loud cannons roar,
Our tars shall show the haughty foe
Britannia rules the main.
Then sling the flowing bowl, then sling the flowing bowl,
Fond hopes arise, the girls we prize, shall bless each jovial soul;
Then the can, boys, bring, we'll drink and sing,
While the foaming billows roll.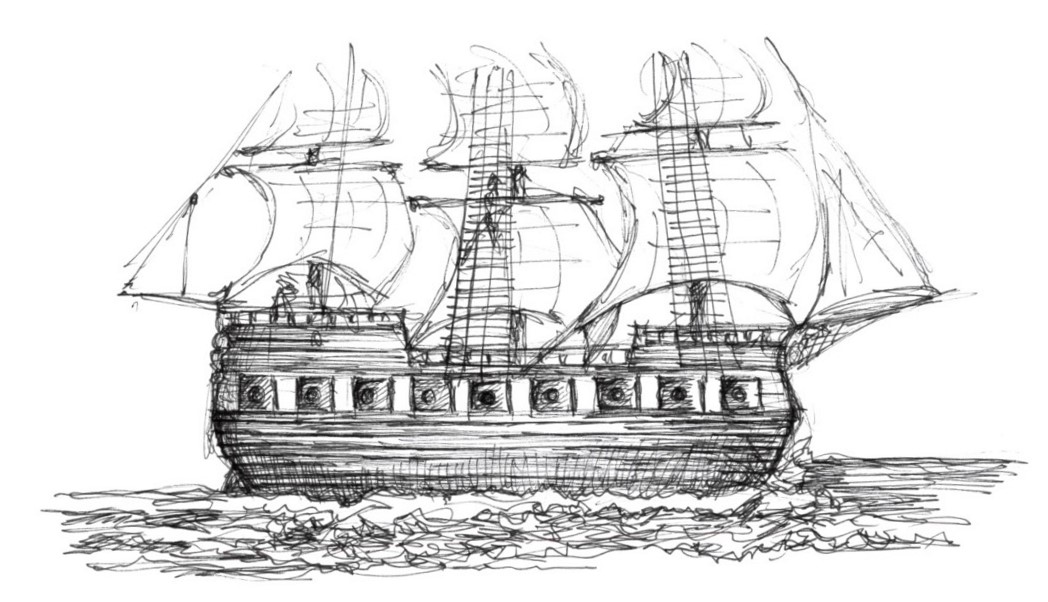 This broadside was a favourite with sailors. It is said to have been written by Richard Brinsley Sheridan [1751-1816]. An English dramatist and politician, Sheridan is better known for his works 'The Rivals' and 'School for Scandal'.
A broadside ballad is a descriptive or narrative verse or song usually in a simple ballad form and on a popular theme. Sung or recited in public places it was also printed on broadsides for sale in the streets. They were one of the most common forms of printed material between the 16th and 19th centuries, particularly in Britain, Ireland and North America.
Davy Jones's Locker
When last honest Jack, of whose fate I now sing,
Weigh'd anchor and cast out for sea;
For he never refuse'd for his country and King
To fight, or no lubber was he;
To hand, reef and steer, and house everything light,
Full well did he know every inch;
Tho' the top lifts of sailors the tempest should smite,
Jack never was known for to flinch.

Aloft from the masthead one day be espied
seven sail which appear'd to his view.
Clear the decks, sponge the guns was instantly cried,
And each to his station then flew;
They fought until many of their fellows were slain
And silenc'd was every gun;
Twos then that old English valour was vain,
For by numbers, alas! they're undone.

Yet think not bold Jack, though by conquest dismayed
Could tamely submit to his fate;
When his country he found he no longer could serve,
Looking round, he address'd thus each mate:
What's life d'ye see when our liberty's gone,
Much nobler it were for to die,
So now for old Davy - then plunged in the main
E'en the cherub above heav'd a sigh.


These four songs are selected as typical of the period - early 19th century - from the Gentleman's Song Book, which contains almost as many sea songs as hunting ones. What I find rather strange is that none of them mention a captain or other officer apart from brief references to a bo'sun. They must have had some!
Trev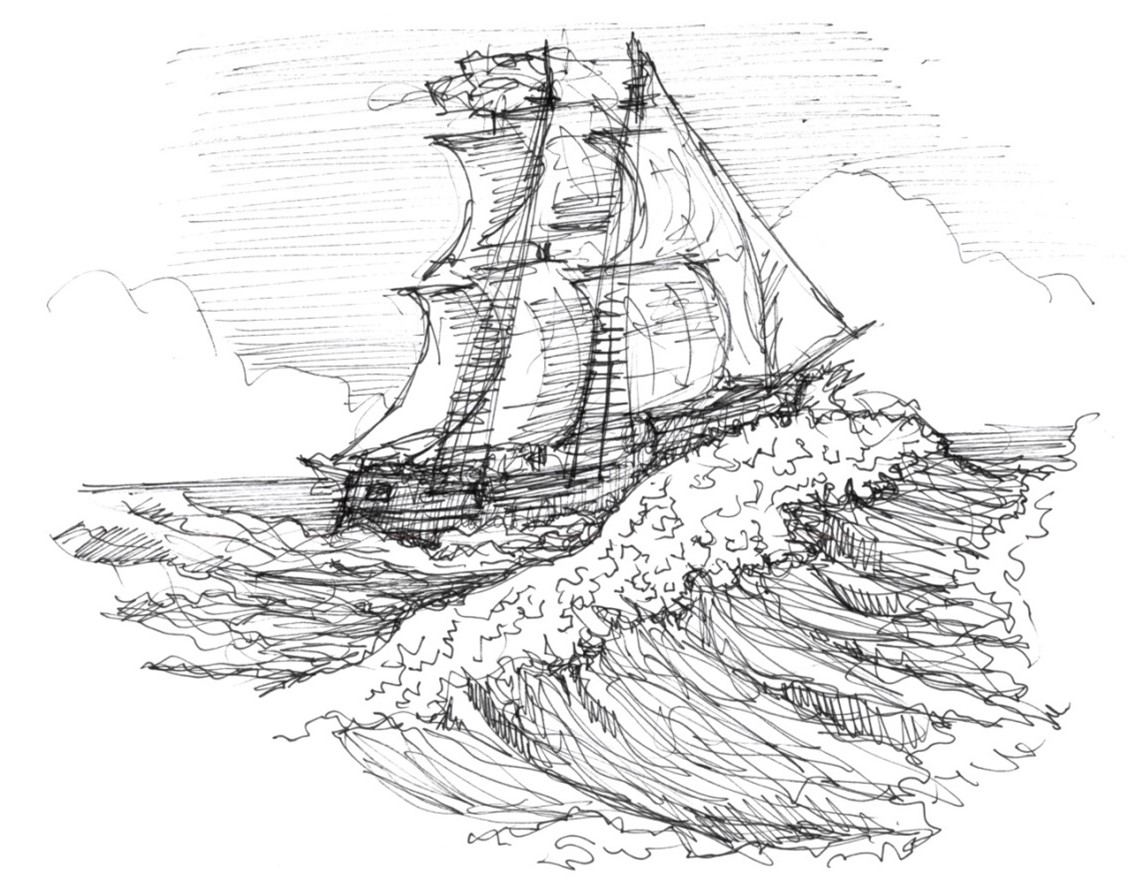 llustrations by Paul Swailes
---
TREV'S TWITTERS
Thank You One and All
Many thanks to those dozens of friends and neighbours who popped in to help celebrate my 100th Birthday [Sunday February 10th in case you've forgotten!], also for the lovely cards and presents. To those who didn't come, I can only say you missed a treat.
It was a wonderful event, if a bit tiring, and I enjoyed myself thoroughly. Great to see you all.
I mustn't forget a special thank you to Kath and her family who arranged the refreshments, liquid and otherwise. Trev
Old Wooden Walls of England
Thro' winds and waves, in days that are no more,
I held the helm, and ne'er ran foul of shore;
In pitch-dark nights my reck'ning prov'd so true,
We rode out safe the hardest gale that blew.
And when for fight the signal high was shewn,
Thro' fire and smoke old Boreas straight bore down;
And now my timbers are not fit for sea,
Old England's wooden walls my toast shall be.

From age to age, as ancient story shews,
We rul'd the deep, in spite of envious foes;
And still aloft, tho' worlds combine, we'll rise,
If all at home are splic'd in friendly ties.
In loud broadsides we'll tell both France and Spain,
We're own'd by Neptune sov'reigns of the main.
Oh! would my timbers were now fit for sea!
Yet England's wooden walls my toast shall be.


from The Fair American, a comic opera in 3 Acts by
Frederick Pilon, 1750-1788. Performed to universal applause at the Theatre Royal, Drury Lane.
Cock a Doodle Do
Cock a Doodle Do
My dame has lost her shoe.
The master's lost his fiddling stick,
And doesn't know what to do.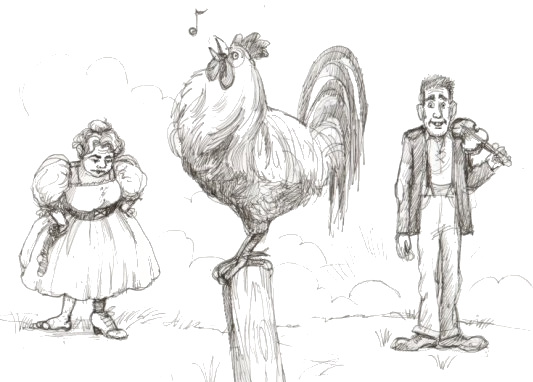 Artwork: Debbie Cook
The first two lines were used in a murder pamphlet in England, 1606, which seems to suggest that children sang those lines, or very similar ones, to mock the cockerel's "crow". The first full version recorded was in Mother Goose's Melody, published in London around 1765. By the mid-nineteenth century, when it was collected by James Orchard Halliwell, it was very popular and three additional verses, perhaps more recent in origin had been added [Wikipedia]:
Cock a doodle do!
What is my dame to do?
Till master's found his fiddlingstick,
She'll dance without her shoe
Cock a doodle do!
My dame has found her shoe,
And master's found his fiddling stick
Sing cock a doodle do!

Cock a doodle do!
My dame will dance with you,
While master fiddles his fiddlingstick,
And knows not what to do.
Trev
---
TREV'S TWITTERS
Winter Nights
Now winter nights enlarge the number of their hours;
And clouds their storms discharge; Upon the airy towers.
Let now the chimneys blaze and cups o'erflow with wine;
Let well-toned words amaze with harmony divine.
Now yellow waxen lights shall wait on honey love
While youthful revels, masques and courtly sights
Sleeps tender spells remove.

This time doth well dispense with lovers long discourse;
Much speech hath some defence, though beauty no remorse.
All do not all things well; some measures comely tread;
Some knotted riddles tell, some poems smoothly read,
The summer has his joys, and winter his delights
Though love and all his pleasures are but toys,
They shorten tedious nights.

Thomas Campion, 1567-1620
Born in London, Campion was an English composer, poet and physician, writing over a hundred songs for the lute, masques for dancing and an authoritative technical treatise on music, He was educated at Peterhouse, Cambridge but left without a degree, entered Gray's Inn to study Law but was never called to the bar; but received his Medical Degree from the University of Caen in 1605. It is possible that he died of the plague and is buried at St. Dunstan-in-the-West, Fleet Street.
Mortal Man
Oh mortal man that lives by bread,
What is it makes thy nose so red?
Thou silly fool, that looks so pale,
'Tis supping Sarah Jenkins' ale.

I believe there is somewhere up north a tavern with this intriguing title and a signboard showing a suitably endowed gentleman. Sarah Jenkins was, no doubt, one of many ale wives of the day, possibly more skilful than most. I doubt if she was ever the pub landlady. T.
A Drinking Song
Bacchus must now his power resign - I am the only God of Wine!
It is not fit the wretch should be in competition set with me.
Who can drink ten times more than he, make a new world, ye powers divine!
Stacked with nothing else but wine: let wine be earth and air and sea and let that wine be all for me!

Henry Carey [1693-1743]
Probably better known for his longer poem 'Sally in our Alley', Carey was a poet, dramatist and songwriter, an anti-Walpolean and a patriot. His melodies continue to be sung today and were widely praised after his death, although due to his anonymity, some of his works have been credited to others.


---
MY 100 YEARS - BY TREV
Born: 10th February 1913 in Elland, Yorkshire Parents: Albert and Emily. I was educated first at Elland Primary School and then Elland Secondary School passing my 11+ and School Certificate [now G.C.S.E.] before gaining a B.Sc. Tech [in Electrical Engineering] at Manchester University College of Technology.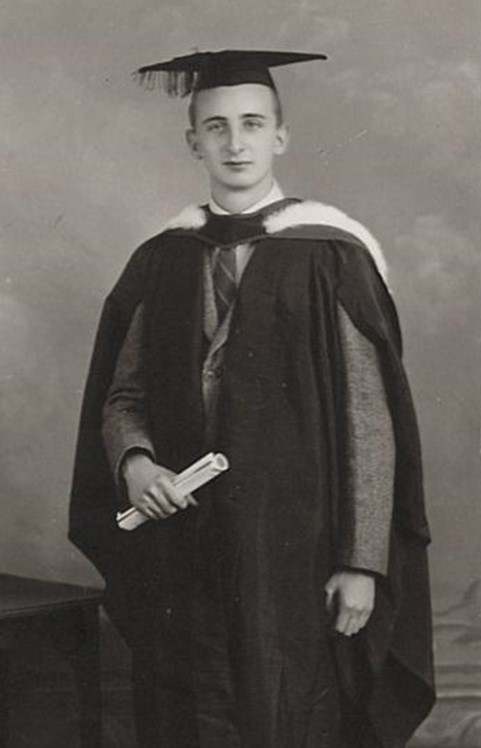 I began work as a Probationary College Apprentice with Metropolitan-Vickers at Trafford Park, Manchester, and after Sales Correspondent in their Meter Department. Then followed ten years as Assistant Sales Manager for the Record Electrical Company Limited at Altrincham, Cheshire, makers of electrical measuring equipment before being promoted to Technical Executive and staying with the company a further twenty-six years. In this position I represented the company at the British Standards Institution in London and later, the BSI at International Organisation conferences which were held in various countries including France, Sweden, Hungary, Slovenia and Russia [St. Petersburg]. This position was terminated by redundancy following a takeover.
After various temporary and freelance work, I secured the job of Tariff Consultant with the firm of Industrial Energy Costs of Lytham St. Annes in Lancashire, which lasted six years until my retirement in February 1978.
On the 17th December 1936, after a two-year courtship, I married Lilian Newton, a specialist silk weaver and an orphan from Macclesfield. On the 19th December 1943 she presented me with our daughter Anthea, followed on the 1st April 1947 by our son Victor.
Unfortunately, my dear wife contracted bowel cancer which was not detected soon enough and in spite of the removal of a tumour the condition was too widespread and after a long struggle on 15th March 1981 she succumbed. We had been married for over 44 years. By then both our children had flown the nest and got married, producing in their turn four girls and two boys between them, so I was left alone save for an old and ailing Labrador.
How I left North Wales, to where I had retired and finally, by various moves, landed up in Ilfracombe is too long a story! Suffice to say that by joining the Ilfracombe Walkers I met Kathy and she very kindly took me into Barn Cottage where she has been my guardian angel ever since.
---
TREV'S TWITTERS
Nothing Like Grog
(Charles Dibdin)

A plague on those musty old lubbers,
Who tell us to fast and think,
And patient fall in with life's rubbers
With nothing but water to drink.
A can of good stuff, had they twigg'd it
Would have sent them for pleasure agog;
And in spite of the rules.
And in spite of the rules of the schools.
The old fools would have all of 'em swigg'd it
And swore there was nothing like grog.

My father, when last I from Guinea
Return'd with abundance of wealth,
Cried, "Jack, never be such a ninny
To drink." Says I, "father, your health."
So I pass'd round the stuff soon he twigg'd it,
And it set the old codger agog
And he swigged it and mother
And sister and brother
And I swigg'd, and all of us swigg'e it,
And swore there was nothing like grog.

One day, when the Chaplain was preaching,
Behind him I curiously slunk,
And, while he our duty was teaching,
As how we should never get drunk,
I tip't him the stuff, and he twigg'd it,
Which soon set his rev'rence agog.
And he swigg'd; and Nick swigg'd,
And Ben swigg'd, and Dick swigg'd,
And I swigg'd, and all of us swigg'd it,
And swore there was nothing like grog.

Then trust me, there's nothing as drinking
So pleasant on this side the grave;
It keeps the unhappy from thinking,
And makes e'en more valiant the brave.
For me, from the moment I twigg'd it
The good stuff has so set me agog
Sick or well, late or early
Wind foully or fairly,
I've constantly swigg'd it,
And dam'me there's nothing like grog.
Charles Dibdin 1745-1814
A British musician, dramatist, novelist, actor and song-writer, Charles Dibdin was born in Southampton, the son of a parish clerk and the youngest of 18 children.
He had a colourful life with connections to many of the London theatres and playhouses and wrote in excess of 360 songs. Married early in life he deserted his wife leaving her destitute. Two illicit relationships followed, marrying the second, Miss Wild, on the death of his wife. Father to numerous children, his two sons, Charles and Thomas John, were also popular dramatists in their day.
There is a memorial plaque to Dibdin on the tower of Holyrood Church Southampton, and one at the Royal Hospital Greenwich. Michael Heseltine, MP, is a distant relative. A fan of Dibdin's works, he was responsible for the Government's erection of a statue in Greenwich.
An Irish Drinking Song
Of the ancients it's speaking my soul you'd be after,
That they never go, how come you so;
Would you seriously make the good folks die with laughter;
To be sure their dogs tricks we don't know.
With your smallilou nonsense and all your queer boddens,
Since whisky's a liquor divine;
To be sure the old ancients as well as the moderns
Did not love a sly sip of good wine.

Apicius and Aesop, as authors assure
Would swig 'till as drunk as a beast.
Then what do you think of that rogue Epicurus,
Was not he a tight hand at a fest.
With your smallilou, etc.

Alexander the Great at his banquets who drank hard,
When he no more worlds could subdue,
Shed tears to be sure, but t'was tears of the tankard,
To refresh him and pray would not you.
With your smallilou, etc.

Then that other old fellow they call Aristotle,
Such a devil of a tippler was he.
That one night having taken too much of his bottle,
The thief staggered into the sea.
With your smallilou, etc.

Then they made what they call of their wine a libation,
Which as all authority quotes;
They threw on the ground, musha what baderation,
To be sure 'twas not thrown down their throats.


[Taken from the Musical Miscellany, 1808 Edition]
Trev
---
TREVOR'S TWITTERS
The Brown Jug
Dear Tom, this brown jug that now foams with mild ale,
[in which I will drink to sweet Nan of the Vale]
Was once Toby Fillpot, a thirsty old soul,
As e'er drank a bottle, or fathomed a bowl;
In boozing about 'twas his praise to excel,
And among jolly topers he bore off the bell.

It chanced as in dog-days he sat at his ease,
In his flower-woven arbour, as gay as you please,
With a friend and a pipe puffing sorrows away.
And with honest old stingo was soaking his clay
His breath-doors of life on a sudden were shut,
And he died full as big as a Dorchester butt.

His body when long in the ground it had lain,
And time into clay had resolved it again,
A potter found out in its covert so snug,
And with part of fat Toby he formed this brown jug;
Now sacred to friendship, and mirth, and mild ale,
So here's to my lovely sweet Nan of the Vale!


By the Gaily Circling Glass
By the gaily circling glass,
we can see how minutes pass;
By the hollow cask we're told
How the waning night grows old.
Soon, too soon, the busy day
Drives us from our sports away.
What have we with day to do?
Sons of care t'was made for you!

By the silence of the owl;
By the chirping on the thorn,
By the butts that empty roll,
We foretell the approach of morn.
Fill, then, fill the vacant glass,
Let no precious moment slip,
Flout the moralising ass:
Joys find entrance at the lip.


These two ditties are taken from the Edinburgh Musical Miscellany of 1808. The first was written by Francis Fawkes [1721-1777], the second by John Milton [1608-1674].
---
TREV'S TWITTERS
Three Clerihews
[by Mr. Clerihew 'Himself']
Sir Christopher Wren
Said "I am going to dine with some men.
If anyone calls,
Say I'm designing St. Pauls."

What I like about Clive,
Is that he's no longer alive.
There's a great deal to be said
For being dead.

Daniel Defoe,
Lived a long time agol
He had nothing to do, so
He wrote Robinson Crusoe

Edmund Clerihew Bentley
E.C. Bentley [10th July 1875 - 30th March l956] was a popular English novelist and humourist of the early 20th Century, and the inventor of the 'clerihew', an irregular form of humorous verse on biographical topics.
He was born in London and educated at St. Paul's School and Merton College, Oxford.
His father was a civil servant but also a rugby union international, having played in the first ever international match for England against Scotland in 1871.
Bentley worked on several newspapers, including the Daily Telegraph and published his first collection of poetry in 1905, which popularised the clerihew form. His detective novel, Trent's Last Case [1913] was much acclaimed, numbering Dorothy L. Sayers among its admirers, and was adapted as a film in 1920 and again in 1929 and 1952. From 1936 to 1949 he was President of the Detection Club. Bentley died at the age of 80 in 1956. His son, Nicholas Bentley, an illustrator, famous for his humorous cartoons died in 1978.
Four Limericks
There was an old man of St. Bees,
Who was stung in the arm by a wasp.
When asked 'Does it hurt?' He replied 'No, it doesn't
I'm so glad it wasn't a hornet.'
W.S. Gilbert

A rare old bird is the pelican
Its beak holds more than its bellycan.
He can take in his beak, Food enough for a week,
I'm darned if I know how the hellican.
Dixon Merritt [1879-1972]

A sleeper from the Amazon
Put nighties that were his gra'mazon;
The reason? That he was too fat
To get his own pyjamazon.
Anon

A major, with wonderful force
Called out, in Hyde Park, for a horse.
All the flowers looked round, But no horse could be found,
So he just rhododendron, of course.
Anon.

Two Parodies by Lewis Carol
How doth the little crocodile, Improve his shining tail,
And pour the waters of the Nile on every glistening scale.

How cheerfully he seems to grin! How neatly spreads his claws!
And welcomes little fishes in, with ghoulish smiling jaws!

[A parody on 'How doth the little Busy Bee,
Isaac Watts 1674-1748]

Twinkle, twinkle, little bat, how I wonder what you're at;
Up above the world so high, like a tea-tray in the sky.

[A parody on Twinkle, Twinkle Little Star written by sisters Ann and
Jane Taylor, 1783-1824]


Cork and Work and Card and Ward



I take it you already know
Of tough and bough and cough and dough?

Others may stumble, but not you
On hiccough, thorough, lough and through?

Well done! And now you wish, perhaps,
To learn of less familiar traps:

Beware of heard, a dreadful word
That looks like beard and sounds like bird,

And dead: it's said like bed, not bead;
For goodness sake don't call it 'deed'!

Watch out for meat and great and threat
(They rhyme with suite and straight and debt).

A moth is not a moth in mother,
Nor both in bother, broth in brother,

And here is not a match for there
Nor dear and fear for bear and pear;

And then there's dose and rose and lose,
Just look them up -- and goose and choose,

And cork and work and card and ward,
And font and front and word and sword,

And do and go and thwart and cart --
Come, come, I've hardly made a start!

A dreadful language? Man alive!
I'd mastered it when I was five!
Extracted from The Children's Library produced by Simon & Schuster of New York, this anonymous poem illustrating many of the problem words for English spelling is believed to have first appeared in The Times 1936.
Trev
---
A NUMBER RHYME
Five, six, pick up sticks,
Seven, eight, lay them straight.
Nine, ten, my fat hen.
Eleven, twelve, dig and delve.
Thirteen, fourteen, maids a-courting.
Fifteen, sixteen, maids in the kitchen.
Seventeen, eighteen, maids in waiting.
Nineteen, twenty, my plates empty.

I believe this and others, of which many have been passed down to us, were devised as home-made entertainment to help the otherwise dreary, long winter evenings. They would have been handed down from one generation to the next and even, perhaps, carried over the Atlantic by the early settlers. For example, 'Ten Little Indians' was probably an adaptation to suit conditions over there. Compare 'Ten Green Bottles'. Some, though not the above, as far as I know, were sung to traditional tunes, e.g. "Old John Braddelum" or 'Michael Finnegan'.
Trev
---
THE HOUSE THAT JACK BUILT!
This is the house that Jack built.
This is the rat that ate the malt . . .
This is the cat that killed the rat . . .
This is the dog that worried the cat . . .
This is the cow with the crumpled horn that tossed the dog . . .
This is the maiden all forlorn, that milked the cow with a crumpled horn . . .
This is the man, all tattered and torn, that kissed the maiden . . .
This is the priest all shaven and shorn that married the man . . .
This is the cock that crowed in the morn and woke the priest . . .
This is the farmer, sowing his corn, that owned the cock . . .
that crowed in the morn,
that woke the priest all shaven and shorn,
that married the man all tattered and torn,
that kissed the maiden all forlorn,
that milked the cow with the crumpled horn,
that tossed the dog,
that worried the cat,
that killed the rat,
that ate the malt,
that lay in the house that Jack built.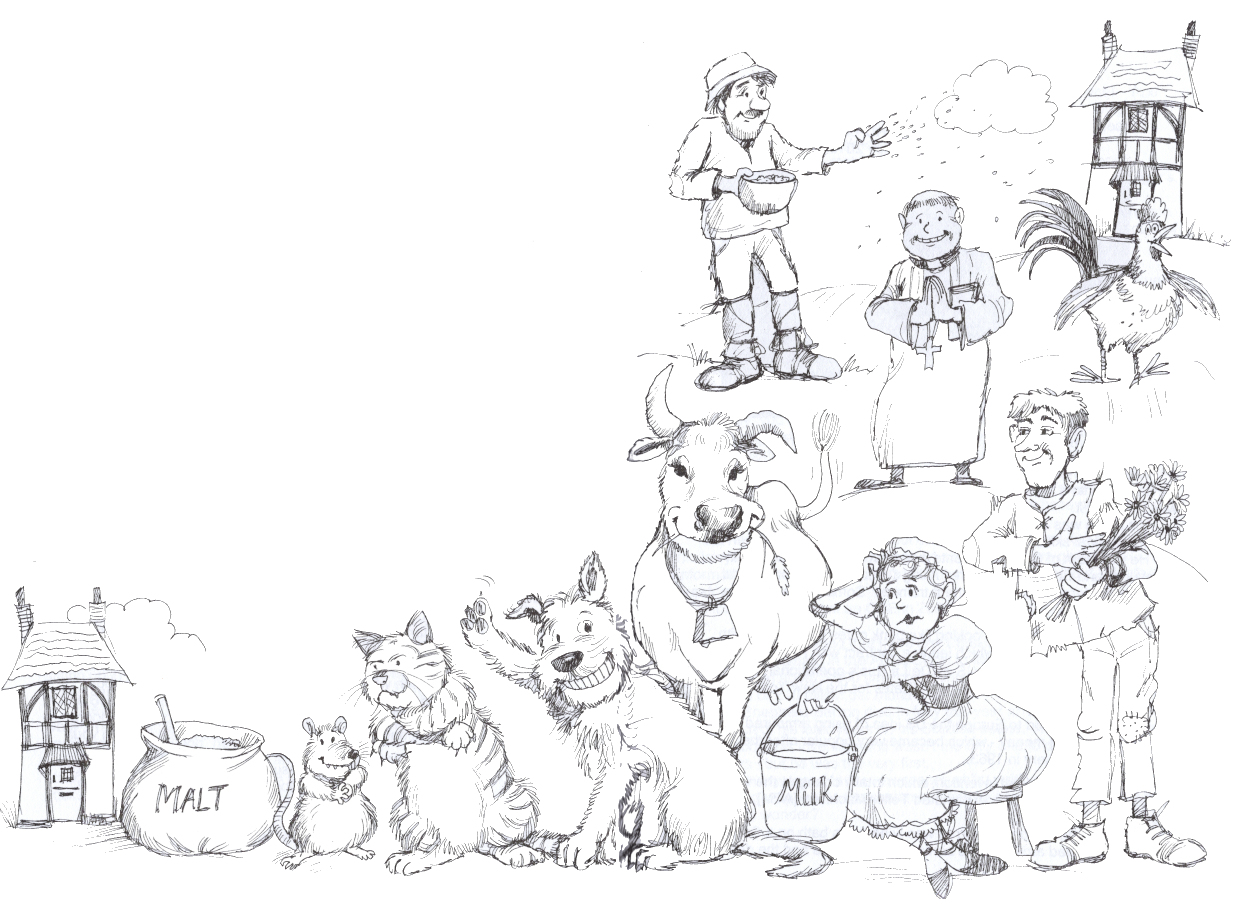 Illustration by Debbie Cook
This bit of our folk heritage popped out of my memory the other day without any recollection of how it came there! Of course the full recital goes back to the beginning at every 'this is'.
Trev
---
SING-A-LONG-A-TREV!
Sweet Lass of Richmond Hill
On Richmond Hill there lives a lass
More bright than May-day morn,
Whose charms all other maids' surpass,
A rose without a thorn.

This lass so neat, with smiles so sweet,
Has won my right good will:
I'd crowns resign, to call her mine,
Sweet lass of Richmond Hill!

Ye zephyrs gay, that fan the air,
And wanton through the grove,
Oh whisper to my charming fair
I die for her I love.
This lass so neat, etc.

How happy will the shepherd be
Who calls this nymph his own!
Oh may her choice be fix'd on me!
Mine's fix'd on her alone.
This lass so neat, etc.

I enjoyed singing this at school many years ago, so I was delighted to come across it in a very old song book inherited through my father. Unfortunately, it omits the names of lyricists and composers. It must be well over 200 years old, as the book is in its second edition dated 1808!
Trev
Looking this up on the internet I was interested to learn from one source that the song has been the official song of the Green Howards Regiment of Yorkshire since 1789, and celebrates a young lady who lived in Richmond, Yorkshire. However, speaking with someone from the Green Howards, he was completely unaware of this fact!
According to Wikipedia the tune was written by James Hook [1746-1827], an English composer, and was published about 1790. Words are by Leonard McNally [1752-1820] and were written in honour of Miss Janson of Richmond Hill, Leybourne, Yorkshire, who was engaged to McNally. They married in January 1787. McNally was an Irish political informer who joined the United Irishmen and unsuccessfully defended several of them in court. After his death, it was discovered that McNally had been in the pay of the British Government.
The music was once attributed to the Prince of Wales, later George IV. The subject was said to be Mrs. Fitzherbert, wife to George IV, who was set aside when he married Caroline of Brunswick.
Ed.
---
FATHER WILLIAM
[Contributed by Trev]
"You are old, father William," the young man said,
"And your hair has become very white;
And yet you incessantly stand on your head
Do you think, at your age, it is right?"

"In my youth," father William replied to his son,
"I feared it might injure the rain;
But, now that I'm perfectly sure I have none,
Why, I do it again and again."

"You are old," said the youth, "As I mentioned before,
And you have grown most uncommonly fat;
Yet you turned a back-somersault in at the door
Pray what is the reason for that?"

"In my youth," said the sage, as he shook his grey locks,
"I kept all my limbs very supple
By the use of this ointment one shilling a box
Allow me to sell you a couple?"

"You are old," said the youth, "And your jaws are too weak
For anything tougher than suet;
Yet you finished the goose, with the bones and the beak
Pray, how did you manage to do it?"

"In my youth," said his father, "I took to the law,
And argued each case with my wife;
And the muscular strength, which it gave to my jaw,
Has lasted the rest of my life."

"You are old," said the youth, "One would hardly suppose
That your eye was as steady as ever;
Yet you balanced an eel on the end of your nose
What made you so awfully clever?"

"I have answered three questions, and that is enough,"
Said his father, "Don't give yourself airs!
Do you think I can listen all day to such stuff?
Be off or I'll kick you down stairs."


This poem, as recited by Alice to the Caterpillar in Alice's Adventures in Wonderland, was written by Lewis Carroll [1832-1898] and first published in 1855. It is a parody of an earlier poem written by Robert Southey [1774-1843] in 1799, which reads: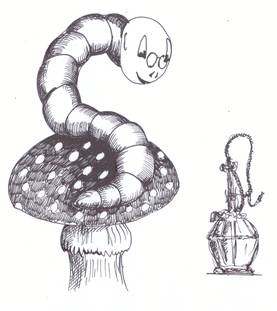 Illustrated by: Paul Swailes
THE OLD MAN'S COMFORTS
and how he gained them
You are old, Father William, the young man cried,
The few locks which are left you are grey;
You are hale, Father William, a hearty old man,
Now tell me the reason I pray.

In the days of my youth, Father William replied,
I remember'd that youth would fly fast,
And abused not my health and my vigour at first
That I never might need them at last.

You are old, Father William, the young man cried,
And pleasures with youth pass away,
And yet you lament not the days that are gone,
Now tell me the reason I pray.

In the days of my youth, Father William replied,
I remember'd that youth could not last;
I thought of the future whatever I did
That I never might grieve for the past.

You are old, Father William, the young man cried,
And life must be hastening away;
You are cheerful, and love to converse upon death!
Now tell me the reason I pray.

I am cheerful, young man, Father William replied,
Let the cause thy attention engage;
In the days of my youth I remember'd my God!
And He hath not forgotten my age.

Robert Southey was an English poet of the Romantic school, one of the 'Lake Poets' whose work was and is still overshadowed by his contemporaries and friends Wordsworth and Coleridge. From 1813 until his death in 1843, Robert Southey was Poet Laureate. He was, however, also a prolific letter writer, literary scholar, essay writer, historian and biographer. His biographies include John Bunyan, John Wesley, William Cowper, Oliver Cromwell and
Horatio Nelson. He was also fluent in Portuguese and Spanish and translated a number of works from those countries into English. But perhaps to most of us his most enduring contribution to our literary history is the children's classic, The Story of the Three Bears, the original story about Goldilocks, which was first printed in 1834 in his novel The Doctor.
---
THE OWL AND THE PUSSYCAT
Edward Lear
Choice of Trev
The owl and the pussycat went to sea
In a beautiful pea-green boat.
They took some honey

And plenty of money
Wrapped up in a five-pound note.
The owl looked up to the stars above
And sang to a small guitar,
"O lovely Pussy, O Pussy my love,
What a beautiful Pussy you are, you are
What a beautiful Pussy you are!"
Pussy said to the Owl, "You elegant fowl,
How charmingly sweet you sing!
Oh let us be married;
Too long we have tarried;
But what shall we do for a ring?"
They sailed away, for a year and a day
To the land where the bong-tree grows,
And there in a wood, a Piggy-wig stood
With a ring at the end of his nose, his nose,
With a ring at the end of his nose.
"Dear Pig, are you willing, to sell for one shilling,
Said the Piggy, "I will."
So they took it away and were married next day
By the Turkey who lives on the hill.
They dined on mince and slices of quince
Which they ate with a runcible spoon;
And hand in hand, on the edge of the sand
They danced by the light of the moon, the moon,
They danced by the light of the moon.
The 20th child of Jeremiah Lear, a London Stockbroker, and his wife Ann, Lear grew up to be a prolific writer as well as a talented artist of landscapes and birds and gave drawing lessons to Queen Victoria. He was particularly enchanted with nonsense rhymes and devoted a number of his books to collections of these poems.
Just prior to his death and left incomplete, he began to pen the sequel to The Owl and the Pussy Cat - The Children of the Owl and the Pussycat:
Our mother was the pussycat,
Our father was the owl,
And so we're partly little beastsAnd partly little fowl.
The brothers of our family, have
Feathers and they hoot,
While all the sisters dress in fur
And have long tails to boot.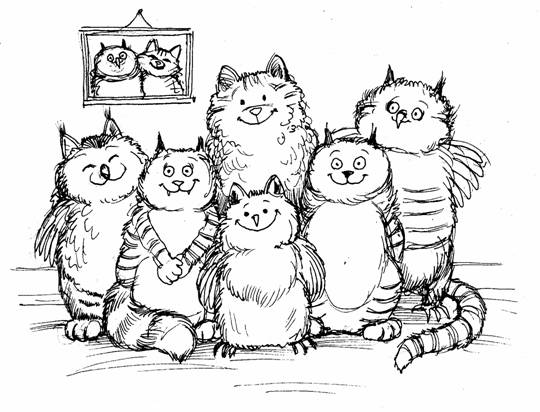 Illustrated by Debbie Cook
---
BIRDS
"Come pretty one, come pretty one,
Come, come, come, come.
Come to my garden and whistle and hum
Come to my window and pick up this crumb.
Come pretty one, come pretty one,
Come, come, come, come."
We all enjoy the sight and sound of our little feathered friends in our gardens and most of us encourage them by putting out nuts, seeds and other titbits. At Barn Cottage our chief 'clients' are blue, cole, great and occasional long-tailed tits. We also have occasional nuthatches, jays and spotted woodpeckers. We used to have green finches, but these seem to have disappeared. Less welcome are the jackdaws [because less colourful?] but they only seem to take the odd nut before flying off. The odd magpie appears not to take anything. I must not forget our two resident robins [we have had more] who come to our picnic table for the crumbs we put out for them.
It is also a delight to hear the song of the blackbird, though we shall shortly be paying for it in soft fruit.
We don't begrudge them their share, so long as they leave a reasonable amount for us! "And what about the thrushes?" I hear you ask. Sadly, we have no residents, just the odd one passing through. Why they shun our garden is a mystery, as I am sure we have as many snails and slugs as anyone.
Over the years, two small episodes come to mind. I was once watching two robins squaring up to each other over a peanut on the ground between them. While they were debating who should have it, down flew a blue tit, picked it up and flew off with it!
On a hot summer's day, I was in the workshop with the door and window wide open. In through the window flew a blue tit with a sparrow hawk in hot pursuit. The latter appeared to catch a wing against the window-frame, as it perched on a shelf looking slightly dazed and giving me a marvellous close-up. The tit made good its escape through the door. After blinking a few times, the hawk recovered itself and flew off through the window. I like to think it survived many months longer.
I wonder if any other readers have bird stories to contribute?
Trev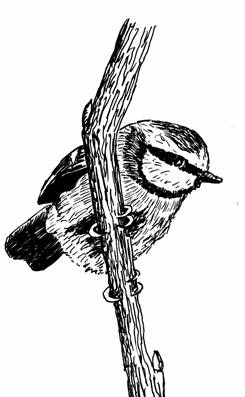 Illustrated by: Paul Swailes
---
CUCKOO!
Trev
I
Summer is icumen in
Lhude sing cuccu!
Groweth seed and bloweth med
and springeth the wood nu.
Sing cuccu!

Awe bleateth after lamb
Lhouth after calve cu
Bulluc sterteth
bucke verteth
Murie sing cuccu!

Cuccu, cuccu, well singes thu cuccu:
Ne swike thu naver nu!
Sing cuccu nu, sing cuccu!
Sing cuccu, sing cuccu nu!

Vocabulary:
Lhude = loud Lhouth = loweth Sterteth = leaps Verteth = grazes Swike = cease
According to the Oxford Book of English Verse, this is the earliest known poem in English, and is dated around [sic] 1226. Today it is printed in many forms, and below is a modern version.
Summer is a-coming in
Loudly sing cuckoo
Groweth seed and bloweth mead
and springs the wood anew
Sing cuckoo!
Ewe bleateth after lamb,
Calf loweth after cow,
Bullock starteth, buck verteth,
Merry sing cuckoo!
Cuckoo, cuckoo! Well singest thou cuckoo:
Nor cease thou never now!
Sing cuckoo now, sing cuckoo!
Sing cuckoo, sing cuckoo now!
* * * *
II
In April come I will
In May I sing night and day
In June I change my tune
In July I fly away.
Trad.
III
When daisies pied and violets blue
And lady-smocks all silver-white
And cuckoo-buds of yellow hue,
Do paint the meadows with delight,
The cuckoo then, on every tree,
Mocks married men, for thus sings he,
Cuckoo!
Cuckoo, cuckoo, O, word of fear!
Unpleasing to a married ear.

When shepherds pipe on oaten straws,
And merry larks are ploughmen's clocks,
When turtles tread, and rooks, and daws,
And maidens bleach their summer smocks,
The cuckoo then, on every tree,
Mocks married men, for thus sings he:
Cuckoo!
Cuckoo, cuckoo! O, word of fear,
Unpleasing to a married ear.

William Shakespeare
---
A LOVER AND HIS LASS
From 'As You Like It' - William Shakespeare
It was a lover and his lass
With a hey, and a ho, and a hey nonino,
That o'er the green cornfield did pass
In the spring time, the only pretty ring time,
When birds do sing hey ding a ding ding
Sweet lovers love the spring.

Between the acres of the rye,
With a hey, and a ho, and a hey nonino,
These pretty country folk would lie,
In the spring time, etc.

This caro they began that hour
With a hey, and a ho, and a hey nonino,
How that a life was but a flower
In spring time, etc.

And therefore take the present time
With a hey, and a ho, and a hey nonino
For love is crowned with the prime
In spring time, etc.

Trev
As recently reported, after several years of analysis, x-rays and infrared imaging, experts believe this to be the only surviving portrait of William Shakespeare painted during his lifetime. It is thought to have been painted in 1610 when he was about 46. The portrait will go on display at The Shakespeare Birthplace Trust in Stratford-upon-Avon on the 23rd April
---
CAMPTOWN RACES
De Camptown ladies sing dis song - Dooh-dah! doo-dah!
De Camptown racetrack five miles long - Dooh-dah,doo-dah-day!
I come down day wid my hat caved in - Dooh-dah! doo-day!
I go back home wid a pocket full of tine - Dooh-dah, doo-day-day!
Gwine to run all night! Gwine run all day!
I'll bet my money on de bob-tail nag - somebody bet on de bay!
De long tail filly and de big black oss - Dooh-dah! doo-dah!
Dey fly de track an dey both cut across - Dooh-dah, dooh-dah-day!
De blind hoss sticken in a big mud hole - Dooh-dah! doo-dah!
Can't touch bottom wid a ten foot pole - Dooh-dah! doo-dah-day!
Gwine to run all night! Gwine to run all day!
I'll bet my money on de bob-tail nag - somebody bet on de bay!
Trev
'Camptown Races' was one of the many songs written by Stephen Colins Foster and with 'Beautiful Dreamer', probably his best and best known, are still popular today more than 150 years after their composition.
Foster was born in Pittsburg in 1826, the youngest of ten children in a relatively well-off family. He had little formal music training, but had several songs published before he was 20, when he moved to Cincinnati to become bookkeeper with his brother's steamship company. There he had his first 'hit' song, 'Oh! Susanna', later the anthem of the Californian gold rush in 1848-9.
In 1849 he returned to Pennsylvania, formed a contract with the Christy Minstrels and so began the period on which the majority of his best-known songs were written, amongst them 'Camptown Races' [1850], 'Nelly Bly', 'Old Folks at Home', 'Jeannie with the Light Brown Hair [written for his wife Jan McDowall, from whom he became estranged as his life spiralled downhill], and 'Beautiful Dreamer'. His songs were in the minstrel show tradition, poking fun at the slaves and provoking merriment. However, he never lived in the South and only visited the Deep South once on a river-boat on the Mississippi in 1852 whilst on his honeymoon.
His life unfortunately went from bad to worse and the impoverished Foster died at the age of 37 in Lower East Side Manhattan in 1864, following an accident when he collapsed with a persistent fever. In his worn leather wallet were 37 cents and a scrap of paper that simply said, 'Dear friends and gentle hearts', these words are now the title of a book of the Songs of Stephen C. Foster. He is buried in Alleghenny Cemetery in Pittsburg.
---
OLD YULETIDE CUSTOMS
The Mummers - An amateur band of players going from house to house at Christmas time and performing 'St. George and the Dragon', etc., in a dumb show - hence the name [Brewer].
As time went by, words in rhyme were added, also extra characters, for example 'Bold Slasher'. The object was, of course, to raise money. When I was 8 or 9, my elder brother and some of his pals got together to do the same, and I was included. My part was 'Little Devil Doubt' and I had to rush in with a broom and cry:
"Here I am, Little Devil Doubt,
If you don't give me money, I'll sweep you all out.
Money I want and money I crave,
If you don't give me money,
I'll sweep you to the grave."
The Waits - People who sing carols outside houses at Christmas time, especially on Christmas morning. The name originated from the watchmen of former times who blew a horn to mark the passing of the night hours. They later developed into uniformed town bands [ Brewer]. I well remember hearing them on Christmas morning while lying in bed and opening my stocking. My father maintained that our own band used to swap places with a band from another town and for that reason, refused to contribute. I don't suppose it occurred to him that people in the other town were supporting our own!
Wassail [old English Waes Hael - Be Well]
Here we come a-wassailing,
Among the leaves so green.
Here we come a-wassailing
So plainly to be seen.
Love and joy come to you
And to you your wassail too,
And God bless you and send you
A Happy New Year,
And send you a Happy New Year.
The Wassail, or more exactly the Wassail Bowl, containing spiced ale, was carried from house to house by young women on New Year's Eve and presented to the inhabitants, together with a song as above, expecting a small tip in return [Brewer].
Trev
---
CHEERS!
[A guide to festive drinking]
Here's to good old ale,
Drink it down, drink it down.
Here's to good old ale,
Drink it down.
Here's to good old ale,
It will never fail,
Drink it down, drink it down,
Drink it down.
Here's to good old beer,
It fills you with good cheer.
Here's to good old brandy,
It keeps you fine and dandy.
Here's to good old cider,
It warms you up inside yer.
Here's to good old gin,
Not to drink it is a sin.
Here's to good old mead,
It's very good indeed.
Here's to good old perry
It keeps you feeling merry.
Here's to good old rum,
It stops you feeling glum.
Here to good old sherry
[see perry] It keeps you feeling merry.
Here's to good old whiskey,
It makes you feel quite frisky.
Here's to good old wine,
It makes you feel just fine.
[With acknowledgements to the original]
Anyone brave a good rhyme for vodka? Trev
---
OPTIMISM
A Gypsy
'Life is sweet, brother.'
'Do you think so?'
'Think so! There's night and day, brother, both sweet things; sun, moon,
and stars, brother, all sweet things; there's likewise a wind on the heath.
Life is very sweet, brother, who would wish to die?'
George Borrow
A Young Girl
The year's at the spring,
And day's at the morn;
Mornings at seven;
The hillside's dew-pearled;
The lark's on the wing;
The snail's on the thorn:
God's in His Heaven -
All's right with the world
Robert Browning
A Japanese Gentleman
The flowers that bloom in the spring, tra la,
Breathe promise of merry sunshine.
As we merrily dance and we sing, tra la,
We welcome the hope that they bring, tra la,
Of a summer of roses and wine,
Of a summer of roses and wine.
And that's what we mean when we say that a thing
Is welcome as flowers that bloom in the spring.
Tra la la la la, Tra la, la, la,
The flowers that bloom in the spring.
W.S. Gilbert
A Jockey
I've gotter motter -
Always merry and bright!
Look around and you will find
Every cloud is silver-lined;
The sun will shine
Although the sky's a grey one.
I've often said to meself, I've said,
"Cheer up, Cully, you'll soon be dead!
A short life and a gay one!"
[From the Ascot scene in The Arcadians by Monckton & Talbot]
Trev
Robert Browning and W.S. Gilbert are household names, but George Borrow and Monckton and Talbot are probably less familiar.
The writer George Borrow was born in Dumpling Green near Dereham in Norfolk. His father was a soldier in the West Norfolk Militia and as a young boy, George's family were constantly on the move, a pattern that may have contributed to his unsettled behaviour in later life.
He was a rebellious youngster and spent much of his time wandering around Norwich, going to fairs and spending time with the gypsies on Mousehold Heath. He was tall, over six foot, and energetic, but he suffered from bouts of manic depression. Ill at ease in polite society, he was drawn to wild places, often in the company of bandits and robbers, he was fearless and physically strong. At the age of 50 he plunged into 30 foot waves in Yarmouth to rescue a sailor in distress.
A skilled linguist, he taught himself Welsh and Romany and he is perhaps best known for his semi-autobiographical novel Romany Rye [1857]. As a member of The Bible Society, he travelled extensively on the Continent and after retiring married Mary Clarke, whom he had had met in Spain. They eventually settled at Oulton Broad in Suffolk, although they spent time in Great Yarmouth and London, but it was at Oulton that most of his books were written.
His critics were not kind to him and he became, in later years, a lonely figure. He died at the age of 78 at Oulton, but is buried in the Brompton Cemetery in Kensington.
What are EdMusComs? Edwardian Musical Comedies are, perhaps, the most neglected series of musical comedies today. Those shows that delighted a previous generation with robust humour, carefree atmosphere and catchy tunes, are rarely heard or seen. They are the shows from about the period in the late 1890's when Gilbert and Sullivan began to lose their dominance, and before the rise of the American musicals by Gershwin and Porter following the First World War.
Lionel Monckton was born in London in December 1861 and educated at Charterhouse and Oriel College, Oxford, where he played a prominent role in the formation of the University Dramatic Society. He married the Gaiety Star, Gertie Millar in 1902. Following his death, in London, in February 1924, Gertie became a real 'society lady' on her marriage to the Earl of Dudley.
Howard Talbot, the conductor and composer, whose real name was Richard Lansdale Munkittrick, was born of Irish descent in New York in 1865, moving to London when he was just four years old. He planned to enter the medical profession but changed course to pursue a career in music, attending the Royal College of Music.
It was in 1909 that he teamed up with Lionel Monckton to produce 'The Arcadians', considered to be one of the most successful Edwardian Musical Comedies. Talbot died at the age of 63 in Reigate in 1928.
---
BLACKPOOL 1921
A Childhood Memory
Not the one in South Devon but the big, brash one on the Lancashire coast. It was our first family seaside holiday - father, mother, my elder brother [12] and myself [8].
I, at least, had no idea where we were bound when we left home that sunny September Sunday morning, all dressed in our best. To the best of my knowledge, travel agents did not then exist and advance booking was for the well-to-do only.
Why was it Sunday? Because, like everyone else, father had to work Saturday mornings and this was no exception. You may remember that it was Attlee's post-war government that abolished regular Saturday working. Why September? Because father, as a skilled electrician, had to take his single week's unpaid holiday during what was known as Engineers Week, and this was always in September.
Anyway, there we were having arrived by tram at the station from which the excursion trains departed for various seaside resorts. We joined one of several queues which snaked their way across the station yard and it turned out to be the one for Blackpool.
I have little or no recollection of the journey, but once arrived we had to find digs. This involved tramping up and down Talbot Road where most of the boarding houses were, father humping two heavy suitcases, until we found a house with a suitable vacancy.
Now in those days there was no B and B, you provided your own food and the landlady cooked it and put it on the table. Mother would not have been allowed in the kitchen. There was a small charge for the use of the cruet [salt, pepper, mustard and vinegar] and crockery and cutlery were provided. So every day had to be partly spent shopping for the day's lunch, tea, supper and tomorrow's breakfast. As there was no Sunday shopping, we must have taken some food with us.
As luck would have it, we left the sun back home and the week turned out damp and drizzly. If we saw the sea at all, it made little impression on me. It was certainly no weather for the beach.
My chief remembrance is of trailing around window-shopping, with father's nose seeming endlessly glued to the windows of hardware shops, especially those selling hand tools, and impatiently dragging mother away from dress shops. As a silver lining to a dark cloud, she did persuade him to buy my brother and me a badly needed new raincoat each.
We visited the famous Tower and I badly wanted to go into the zoo, then located in the base, but for some reason father vetoed this. We did, however, go into the Winter Gardens which was quite interesting.
In what must have been an evening visit, we watched a variety show. The only item I recall was a tenor in evening dress serenading a lady in tights seated on the tip of a cardboard moon. What we did on the other evenings I have no idea as there were no 'lights' in those days. As we would not have been encouraged to sit around at the digs, we probably went to bed early!
During a rare, fine interval, we watched the making of Blackpool Rock on stalls along the seafront. It was fascinating to see how the letters were formed out of yard-long strips of red caramel shaped, where required, round equally long strips of white before being correctly positioned inside a huge slab of rock. This was then rolled into a cylinder and finally coated with more of the red stuff. Then the whole mass was rolled and rolled, becoming longer and thinner until the correct size was reached. It was then chopped into short sticks and wrapped ready for sale.
Father bought lavishly and we arrived home with half a suitcase full of rock in various shapes, sizes and flavours, which lasted us almost until Christmas.
Trev
---
TWO AUBADES
Awake! for Morning in the Bowl of Night
Has flung the Stone that puts the Stars to Flight:
And Lo! the Hunter of the East has caught
The Sultan's Turret in a Noose of Light.
Edward Fitzgerald - from the Rubaiyat of Omar Kayyam

Hark! hark! the lark at heaven's gate sings,
And Phoebus 'gins arise,
His steeds to water at those springs
On chaliced flowers that lies;
And winking Mary-buds begin
To ope their golden eyes:
With every thing that pretty is,
My lad sweet, arise!
Arise, arise!
William Shakespeare [from Cymbeline]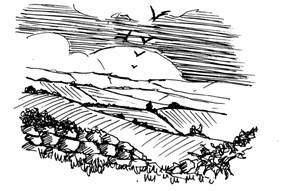 Illustrations by: Paul Swailes
Trev

I have to confess that I did not know the meaning of aubades. According to my Oxford dictionary, it originates from the French and is music for singing or playing at dawn. The 'Free on Line' dictionary describes the word as [1] a song or instrumental composition concerning, accompanying or evoking daybreak, and [2] a poem or song of or about lovers separating at dawn.
Persian astronomer, mathematician and poet, Omar Khayyam [1050-1123] was born in Nishapur, where he founded a school of astronomical research and assisted in reforming the calendar. It is thought that as a result of his observations, the jalali calendar era was begun in 1079. He wrote a study of algebra, which was known in Europe as well as in the East.
Here in the west he is chiefly known as a poet through Edward Fitzgerald's version of The Rubaiyat of Omar Khayyam 1859.
Edward Fitzgerald [1809-1883] was born in Suffolk on the estate of his Irish landowning family, and educated at the King Edward VI Grammar School in Bury St. Edmunds before going up to Trinity College, Cambridge. Here, his friends included Thackeray and Tennyson to whom Fitzgerald became patron, granting him an annual gift of £300 for many years.
A younger, intimate friend of his, Edward Cowell, sparked Fitzgerald's interest in collating and translating the Persian Rubaiyat of Omar Khayyam. He adapted the source material so freely that it could almost be regarded as his own work and there is some doubt as to whether the entire original can be attributed to Khayyam.
Ed.
---
THE ORDERLY DAY
[A Slice of Army Life]
Oh orderly, orderly,
Oh the orderly day.
Poor sore orderly
Tralalalalalalalalalala
At on a shining morn,
We start our little day.
And all day long
We're making meals
And clearing meals away.
We stoke the stoves
And butter the loaves
Then tenderly spread the squish,
And gently drop a porridge flop
In every waiting dish.
And it's "Orderly squish", "Orderly tosh",
"Orderly tea this way."
Oh who would be an orderlee
Upon an orderly day!
When breakfast's done, we've but begun
Our weary round of work
And evil light upon the wight
Who tries his job to shirk.
One cheery ray lights up his day
If labour he would spurn,
That when he's played the scullery maid
The others will have their turn.
And its "Orderly squish", "Orderly tosh",
"Orderly tea this way."
Oh who would be an orderlee
Upon an orderly day!
[Sung to the tune of 'Solomon Levi']

'Squish' is presumably jam, but what is 'Tosh'?
Could some ex-squaddie enlighten me [and others]?
Trev
BERRY
A wonderful place is Berry,
The gem of the Devoncoast.
So I'll raise my glass of sherry
To the subject of my toast.
A beautiful green valley.
A church that's high and old.
A place where people are pally
A place with stories untold.
Sixty-two years on from my stay there,
Six and half years of my youth,
I'll always find my way there,
It's wonderful, that's the truth.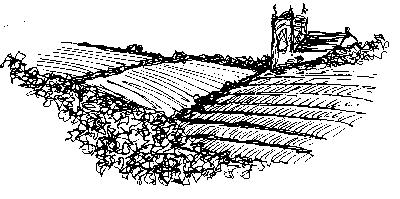 Illustrated by: Paul Swailes
---
SEA SHANTIES
Some of you may remember these grand old songs had quite a vogue between the wars, when the 'Great Days of Sail' were still a living memory. My own acquaintance stems from a series, given by the BBC Male Voice Choir, I believe.
Sea Shanties evolved as a means of keeping the crew in synchronisation when hauling on the ropes or other duties requiring a concerted effort, thus achieving maximum efficiency. Besides this, I believe, they had a social side, establishing a mood of good humour and ensuring even the slackers pulled their weight. They were led by the Shantyman who set the key and tempo, often to the accompaniment of his concertina or other instrument. They varied from quick and lively to slow and steady, and below are three different examples:
I
Oh! Blow the man down, bullies. Blow the man down.
Way! Hey! Blow the man down!
Oh! Blow the man down bullies. Blow him right down.
O give me some time to blow the man down!
<![if !supportLineBreakNewLine]>
<![endif]>
Oh we'll blow the man up and we'll blow the man down,
Way! Hey! Blow the man down!
We'll blow him away into Liverpool Town,
Oh give me some time to blow the man down.
<![if !supportLineBreakNewLine]>
<![endif]>
As I was a-walking down Paradise Street,
Way! Hey! Blow the man down!
A charming young damsel I chanced for to meet,
O give me some time to blow the man down.
<![if !supportLineBreakNewLine]>
<![endif]>
I says to her, "Sally, and how d'ye do?"
Way ! Hey! Blow the man down!
She says, "None the better for seeing of you!"
Oh give me some time to blow the man down.
<![if !supportLineBreakNewLine]>
<![endif]>
Oh we'll blow the man up and we'll blow the man down,
Way! Hey! Blow the man down!
We'll blow him away into Liverpool Town,
Oh give me some time to blow the man down.
<![if !supportLineBreakNewLine]>
<![endif]>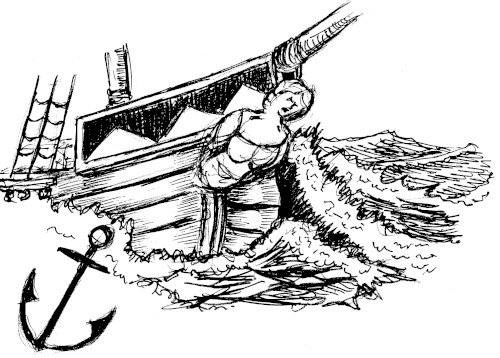 Illustrated by: Paul Swailes
Notes:
Liverpool was home port to many sailors. Hilo, in Hawaii, was, I believe, port of call mainly for whalers. The 'girl in the blue dress' was probably a native girl who had taken a fancy to one of the sailors. All three songs, and many others, contain references to the fair sex, sometimes in jocular fashion, no doubt to hide the sailor's true feelings towards the loved one from whom he was separated.
Trev
---
THE COBBLER'S SONG
from Chu Chin Chow
I sit and cobble at slippers and shoon
From rise of sun till set of moon.
Stitch and cobble as best I may
Cobble all night and cobble all day
And I sing as I cobble this soulful lay.

The stouter I cobble the less I earn
For the soles ne'er crack nor the uppers turn.
The better my work the less my pay
But work can only be done one way.

And as I cobble with needle and thread
I judge the world by the way they tread.
Heels worn thick and soles worn thin
Toes turned out and toes turned in
There's food for thought in the sandal's skin.

For prince and commoner, poor and rich,
Stand in need of the cobbler's stitch.
Why then worry what lies before?
Hangs this life by a thread no more.

I sit and cobble at slippers and shoon,
From rise of sun till set of moon.
Stitch and cobble as best I may
Cobble all night and cobble all day
And I sing as I cobble this soulful lay.

Footnote 1:
Oscar Asche's musical fantasy, based on the Arabian Nights tale of Ali Baba, was first staged I believe during World War I, and an immediate success, being especially popular with troops on leave, to whom, no doubt, it was a welcome escape from the horrors of the trenches.
Some of you may remember the TV version which the BBC produced [in mono-colour] soon after World War II, with Jetsam [Malcolm McEachern] as the Cobbler.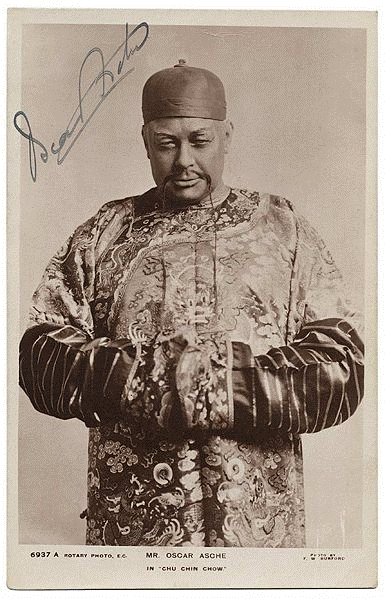 'Mr. Oscar Asche
En Chu Chin Chow'
Footnote 2:
Cobblers have enjoyed a reputation [well deserved in my view] as philosophers. Some years ago, when I bought a holiday cottage in North Wales, I was told of a cobbler who plied his trade in a wooden hut at the bottom of the garden. The village children used to come and watch him at work while he enlightened their minds from his store of wisdom. Later on I took my shoes to a cobbler in Corwen and had many interesting discussions with him. He was a philosopher without a doubt.
Trev
---
CHRISTMAS PAST
[Reminiscences of Childhood]
My father, a true Yorkshireman - albeit half Welsh - was careful with his brass, for most of the year that is! But, as Christmas approached a kind of spending madness took over and he would lavish a veritable cornucopia of gifts on his family, mother, my elder brother and me. All in the name of Father Christmas, of course.
My brother and I would wake to find bulging pillowcases by our bedside [stockings would have been hopelessly inadequate], crammed with books, toys, games, toffees, chocolate, boiled sweets, etc. To support the deception, father and mother also had pillowcases containing gifts, though never so full as ours. Mother would usually get some much-desired item of finery, a silk blouse perhaps which had previously been beyond our means, but became suddenly affordable. We boys also might receive items of clothing, no doubt at mother's insistence.
Boylike I would have to sample the various sweeties and, although never actually sick, I had no appetite for breakfast.
Besides the largest available goose or turkey, father would also buy a large joint of spare rib pork. Not for the day itself, but for later. Mother would be up half the night preparing the bird for the oven and would be up early lighting the fire to get the oven hot and start off the bird on its slow roast. She always made 5 puddings - one for Christmas, the others for each of our birthdays which conveniently were all in January and February.
On mother's shopping list were always a bottle each of brandy [for cakes and puddings], rum [for the sauce], and whisky, all at 7/6d. [36p] each. When our milkman came with the morning milk, he was offered a choice of drink. I think he usually had whisky, which he drank neat. As no doubt he was offered similar hospitality at other homes, I imagine he relied on his faithful nag to get him home safely in the milk float to his hill farm.
Dinner was usually ready about , by which time my appetite would have recovered enough to tuck in heartily. My brother and I would have whiled away the morning playing with our new games and toys. The pudding contained various silver 'charms' - a lucky horse shoe, a donkey, etc., as well as several threepenny 'bits'. None of the latter ever appeared in my portion, always turning up in father's. Mother said father knew just where he had put them, which I found hard to believe. After dinner we would all relax over a few hands of whist or some other card game. Later on, about , there would be 'high tea', with a trifle, jellies, blancmange, etc., and, of course, mince pies and the cake. We never had wine with our meals, but some time or other, mother would bring out the elderberry wine and we boys would get a small glass each. Under aqe drinking indeed! But it never did us any harm to my knowledge.
I went on believing in Father Christmas [we never called him Santa Claus] until I was 12 or so, because my brother kept up the pretence and I strongly contended anything my pals said about him being just father.
Ah, the innocence of youth! Happy Days!
Trev
---
DECIMALISATION
Since the introduction of the florin a century and a half ago [1/10th of £1], we've come along way along this road. Now our cash is fully decimalised [having abandoned the 1/2p] although, thank goodness, we have as yet refused the Euro.
We have [almost] abandoned Fahrenheit in favour of Centigrade [I refuse to use that silly word Celsius, which commemorates an idiot who wanted 100 Deg as freezing point and 0 Deg as boiling point.
We have learnt to cope with grammes, kilos, litres, etc., and even hectares.
Can decimalisation go further?
It can, if what I hear from Brussels is correct. A proposal is now before the EU Commission to decimalise Time!
Of course we have had decades, centuries and millennia and at the other end of the scale tenths of a second, as well as milli-seconds and nano-seconds, so Time is already partly decimalised, but these proposals go much further.
The standard unit of time will remain the Day, i.e. the average period of the earth's rotation, but will be renamed the Jour to please the French and secure their co-operation. The Jour will be divided into 10 decijours, replacing hours - so now we'll have still more cause to complain there aren't enough in a day! The decijour will be divided into centijours replacing minutes, these again sub-divided into millijours, replacing seconds, while tenths of a second become microjours. Expanding the other way, 10 Jours will make a Decajour, replacing the week - no complaints now that there aren't enough days in the week - and 10 Decajours a Hectojour, replacing the months - too much month at the end of the salary! Naturally, this will affect the calendar, which will now only have 10 sheets in a Kilojour, saving a considerable amount of paper and thus benefiting the ecology.
On the other hand, astrologers must do some complicated calculations to readjust the Zodiac. Another effect will be on the date. If we go back to nought, according to my calculations, we are now in Kilojour 735 AD or thereabouts, so there's a long wait before we can celebrate the first millennium, never mind the second.
And if by now you are beginning to feel one leg slightly longer, let me apologise for gently pulling it!
Trev
The above is an elaboration of a spoof from a draughtsman colleague at the time of currency decimalisation.
---
ELEGY ON THE DEATH OF A MAD DOG
Good people all, of every sort,
Give ear unto my song;
And if you find it wondrous short,
It cannot hold you long.
In Islington there lived a man,
Of whom the world might say,
That still a godly race he ran,
Whene'er he went to pray.
A kind and gentle heart he had,
To comfort friends and foes;
The naked every day he clad,
When he put on his clothes.
And in that town a dog was found,
As many dogs there be,
Both mongrel, puppy, whelp and hound
And curs of low degree.
This dog and man at first were friends;
But when a pique began,
he dog, to gain some private ends,
Went mad and bit the man.
Around from all the neighbouring streets
The wondering neighbours ran,
And swore the dog had lost his wits
To bite so good a man.
The wound it seemed both sore and sad
To every Christian eye;
And while they swore the dog was mad,
They swore the man would die.
But soon a wonder came to light,
That showed the rogues they
The man recovered of the bite,
The dog it was that died.
Oliver Goldsmith
A favourite Poem - Trev
---
THE CARRION CROW
This little ditty was learnt at primary school, long ago, and surfaced in my mind recently. If you think it lacks a final verse, I have to agree, but can recall no single word of any such. Does anyone else remember it and if so, can they help?
Trev
A tailor kept a fine fat sow,
Caw, caw the carrion crow.
And she was plagued by a carrion crow,
Caw, caw the carrion crow,
Hey

derry

down derry dido. Oh wife, oh wife bring me my bow,
Caw, caw the carrion crow.
And I will shoot that carrion crow,
Caw, caw the carrion crow,
Hey

derry

down derry dido.

The tailor shot but he missed his mark,
Caw, caw the carrion crow.
And saw his old sow lying stiff and stark,
Caw, caw the carrion crow,
Hey derry down derry dido.

Oh wife, oh wife bring brandy in a spoon,
Caw, caw the carrion crow.
For our old sow is lying in a swoon,
Caw, caw the carrion crow,
Hey

derry

down derry dido.
---
AUSTRIAN FOLK SONG
Heard on the radio many years ago, this poignantly beautiful tribute lay buried in some deep recess of memory to surface recently, without prompting, complete with its simple, plaintive melody. I can't reproduce the latter but here the words, attributed to that great poet Anon and translated by another of the same name [not myself].
How can I leave thee?
How can I bear to part?
That thou hast all my heart,
Dearest believe.
Thou hast this soul of mine,
So wholly is it
That I can love no-one
But thee alone.
Were I a bird love,
Soon would I fly to thee.
Falcon nor hawk tone
Would terror bring.
If slain by huntsman's hand
I at thy feet lay dead,
If thou one tear didst shed
Gladly I'd die.
Blue is the flow'ret
Called the forget-me-not.
Oh lay it on the heart
And think of me.
Should fate be too unkind,
Hope gone faith out of mind,
Love shall remain with us,
Dearest, believe.
Trev
---
FUNNY ALPHABET
[with acknowledgements to Clapham and Dwyer]
A for 'osses
B for honey
C for th'ighlanders
D for salmon fishing
E for sigh
F for vescence
G for putting your shirt on
H for experience
I for a pretty girl
J fa oranges
K for a cuppa
L for leather
M pha sis
N for a penny n for a pound
O for the wings of a dove
P for soup
Q for a bus
R fa mo
S for certain
T for two
U for mutton
V for l'amour
W for a tenner
X for breakfast
Y for goodness sake!
Z pher breezes

[like C & D, I had to resort to the American 'zee' - couldn't find anything to go with zed]. Trev
---
CHRISTMAS EVE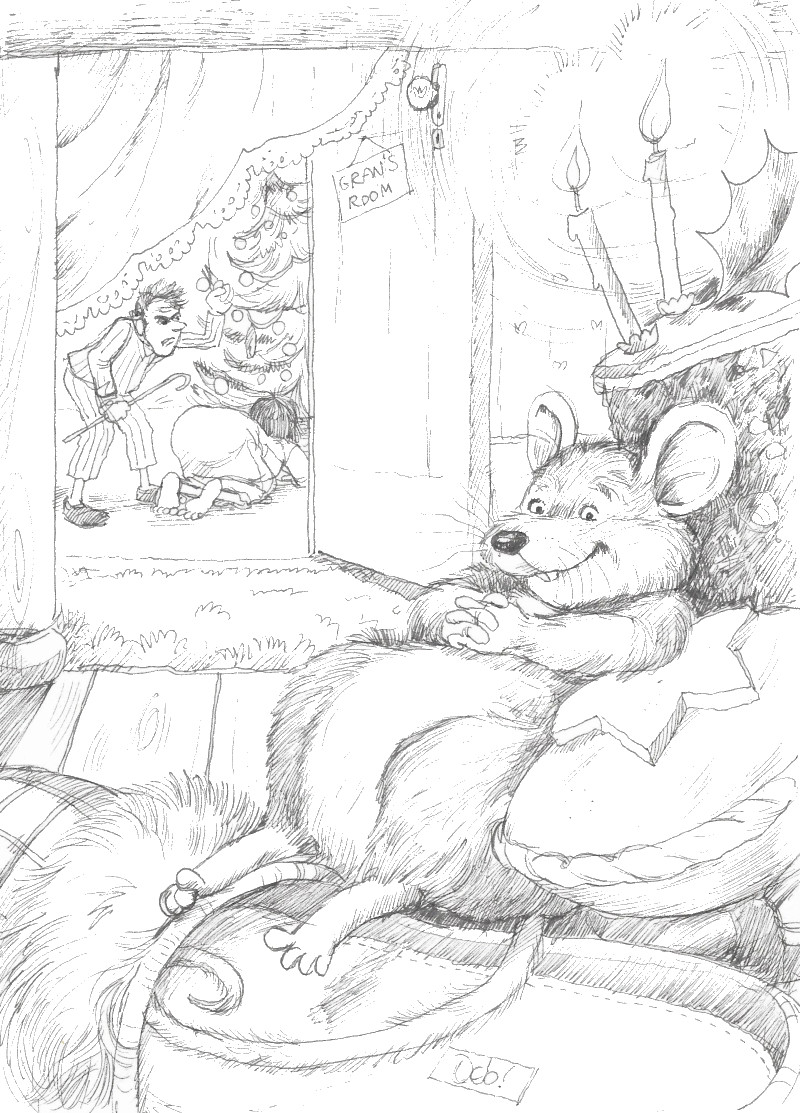 Illustrated by: Debbie Rigler Cook
"Twas the night before Christmas
And all through the house
Was confusion and chaos,
Because of a mouse.
It scampered around
Both upstairs and down.
It shot up the sleeve
Of mother's nightgown.
It tasted the turkey,
It sampled the cake,
It nibbled the mince pies
Aunt Ethel did bake.
"I'll catch him" sang father,
"I'll give him what for!"
And went for his stick
Which was hung by the door.
He searched every nook
And he prodded each cranny
But cute mousey was safe
Neath the bed where slept granny.
Which all goes to show,
That where food is concerned,
Mice are cuter than men
As no doubt you have learned.
Trev
With apologies to Clement Clark Moor, a professor of Religion, who published his one celebrated poem in time for Christmas 1823.
---
A LIST OF 'ISTS'
[not to be taken seriously]
Activist: PE enthusiast
Alienist: friend to little green men
Apiarist: keeper of chimps
Archivist; maker of pergolas
Anarchist: assist maker of pergolas
Arsonist: Woolwich fan
Baptist: regular at Burger King
Cellist: hermit
Communist: vulgar person
Conservationalist: Tory
Conventionalist: nun
Cornettist: ice cream seller
Dentist: maker of beaten copperware
Flautist: quality control expert
Illusionist: someone badly treated
Oboist: fat person
Pacifist: South Sea Islander
Pharmacist: agricultural worker
Physicist: dealer in soft drinks
Romanticist: teller of 'porkies'
Sadist: sorrowful person
Socialist: member of high society
Spiritualist: dealer in rum, gin, etc.
Taxidermist : opener of cab doors
Trappist: setter of snares
Violinist: low down inn keeper

Trev
---
STREET TRADERS
Street traders. I don't know if any such visited Berrynarbor, but when I was a wee nipper, Long ago, we had a variety of them parading our streets. The most colourful was the man who cried his wares thus:
"Hot peas and warm pies, Parkin pigs with curran' eyes."
The peas, of the mushy variety, were carried in an enamel pail with a lid, while pies and pigs were on a covered tray carried on the head. I don't remember sampling peas or pigs, but the pies [pork] were delicious.
Then there was the vinegar seller who wore a blue and white striped apron and announced his arrival by ringing a hand-bell. The vinegar was in an enamel pail with lid and was ladled into your jug or whatever, as required. We used a lot of vinegar for pickling, so he was a frequent visitor.
Salt was sold in blocks about the size and shape of a modern sliced loaf and was brought round, piled high on a horse-drawn flat cart. A block would last for months, although mother used a lot for cooking. She would carve off a slice with the carving knife and then pound it with the rolling pin to fill the salt cellars.
I don't remember any other food bought at the door, apart from milk, of course. This came in a large churn on the dairy farmer's 'float' [horse drawn] and was ladled into your jug by the pint. No bottles in those days.
The knife-grinder often came round with his "Knives and scissors to grind" call. His grindstone was attached to the handlebars of his bicycle and was driven by a system of pulleys and belts from the pedals, the rear wheel being raised off the ground.
Another frequent visitor was the organ grinder. It wasn't an organ really, more like a player piano operated by turning a crank. As soon as he began to play, kids would appear as from nowhere and dance round in time to the music. One or two would give him a penny and I suppose that was how he earned a precarious living. Did he have a monkey? I don't think so, I'm sure I would have remembered if he had.
Lastly I must not forget the gypsy women with their baskets of clothes pegs. These were made from cleft hazel, shaped at one end to form a 'V' notch, fastened together at the other end by a metal strip wound round
and fastened with a 'brad'. Very effective they were and lasted for ages. Gypsies had a reputation for theft so you never let them over the threshold, even if they offered to read your palm.
TW/BC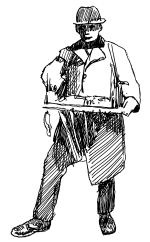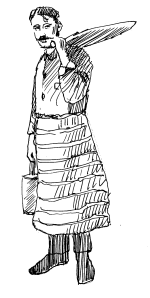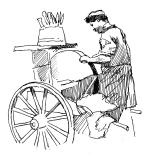 Illustrated by: Nigel Mason