---
SIR REDVERS HENRY BULLER VC, GCB, GCMG
1839-1908
Redvers Buller was born on 7th December 1839 at Downes, Crediton, the son of James Wentworth Buller, MP. One could say he was born with a silver spoon in his mouth, and once he had completed his schooling at Eton in 1858, he was commissioned into the King's Royal Rifle Corps, 60th Rifles.
The battles and wars he served in are far too numerous to mention here but the main ones were the Zulu War of 1879, for which he was awarded the Victoria Cross for bravery under fire, and following his involvement with the First Boer War of 1881 and as Head of Intelligence in the Egypt Campaign in 1882 he was knighted. That year he married Audrey, daughter of the f4th Marquess Townshend and later in the year was sent to the Sudan as Commander of an infantry brigade. In 1885, having commanded a successful expedition to relieve General Gordon, he was promoted to Major General.
In 1899 he w-as sent as Commander of the Natal Field Force on the outbreak of the Second Boer War. Following several defeats and concerns about his performance, in 1900 Lord Roberts replaced him as overall Commander in South Africa.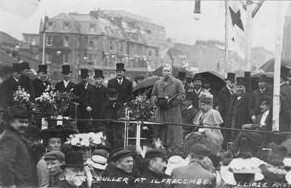 General Buller was very popular amongst the public in England and upon his return from South Africa was given a triumphal reception and many public celebrations. Sadly, in October 1901 he was asked to resign but refused and was dismissed on half pay. On 27th July 1904, General Buller gave a speech at the Inauguration Ceremony of Ilfracombe's new water supply when several other dignitaries were present, including Lord Ebrington, Lord Clifford, local MP E.J. Soares, and Council Chairman J.C. Clarke.
Throughout the West Country there were public expressions of sympathy for him. Indeed, in 1905, by public subscription, a notable statue of General Buller astride his horse was erected in Exeter, on the road leading out to Crediton.
Despite being offered a parliamentary seat when the Liberals returned to power in 1905, he turned it down in favour of peaceful retirement at his
family seat Downes House, Downes, Crediton, where on the 2nd June 1908 he died. He was buried at the Holy Cross Churchyard, Crediton and his funeral must have been one of the largest ever held in Devon, as is shown by the many postcards published at the time.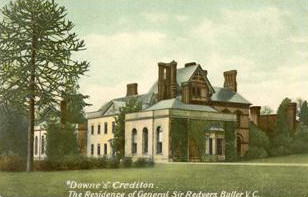 Tom Bartlett
---
JOHN WILLIAM GARRATT [1865-1946]
Many of the photographic postcards that I've used to illustrate my 'Old Berrynarbor' articles were the work of John William Garratt.
He was born on 6th July 1865 in Chariot Street, West Leeds, and died at the age of 81 on the 31st October 1946 in Bristol. His father, William Leonard Garratt, was a County Court clerk and his mother, Jane, was formerly Booth.
We can assume that Garratt lived with his parents, probably in Leeds, until he was 21 years old. At the age of 26, he married Mary Jane Eccles, who was 27, at the Parish Church of All Saints, Heaton Norris, Lancaster, in the Registration District of Stockport.
John and Mary Jane moved to 'Stepleton View', 9 Station Road, Ashley Down, Bristol, in 1899, and according to the Bristol Trade & Residents Director, the occupiers of 9 Station Road were:
1898 Alfred Gregory
1899-1902 John William Garratt
1903-1904 John William Garratt, Artist
1905-1947* John William Garratt, Photographer
* As already stated, Garratt died in October 1946, so the entry was not amended!
Their daughter, Alice Mary, was born on the 23rd September 1908, at home, and she was still living with her parents at 9 Station Road in 1939, when she would have been 31 years old.
John William Garratt was an accomplished photographer and all of his real photographic [RP's] postcards are sought after by collectors all over the UK. He would carry his large tripod and glass plate cameras in his motorcycle's wicker-work sidecar as shown in this picture of him with his daughter Alice outside Horfield Barracks, Bristol.
Garratt has left a permanent photographic record and is known to have taken and published approximately:
1800 postcards of the Bristol area
130 postcards of Cliff College, Calver, Sheffield
180 postcards of Berrynarbor, Devon
50 postcards of Bath
12 postcards of Saltash
6 postcards of Ilfracombe and 6 postcards of Woolacombe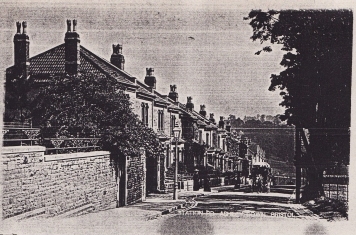 In my collection I have a single six-view postcard of Bedruthan Steps, Cornwall, which is numbered 29, and a single view postcard of Murhill North East Somerset/Bath also numbered 29!
Garratt was a master at composing his photographs always attempting to include children and adults. We should remember that in those early days, he had to get participants to stand absolutely still for up to two minutes whilst he took the photograph on large, glass plates - no rolls of film or digital cameras in those days!
I must thank the late Alan Richardson for obtaining copies of various Birth, Marriage and Death Certificates for John William Garratt.
The following two Garratt postcards show :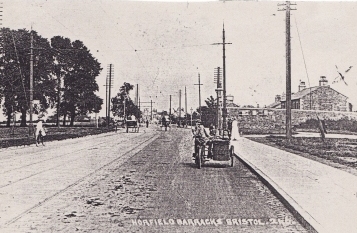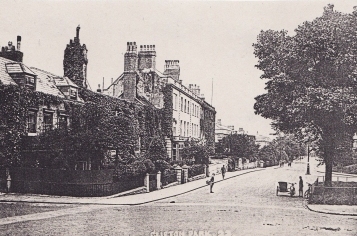 Station Road, Ashley Down, Bristol and Clifton Park, Bristol
Tom Bartlett, Tower Cottage
---
THE FIRST HOLIDAY CAMPS IN GREAT BRITAIN
Many of us would imagine that the first holiday camp would be one of those opened by Billy Butlin, who was later knighted by the Queen to become Sir Billy Butlin, but they would be mistaken.
In truth, Joseph Cunningham, a successful flour dealer and baker from Liverpool and his wife, Elizabeth, moved to the Isle of Man in the 1890's. They opened summer camps in 1892 and 1893 in Laxey, but in 1894 they opened an all-male, tented summer camp in Howstrake, I.O.M. for up to 600 men per week. The success of these holiday camps was largely down to the organisational ability of Mrs. Cunningham that led them in 1904 to acquire five acres of agricultural land at Victoria Road, near Falcon Cliff. Here 1500 tents and a 100 foot dining pavilion were erected for the March to October season. Shortly after the First World War commenced, internees were given the job of replacing many of the original wooden huts for chalets. In September 1914, the camp was cleared of its campers and staff and requisitioned as an internment camp for enemy aliens.
I found this information as a result of purchasing, through e-Bay, a quantity of Isle of Man postcards, which included three of 'The Cunningham Camp, Douglas, Isle of Man'.
Tom Bartlett - September 2009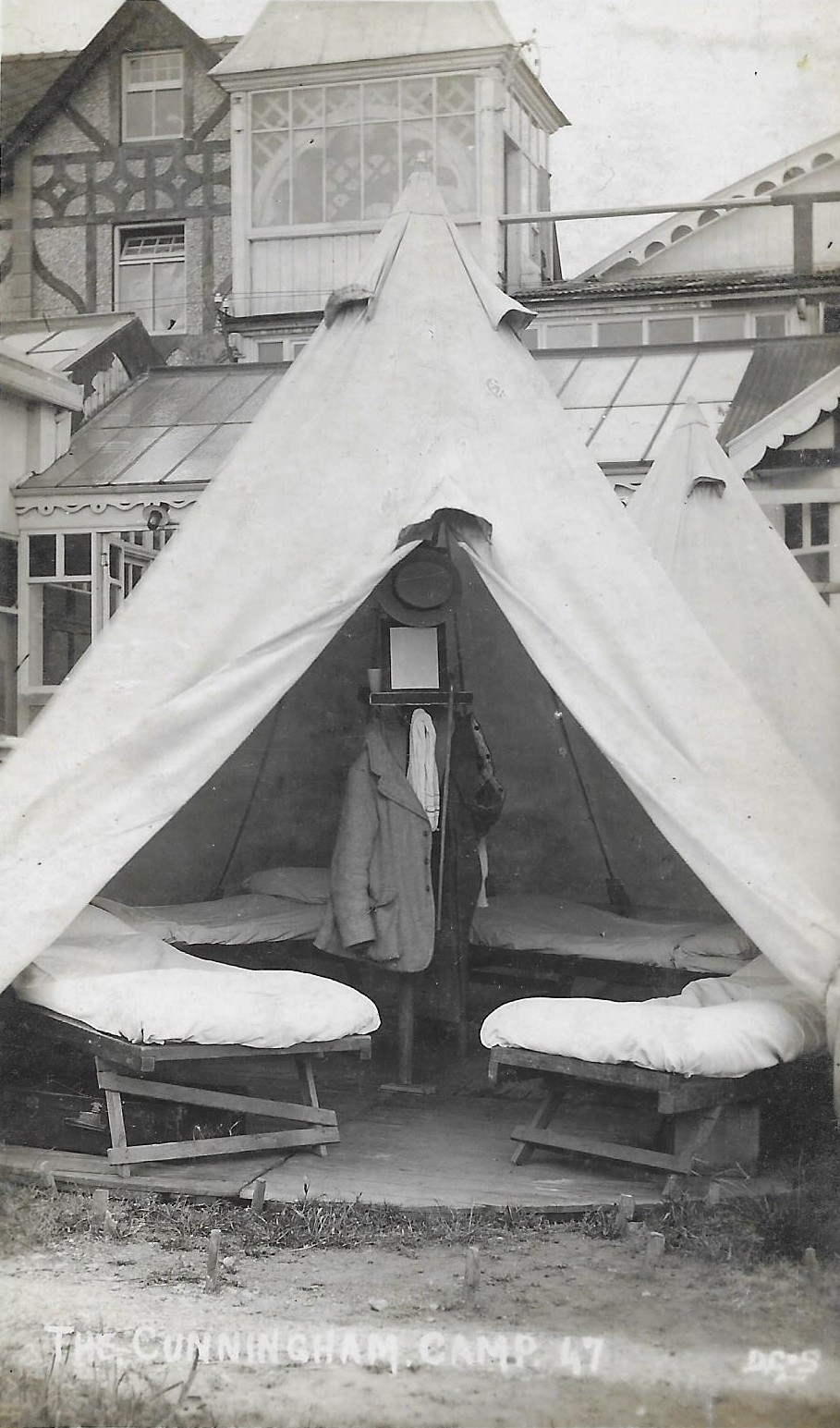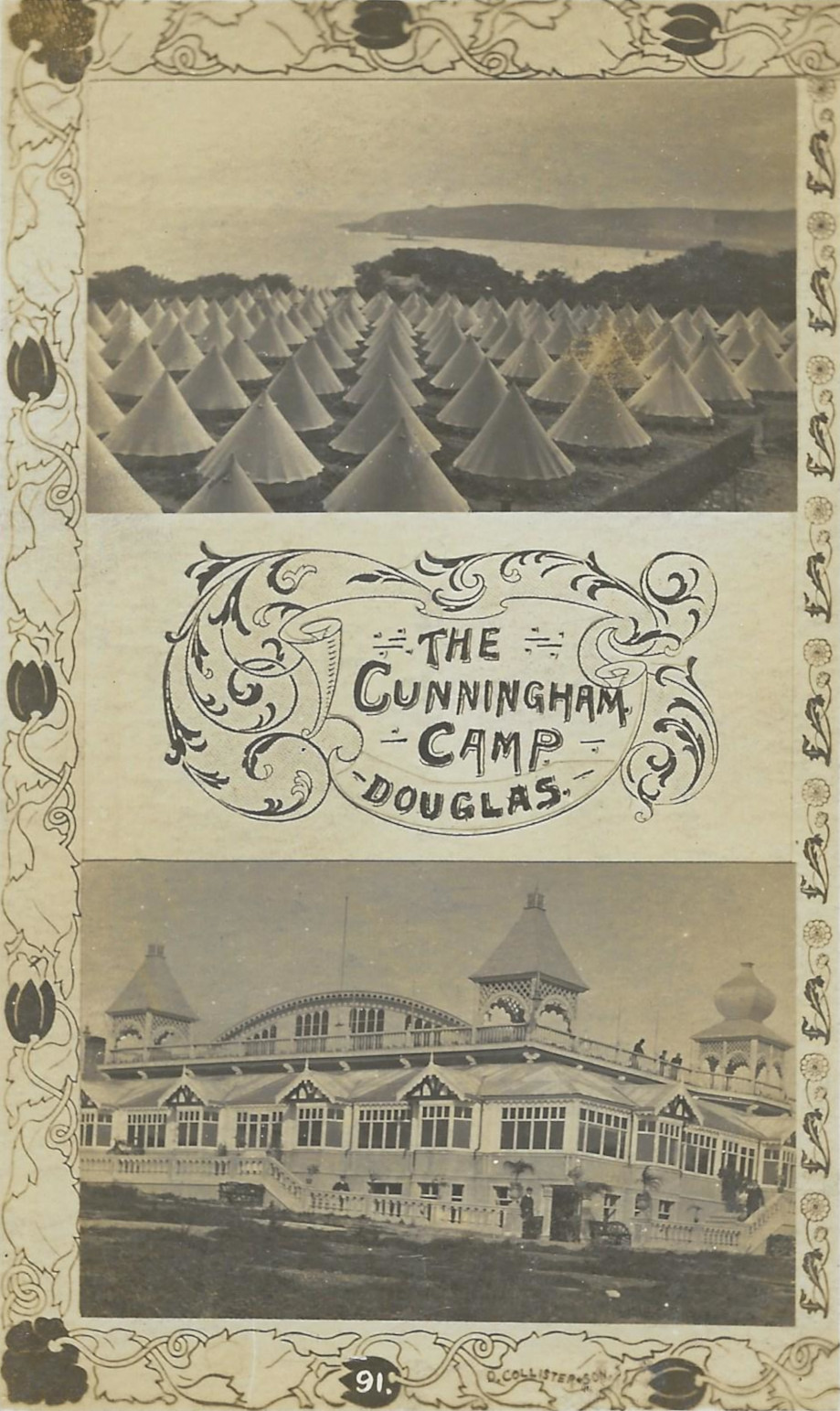 ---
MARIE CORELLI
1855-1924
The daughter of Charles Mackay, a Scottish poet and song writer, the novelist Mary spent her youth in Mickleham, Surrey, before moving to London in 1882. She was a talented pianist, using the name Marie Corelli for performances, but turned to writing romantic fiction using the same pseudonym. Her first novel was published in 1886.
Her romantic melodramas, written with exuberant imagination and far-fetched theories, enthralled her readers and she achieved outstanding success at the turn of the century, with Queen Victoria, Gladstone and Wilde among her admirers, but her popularity turned to ridicule long before her death in 1924.
The Mighty Atom, published in 1896, was written and set in North Devon, with the character Reuben Dale being based on James Norman, the Sexton of the Parish Church in Combe Martin.
James Norman's birth place
High Street, Combe Martin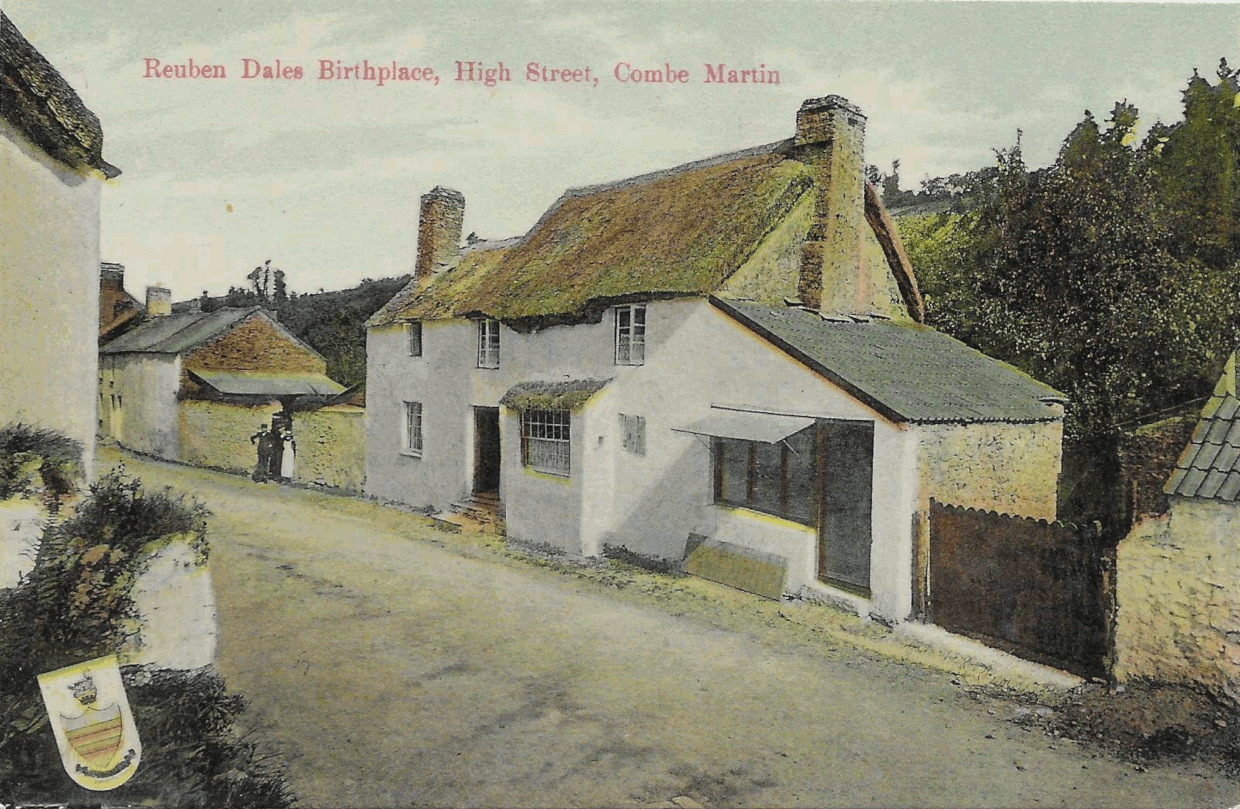 Reuben Dale [James Norman] at the Belfry Door of Combe Martin Church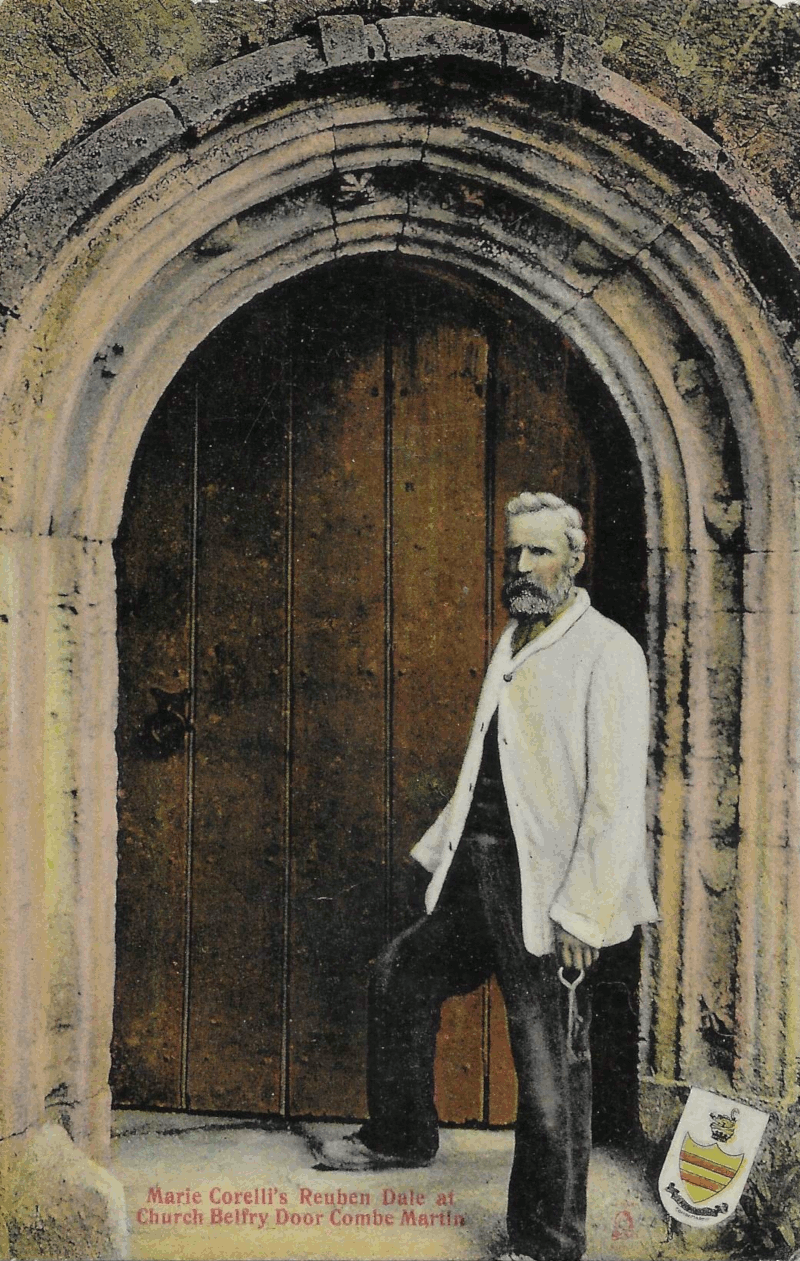 Marie Corelli's Home Mason Croft, at Stratford-on-Avon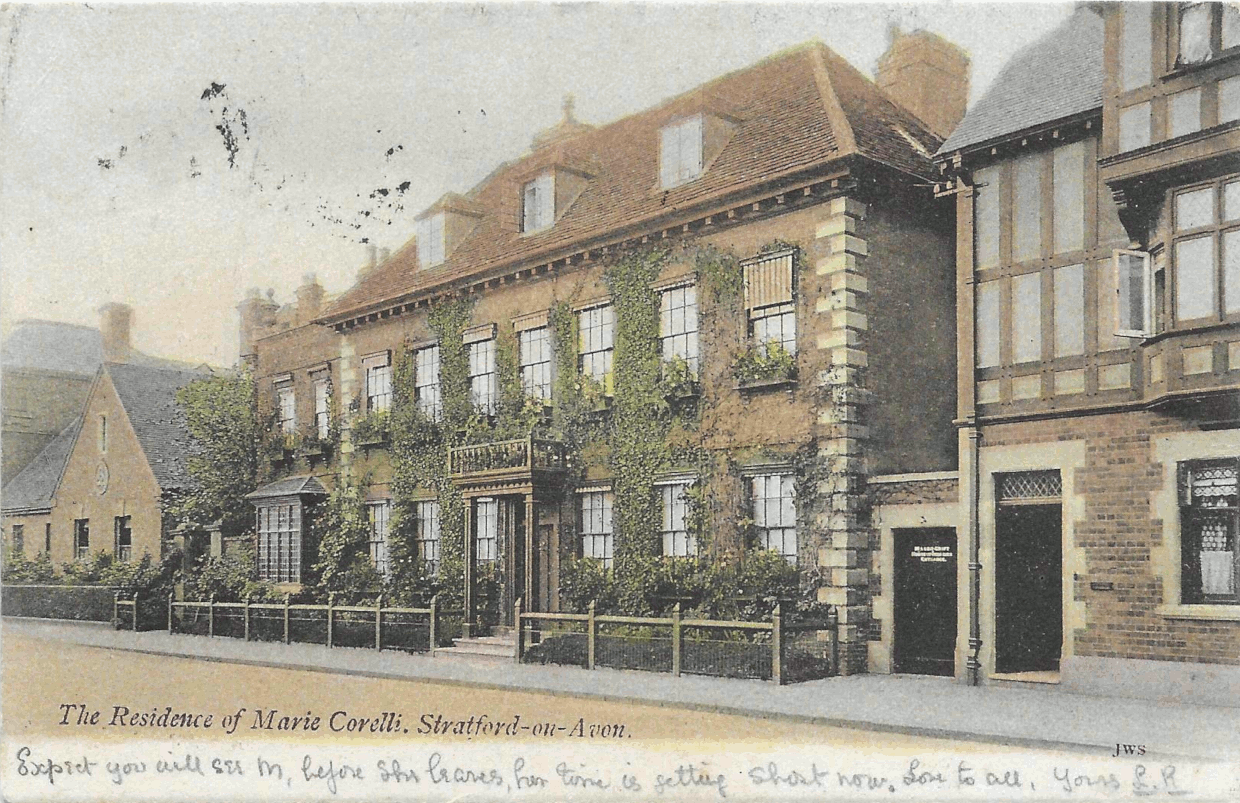 Her over-the-top characterisations made even the weakest plots come alive and although her work lack literary quality, her greatest achievement is that with over 20 novels to her credit, she still commands a place in the study of women's literature.
Finally, can I appeal for pictures, preferably postcard based, of Berrynarbor up to the 1980's as it is becoming increasingly difficult to come up with something about which I have not already written.
Tom Bartlett, Tower Cottage,
May 2007
e-mail: tombartlett40@hotmail.com
---
DOES ANYONE KNOW?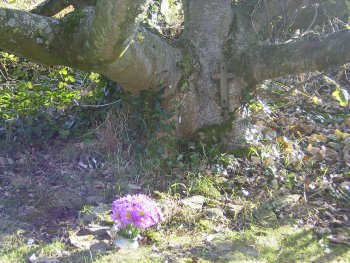 My thanks to Jenny Taylor whose e-mail from her home in France gave clues sufficient to set me on the path to finding out the facts behind the small cross memorial on the coastal footpath near Widmouth House. My thanks also to Sylvia and Cecil Hancock, and to Marie Chugg.
Marie lived at Widmouth for 27 years and the cross is in memory of her mother, Mrs. Madeline Leng, and her uncle Mr. Leonard Elderfield, both of whom spent happy times at Widmouth. Marie, who has very happy memories of times they all spent there, regularly places flowers under the tree. Marie's son, Paul, still lives in Ilfracombe.
Once again my thanks to all concerned for solving the mystery.
Tom Bartlett - January 2006
---
DOES ANYONE KNOW?
This photograph was taken on the short but strenuous footpath walk from Watermouth Cove to the Coast Guard Houses. We have often

walked this particular path and noticed fresh flowers placed near the cross, which is just after the footpath style near Widemouth House. I wonder if anyone can inform me why, when and in whose memory the cross was placed there.

On our walk with Colin and Doreen on Sunday, 20th November, Inge was the first to spot a seal surfacing and feeding off the headland at the entrance to Watermouth Harbour. My thanks to Colin for taking the photograph at my request when my camera stopped working due to a low battery!

I do hope someone can throw some light on the memorial.
Tom Bartlett