---
PROPOSAL IN THE SAND
Dean [Hawker] and Steve [McCarthy]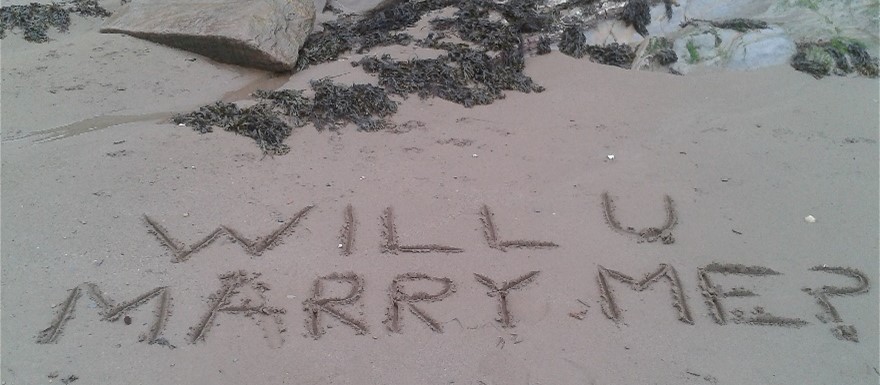 You might like to know that Steve proposed to me at Combe Martin bay where we have both spent many happy hours together, also with parents, friends and family.
As you can see from the photo, it was done in the sand and I had no idea. Of course the answer was 'Yes' - after 26 years together - we won't forget this leap year!
Congratulations and best wishes to you both.
---
I'M STILL STANDING
The North Devon Group of Epilepsy Action is putting on a charity concert, called "I'm Still Standing", at the Ilfracombe Pavilion Theatre on Friday, 24th October, doors open
At the event, Guy Stoker, a successful songwriter who has epilepsy and attends the North Devon group, is reuniting to perform with his brother and acclaimed guitarist, Gavin Richardson, for the first time in 10 years. The band will play an eclectic variety of music including rock 'n' roll and songs from the shows, so there will be something for everyone. There will also be supporting artists.
Guy has previously recorded a charity CD with renowned opera singer, Suzannah Clarke and has organised concerts in the past but this one is very relevant to him because of the charity for which it is raising money. The name of the concert sums up his story perfectly. Although having suffered setbacks in the past, he is still standing and able to do something as big as putting on a concert. Guy is keen to show to others who suffer from epilepsy that despite having the condition you can still shine.
Guy has had epilepsy since he was twelve years old. He wasn't aware of Epilepsy Action or its services until he attended a conference in Exeter last year, an experience he found quite moving as it was the first time he had been in a room full of people who knew exactly what he was talking about. At last he felt he was not the only one. After that he joined the North Devon Group and found it helped him enormously.
The group provides support through monthly meetings in Barnstaple Library, where people with epilepsy and their carers can come together to discuss and share their experiences. Our members also attend excursions and meals, in turn providing a social outlet for those who, due to the severity of their condition, might not otherwise participate in such activities. Both the outings and the hire of the room for group meetings are paid for out of branch funds.
The funds are also used to assist members in attending seminars and conferences on epilepsy. Our own regional seminar is taking place on Saturday, 1st November and hopes to increase awareness of epilepsy in the North Devon area.
Guy's aim is to raise in excess of £1,000, monies which will go towards the cost of our seminar, the North Devon Epilepsy Action branch funds and the Southwest Epilepsy Action Regional Forum, a recently formed group of which we have become an active member. Bringing together all the Epilepsy Action branches in the Southwest, it is hoped that as a larger body we can improve services for people with epilepsy in our region.
Some of the money raised will also help fund the vital advice and information services provided by Epilepsy Action. Last year the charity directly helped over 660,000 people through a range of services including its Helpline, Advice and Information Centre, Branch Network and Accredited Volunteering Scheme.
Tickets for the 'I'm Still Standing' concert cost £10 and can be obtained by telephoning the Landmark Box Office on 01271 324242.
For more information about the concert or the North Devon Group of Epilepsy Action, please contact me, the secretary, on [01271] 863087.
Steve McCarthy