---
CHRISTMAS AT THE MANOR HALL
In the 1950's, the Old Scholars Association of the village School ran summer dances and funfairs in the Manor Hall to raise funds to buy every child up to 15 years old in the Parish, a very nice Christmas present.
The little picture shows Muriel Richards, School Teacher, awarding Mrs. Ella Graves a lovely cabbage - her prize for winning the Mrs. Berrynarbor competition at an Old Scholars Summer Dance.
Claude Richards junior is MC having a laugh with Mr. Ward who was the judge. Those were the days!
Lorna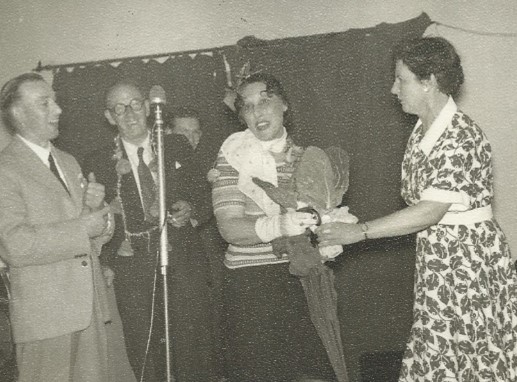 ---
BERRYNARBOR
The Parish of Berrynarbor is one of the largest in Devon. There is evidence that people lived here from early times:
The ancient tumuli on Berry Down and Century Lane.

One excavated c1840 produced a clay pot containing cremated bones and ash of some important human, probably of the

Dumnonii

tribe who were spread around Devon in early times.

The pot was decorated in the style of the Celtic Cornish people.

The white ceremonial standing stones at

Stonelands

, now called Maddox Down, on Long Lane [the road from Berry Down to Easter

Close].

These stones have disappeared over the last 100 years, probably for building purposes or gate posts.

The last standing stone was shattered by lightening not very long ago.

Damien

Hirst

has two large white rocks placed at the entrance lane to his home at

Yellaton

Farm, opposite Maddox Down.Probably the remains of the stones.




The remains of an old Iron Age Fort over-looking the Channel on the right of Newberry Hill [the hill down to Combe Martin].

Locals called it Windsor Castle, I wonder why?
A very old clapper bridge which crosses the river along the public footpath from

Stowford

Farm Meadows to Bittadon on the Muddiford Road to Barnstaple.




The Clapper Bridge at Tarr Steps
Hillsborough, the large cliff-side hill at Hele is another Iron Age Fort site.
The ancient 'ridge way' known as Slew Lane which runs from Iron Letters to Goosewell [the lane at the top of Hagginton Hill].

A name derived from a slough - old English for a wet, damp place.

Lorna
If you've enjoyed reading this abridged issue of the Berrynarbor Newsletter on line and would like to see it in full, why not send for a copy and join the hundred or so readers who receive it in the post.
A subscription of £6.00, to cover the cost of postage and envelopes, gives you 6 issues sent to your home.
A donation towards the cost of printing, etc., is always very welcome!
All you have to do is contact the Editor, either by 'phone 01271 883544 or e-mail
judiew12@gmail.com
.
---
BERRYNARBOR SCHOOL 1922
Classes I and II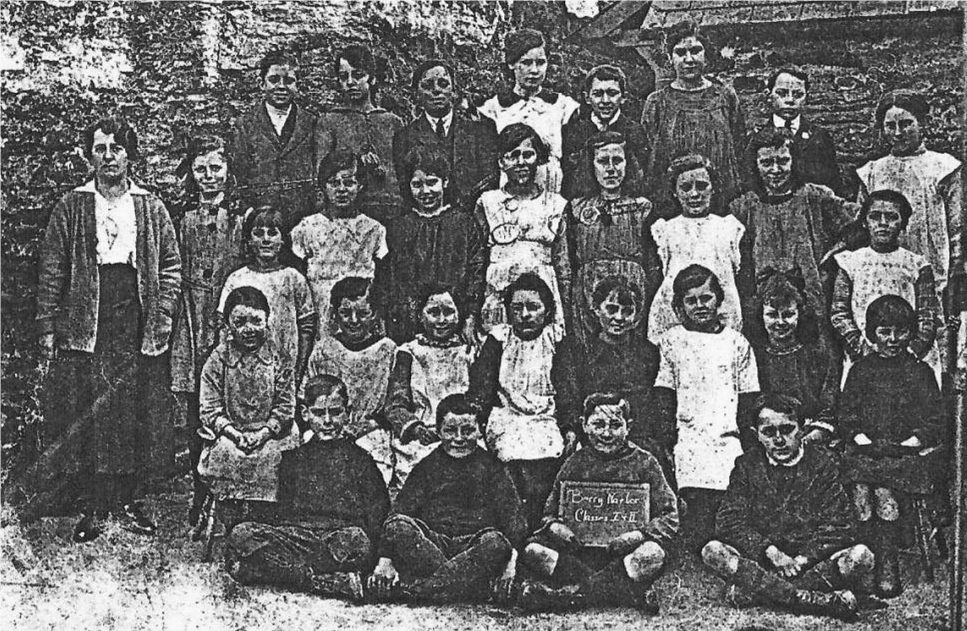 From left to right:
Back Row: Arthur [Nip[ Jones, Gladys Jones, Jim Huxtable, Doris Dummett, William Street, Phyllis Toms, Stanley Jones
Second Row: Miss Veale, Evelyn Ley, Doris Dinnacombe, Muriel Richards, Laura Leigh, Alice Irwin, Beatty Huxtable, Lily Leigh, Ivy Dinnacombe.
Third Row: Muriel Yeo?, Lucy Gear, Ivy Watkins, Rhoda Challacombe, Olive Street, Annie Seldon, Myrtle Richards, Vera Latham, Gladys Seldon
Front Row: Reg Sydenham, Leonard Dummett, Lionel Dummett, Ephraim Street
My aunt, Muriel Richards, went to school at Berry aged 5 and left the school aged 56 when she suffered from a heart condition. She progressed from school girl to pupil teacher under Miss Veale and was recognised as an unqualified teacher in her twenties. She wasn't recognised or paid as a qualified teacher until her forties. Apart from two terms during the war when she went to Instow and Parracombe to relieve the pupil number problem, due to an influx of refugee children, she taught Berrynarbor children to read and write in the infant department.
She had a wealth of local knowledge teaching the children hands on, walking the local lanes and footpaths. She knew every field name and could identify every hedgerow plant. Now I wish I'd paid more attention!
Lorna
Photograph by kind permission of Gerald Walters
---
The Tower
My grandfather told me that it was local knowledge that several Berrynarbor cottages were built to house the itinerant stone masons who came to the village when the church tower was built. The old church house, which stood to the right of the lych gate, was probably built at the same time and perhaps the church wall was constructed at the same time.
Lorna
---
THE HICKS FAMILY - BERRYNARBOR
The earliest reference to the Hicks family that I can find is the marriage of John Hicks to Tabitha Dennis - July 7th 1673. They've been around a long time!
The 1882 Tythe, records William Hicks at Blurridge Farm, Charles Hicks at South Lee and Thomas Hicks at Middle Hagginton.
Photographs Overpage:
The first shows Tom Hicks, his wife and son at Whitecote. Later Tom Hicks became Post Master at Langley House. The Post Office then moved to Lower Town, sometimes called Silver Street. The photos of Langley House show the family outside the Post Office.
The gentleman on horseback is Samuel Bowden, Michael's grandfather. His son Ralph married Tom's daughter, Emma Hicks.
They farmed Oakwell at Shirwell. In the photo, Samuel is possibly at Lower Rows, which he farmed before moving to Ruggaton. Another photo shows him with pony and trap at Watermouth Castle, possibly to pay his rent.
The first of the final two photographs shows Ralph Bowden and Emma [Hicks] at Oakwell Farm, The other, is also from the Hicks album but can anyone throw any light on what/where/who it is and why everyone has a bow on their dress or apron?
Betty Brooks, with her sons David and Kevin, are probably the only people with blood links to the Hicks family today. Bett's great grandmother was a Hicks. Lorna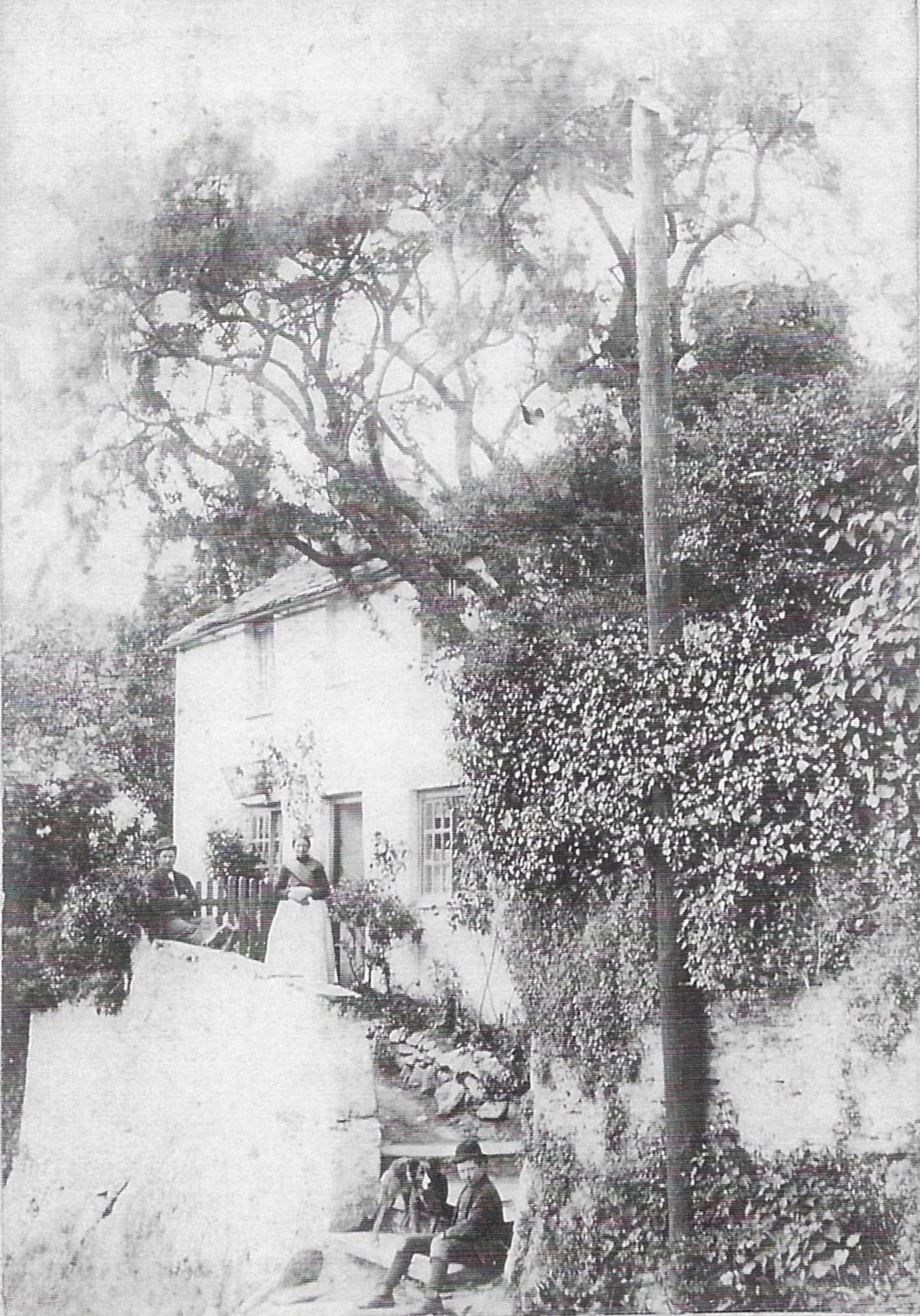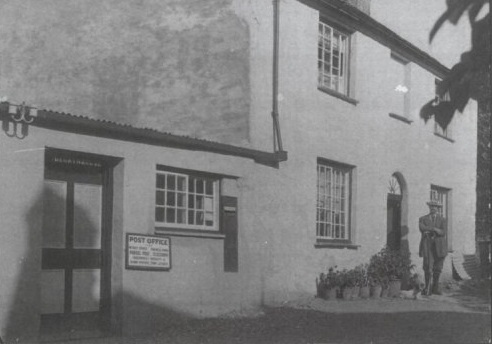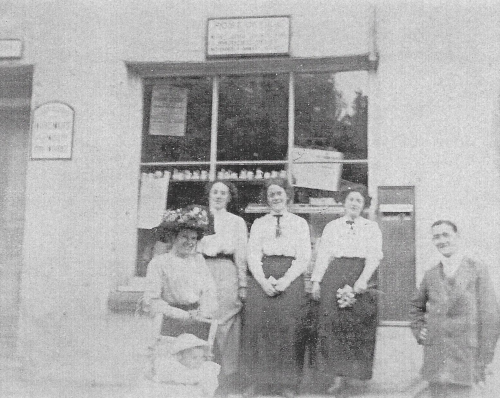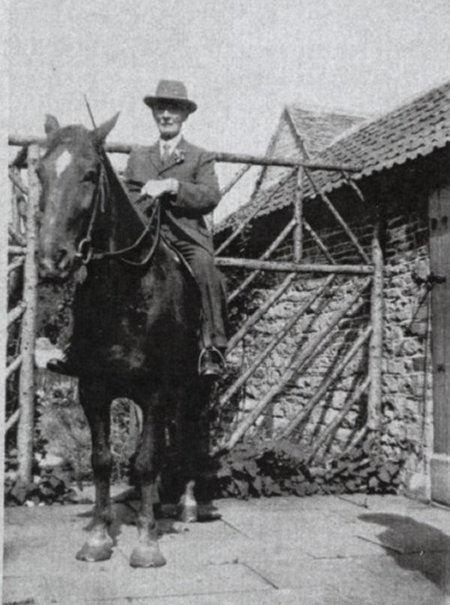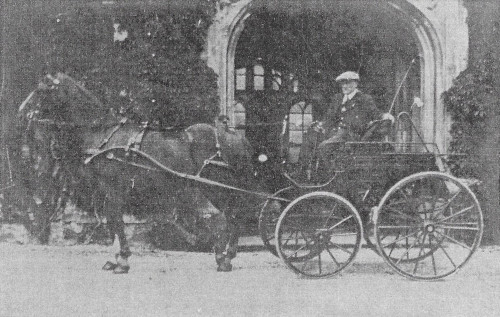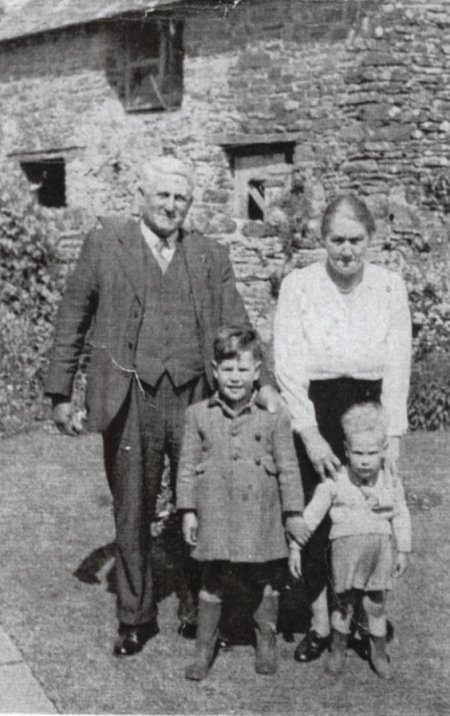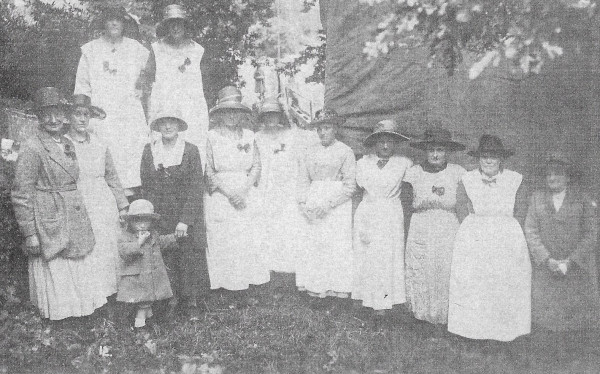 ---
BERRYNARBOR NEWS 1860
A court at South Molton hears that of the 6 houses at Berry Down Hamlet, "four of them are beer houses and Joseph Huxtable of the Smith's Arms, Berrydown Cross, is fined £1 for allowing police to drink in his house"! The old forge still exists.
My great, great grandfather, Richard Dyer, owned a beer house here. He was also recorded as the Toll Keeper, an auctioneer and maltster. The Dyer family were the millers and farmers at Berry Mill at this time. My great grandmother was born in 'the Old Court' - the old Manor House when local families occupied it.
Lorna [researched by Gary]
---
THE TOWER & BELLS OF ST. PETER'S CHURCH
The tower was built around 1480 and is one of North Devon's very best. Berrynarbor folk, of course, have always insisted that it is the best and it is quite right they do! There are precious few grand towers in this area where good building stone is hard to come by and, therefore, expensive. It may be assumed that Berrynarbor church at that time had wealthy patrons and that the village itself was important and relatively wealthy.
In 1553, at the succession of the Roman Catholic Queen Mary, following the recent 16 year old Protestant King Edward VI, the church in England was suffering a great upheaval. Someone was told to make 'an Inventory of Church Goods' throughout the land. Quite a task, but it is from this document that we have today a note of the number of bells in most churches at that time. Berrynarbor is recorded as having 4 bells, the norm for important towns and villages. Unfortunately, there is no record of the founders or donors of these bells unless the churchwarden's accounts are available for the period prior to this.
Again no sight has been made of the warden's accounts for the period between 1553 and 1722 and it is not known if they survive. Perhaps a local historian could help here? It is likely that the bells were recast as a result of becoming cracked. In any case, the obviously still wealthy parish decided in 1721 to have a new peal of 6 bells cast, with which to grace their fine tower. At that time, few Devon village churches sported a peal of 6 bells, 4 or 5 being the most usual number.
The Wardens and Incumbent of the parish then had to choose a bell founder to provide the new bells. The Pennington family were the principal founders in Devon and Cornwall for over 220 years from around 1600. They had, however, closed their foundry in Exeter and were operating from Stoke Climsland on the western banks of the River Tamar. The Wroth family were working from Wellington but the parish can be thankful that they were not chosen to do the work as their bells were generally very poor in tone.
Perhaps the choice of a Welshman might seem strange at first, but Evan Evans had already been working in North Devon and had set up a small foundry by the church at Braunton in 1713. Following his work for that parish, he went on to cast bells for seven other churches in the area and was, in 1721, casting a set of 5 for Cruwys Morchard. The Evans family bells were generally good in tone and their reputation ensured that many others were provided for Devon churches until 1756, including 4 notable bells for the immense peal at Exeter Cathedral.
So, the peal of 6 bells was made for Berrynarbor and almost certainly made at Braunton. The largest of these [the tenor] is 40 inches [1019mm]ds across the mouth and weighs approximately 11 hundredweights [550kg]. The smallest [the treble] is 27 inches [695mm] across the mouth. In 1893 it became necessary to recast the third bell and this work was entrusted to John Taylor of Loughborough, a company still making bells today.
Inscribed around the top or crown of the treble are the names of Evan Evans and his son William, and the date 1722. The second bell has inscribed the names of two gentlemen, taken to be the donors, John Tucker and Thomas Clark. The third bell had the inscription 'Edw. W. Richards: Wm. Morris Ch. Wardens'. The current third bell has the names for the two churchwardens of 1893, Thomas Perrin and John Jewell.
The fourth bell has the names of two more local worthies, again assumed to be donors: Thomas Lymbear and Thomas Witheridge. The fifth was apparently donated by a wealthy widow, 'Dorothy Francis, daughter of ye late Thomas Berry Esqr.' The tenor bell displays the names 'Joseph Davy Esqr. Lord of the Mannor [sic] and Richard Coffin Esqr. Edward Chichester Rectr [sic]. Presumably these were the two big landowners in the parish and the incumbent.
There is no record of the craftsmen who made the original frame and fittings for these bells, nor if there was any subsequent renewal until the current structure was provided in 1928 by Harry Stokes of Woodbury near Exeter who had been a bellhanger since about l877 and had built up a fine and deserved reputation for quality bell frames. This job was one of the last he completed. His earlier frames were of good oak timbers well framed up, but always open to the latest developments, for his last frames he provided cast iron. That this frame is still in good order is testimony to the quality of his work.
The elm headstocks to which each bell is fixed and from which they swing were also replaced in 1928, along with the bearings, clappers and pulleys. The bearings were replaced with self-aligning ball races at some time during the last 50+ years and the all-important pulleys more recently than that.
On Thursday [bell ringing practice night] the 23rd October 2008 at 8.30 p.m. the stub axle on which the tenor bell swings broke whilst the bell was being rung. Luckily there was no damage to either the bell or the ringer. This was mended by Matthew Higby of Bath, once again with the generosity of the parishioners, and rung again in February of the following year.
Researched and written by James M. Clarke who says that he has rung at many towers around the country but nowhere at a tower with a longer length of rope!
AND SO, TO THE RINGERS . . .
Some 54 years ago, Jim Brooks, Ivan and Bill Huxtable and myself decided 'to learn the ropes' and began bellringing. We had very good teachers - Percy Thorn, Reg Ley, Long Jack Draper, Frank Melhuish, George Diamond and Jack Dummett.
Besides carrying on a centuries old skill and tradition, it gave us the opportunity to ring at many church towers in villages all over North Cornwall, North Devon and North Somerset. In doing so, we met like-minded people, many of whom have remained good friends. We also rang in competitions further afield, using the traditional method of Devon Call Changes.
No two peals of bells are the same. Some are very light, some are very heavy. Then there's the range in between. The draught of rope from the bell to the sally can make all the difference to the ease of ringing. Our peal has one of the longest draughts in the country and is one of the most difficult to ring.
The weather can also affect the ropes. On rainy, damp days, the ropes stiffen and shrink, sometimes rising the sally by a foot, making it necessary for ringers to stand on boxes. When the weather is warm and dry, ropes become very floppy and tend to dance about when being rung. The use of nylon in the modern ropes has alleviated a lot of these problems.
The art of call change ringing is to keep the bells cartwheeling at a constant rhythm and pitch. The ringer should listen to and count each bell. When a change is called, the ringer has to cut, or lie off, so the bell changes place in the sequence without altering the pitch or rhythm of the cartwheel - that's the aim!
Perhaps the most memorable day for me was ringing out the last thousand years and ringing in the next. A thousand years ago there was a little Saxon church in the village and I daresay the folks then were celebrating like us and perhaps the priest was ringing a little hand bell!
Michael [Bowden]
remembering good ringing friends, the late Jim Brooks, Ivan [Aggie] Huxtable, Derek Jewell and Walter White.
Michael has been Captain of our bell ringers for about 50 years and he and Ronnie Phillips, who do not like the modern way of 'method ringing', have trained many would-be ringers over the years. They use the call change method which has come down the ages from medieval times. Hopefully this method of ringing will be handed down to future generations.
LB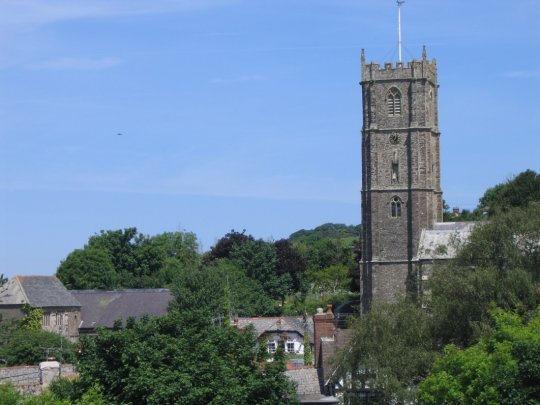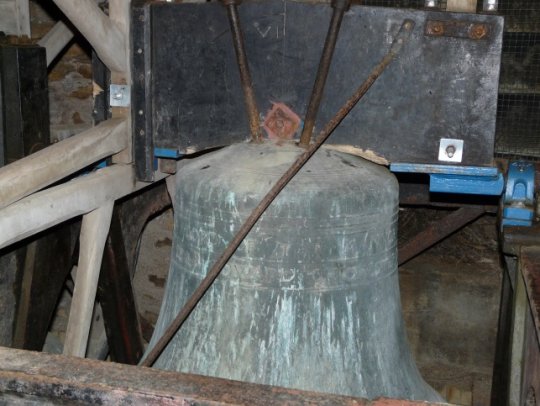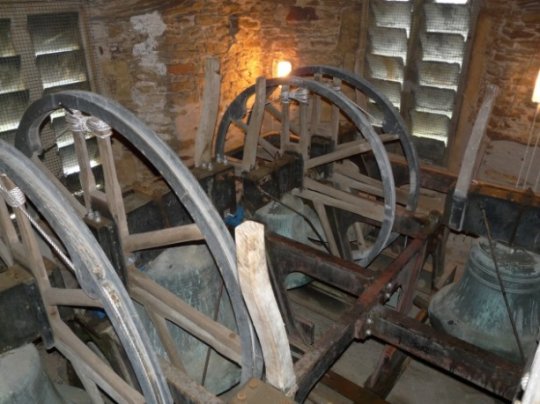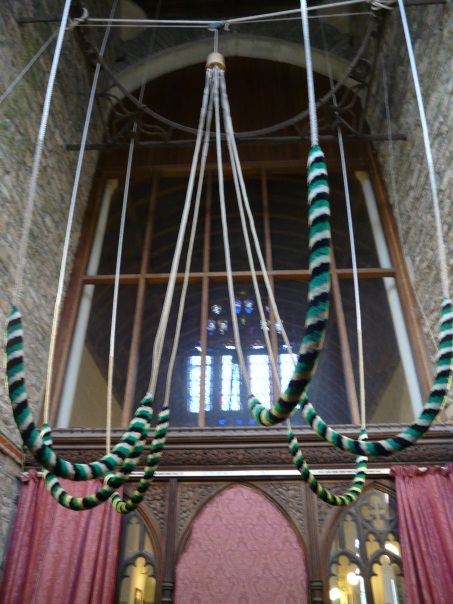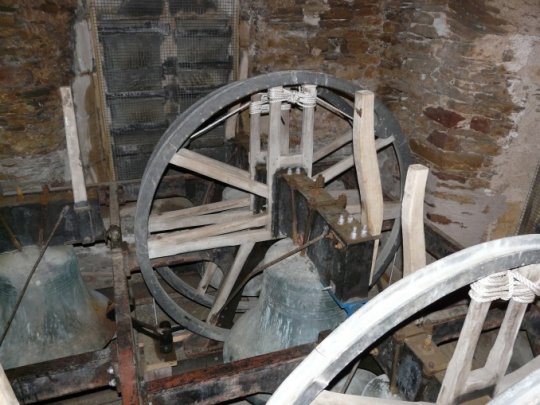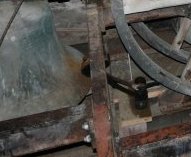 Finding this article about the bells and ringers fascinating, I thought I really should see if I could take a photograph of the bells. My sincere thanks to Kevin - whose official title is Tower Keeper, and who, with Richard Barrett, was muffling the bells for Remembrance Sunday - for taking me up the tower, in spite of my dislike of both heights and confined spaces! What a privilege.
The photos show
[1] the tower
[2] the tenor bell and its new stub axle
[3] the tenor bell and to its right the treble and No. 2 bell
[4] the new green, white and black sallys
[5] the Nos. 4 and 5 bells
[6] the clock striking equipment on the No. 4 bell, which is struck to mark the hours
[7] the positions of the six bells
I understand that the No. 5 bell, the tenor bell, treble bell and No. 2 bell swing from north to south, and the Nos. 3 and 4 bells from east to west.
Today, under their Captain Michael Bowden, our team of ringers are: Kevin Brooks, Richard and Geoff Barrett, Michael Johns, Ron Phillips, John and Kay Webber, Bill Huxtable, Elaine Filer, Gerald Walters and Norman Sanders. With their 'L' plates on and learning the ropes are Pat Weston and Debbie Thomas.
Thank you all for keeping our bells ringing - a wonderful sound.
Ed.
---
THE RECTORY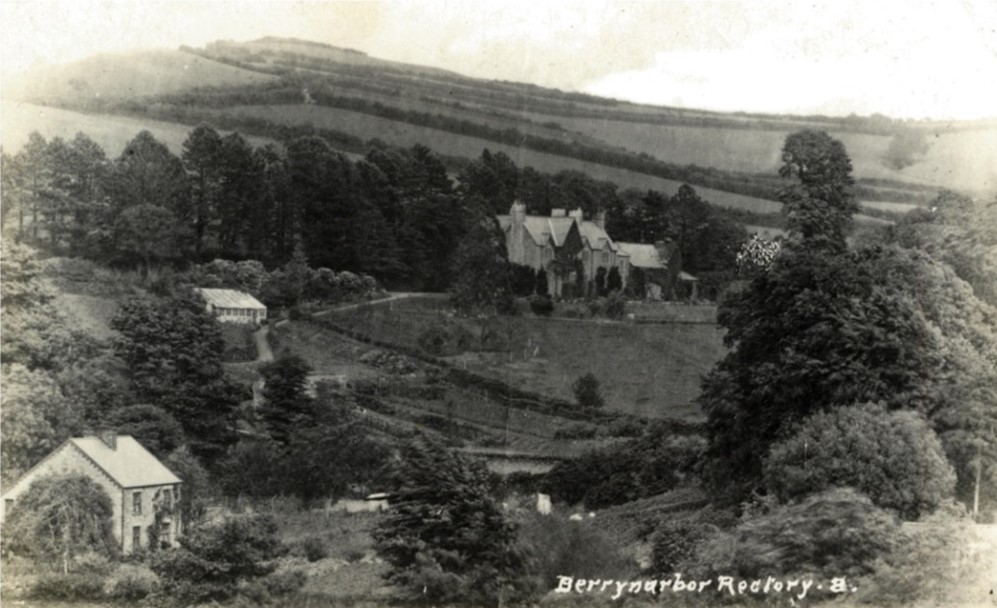 This postcard of an ivy-clad Rectory is as I remember it as a small child. There is a large glass-house in the garden.
The two cottages are Rectory Cottages, now Wild Violets. They are in the area of the original parsonage. The roof in the bottom right must be the old Temperance Hall which was used for social events and meetings before the Manor Hall was built.
There must have been facilities for washing at the Temperance Hall because my great-grandmother and grandmother did the laundry there for the Rev. Churchill's family at the Rectory. In fact the white spots at the bottom of the picture are probably clothes drying on the bushes.
Nanny also did the washing for the Collins family at Widmouth House. Dad and Aunty Lorna had to deliver the laundry to Widmouth before going to school on Tuesday morning, whatever the weather!
Lorna
---
JOY IN THE VILLAGES
Berrynarbor's Record Day
"The loyalty of the residents of Berrynarbor was demonstrated in no uncertain manner. The Committee worked hard to achieve success, and had the co-operation of every resident, down to the humblest cottager. Indeed, the spirit of co-operation was never more strikingly exemplified, and it was without doubt the most successful and enjoyable day in the history of this ancient village.
"The Jubilee* spirit was everywhere, and it was a day that will never be forgotten by those who were privileged to take part. On behalf of the Parish Council, Mr. Wm. Draper, the Chairman, sent a message of hearty congratulations to Their Majesties and a gracious reply was received.
"Every seat in the ancient Parish Church was occupied for the morning service, which was conducted by Rev. Cain in the unavoidable absence of the rector, Rev. R. Churchill, the lessons being read by Mr. C. Whale as representing the Nonconformists.
"In the afternoon there were sports for the children, and what a joyous time the youngsters spent in striving for the numerous prizes! The sports were followed by a tea, to which every parishioner was invited. There was happiness everywhere; and outside the flags fluttered in the breeze, giving the whole village an atmosphere of festivity and rejoicing.
Nearly 300 at Dance
"The climax to a wonderful day was reached in the evening, when the Manor Hall attracted a crowd of nearly 300 for the dance in aid of Ilfracombe Hospital. Here again the carnival spirit was supreme, and all agreed that it was a record-breaking function. The decorations were of a comprehensive and charming character. The hall was floodlit, and the fairy lights added to the pretty scene.
"Mrs. Penn-Curzon, C.B.E., looked in during the evening, and during an interval delivered a happy little speech on the significance of the day, saying how thankful all were that King George and Queen Mary had been spared to reign for such a long period. Mr. H. Holbrook, hon. secretary of the Ilfracombe Hospital, in a few well-chosen words, thanked everybody for supporting the hospital funds in such a handsome manner.
"There was also a huge bonfire, which illuminated the whole countryside.
"The following day teas were taken to those who, owing to old age or infirmity, had been unable to attend the festivities the previous day.
"Berrynarbor certainly showed a wonderful spirit in celebrating the Jubilee.* "There was not a single hitch, and all pulled together for the good of the whole," remarked a member of the Committee."
Things don't change in Berry, do they? This cutting was taken from the North Devon Journal and kept by my grandmother, who must have enjoyed herself.
Lorna
* Silver Jubilee of King George V, May 1935.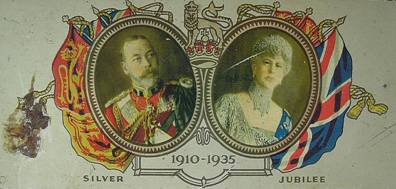 The First World War broke out in 1914, during which the King made several visits to the front line in France and Belgium. He was a war casualty himself: during a visit to France in 1915, his horse rolled on him and he received serious internal injuries from which he never fully recovered. The 1914-1918 war enabled the King and Queen Mary to come into close contact with the mass of their people, to an extent unknown since the seventeenth century.
---
I DON'T WANT TO LIVE IN A COMMUNE!
Community - dictionary definition 'a group of people living in a particular place: the place in which they live, a group of people bonded together by a common religion, nationality or occupation i.e. The Asian Community.'
Can we please go back to being villagers, parishioners and neighbours - a word with Anglo Saxon origins?
I don't want to live in a commune - 'a number of unrelated families and individuals living together with shared accommodation, supplies and responsibilities.'
I want to go the village shop, pubs and school and the Parish Church.
I noticed that in her Millennium speech, the Queen didn't mention communities, just neighbourhoods. What's good enough for the Queen is good enough for me!
Lorna Bowden
---
REMEMBERING D DAY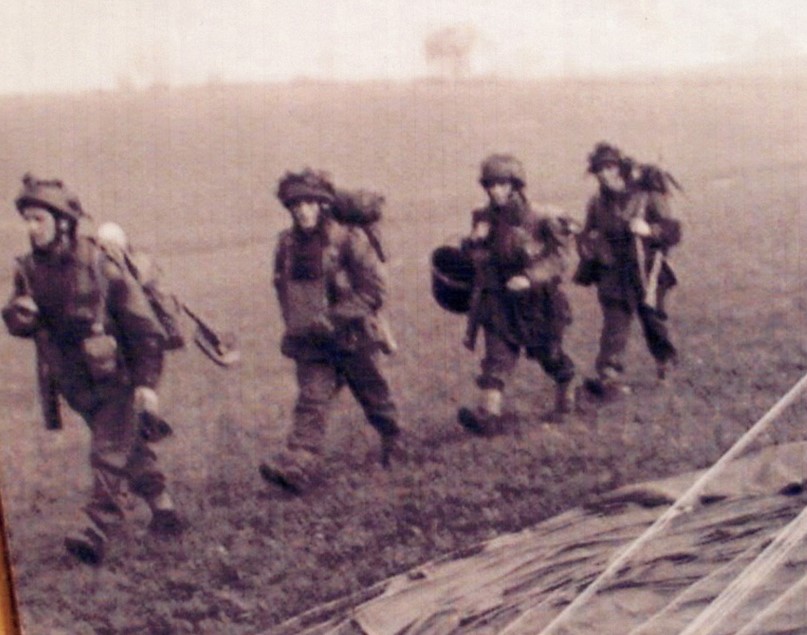 This photograph is of John Stewart [2nd left] landing at Ranville, France, to defend Pegasus Bridge. He went in by the third wave of gliders. John was tall but the angle of the camera makes the men look small!
John, who married my cousin Margaret Gove-Price, was born in West Point, Ireland. His mother was determined he should follow her catholic tradition and join the church. John was having none of it and took himself off and joined the Royal Ulsters at the age of 16 years as a boy soldier.
He saw action in China, India and Egypt before D Day. Michael and I visited Ranville some time ago and found the people in the museum there very helpful.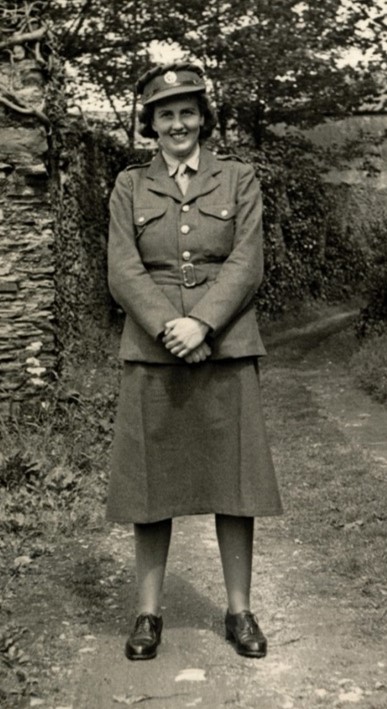 Margaret joined the army at 18 and went into Belgium with Montgomery. She was clerically trained and helped establish hospitals for the war injured. A Berrynarbor girl, she and John married after the war and settled in Barnstaple.
Lorna
---
THE VENTURE COTTAGE RING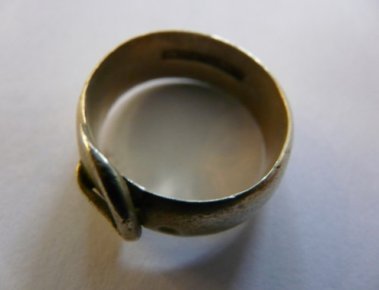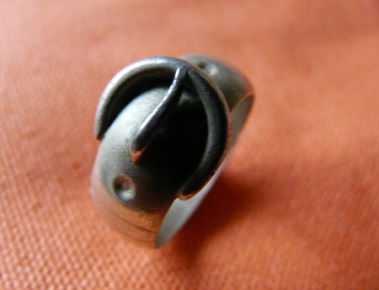 When Sue and Eric Longstaff lived at Venture Cottage in the 1960's-70's, they had a problem with an old crumbling fireplace. In the process of renovation a silver ring fell out from amongst the old masonry.
The ring, made like a miniature belt, is stamped 'Persian Silver'. I should love to know how old it is as it could possibly have been lost in the original structure. On the other hand, it may have been hidden there to ward off evil spirits and witches, a common practice in Medieval and Tudor times.
Barnstaple Museum was unable to help with dating the ring. But as Peggy and Laurie Harvey have traced the origins of Middle Cockhill to the early thirteen hundreds, it is feasible to date Knacker's Hall, Venture Cottages and Lower Cockhill's origins to a similar date.
These dwellings are built along the ancient Parish Road which was the only way through this part of the Sterridge Valley until the late 1800's. It was long established when John Jewell and his family made their way along it to church in the early 1500's.
Lorna
---
AUSTRALIAN AVIATION - THE SOUTHERN CROSS
We have been looking through the 100 year old Visitors Book belonging to Mrs. Bray who was Landlady of The Globe, Berrynarbor, at this time. On the 23.12.1916 we found signatures and writings of two Australians who were attached to the Royal Flying Corp.
One man, Charles Kingsford Smith, turns out to be quite famous. He joined the Australian Forces in 1915. Initially he was sent to Gallipoli as a motorcycle dispatch rider. He then transferred to the Royal Flying Corp earning his wings in 1917. On the 23.12.1916 Charles and a friend 'flew off course' and landed up in The Globe. They were probably patients or visitors at Watermouth House Hospital which the Book records opening on 21st November 1914. His friend wrote the following poem in the Book.
"Oh ship me somewhere south of Suez, where the best is like the worst
Where there ain't no Ten Commandments and a man can raise a thirst
For the kangaroos are calling and it's there I would be
On my good old stock-horse Possum, neath the wattle tree."

Charles Kingsford Smith turns out to be a real son of Australia taking aviation to new heights for his country.
1.4.1918 he, with others, joined the newly established Royal Air Force

1919 he was demobbed in England. He joined Tasmanian Cyril Maddox forming a flying Joy Ride service in N. England using DH6 trainers and BE2's

Went to the USA as a Barnstormer

Returned to Australia in 1921 continuing the Joy Rides and forming a flown Air Mail Service. He began planning his record breaking flight across the Pacific

He gained his commercial pilot's licence and became one of Australia's first airline pilots.

During the war, Carl Richards had been observer in Smith's 'plane while flying over France. In 1922 Smith flew off Cowra in his Avro plane to visit his friend. They flew under the Cowra traffic bridge and attempted to fly under the railway bridge, but noticed telephone wires and pulled away only seconds from certain death.

1928 Trans-Pacific Flight
Kingsford Smith and Charles Ulm arrived in the USA and bought a Fokker FVII/2M aeroplane from Sir Hubert Wilkins, the famous Australian Polar explorer, which they named The Southern Cross. Kingsford Smith and a 3-man crew left Oakland, California, to make the first successful trans-Pacific flight to Australia. Aviator Charles Ulm was relief pilot, American James Warner the radio operator and Captain Harry Lyon the navigator and engineer. From here the tale goes on:
1928 Flight across Australia from Point Cook-Melbourne to Perth. 2nd Sept from Richmond near Sydney to Christchurch, South Island, New Zealand
1930 Following numerous other flights including England to Australia. A postage stamp featured his name in 1931 and a 20 dollar note had his name and photo printed on it in 1932. He was included in the King's Birthday Honours List then Knighted on 3rd June 1932 by the Australian Governor General, Sir Isaac Isaac for Services to Aviation. Later he was appointed Honorary Air Commodore of the Royal Australian Air Force.
1935 When trying to break the England to Australia speed record, Sir Charles Kingsford Smith and co-pilot Tommy Pethybridge flying 'The Lady Southern Cross' disappeared over the Andaman Sea in the early hours of November 8th 1935. They were never found. 18 months later Burmese fishermen found the under carriage, leg and wheel with its tyre still inflated. These were washed ashore at Aye Island in the Gulf of Martaban. They are now on public display at the Power House Museum, Sydney.
A very sad loss to both families and the whole of Australia. Time for us to remember all men who came to our assistance in our time of need and our brave forces of today.
It is great to think Charles Kingsford Smith and his friend chose The Globe at Berrynarbor as one of their 'missions'!
On a local note, the following entry was made in The Globe Visitors Book:
3.8.1919 BOYS OF THE WEST -
SHAMMOCK DEVON
Mr. H. Down RF
Mr. A. Baker MT
Mr. W.W.J. Darch ASCTS
Mr. E. Down PW
Mr. C.W. Latham MG
Mr. J. Gubb DSO
Mr. F. Huxtable CO
Mr. Horace Baker HMS Dauntless
Shammock = Combe Martin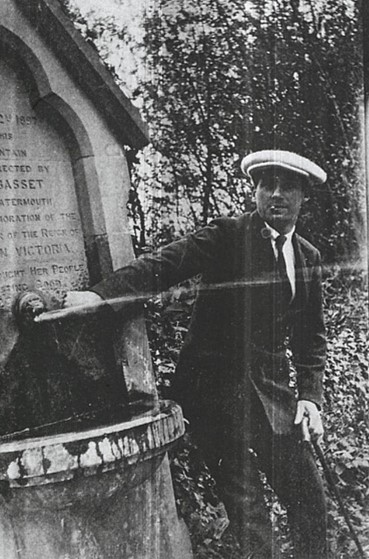 Most of these men have families living in the area today. The picture shows Alf Baker messing about with his friends at the Victorian Water Fountain at Sawmills - probably taken on the same day as they had visited The Globe.
Lorna
Thanks to Gerald and Ena Walters and family who helped with the research on Charles Kingsford Smith.
---
POST-SCRIPT TO JAN BRAGG'S HILL
It was the mis-quotation in the Journal's article about Ron's book naming Jan Bragg's Hill as Yan Briggs Hill that prompted me to write in the last Newsletter. The interviewer couldn't haveeen tuned into Ron's rich Devonshire accent!
To correct myself, this is Michael Wharburton's copy of the 1842 Tythe Map showing Rectory Hill and the footpath that runs through The Lawn. The hill is part of the ancient Parish Road system lellading from the village to the Valley and Ruggaton Lane. The older map shows the road travelling around Rock Hill past the Old Parsonage.
Jan Bragg was born about 1795-6. The 1841 census records him as a quarryman living in Berry Village. The 1851 census records him as blind. I think it is feasible that he was working on the widening illHill and improvement of Rectory Hill when the accident occurred. Hence the local name Jan Braggs Hill.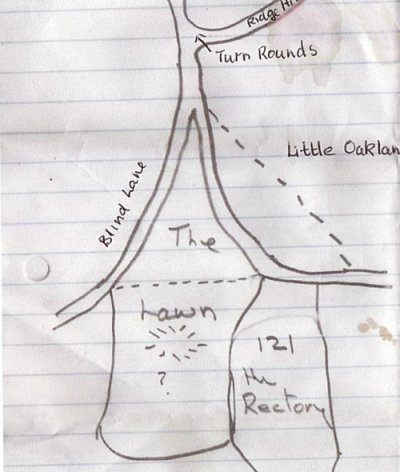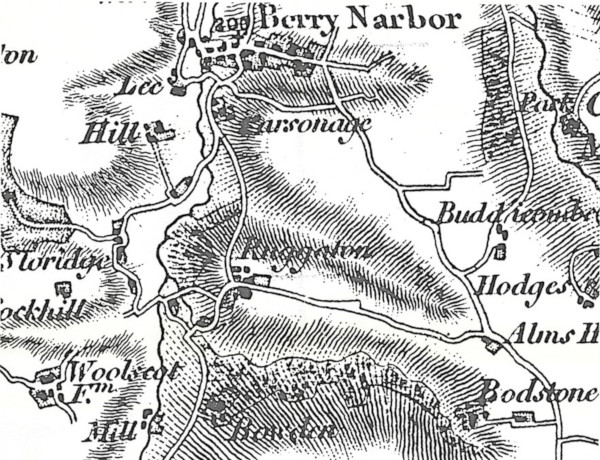 On a personal note, my granfer, Dick Richards, as a young man working in Bament's Quarry, was caught too near a blasting explosion. As a child I was fascinated by the blue gunpowder spots that peppered his forehead. He always said he was lucky to be alive and not blinded.
Judith Adam kindly solved my problem with the word 'knap': Knap, Knapping and Knapping hammer = a dialect word meaning to hit, hammer or chip. History - 15th Century'. Funnily enough, Bament's Quarry lies above the Sawmills in an area known as The Knapps.
"The 1555 Highways Act made each Parish responsible for its own roads and local people were expected to work on the roads for 6 days each year. This was unpopular and the roads were neglected, especially in Rural Devon. Wheeled traffic was consequently both difficult and rare. There were few new roads built and the road network changed very little between the Iron Age and the mid-18th Century. An Act of Parliament in 1706 permitted Turn Pike Trusts to build roads and charge tolls."
My thanks to Gary Songhurst who, knowing my phobia with the computer, prints off any local history material which he finds on the internet. Also to Michael Wharburton who was brought up at Hammonds Farm and has an in-depth knowledge of the history of mining in the locality.
Lorna
---
JAN BRAGGS HILL - RECTORY HILL
Jan or Janny is a local familiar name for John and is still used today.
In the 1800's an extended family of Braggs lived in the village. Of these, I think Jan Bragg senior was the man who lends his name to Jan Braggs Hill because he was a 'quarry man'. As such he would have been experienced in the use of explosives and stone-knapping. This was the term used for breaking up large stones into small ones used to dress roads. I think it must be a local word because I can't find it in the Oxford Dictionary. There are many old quarries in the parish.
During the late 18th Century and into the 19th, the Industrial Revolution was changing the face of Britain. There was extensive building of new roads, railways and bridges. During this period most of our ancient Saxon lanes, which criss-crossed the parish interlinking farms, villages and towns were being improved. Many were widened, levelled and hedged with high wide banks, which are a feature of our countryside today.
The old ways were only suitable for walking or riding on horseback. They were the routes of the pack-horse trains carrying goods - the original door to door salesmen. Drovers followed these ways taking all kinds of livestock to markets near and far.
Jan Braggs Hill didn't exist on the 1842 Tithe Map. Just Blind Lane and the track across Little Oaklands, which led into the valley around Rock Hill via what is now the main drive to Wild Violets and the drive from Orchard House. Rock was probably already partially quarried for its slate. Neverthelessill was probablyt already partially quarried for its slatewas , the cutting of the road through was no mean feat with a pick and shovel. The Reverend Chichester in 1727 wrote in a terrier to the Bishop of Exeter about his 'necessary house' [toilet] being 'covered and slated with ye Berry Flat Stone'. As Rock Hill was on the doorstep of the original old parsonage, it must have come from here.
Jan Bragg died a blind man and in poverty and is buried in the churchyard.
I think it would be fitting for a little memorial to Jan Bragg to be placed at Turn Rounds. It would remind us of how much was achieved by the men of his generation by the strength of their arms and the sweat on their brows for little return.
Lorna - with help from Garry S and Micky W.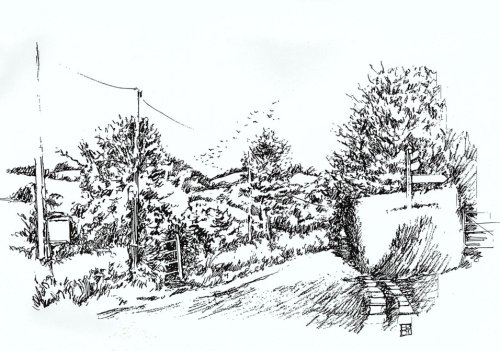 Peter Rothwell
---
THE FOXY GENTLEMAN
I'm often asked "Why the fox weather vane on the church tower?" The original traditional weather vane was damaged beyond repair in the gales before Christmas 1981.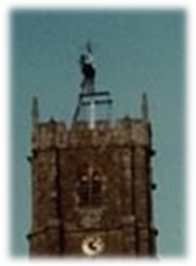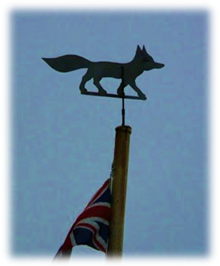 John Barten of Lydford Farm offered to replace it. The fox has had its nose to the wind ever since. It was no mean feat to take on this task. John has not been very well lately and we wish him well. John is the brother of the late Sally Barten who so often entertained us with her beautiful voice. She was the mother of Wendy, Rachael and Janet Fanner. They ran the Manor Stores when it was a shop. Wendy and Rachel emigrated to Australia about twenty years ago.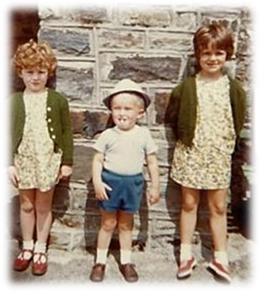 Rachael and Wendy with Bobbie
Lorna
---
BERRYNARBOR VILLAGE PLAYERS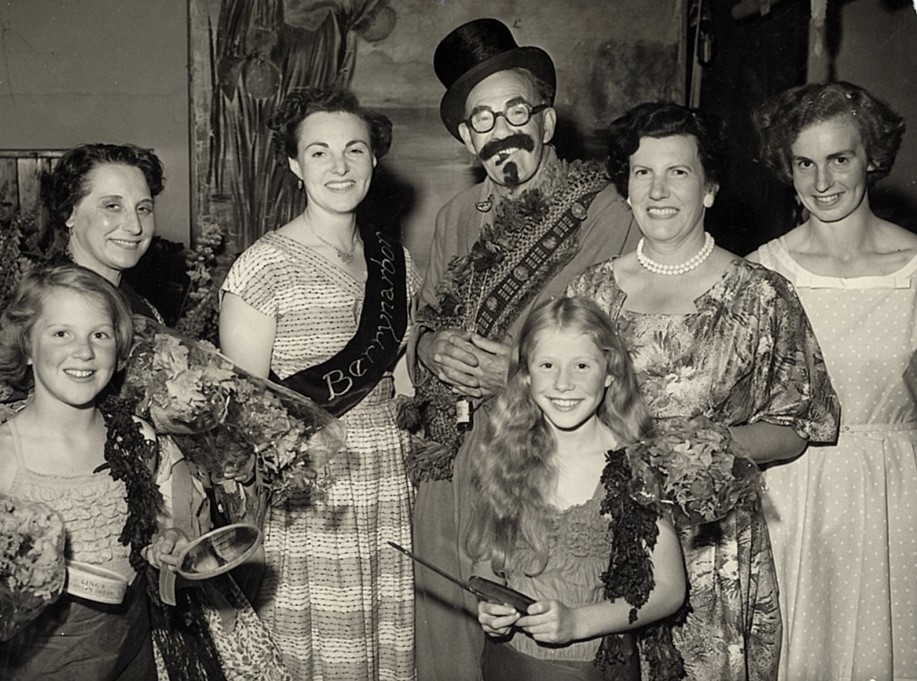 Before the BBC were the Berrynarbor Village Players. This photo is of some of them, raising funds for their next production. The event is a Summer Dance to choose 'Mrs. Berrynarbor' in 1958/9?
Left to right: Ella Graves, Silvia Berry, Don Ward [Producer], Muriel Richards and Rita Smith
In front: Sonia Stoddart [Duckett] and Elaine Crighton [Fanner]
LB
---
BEEF FOR CHRISTMAS
Not being over fond of the traditional turkey, we thought this year we'd support the local farmers and treat ourselves to a prime cut of Devon Ruby Red beef.
I thought you might be interested in the following extract from 'A History of North Devon' written by the Rev. Richard Polwhele in 1797.
"Whether the famous breed of cattle in the North of Devon are indigenous or not, is not easy to determine. They are in many respects superior to any other breed in the kingdom, and those around South Molton, North Molton and Barnstaple excel most other in the North of Devon. These are the finest bullocks in Smithfield markets. They are a very healthy breed and easily fed. They are fleshy with small bones and they bear the best weight on the most faleable parts. They are cherry colour or bright red.
"Farmers chuse to breed only one colour and are as particular in the points of a bullock as those of a horse. A small defect or disproportionate horn will depreciate a bullock twenty shillings.
"Here breeding bullocks are the farmers chief dependence, which they generally part with at about 4 yrs old, about half fat, when the Somerset graziers come down and buy them, work them for two years or three, then fat, drive them to London.
"Numbers of bulls are bought at a high price and sent even to Jamaica. A heifer was bought lately for 30 guineas."
Ivan and Bill Huxtable were the third generation to breed Red Devons at Woolscott, following their father Jimmy and grandfather Alfred. Bill says the Woolscott herd would be housed during the winter and fed home grown swedes, rolled barley and hay with a supplement of essential minerals. In the spring they were turned out to 'green pastures' in the Sterridge water meadows. The bullocks were sold at 2-21/2 years and the heifers at 12 months at Hatherly Market.
Sadly it is difficult to find a Devon bullock in a field in the Parish today.
Lorna and Bill
The photographs show some of the Woolscott herd in Venture Meadow, so named in the Estate Sale of the 1920's. I love the use of natural resources in the unique gate post.
These meadows, hedged with stone walls from Woolscott Quarry are a feature of the Sterridge Valley from Harpers Mill to Barn Cottage. Sadly, from neglect, they are disappearing in places. Bill says the meadows were rich in nature's herbs and were excellent for fattening bullocks. L.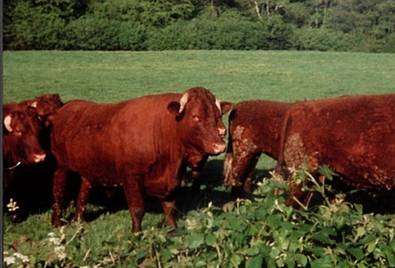 Ivan and Bill Huxtable's Red North Devons.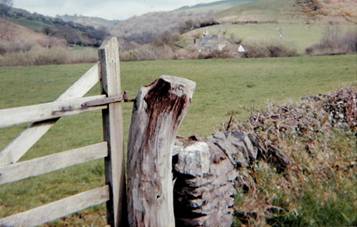 Sterridge Meadow Bountice Lane
---
THE HISTORY OF BERRYNARBOR
A photograph of Westaway, Pilton, was recently featured in the 'property for sale' section of the North Devon Journal. It is situated behind the tall garden wall, on the right, when approaching the traffic lights by North Devon Hospital. It was formerly one of the Bassett estates.
It wasn't the price tag that motivated me but the porch covering the main entrance. I visited Westaway some years ago and remember the porch decorated with initial plaques of the Berry family, identical to those surviving in Berry today. In 1889, following a fire in part of our old Manor House, the porch was dismantled and rebuilt at Westaway. I have also read 'To that place also were taken the arms of Plantagenet and Bonville and other families, with carved work'.
The Name Berrynarbor is derived from:
1. HEORTS BURH = Heort's farm of homestead. It is an old English name from the Bronze/Iron Age people who lived here - the ancient Devonshire DUMNONII tribe. He must have been an important or remarkable man for his name to survive down through the ages. It is interesting to note that cremated human bones were excavated about 1840 from one of the 9 round barrows located in the Century Lane- Berry Down, area. The bones were covered with an inverted clay pot decorated in the style of the Celtic Beaker People. Thankfully, now these burial mounds are protected from being ploughed out.
Heort was probably familiar with the ancient white, ceremonial standing stones erected at Stonelands, now called Maddox Down, on Long Lane. Sadly, the last surviving stone was shattered by lightning not very long ago. I think it's fitting that our famous parishioner, Damien Hirst, has placed two large white stones at the entrance to his home at Yellaton Farm. Michael Johns dug them out of a neighbouring field with his digger!
2. HURTESBURY - in Saxon times. Before 1066 it belonged to Queen Edith, wife of Edward the Confessor. William gave it to Walter of Douai following the conquest.
3. HURTSBURY, BERIE, BYRIE, BURY - early Norman spellings.
4. BERRY YN ARBOR - BERRYNERBERT - Welsh and Norman
Relating to Phillip and William de Nerbert = Narbeth, the ancient county town of Pembrokeshire. Yn Arbor was its old Welsh name which translates to 'by or near the trees'. Nerbert was the Normanised version.
"In AD1196, the manor was held by William Nerbert. There is no doubt about William Nerbert as he was a plaintiff in a suit with William de Poniard of Lidiard, as to a Knight's fee in East Hagginton. William Nerbert gave up his claim to East Hagginton on which William de Poniard gave up his claim to Yellaton, Indicknowle and Hempster in Berry [still farms today], and two ferlongs in Stapledon and La Ferse [Stowford] and the mill with a road in Hagginton, with the hamlet that is between Bethum Mill and the old ditch" [must be Hele].
There is quite a long list of Knights holding our Manors, either in their own right or from another person or in the honour of various religious establishments [the feudal system in action]. This is not surprising considering the life span of an active knight was about 30 years. It is feasible that many arrived from Pembrokeshire. Historians all agree that access to the South West from the rest of England was very difficult over land. In Pembrokeshire the Knights Templar had built hospitals or hostelries at Slebech and Templeton, where knights returning from the crusades or disturbances in France [sounds familiar!] could rest and heal.
When recovered they would make a pilgrimage to St. Davids to restore their souls. They then needed to get literally fighting fit again and find somewhere to invest their spoils of war. Travel through Wales was very dangerous as the Welsh were far from subdued. A ship from Milford Haven or Tenby would have been the easier option. As there was a jousting school, for training and practice at Pilton [see The Knights of Raleigh by Pat Barrow], Barnstaple would have been a convenient destination.
Perhaps it was by this route that the knight Ralph and his son Richard arrived in Berrynarbor in the early 13th century. Ralph took the name Berry as a surname [various spellings]. His descendants survived here for 500 years through the reigns of 17 monarchs and off-spring can still be found in the area today. They would have benefited from the growth of the lucrative wool trade. They replaced the old Saxon Manor House with a much grander one built in stone in medieval times which they decorated with rich carvings. They oversaw the change from the old feudal system and the Saxon method of open-strip farming by enclosing smaller fields with hedges. They encouraged the rights of yeoman farmers. In 1540 they witnessed the building of the new church tower.
They were both Catholics and Royalists, not always the safest of choices. In 1641 Richard Berry Esq., John Sampson and John Humphrey did not assent to the Oath of Protestation [a public oath supporting the Protestant religion in England]. 127 men in the parish did - women didn't get the option! And Bishop Jewel must have turned in his grave.
His Royalist sympathies would have put him in a peculiar position during the Civil Wars, 1642-46. The majority of people in the South West supported Parliament, so he probably kept his head down. On the other hand, was he involved in the skirmish at Stonelands, which involved Colonel Maddox? The Royalists were chased to East Down where some took sanctuary in the church. Local people remembered the Colonel's efforts by renaming Stonelands as Maddox Down.
Under the stewardship of the Berry family, Berry Narbor flourished and grew. In 1708 Thomas Berry died without an heir. His estate was sold to Colonel Bassett of Heanton. They probably put a bailiff here, but never lived here themselves. They enlarged the estate by buying out most of the freeholders in Berry.
Subsequently Francis Bassett, the last of the line, died and his wife's nephew - Davey of Northam - inherited and took the name Bassett in compliance to his uncle's will. It was Joseph Davey Bassett who built Watermouth Castle which was completed about 1850 and is so well maintained by the Haines family today. By now the Manor House in the Old Court had been stripped and local families were renting it. The 1861 drawing [below], which we own, shows it in its dying years. Soon part of it will be ravaged by fire.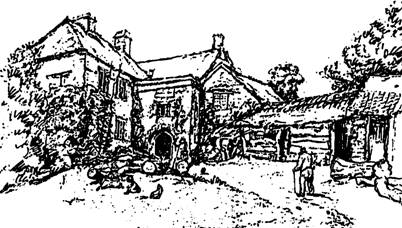 The East wing was rebuilt as a large hall which the parishioners were allowed to use for meetings and social functions. Previously the Old Temperance Hall had been used, the remains of which still stand in the grounds of Orchard House.
The Bassett's lived in Berrynarbor for just three generations. It was the incident of the ferris wheel and a very expensive law suit that was probably the reason. The estate was sold off in the 1920's. Funnily enough, many local people bought their own farms - what goes around, comes around!
The Old Court and its new Manor Hall was purchased by BerryNarbor parishioners in about 1946. I'm not sure if the Parish Room was included. This was made possible with a loan from Alderman Fred Richards. Lizzie Toms was one of the first trustees, but I'm not sure who else. Local men set-to and built a skittle alley where the Bassett Room now stands.
For about a century, Edith Penn Curzon has been a silent witness to concerts, whist drives, dances, public meetings, lively political meetings, harvest suppers, the Parish children's Christmas party, play schools, youth club, dramatic productions, Revels, the W.I., jumble sales, the Horticultural Show, farmers' markets and recently school lessons, private functions, exhibitions, keep fit and craft classes.
Coincidentally, Edith's son Charles Penn Curzon went to Pembrokeshire in the 1920's to invest in the fishing fleet at Milford Haven. He built a lovely new house on a small estate in Hakin and called it Westaway. My father left Berrynarbor, aged 19, as his gardener. I was born a stone's throw away from Westaway.
Next time you visit the Manor Hall, glance up at the Berry Family Plaques and remember it was they who sculpted and nurtured the unique agricultural landscape we enjoy today.
Lorna
With the help of Westcote, Risedon, Camden, Polwhele and others and the 1985 translation of Devonshire Domesday. I am no historian, just love local history, which is my heritage. Please feel free to correct me if wrong.
---
BERRYNARBOR WATER MILLS
When walking in the Sterridge Valley, do you stop on Riversdale Bridge and watch the stream gush over the rock-step to the pool below? Even when not in spate, the power of this tiny waterfall is quite awesome.
In these difficult times, do you wonder why water-power is ignored as a source of energy? We have plenty of rainfall feeding our rivers and streams. Surely, small unobtrusive turbines along the length of our stream would go a fair way to supplying our local electrical needs.
There are many streams and rivers in North Devon which over the centuries have driven water wheels, benefiting the welfare and industry of local people.
Our own little stream, which rises above Ettiford Farm and is fed by several tributaries on its way to Watermouth, powered at least three mills along its course. I also know of three farms, and suspect that there were more, that used their own waterwheels for 'drashing', milling their corn and shearing sheep. One at Stowford, another at Wheel Farm and Uncle Jimmy, Ivan and Bill Huxtable were still using theirs at Woolscott in the 1950's. The alternative was horse power in a 'round house'. A lovely example can be seen from the road at Widmouth Farm.
I don't know how old our mills are. They were not listed in the Domesday Returns 1085. We know the Normans were master builders in stone and as the country settled down under their control, the old Saxon wooden buildings would have been replaced in stone. Hele Mill, according to an ancient deed, was operating in the early 1300's in the reign of Edward III. As our own Manor House, sometimes referred to as 'The Old Court' was built about this time, when the Berry family was established here, it is feasible to assume that Berry Corn Mill was built at the same time. Also, with the coming of the Normans, the sparse rural population of North Devon in Saxon times, expanded. The growth of the cloth trade gave farmersa market for their wool. More and more pasture fields were being created by clearing woodland.
Whereas previously local people would card, spin, weave and tuck cloth for their own needs, they were now making cloth for a wider and lucrative market. Because our 'roads' were no more than rough, ancient, ridgeway tracks, most of the cloth was exported from Barnstaple and Bideford by ship.
Tucking is an old Devonshire word for processing woven cloth. Elsewhere it was known as 'fulling'. Lengths of cloth were soaked in vats or urine to shrink it. Next it was trodden by foot to raise a close nap on the surface. Finally it was washed and hung out to dry in the 'Tucking Meadows'. With the growth of the cloth trade, this process was soon being performed by 'tucking mills'.
Of our three mills, I think Harper's Mill would have been a tucking mill. It lacks the tall stature of a corn mill and its enclosed position, at the head of a steep valley, doesn't lend itself to dealing with long lengths of timber.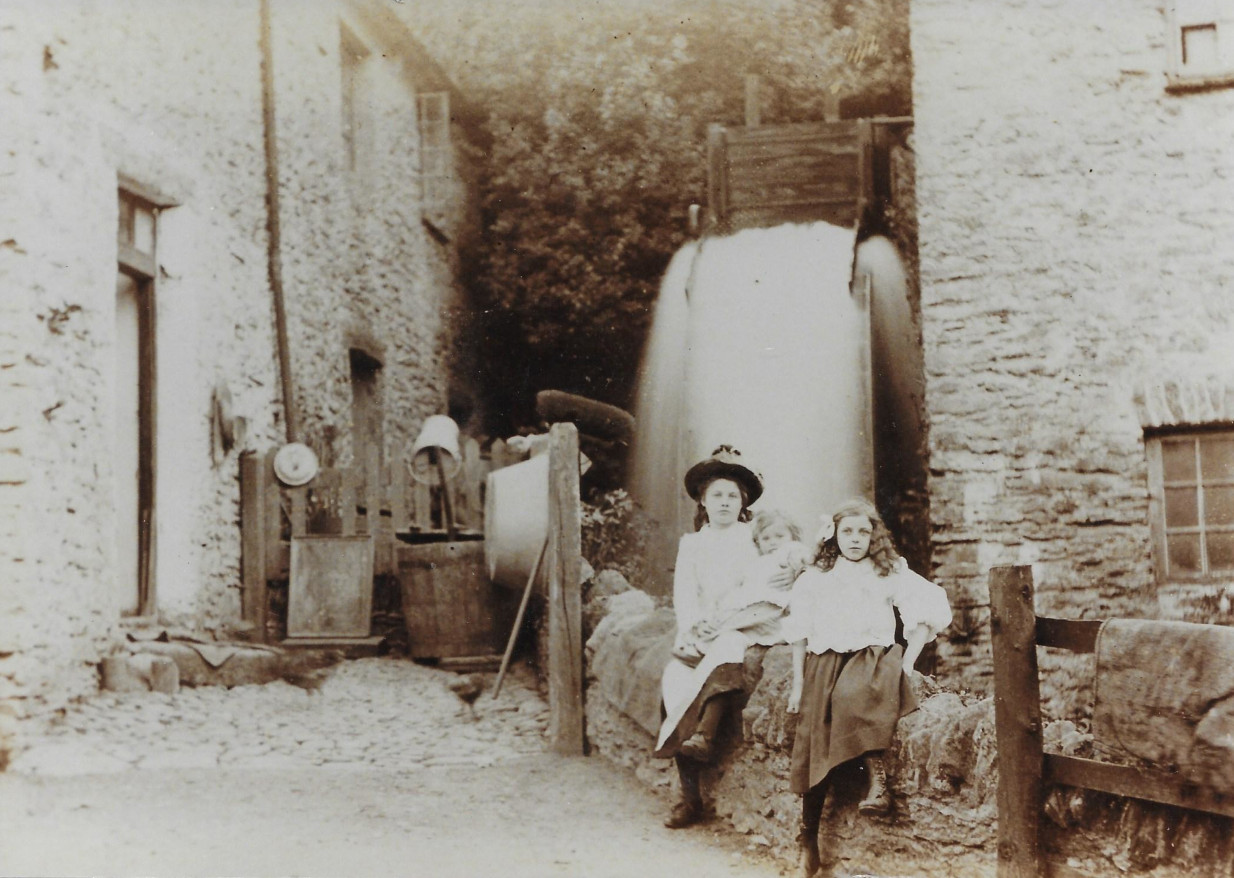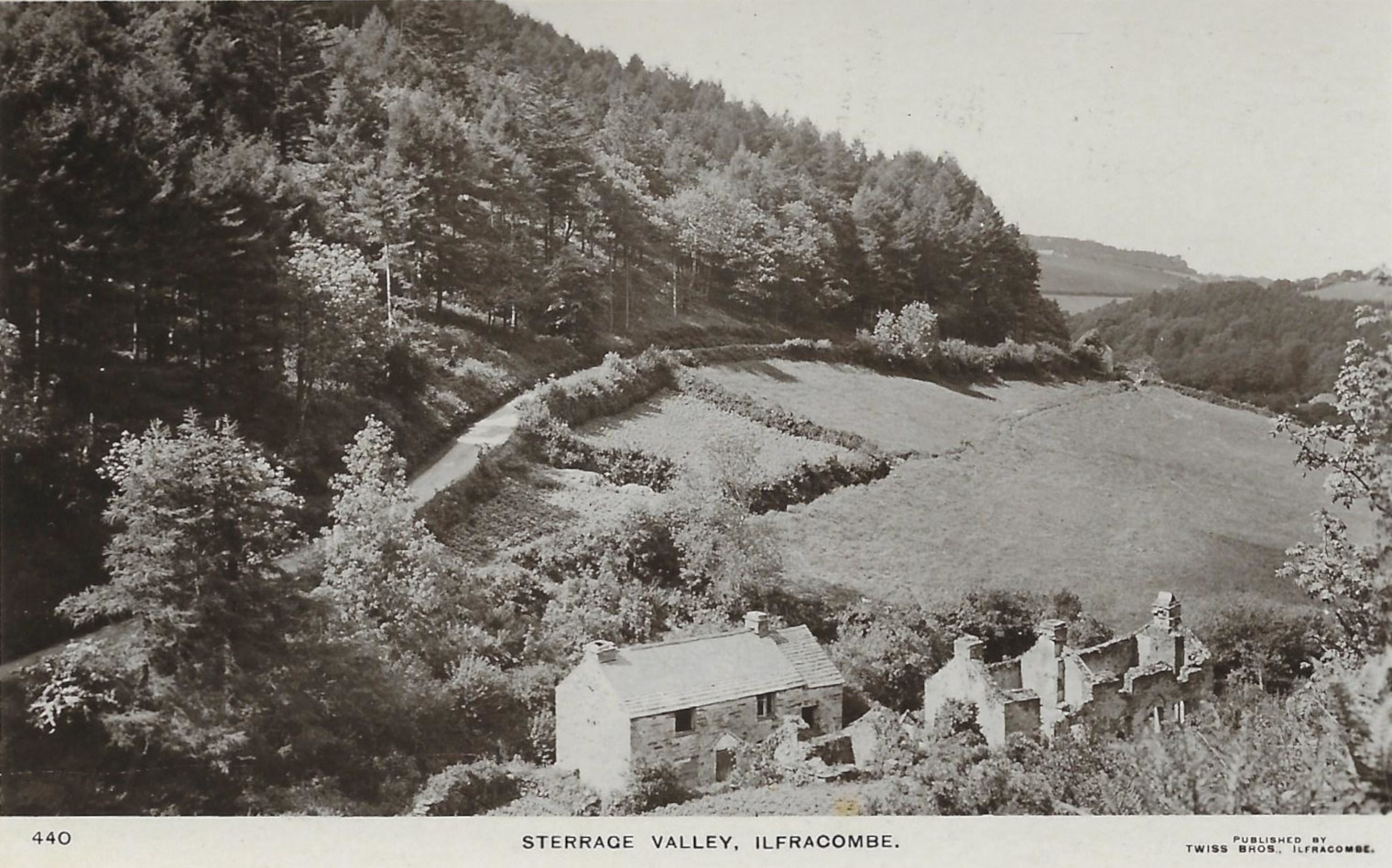 I have read that where there was a tucking mill, a family of Tuckers lived nearby. 'Tucker' is a Devonshire, occupational surname, e.g. Richard le Tourkere recorded in Kentisbury in 1332 - so I went searching!
I found the Tooker family well established in the 1500's suggesting a much earlier settlement here. Several were church wardens which indicates that they were educated and held in high esteem by fellow parishioners - take a look at the plaque on the lych-gate commemorating its reconstruction in 1671. It records George Westcott [Rector], Thomas Tucker and John Reed [church wardens]. N.B. John Reed farmed at Ruggaton.
The Tuckers were yeomen farmers. Men who owned and worked their own land. They paid tax to the Crown, 1/10th of their income in tithes to the church and were beholden to the lord of the manor to serve as foot soldiers in troubled times. One branch of the family farmed at Bowden - '1706 Dorethy daughter of John Tucker of Booden was Christened'. It is possible that this family followed the Jewell's occupation of Booden. They would have been familiar with the Bowden Farm Screen! My father always referred to the farm as Booden.
Berry Corn Mill is a special place to me. I write this in memory of a remarkable woman, Jan Dyer, my 3 x great grandmother who worked the mill in the 1840's and '50's. She lost her husband John soon after taking over the mill, then her eldest son died. She soldiered on, raising her family and keeping the mill going with hired help. Her daughter Mary Ann married Benjamin Richards of Hammonds Farm in 1843. All the many descendants of that union share her genes with me.
The last miller at Berry Mill was Ernest Smith. The photo shown here belongs to his grandson Robin Kiff. Robin's mother, Evelyn, would be one of the children near the water wheel.
Lorna
---
A FOOTNOTE TO WILL LERWILL
Scat, as he was affectionately known, never succumbed to mechanised farming. Everything was done by man and horse power.
He was very fond of little children and always found time for a natter. Our boys loved to feed bread to the glennies [guinea fowl]. They perched on top of the farm gate and set off an awful rattle when anyone approached.
On New Year's Eve, Scat would keep up an old local tradition by carrying a faggot of wood, on his pony, from Rowes to The Globe. At the stroke of , it was placed on the dying embers in the Kitchen Bar to light in the New Year. When the bells finished ringing,he would lead the gathering with his lovely, clear voice in singing traditional songs.
In spite of his hard physical life and his commitment to nursing his sick wife for many years, he always had a twinkle in his bright blue eyes and a quick witted sense of humour. Fondly remembered.
Michael and Lorna
The ringers would like to thank everyone involved in providing such a pleasurable evening at the Harvest Thanksgiving and Supper - a simple, meaningful service, good company and lovely food.
The Harvest Supper is an old nationwide country tradition. It brought the whole parish together to celebrate, catch up on news [or gossip] and exchange ideas.
In times past, in Berry, each farmer's wife 'took a table'. She sat at the head of the table and served tea from the family silver teapot which she brought with her. I'm not sure if she provided the food or whether this came on a 'bring and share' basis, as is the case in many surrounding parishes today. [I must ask Ron and Aunty Ivy.]
Before the Manor Hall was available, this would have taken place in the Old Temperance Hall, the ruins of which still stand in the grounds of Orchard House, and would have been part of the original Rectory.
Lorna
---
FINDING FAMILIES
In the June issue, Linda Melhuish was seeking information about the Vaggas [Ackland or Cutcliffe] family and Richard Sloley his Sloley relations. Lorna and Marlene have kindly come up with the following information which makes interesting reading.
"Burial of George, son of George and Sussanna Vaguires 31.8.1761".
The Cutcliffe's were an important family in Berry and Combe Martin and were some time landowners.
From Baptisms:
1550 Elizabeth daughter of John Cutcliffe
1553 Johan daughter of John Cutcliffe
1567 Matthew Cutlie [?] of Yellston [Yellaton Farm]
1568 Joane Cutlyfe
1571 Julian Cutleth ye daughter of Robert Cutleth
1572 Humphrey Cutfly ye son of John Cutley?
4.3.1824 Elizabeth Richards m. John Cutcliffe
Joyce Songhurst also tells us that her mother, Ivy nee Adams, who lived at Knackers Hole, married Frederick Ackland. I have found a little more information about the Sloley family that Richard, from Tavistock, is researching. Church records show the Sloley family have been in and out of Berrynarbor for a long time.
The farm, I think, is an ancient homestead. Like Hammonds and Chichesters [next door and opposite] it seems to have taken the name of ancient occupiers, who probably farmed these places for generations. Until fairly recently, my own Richards family farmed Hammonds for well over a hundred years. Moules Farm has been in the family for over two hundred years through the Draper/Richards line.
In the church records previous to 1746, there are entries where the writing is difficult to read but could be that of the Sloley line. The first clear name is that of Henry Sloley who married Mary Clark on 11.2.1746. In 1752, a Catherine Sloley died.
The 1861 census records:
William Sloley Head Aged 44 Cattleman on farm born Berry
Ann Sloley Wife Aged 44 born Berry
Mable A. Daughter Aged 9 born Berry
Richard J. Son Aged 7 born Berry
Alfred Son Aged 5 born Berry
Edith Daughter Aged 3 born Berry
William Son Aged 1 born Berry
The inscription on the grave near the top gate in the churchyard reads: "In loving memory of William Sloley died Sept 1946 aged 90".* The dates do not tally with the census, but census record dates were not always correct. This William Sloley was Bet Richards grandfather and her father was called Alfred. Alfred's brother moved to near Tavistock.
Lorna
Richard has confirmed that the Sloley who moved to Tavistock was his great-grandfather, Dick. He remembers him as a small child as a very tall, former Royal Marine. Marlene, Ivy White's daughter, also has connections with the Sloley family. From her research:
*William Sloley married Ann Norman in May 1880 in Gloucester. They must have moved to Wales as five of their children - Louisa Jane [1881], Frederick Norman [1882], William Earnest 1 [1884], Florence Gurtrude [1887] and Violet May [1889] - are shown on census records as being born in Cardiff. On their return to Devon, Mable [1891], Richard J. [1894], Alfred [1896], Edith Mary [1897] and William Earnest 2 [1900], were born in Berry Down. The first William Earnest sadly died in 1887.
William and Ann's Diamond Wedding was recorded in the North Devon Journal on 16th May, 1940: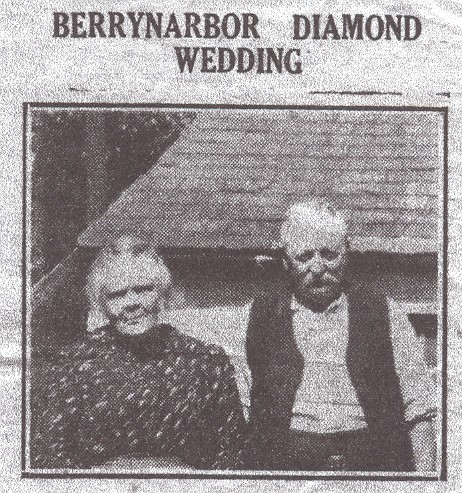 "Mr. and Mrs. William Sloley, of 61, The Village, Berrynarbor, celebrate their diamond wedding on Wednesday, having been married 60 years. They are both 84 years of age and were born in the parish of Kentisbury. They had a family of eleven children, eight of whom are still living. Mr. and Mrs. Sloley have lived in Berrynarbor for forty years. Mr. Sloley, who started work at the age of twelve, has seen many changes. He is also one of the oldest bell-ringers and still loves to pull the ropes. Our readers will wish them every happiness on this anniversary."
William died in September 1946 and Ann in January 1949. 61 The Village is where Bet Brooks lives today.
William's sister, Mary Ann, married Charles Harding Huxtable and their daughter, Rosie, married Fred Bray. Their daughter was Ivy White who was my mother. So, William Sloley was my Great Great Uncle!
Marlene
---
FINDING FAMILIES
Our website has, over the last few years, attracted people who are researching their family trees and who know their ancestors were born, lived or are buried here in our village. Thanks to Lorna, it has been possible to help them in their quest.
One recent enquiry came from Helen Lawrence in South Wales who was 'Looking for Leworthy's' as reported in the August 2008 Newsletter.
Once again Lorna has come up trumps and a wealth of information has been sent to Helen:
The known story starts with John Leworthy, the son of Thomas and Grace born in 1841 and very probably the great-grandson of Thomas and Prudence Leworthy who were married before 1770. In fact it was Betsy Willis, John's colourful wife from Combe Martin, who inspired the stories my grandfather told me when a child. Betsy Lewrdy [local dialect] and her donkeys were quite famous throughout the area.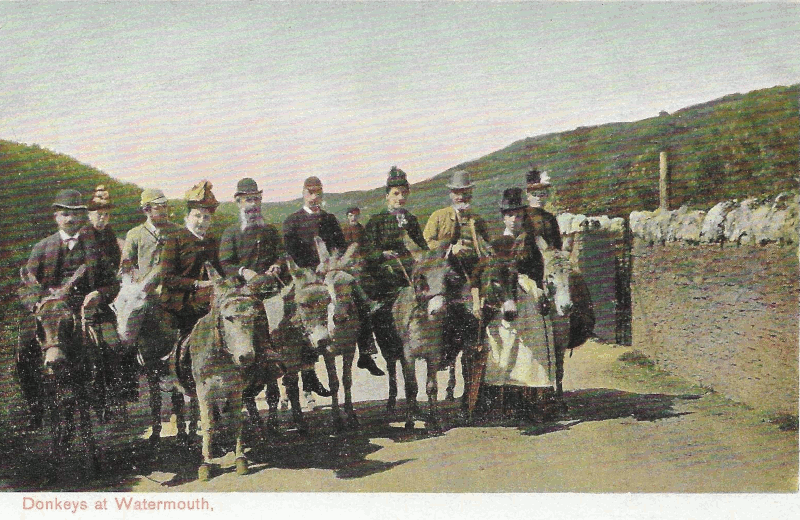 Betsy and her Donkeys at Watermouth [from the Tom Bartlett Collection]
John married Betsy in the 1860's. He was a blacksmith journeyman and she owned a coal yard business. She used her donkeys to cart coal from Watermouth, where the Welsh colliers landed, back to Berry. When not carting coal, she would ferry Victorian visitors around the BerryNarbor lanes and beyond - quite an entrepreneur!
There could have been several children but I only know of their son, Alfred Richard Leworthy. He was born in 1866 and married Annie, the daughter of John Rook, in 1887. He was head gardener to the Bassets on their Watermouth Estate. They lived in the Manor Cottage which was probably built as a dower house for the Manor. Their first child, also called Annie, lived in the cottage all her life although she told me she had been born in what is now the Men's Institute Room in the Manor House.
I've always understood that John and Betsy lived in the Manor House which had been deserted by the Bassets. Sadly, there are no Leworthys in the village today. After at least 250 years, I can think of no one of the blood line living here. The only representative of the family is Alice Dummett, wife of the late Leonard Dummett, who still lives in Wood Park. There are, however, many descendants of Louisa and William, two of Annie's siblings, living in Combe Martin and Ilfracombe.
Lorna
With lots of help from John Tossell and Jenny Stuckey [great-great-great grandchildren of Thomas and Grace Leworthy] and the late Ivy White.
______
More recently, Linda Melhuish from Bath, Ontario, Canada, e-mailed:
"I have recently begun research on my ancestors and have discovered that some of them resided in Berrynarbor. Would you happen to know anyone in Berrynarbor who is researching their Vagges [Vaggas], Ackland or Cutcliffe ancestors? I am told that my great-great-grandmother, Ann Vaggas, was born in Berrynarbor about 1831 to Catherine [Kitty] Ackland and John Vagges. John's parents were Anne Cutcliffe and John Vagges, but I don't know who Catherine's parents are."
Although information can be found on the 1851, 1871, 1881 and 1891 census records, is there anyone descended from the family that can help Linda personally? If you can, please contact me on [01271] 883544.
______
Unbelievably, whilst typing this another e-mail has come in! It reads:
My name is Richard Sloley and I live just down the road in Tavistock. However, I am currently stuck in the middle of the desert serving as an intelligence officer with the RAF. Whilst I have been here, working the long night shifts, I have had the opportunity to start investigating my family history.
I was quite surprised to find that, through marriage, I am linked to the Luttrell's of Dunster, the Courtenay's of Powderham and subsequently to the Plantagenet's and beyond. However, I am equally interested in discovering more about my more recent family history, including any military service during World Wars I and II.
I knew from my father that most of our namesakes came from North Devon, and I was aware of Sloley Farm at Berrynarbor. Through Ancestry.com, I have traced our family name back to Hugh Sloligh [b1512], but I am particularly interested in trying to discover more 'recent' anecdotal history from my great-grandfather's era [Richard John Sloley b1893] and his parents [William b1857, and Ann] who I understand were the first Sloley's in the farm.
Would any of your readers have any recollection of the Sloley's at Sloley Farm, or any photos or stories that they would be able to pass on?
Once again, if anyone can help Richard please contact me on [01271] 883544 or e-mail me on judiew12@gmail.com.
---
THE CHICHESTERS AND BERRYNARBOR
Originally from Sussex, the family bred many heroic sons.
Sir Richard de Chichester accompanied Richard Coeur de Lion on his crusades 1189-1199. His descendant, Roger Chichester, was knighted at the Siege of Calais 4.9.1346 by Edward III and was mentioned at the battle of Poitiers 19.9.1356.
The family arrived in North Devon when Roger's son, Sir John Chichester, married Thomasina Raleigh of Raleigh Manor, Pilton, in 1385. From this union descended different branches of the family, many of whom held high office, including High Sheriff of Devon. His own son, Sir John, was named in the list of lances in the retinue of Seur de Harington at Agincourt 1415 - Henry V.
In modern times, we are familiar with the exploits of Sir Francis Chichester and Gypsy Moth, of the Youlston Park family who is buried in Shirwell churchyard. Rosalie Chichester of Arlington was the last of her family and left her estate to the National Trust in 1949.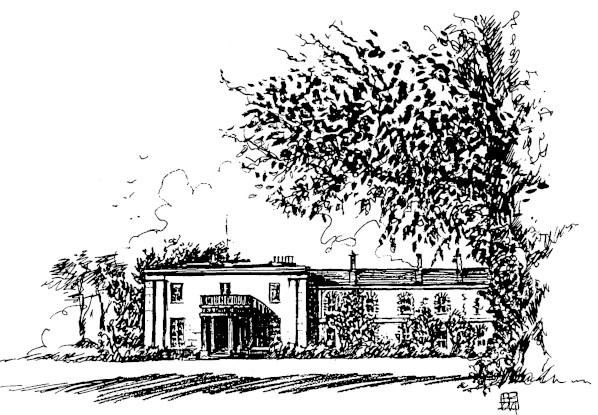 The little farm in BerryNarbornamed 'Chichesters' [Easter Court]opposite Hammonds Farm,possibly derived its name from
HENRY CHICHESTER - RECTOR OF BERRYNARBOR 25.10.1674 - 1714
and
EDWARD CHICHESTER -RECTOR OF BERRYNARBOR 1714 - 1735
Edward was Henry's second son and was 27 when he succeeded his father. Between them, they held the living for 61 years.
In 1727, Edward received a questionnaire from the Dean of Exeter which asked every parson in the diocese to complete a 'terrier' or report on his church and lands, including the nature of his tithes.
The original rectory stood somewhere behind Rectory Cottage [Wild Violets]. Joyce and Gary have a photocopy of the old terrier but the original had been torn and damaged and made little sense. They kindly let me have a go at deciphering it and after much pen sucking and head scratching, it came together, giving a fascinating picture of life in Berry 300 years ago.
It is too long to copy verbatim so I shall try and precis the contents although I shall copy entry 35 as written, because it gives an insight of a man with a 'modern' outlook but being aware of the need to manage and conserve the land of which he was custodian.
"Ye timber to ye parsonage is very considerable, ye present incumbent having been obliged to take down ye greater part thereof for ye necessary repairs of his house, much dilapidated at his first coming to it and erecting ye edifice as mentioned above* but in ye room he has planted a walk of trees in a field leading up to ye church called Oakland to ye number of fifty and about twenty ash; plants around ye churchyard and other plants of ye Globe, which are all in a flourishing condition."
*The edifice mentioned was 'an Anti-Hall which is floored with Bristol slate over which is a chamber floored with deal built by ye present incumbent from that harvested." He also built new stables and a Necessary House covered with Berry flatstone.
Edward's 'walk of trees' still lined the footpath across Little Oaklands in the 1980's. The powers that be deemed that they were dying of heart-rot and cut them down. After felling, it was proved that only one ash was affected, the others were perfectly healthy - a sad day.
The parsonage appears to have been as large as the original Manor House. On the ground floor was the anti-hall, little parlour, great parlour, 4 chambers, the stair plot and little room, kitchen, larder, pantry, dairy, a brew house, ale house, a chamber for keeping apples and wool, a malt house chamber and 4 cellars. Upstairs there were 6 chambers.
The doors were wainscoted, the walls all built of stone except the little parlour which was cob. "Ye house is rough casted after a handsome manner, covered with Berry slate stone". The malt house was thatched. All the rooms were clay [presumably plastered] except for the kitchen.
Around the parsonage were many outhouses including "a gate house with a chamber above", a pound house [could be round house], a barn, stables, a cow shipping, a dove house and 4 thatched pigs' houses.
"There are seven little orchards containing about 2 acres of land, some made by ye pore, some made by ye present incumbent viz Ye Easter Orchard, Ye Alder Park, Longmeadow, Rockhill. Barn(?), Little Meadow and Kitchen Orchard." He made two little walled gardens adjoining the house and also "Ye Kitchen Gardens taken out of ye bottom of a field called Oakland containing about half of one acre of land". This lovely old garden went on to provide for subsequent clergy including those later housed in the grand, new Victorian Rectory. It was still a very productive garden in the 1960's when Les Bowen's parents worked it for their market garden business. All that remains now is the crumbling wall and a lone pear tree defiantly displaying a wealth of beautiful blossom.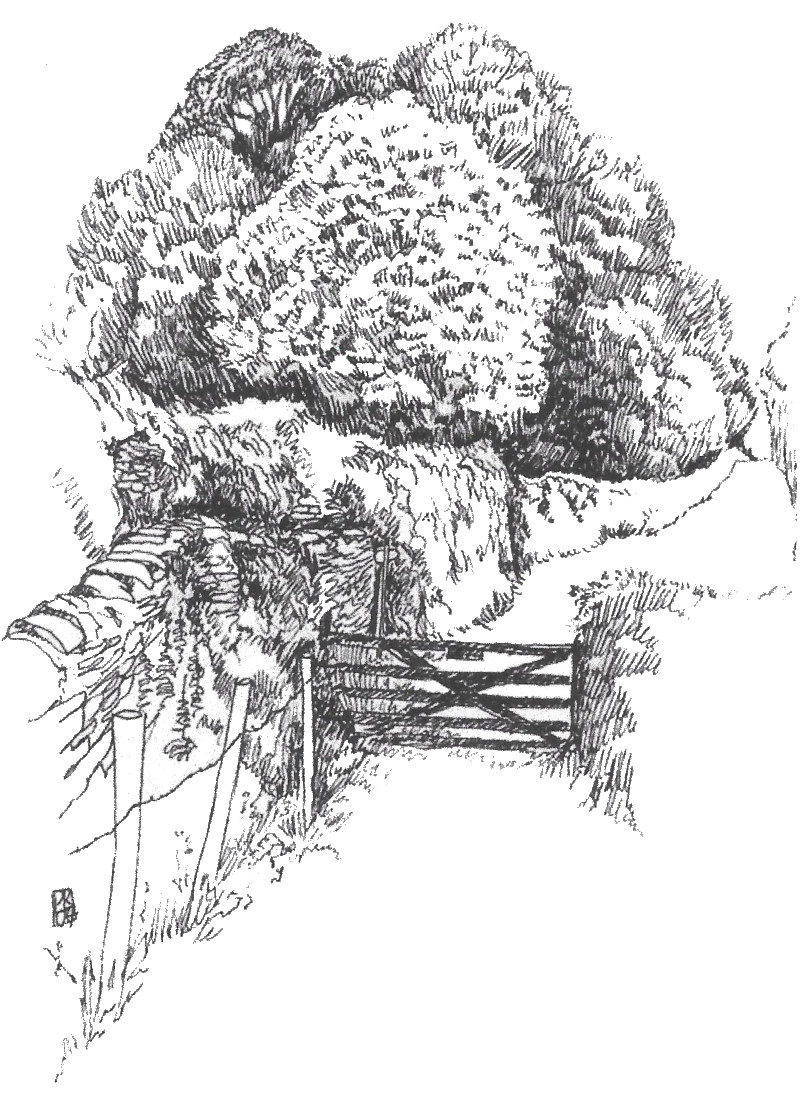 The Parsonage land totalled about 76 acres, some as far afield as Bitadon and Combe Martin. The large fields are named and familiar to us, such as "Peter's Meadow containing two acres and eight yards, bounded on ye west with a river and a meadow in ye possession of William Vellacott, on ye north with a little meadow of hempland in ye tenure of John Gold and a hempland in ye tenure of John Hicks and another part with Centuryland; which said meadow is watered with ye water yt runs from Berry Town."
The channels for this water are still visible following the contours at the top of Peter's Meadow. It was known in my family as the Water Meadow. I don't know what the term centuryland means - it could possibly mean the Parish Road or any land not belonging to the church.
There are many little unnamed meadow and closes listed, quite a few of which are hemp or hopland. Hemp was used to make rope and string and needed soaking or retting when harvested. "There belongs to this Parsonage two Hemp Pools, one of ye lower end of Oakland and Little Oakland, ye other at ye lower end of ye little meadow next the house" Hops were quite common in the hedgerows when I was a child.
Much of the land was occupied by tenants, but the land around the Parsonage, Edward farmed to provide for his own household.
Besides land, the Parsonage owned [1] a dwelling house of a hall and 2 chambers with a 2 acre close bounded by a little river, 2 orchards, the highway and Peter's Meadow - possibly Bet and Kevin Brooks' cottage.
[2] A little thatched house adjoining the Church House [right hand side of the Lych Gate] containing 1 under room and a chamber having 2 little gardens - still there in 1861.
Church Fees
1. Easter Offering 16 yrs + 2d. A tradesman 6d.
2. Marriage by Banns 5s.6d. By licence 5s.
3. Churching a Woman after childbirth 6d.
4. Nothing for burials
5. Breaking a grave in the church 6s.8d.
6. Leave to make a grave? in the chancel £1.1s.
7. Mortuaries are paid according to Status
8. "All tithes are due to ye Rector, in kind if he pleases to
take them so"
The parishioners repair the church and churchyard fences. "Ye minister ye chancel which is handsomely ceiled overhead by the present incumbent."
"The Clerks wage is £3 per annum, the Sextons 10s, paid by the Parishioners but appointed by the Rector."
John Hicks was Churchwarden.
Lorna Bowden
Re. Gary and Joyce Songhurst
Ref: The Knights of Raleigh Manor - Pat Barrow
History of Georgeham - Lois Lamplugh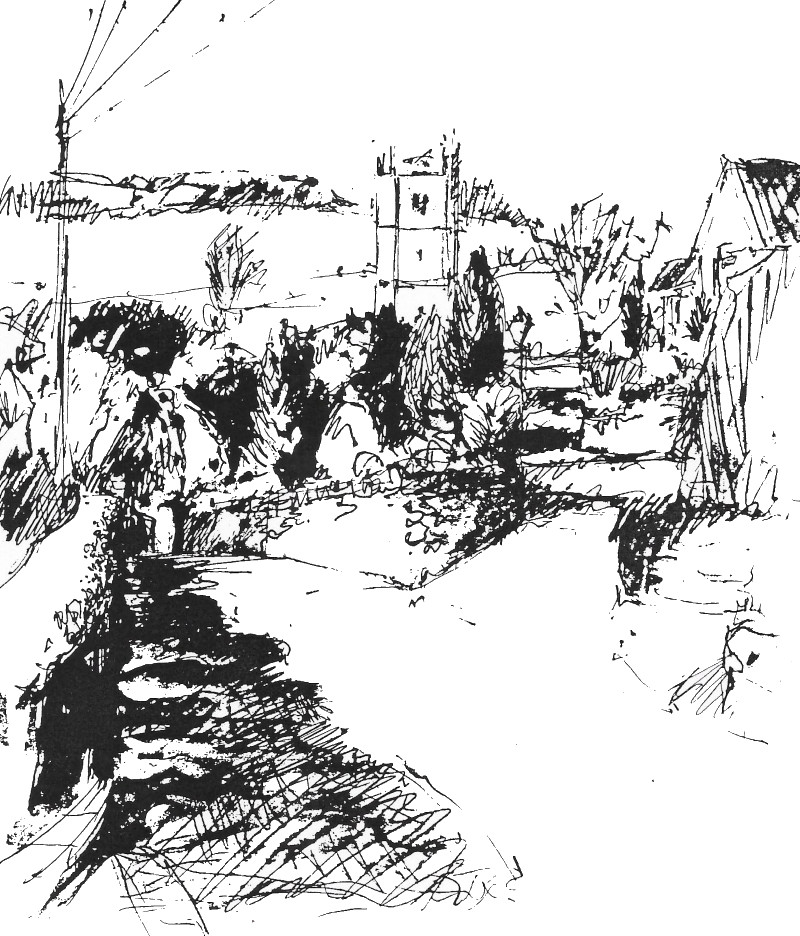 Illustrations by: Peter Rothwell
N.B. 1. The cutting through Rockhill had not been made.
2. I think Orchard House was built on the site of an old building.
3. The Temperance Hall - still standing - was probably the barn belonging to the Parsonage. It was still being used for social and meetings when Aunty Lorna was a child.
---
THE STERRIDGE VALLEY
The beautiful Sterridge Valley is the upper reaches of a long combe running from Watermouth Harbour southwards to the foot of Hempster Farm. Sterridge officially begins at Riversdale Bridge.
A very ancient parish road runs through the valley, once the way for drovers and pack-horse trains, vending their wares. It was the important link between cottage and farm to the village, church and beyond.
The road has been improved and re-routed in places, probably in the late 18th and early 19th centuries. At Rock Hill, a cutting was made through the hill, most likely blasted with gun powder and finished with a lot of 'pick and shovel'! This by-passed the old route around the original Rectory [Wild Violets] and Orchard House.
A new road was made between Lower Rows and Venture Cottage, avoiding the steep rocky lane through Lower Cockhill to Knackershole. The track to Harper's Mill was improved and a new road cut from the mill to Berry Down via Smythen Farm - quite a feat with its steep gradient and hairpin bends. The old road went along Bountice Lane towards Bowden Farm, branching right up along the side of the ridge, through Smythen then on to Hempster and Berry Down.
The meadows along the valley from Saw Mills to Ducky Pool and Riversdale to Harper's Mill were re-enclosed with a new wall, surely using the stone from Rock Hill. Old photographs show this wall quite clearly but sadly, through neglect over the years, some parts have all but disappeared. Saplings root, grow into trees whose roots push out the stones in the wall.
The valley meadows were some of the best meadowland in the Parish. It was always a joy to walk in the spring at lambing time, or watch the hay harvest or try to outstare the lovely Ruby Red Devon Cattle. They were always clear on intrusive weeds but rich in wild flowers, especially the tiny indigenous wild daffodils. With the demise of farming and the fragmentation of farms into the ownership of non-farming families, these meadows are now struggling against the encroachment of bracken, bramble, thistle, hemlock, ragwort and dock. It is heartening to see that some work is being done to redress the problem.
The valley is richly wooded. Ruggaton is a mixed woodland holding a large copse of hazel, a lovely stand of beech and mature wild cherry make a lovely show in spring. Woolscott Cleave was partially felled during the First World War. Besides the 1960's planting of larch and fir, many mature oak, ash and sweet chestnut survive. Smythen wood must contain a fair amount of beech for in autumn it glows like burnished copper. Some small fields which border Smythen Hill are now overgrown with young trees.
Smallacombe is no longer the large, grassy space rising to the horizon. It fell into the category 'too steep to be viable' and has been planted with trees. As much as I love trees and woodland, too much in the wrong place can prove oppressive and enclosing. I hope this new wood doesn't prove to be so.
Along the stream beyond Harper's Mill Bridge, the Bassetts raised pheasant. It is possible the derelict cottage on the road above once housed the gamekeeper.
Most of the larger farms encircle the valley on its surrounding hill. I think as homesteads they are very old even if their buildings are more modern. The Bronze Age tumuli at Berry Down and Lynton Cross are evidence of an old English Settlement in the area. Our two manors are definitely pre-Norman and have OE names, even if they were occupied by Saxons at the time of the Norman Invasion.
Smythen was certainly thriving in 1333 when Thomas de Smethenyston paid 1s 8d tax. The Withie family are recorded in Ruggaton in the 1400's. The family of Bishop Jewel, born at Bowden 1522, certainly didn't give it its name - Bowdens are recorded living in the area in the 12th and 13th centuries.
The Harper family [OE hearpere] were well established when Church Records began in 1540. Three Harpers were assessed for goods and in 1641 Richard Harper was taxed £4 on his land. Also in 1641, six Harpers assented to the Oath of Protestation in the reign of Charles I. I think the mill must be as old as the surrounding farms.
Lorna Bowden