Edition 87 - December 2003
---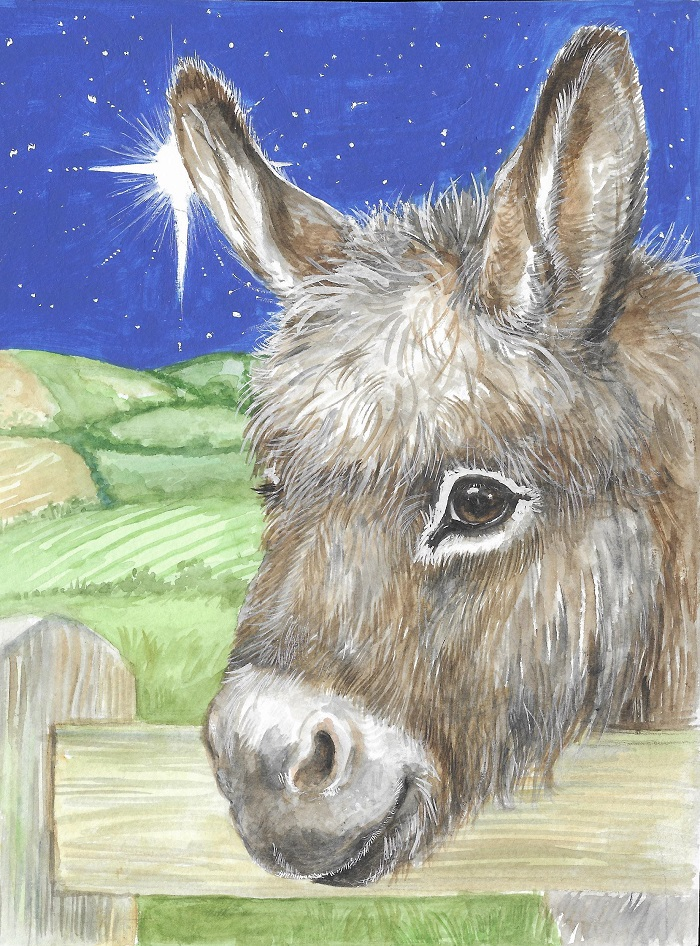 Artwork by: Debbie Rigler Cook
---
THE STORY OF DONKEY FRED
Charlie Disbrey
Old Fred he stands with downcast eye,
He shakes his head and wonders why,
'This empty meadow for my home,
And I stand sadly here, alone'.

He calls to mind a summer day,
And folk who walked the bridleway,
Who stayed awhile and had a chat,
And gave old Fred a friendly pat.

He wonders if it's true that when,
A donkey went to Bethlehem,
That Mary on his back did ride,
With Joseph walking at her side.

And now the stars are shining bright,
And darkness falls, once more 'tis night.
Now all is quiet and donkey Fred,
Walks slowly to his humble shed.

And underneath the starlit beams,
Old Fred the donkey sleeps and dreams,
With shepherds poor and the Wise Men,
He walks the road to Bethlehem.

And one bright star looked down and led,
Old donkey Fred to Jesu's bed.
He lowly kneels and with a bray,
Greets Jesus Christ on Christmas Day.

And Mary said, 'We thank you, Fred,
For coming to our manger bed.
Tell folk who walk the bridleway,
You came to us on Christmas Day.'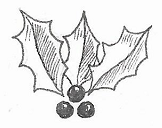 Illustration by: Debbie Rigler Cook
1
---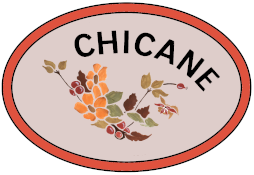 Artwork: Judie Weedon
EDITORIAL
'Christmas comes but once a year', but doesn't it come round quickly! It is not helped by the ever-earlier appearance of Christmas decorations in the shops, which are already playing Christmas music! However, don't get complacent, by the time you are reading this, there will only be just over three weeks to finish off the present buying, ice the cake and make the pudding, ready for a further steaming on Christmas Day.
Thanks to the many recent generous donations to the funds - especially the continued support of the Parish Council - there is sufficient money to indulge again in a coloured cover, and once more, Debbie has down us proud, illustrating the two donkey poems on the insides of the front and back covers.
Thank you, as always, to all the contributors to this issue but particularly the many 'regulars' without whom the newsletter would took very thin! Items and articles for the February issue -the first in 2004 -will be needed by mid-January please as soon as possible but by Thursday, 15th January at the very latest. Thank you.
There are many events planned for the festive season, so enjoy them. Have a happy and peaceful Christmas and with ail good wishes for the coming year.
Ed.
2
---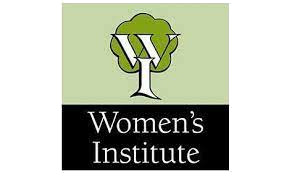 BERRYNARBOR W.I.
At our October meeting, Kath Arscott told us about her holiday in the Falkland Islands. The vote of thanks was given by Mahon Carter, a birthday gift was given to Di Hillier and the raffle was won by Josie Bozier.
We held our Annual General Meeting on the 4th November, when Doreen Prater was re-elected Chairman, Rosemary Gaydon Treasurer and Marion Carter Secretary. The Committee was re-elected en bloc with the addition of Josie Bozier and Margaret Weller. Our Branch Scrapbook was brought to the meeting for members to peruse.
Di Hillier will be holding a Coffee Morning to raise funds for the W.l. and arrangements for our visit to Exeter and attendance at the Carol Service at Exeter Cathedral on the 9th December were finalised. Details for our Christmas Lunch at The Lodge on the 15th December were also discussed and finalised. The raffle was won by Joan Wood and the competition for a 'sparkly necklace' by Marion Carter.
At our December meeting, Linda Brown will be showing us how to make a seasonal decoration and in January, we shall be seeing some more exotic holiday slides. So ladies, come and join us!
Marion Carter
3
---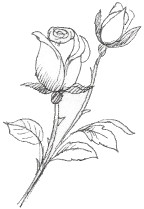 IN MEMORIAM
RAY CARTER
Ray died on the 22nd October 2003 in the Tyrel! Hospital, at the age of 79. Both he and Jean will be remembered for living at the Old Court in Birdswell Lane, from about 1988 until they moved to Hope House, opposite the Tyrell Hospital, in Ilfracombe in 1999.
Ray constructed the lovely lake-type pond, complete with island, at the bottom of the field which runs from the Old Court right down to the stream at the bottom of Pitt Hill. Jean's ceramic classes were appreciated by all who attended them.
Ray and Jean and their family are well known in North Devon, first for their llfracombe restaurant in the 1960's and '70's, where the best fish and chips in 'Combe could be purchased! Later, with a complete change of direction, they opened the Marlborough Club in about 1980.
The friendly funeral service held at Brookdale Church was a family affair, with their daughter Amanda taking part, and in her turn, Amanda's daughter, Shelley, gave a very professional and emotional rendering of 'Ave Maria' for her granddad.
Our thoughts are with Jean, Amanda and Tim and family, Derek, and Gillian and Dave and family.
Tom B of TC - November 2003
I AM NOT THERE
Do not stand at my grave and weep.
I am not there, I do not sleep.
I am a thousand winds that blow.
I am the diamond glints on snow.
I am the sunlight on ripened grain.
I am the gentle autumn rain.

When you awaken in the morning's hush
I am the swift uplifting rush
of quiet birds in circled flight.
I am the soft stars that shine at night.

Do not stand at my grave and cry.
I am not there; I did not die.

4
---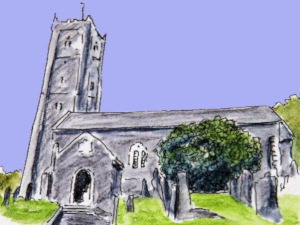 Artwork: Paul Swailes
ST PETER'S CHURCH
The Harvest Festival celebrations went with a swing. The Sunday Service and the Wednesday Evensong were joyful and truly uplifting. On both occasions the Curch Choir was joined by children from the School to sing an anthem - wonderful!
The supper was well-attended: the ladies prepared 76 dinners in all, including 12 children and there were compliments all round. Michael Bowden and John Fanner again kindly conducted the auction and soon had the table cleared of produce! Altogether, El 60 was raised [between the church collection and the auction] to be shared between Water Aid and Bibles for the School.
Thank you to so many people for making the celebrations such a success - from those who helped to decorate the church to those who cleared the hall at the end.
Remembrance Day was marked by the laying of the wreaths and silence at the War Memorial. This simple ceremony was followed by the service in church, when the lesson was read by Graham Andrews and the Choir, with soloists, very movingly sang 'Pie Jesu'.
Good food, good wine, good music and good company were all enjoyed by those who came to the Bring and Share Supper on the 12th November. There was plenty of room for more people and we shall try to give more notice another time.
Time to think of Christmas Celebrations once again! The Carol Service will be on Wednesday, 17th December at 6.30 p.m. and we shall be looking forward to the singing from the Choir and the Sunday School Nativity Play. The Christmas Eve Communion Service will begin at 9.30 p.m. [not too late for the older children], and on Christmas morning there will be a Family Communion with carols at 11.00 a.m.
The church will be decorated in time for the 24th. Please let Linda Brown [8826001 know if you have any holly, etc., or if you would like to make a donation towards the cost of the flowers.
Linda has been in overall charge of the church flowers for the past year and with the other flower arrangers and the PCC, is planning a Flower Festival to take place in 2004, from the 6th to 9th August. A preliminary meeting was held in November and another will be arranged early in the New Year for anyone interested in helping to attend.
There will be NO Friendship Lunch at The Globe in December, but we shall recommence in January: the fourth Wednesday, which will be the 28th. In the meantime, we all wish each other a Happy Christmas with good health and among friends and family.
Mary Tucker
5
---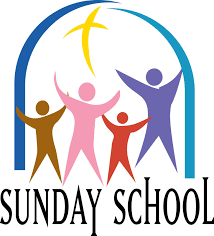 SUNDAY SCHOOL
Christmas seems to come earlier every year - although, of course, the month and date never change! But many shops and the media advertise their wares and decorate their windows sometimes in September. I have just returned from Australia where carols and Christmas trees in 35 0C were rather strange. Two of my daughters who live there agree that Christmas in the heat is never quite the same - perhaps it is their childhood memories of Berrynarbor Christmases, carol singing wrapped up against the cold, Midnight Mass in a chilly church [it was very cold in the church in those days], the traditional roast turkey and Christmas pud. I don't know what the temperature was in Bethlehem, but I always imagine it cold in contrast to the warm dry stable, but whatever the temperature, the wonderful story is still the same.
Sunday School numbers fluctuate, some of our older children having moved on, and we shall miss them, but thank them for their tremendous input and loyalty over many years. We welcome Jess and Luca, and hope they will enjoy their time with us. Not only do we try to have an informal hour guiding them along the ways of Christianity, but we also learn such a lot from them - their open vision, hope and optimism are so heart-lifting. Come and see them in action at the Caro! Service in Berrynarbor Church on Wednesday, 17th December. We welcome any children to join us, 11.00 a.m. every Sunday in the Penn Curzon Room, except the first Sunday in the month when we meet in the church for the Family Service.
"God gave us memories that we might have roses in December"
We wish you a joyful, beautiful Christmas, with love from Berrynarbor Sunday School.
Sally B.
6
---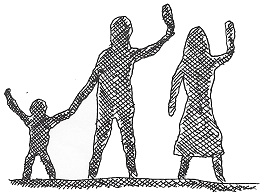 Artwork: Paul Swailes
A WARM WELCOME
A very warm welcome to all newcomers to the Village we hope you will be happy here in your new homes and look fo:ward to meeting you in the near future.
Barbara and Alan Gibson and their springer spaniel, George, have after many happy years holidaying in North Devon, decided to retire here and have moved into Berrynarbor Park. Alan, an electrician, is a keen angler who also dabbles in DIY, and Barbara, a secretary, now has more time to enjoy cooking, reading and embroidery. They have two daughters and a son, who have all now flown the nest!
The left hand side of the old Chapel is now called 'Church House' and is home to Christina and Simon Reynolds and their two year old son, Oscar.
Christine, originally from a farming family at Fifield, near Ongar, and Simon from Cambridgeshire [although with a father in the RAF he moved all over the country as a young boy], have moved here from Greenwich in South East London. Simon is an IT contractor and Christine a specialist cake maker. So, if you have any special cake requirements, please do contact her on 883945 she would be happy to hear from you. Christine is also [take note the BBC!] a keen needlewoman.
As mentioned in the October issue, Bobby Hacker has settled into Park View in llfracombe, and Longsawte is now home to Michael Bain and his collie Dodie. Michael has lived in North Devon most of his life -at Woolacombe and West Down, where he and his family ran the Foxhunters Inn.
Good luck to you all!
7
---
MORE FRUIT AND VEGETABLES
This year my onions were ripening nicely and looking good, and I was persuaded that they might be good enough to enter in the local horticultural show. When in the Post Office the person in front of me asked for a schedule for the Show, I took one too and studied it carefully - still optimistic.
The following week, we went with friends to Port Talbot to a country show and, of course, there was a huge and giant vegetable show - 4ft carrots, 5ft leeks, absolute perfection, identical size and colour and beautiful flowers!
Back home my onions looked a bit 'homely' - not quite ripe, not all the same size. Oh well, good enough to eat. I didn't enter the Show.
On Show day, however, we did go down to the Manor Hall and were greeted warmly. There was a huge raffle, tea and biscuits and lots of people all saying that they wished they had entered 'this' and 'that'.
The presentations were made to the worthy winners and how many onlookers like me will be studying those seed catalogues and planning for next year's great event? Every one of us could be a potential winner, so don't be afraid to enter!
Please don't give up this village event but just keep reminding us all through the Newsletter to get those seeds and plants on the go, and a few tips on how to present the produce would be very welcome.
Perhaps the schedule could be more readily available and a little earlier, so that three onions on a paper plate - no tops - could become a reality in 2004!
Dorothy
8
---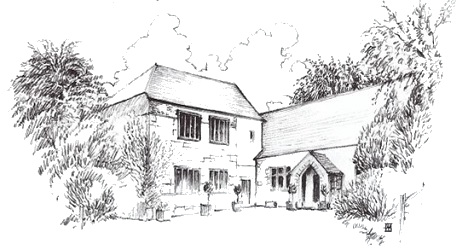 Artwork: Peter Rothwell
MANOR HALL MANAGEMENT COMMITTEE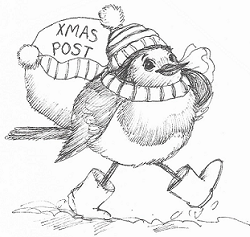 Illustration by:
Debbie Rigler Cook
On Saturday, 20th December, from 10.30 a.m. until noon, the Christmas Card Coffee Morning will be held in the Manor Hall. Sherry and mince pies will be on offer and asl some Christmassy things will be on sale. If anyone would like a table, please let me or any Committee Member know in advance.
Your cards for distribution within the Village may be left, with a donation [10p per card please] in the box in the village shop. This facility will be available from 13th to 20th December, or you can bring your cards along to the coffee morning, when they will be sorted and then distributed. All money raised will go towards the Manor Hall funds.
Our Hall is very well used there is hardly a time, either morning, afternoon or evening, every day of the week, when there isn't something going on. This is causing a parking problem. There is only limited space in front of the hall so, unless you are, there and then, attending a class or function in the Manor Hall, please leave your car somewhere else.
Our Committee is small in number and is likely to become even smaller soon. If anyone is willing to assist in the management of the Manor Hall, please do come forward. It is not all time-consuming, but is an essential to village life.
John Hood - Chairman
9
---
OF THIS AND THAT
A huge THANK YOU to all those people who contributed in so many ways to the World's Biggest Coffee Morning for Macmillan Cancer Relief in The Globe on 26th September - to the many people from Ilfracombe, Barnstaple, Combe Martin and the village who gave raffle prizes, bought Christmas cards and drank coffee. We raised over E250 and 41 people called in. The funds raised will go to the North Devon District Hospital's Macmillan Fund.
Diane Lloyd and Judy Hand
North Devon Bus Times: The winter timetable came into operation on 22nd September and free copies of the timetable are available. For all timetable enquiries in the Southwest, call Traveline on 0870 6082608.
Radio Devon Chestnut Appeal: An all day Christmas Fayre [10.00 a.m. to 8.00 p.m.] will be held at West Torridge, Limers Lane, Northam, on Wednesday, 3rd December. Handmade Christmas goodies and cards, cake stall and raffle, El entrance to include coffee or tea and biscuits.
10
---
BROADBAND INTERNET ACCESS
You may have read in a recent Shammickite of Nick Burnell's quest for Broadband Internet access. In order to achieve this, 250 to 350 subscribers will be needed to persuade BT to convert the Combe Martin exchange. When this is done, broadband should be available to anyone within 4.5 kms of the exchange, which should include most of Berrynarbor. BT will provide all the necessary merchandise and information material once they have 100 registered interested parties. At the time of Nick's article, there were 71 , but this has since increased. If you are interested in registering, go to your internet service provider -- Virgin, Freeserve, BT, etc. -and register. Once the 100 is reached, the ball will start rolling!
Broadband will give instant access at 10 times the speed of dial-up modem and does away with all the waiting time. The costs vary but anyone paying a monthly bill of E 12 to El 5 will pay between E5 and E 10 more. A bargain! In addition, you will be able to use your phone to call out and receive calls while you are on the internet!
Go on, register NOW, but if you would like more information, please mail Nick on: nick.burnell@virgin.net.
11
---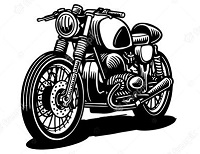 BIKERS OF BERRYNARBOR
October and November meetings were 'Pint and a Chat' evenings with dreams of warm, sunny days to come. However, we hope to have a morning run to Bridge Motorcycles in Exeter on 6th December, leaving from Mill Park entrance at 8.30 a.m. All riders welcome. Liaise with Brian if the weather looks dodgy.
We are looking forward to our 2nd Annual Christmas Dinner to be held on 12th December, and this will conclude a very pleasant but undramatic year. Looking forward to 2004, we shall meet on 13th January at the Old Sawmill Inn for an evening of intelligent discussion!
Brian
12
---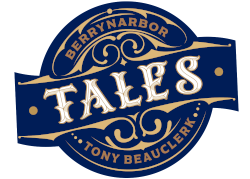 Artwork: Angela Bartlett
RETURN JOURNEY
The story I am going to tell took place in the 1970's. Geoff Petitt, a member of our local cine club, was friendly with two other members, Charles and Margery Long, and in the course of a conversation, Charles told Geoff that he had fought in the 1914-18 War at Passchaendale in Belgium and his great friend was another senticeman, Sidney Nash.
In the battle of Passchaendale, Sidney and Charles were ordered 'up and over' the trench and sadly Sidney was shot dead at that moment, much to Charles's horror.
In ail the years after the Armistice, Charles wondered where Sidney was buried, or whether there was an inscription somewhere. Talking to Geoff about this, it was agreed that he, Margery and Geoff would go to Belgium to find how what had happened.
This research mission took them to Zeebrugge and on to Passchaendale and Ypres, where they visited several cemeteries and the War Graves Commission, but ail to no avail. They went to the Menin Gate one morning, looking at the names of hundreds of lost men engraved on the wall, but Sidney's name did not seem to be there. They agreed to go for lunch and then return for another last look in the afternoon.
Close to the wall was a form of pier in which there were holes, rather like portholes, but without glass. The sun was shining and as the three of them stood there looking, their eyes settled on a round patch of sunlight shining through the hole in the pier and on to the names. Right in the centre of several illuminated names, was that of Sidney Nash! it was a very emotional moment for Charles and now all three felt that their mission had been accomplished successfully.
I knew Charles quite well - for some reason he usually played the part of the vicar in our fiction films. Despite the appalling conditions he had experienced and endured in that dreadful war, he lived to the ripe old age of 95. Geoff's amateur file of all that I have written was genuine and certainly food for thought.
Tony Beauclerk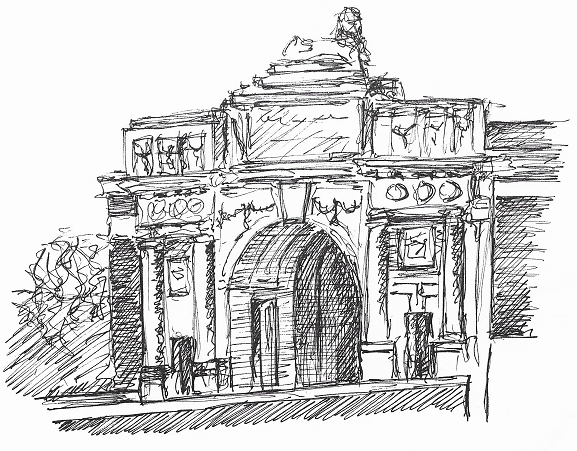 Illustrated by: Paul Swailes
13
---
VULNERABLE POINTS POLICE
In his October article on PLUTO, Tom wrote of the VP's, or Vulnerable Points, who manned the road blocks guarding vulnerable points such as depots, dumps, wireless stations, tunnels, bridges, secret installations, etc.
That and the following information has been sent by David Huxtable of Chichester, who recollects as a boy of 12 or 13, traveling the Watermouth road frequently at that time and remembers the permanent road block where cars, buses, etc., were stopped by the VP's and the occupants had to get out. He does not remember, however, anyone actually being searched!
Having heard nothing more of 'Blue Caps', as they were known, since that time, and living opposite the Military Police Training Centre at Rousillon Barracks, Chichester, David thought he would investigate further and was given considerable help by the Curator of their Museum.
The name 'blue caps' came from the blue cover on their caps and VPs were distinguished by the blue diamond flash on the sleeves of their uniform. Formed in February 1941, these sections were made up of older men whose low medical category meant that they were unfit for service in late 1940. They carried out static guard and security duties.
Vulnerable points were defined as points where if a blow from the enemy was successful, it would considerably impair the national war effort. VP1's were posts to be held at all costs and to the last and they were manned by a section armed with a formidable array of weapons. VP2's operated at posts which, in the event of an invasion, could be dismantled and evacuated, or if need be, destroyed. They carried whistles and truncheons and were armed with automatic rifles and sten guns.
Several hundred police dogs, together with their handlers, were trained and organised into sections which were allocated to VP companies.
At the end of the War, the Vulnerable Points Wing was gradually phased out as the need for their services ceased. In the 17th Century, their forebears were known as the 'King's Safeguards' [and even wore blue caps], and in the First World War as 'God's Rejected'.